Ex-Gallup Priest in Court on Sex Abuse Counts

By Elizabeth Hardin-Burrola
Gallup Independent
June 8, 2004

In this photograph from May 11, 2004, James Matthew Burns, 70, a former Diocese of Gallup priest, leaves his initial appearance on felony charges of child molestation and criminal sexual contact with a minor at the Winslow, Ariz. Justice Court. After a grand jury indictment, the case was transferred to Navajo County Superior Court in Holbrook, Ariz., where Burns was arraigned on Monday. (Photo by Craig Robinson/Independent) HOLBROOK, Ariz. - James Burns, a former priest with the Diocese of Gallup, was arraigned on Monday in Navajo County Superior Court after being indicted by a grand jury on four felony counts of sexual conduct with a minor.

Burns, 70, of Wickenburg, Ariz., appeared before Judge Dale P. Nielson and entered a not guilty plea. The criminal charges stem from allegations that Burns sexually abused a Winslow boy in 1983 and 1984. Burns was stripped of his priestly faculties 11 years ago due to other allegations of sexual abuse.

Burns had originally been charged in Winslow Justice Court with three counts of child molestation and one count of sexual conduct with a minor, all class 2 felonies. However, late last month, a Navajo County grand jury indicted Burns on four counts of sexual conduct with a minor and the case was transferred to Superior Court.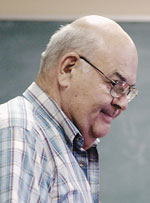 James Matthew Burns



The current criminal charges were reduced to class 6 felonies because Arizona law differentiates between the sexual abuse of minors under the age of 15 and the sexual abuse of minors 15 and older. Some of the alleged abuse of the victim in this case was initially thought to have occurred when the boy younger than 15. The Navajo County Attorney's office has since revised the charges to state Burns' contact involved "a child under the age of eighteen years."

The abuse allegedly occurred while Burns was the pastor at Winslow's St. Joseph's parish. According to the grand jury indictment and Winslow Police Department reports, the abuse took place in the vicinity of McHood Park outside of Winslow and in Burns' bedroom in the church rectory.

Navajo County authorities are able to pursue criminal charges against Burns because Arizona law stipulates a seven year statute of limitations for most felonies after law enforcement authorities receive reports of criminal conduct. The alleged victim in this case didn't report the sexual abuse to the Winslow Police Department until 2003. He has also filed a civil lawsuit against the Diocese of Gallup.

After Burns' arraignment on Monday, Melvin R. Bowers Jr., the County Attorney for Navajo County, released a supplemental police report to The Independent. Bowers had previously released the primary police report to the newspaper when Burns made his initial court appearance.

In the supplemental report, written by Lt. Jim Sepi of the Winslow Police Department, Burns made a number of conflicting statements and a number of statements that conflict with information The Independent has learned from the Diocese of Gallup.

Burns told Winslow police officers he was removed from the priesthood in 1991. In a telephone interview on Monday with Deacon Timoteo Lujan, the chancellor of the Gallup Diocese who acts as a spokesman for Bishop Donald E. Pelotte, Lujan stated Burns had his priestly faculties removed on June 1, 1993, while serving at St. Rose's parish in Blanco, N.M.

In the police report, Burns denied he was a sexual predator, and when asked if there were other boys (who were victims), Burns replied, "I don't think so."

However, in May of 2003, the Gallup Diocesan Review Board on Juvenile Sexual Abuse released a press release naming Burns as one of several sexually abusive priests who had served in the diocese. The review board's statement said Burns "had multiple allegations made against him" before he was stripped of his priestly faculties.

Prior to serving in Winslow, Burns had worked in eight different parishes across northern Arizona.

Burns also told the police about allegations that surfaced in St. Johns, Ariz. and involved a female accuser. Burns told the police he was never in St. Johns, and he claimed the allegations had no merit, but he was dismissed from the priesthood because of the allegations. According to the police report, Burns called the woman who accused him "crazy," and he said the FBI looked into the matter and concluded the allegations were false.

Lujan said he would have to research Burns' file in the Diocese of Gallup to determine the truth of that story. Lujan said he was "fairly certain" all of the victims found to have credible allegations against Burns were male. However, Lujan said a 41-year-old woman did make an anonymous allegation against Burns on March 30, 1993, claiming Burns had sexually abused her when she was four years old. Lujan said the woman did not give her name and never provided any further information about herself or the alleged abuse.

In March of this year, The Independent did receive a brief anonymous call from a woman who claimed Burns had abused her and another girl when they were children. When the woman was asked her name, she hung up the phone.

Throughout Sepi's police report, Burns is reported to have bounced back and forth between praising the alleged victim as a "fantastic young man" and admitting his own guilt, to protesting that "hardly any" abusive acts occurred and claiming he couldn't remember much of the alleged abuse because he "suffers from a condition called 'neuropathy' and diabetes" and those two conditions impair his memory.

After being stripped of his priestly faculties, Burns moved to Wickenburg, Ariz. Mary Jo West, the public information officer for the Diocese of Phoenix, was contacted recently about Burns' involvement with the Catholic parish in that community.

"Mr. Burns has been active at St. Anthony's of Padua in Wickenburg, but simply as a parishioner, nothing else," she replied. All the parish pastors who have served at St. Anthony's since Burns' arrival, she added, have been aware of his background. West said no allegations of sexual abuse have been made against Burns since his move to Wickenburg.

Lujan said, however, that Burns did try to serve at a Mass a few years ago when the parish was assigned a new pastor ."

He was hammered again," Lujan said, referring to a letter from Pelotte admonishing Burns not to attempt to present himself as having priestly faculties.

Lujan said he didn't know if Burns is welcome to receive the sacrament of communion, and he expressed reluctance to speculate on that issue. "You know, you can't tell a guy not to go to church," he said.

During his initial court appearance, Burns told the court he lives on a monthly retirement income of $900 a month. Lujan said the Gallup Diocese is not helping Burns pay for his criminal defense. "We made it perfectly clear we could not," said Lujan.

Burns' next scheduled court appearance is a case management conference set for July 1. According to the Legal Defender's Office of Navajo County, Paula D. King has been appointed Burn's attorney. A message left for King was not immediately returned.