Suit brings clergy abuse
allegations into the light
Papers claim molestations
in S.B. going back to 1930s

By Thomas Schultz
Santa Barbara News-Press
September 27, 2004

[See also a readable image of the original newspaper article (use the buttons at the bottom of the newspaper pages to navigate), the court document on which the article is based (with additional photographs), and a related article below. See the report commissioned by the Franciscans in 1993 and a News-Press feature about the report. For subsequent developments in the case, see Deal Reached in Franciscan Sex Abuse Suits, by Jean Guccione, LA Times (March 14, 2006); and Pedophile Priests Lose Privacy Rights, by Nick Welsh, Santa Barbara Independent (June 21, 2007).]


"We've been able to put the county under the microscope." —Timothy Hale,
attorney who helped compile suit

Court papers filed as part of a lawsuit by a 48-year-old Santa Barbara man detail a lengthy litany of alleged child molestations by priests and other Roman Catholic clergymen in Santa Barbara County dating to the 1930s.

The 83-page document claims the clergymen preyed on young people in their charge — parishioners, seminarians and students — subjecting them to sexually charged beatings, fake medical exams, rape and other acts.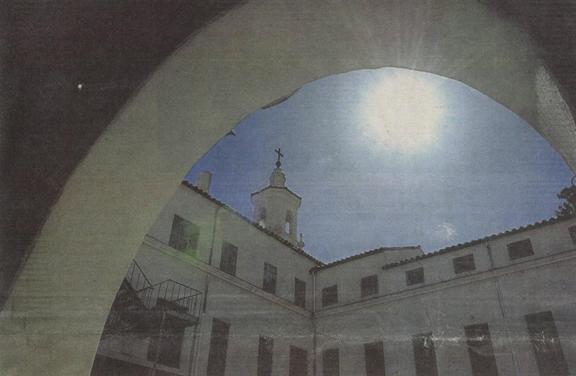 The now-closed St. Anthony's Seminary was home to at least 11 clergymen accused of sexual abuse in Santa Barbara County. Rafael Maldonado / News-Press File.
The document contains accusations that a St. Anthony's Seminary teacher repeatedly would "pimp out" a student and describes clergymen allegedly ignoring eyewitness accounts and even first-hand observations. Some of the alleged molesters were themselves abused as youths by local priests, the papers say.

The suit was filed by an unnamed man referred to as John Roe 4, who claims he only recently became aware of dormant memories of being molested by a priest from Our Lady of Guadalupe Church from 1967 to 1973. The suit names the Archdiocese of Los Angeles, which covers Santa Barbara County, and the Archbishop of Los Angeles. The new document, an application to amend the civil complaint filed in March, was filed in Superior Court last month. Most of the incidents in the application had nothing to do with Mr. Roe, but attempt to build a damning case against the church.
Some of the Santa Barbara priests who have been accused of sexual abuse include, clockwise from left, Gus Krumm, front, and Mario Cimmar[r]usti; James M. Ford; Dave Johnson; the late Rev. Owen da Silva; and Robert Van Handel. News-Press File Photos.
The chronology is the most sweeping accusation to date of alleged abuse in Santa Barbara — naming 31 clergymen— and seeks to show the church hierarchy knew about abuse claims but ignored them or did not take adequate steps to stop assaults. The document tallies 63 local victims but doesn't name any of them.

The overwhelming majority of the alleged victims were boys. One of the three girls mentioned was allegedly repeatedly assaulted on Saturday afternoons between 1979 and 1981 inside the San Roque Church confessional.

Based on numerous interviews, the document was compiled by Santa Barbara attorneys Timothy Hale and David Nye — who have represented 20 mostly local church abuse claimants, including two women, and have filed 15 civil lawsuits since early 2003. The pair received help from local attorney Thomas Griffith and two private investigators.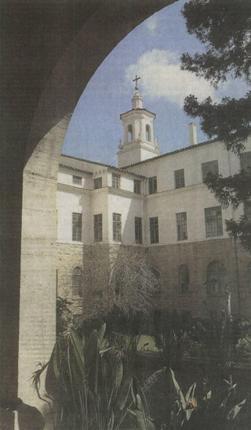 An attorney for the Franciscans said the order has been proactive in investigating the abuse scandal at St. Anthony's Seminary. Rafael Maldonado / News-Press File.
The document intersperses charges that have been aired before with grim new details.

"We've been able to put the county under the microscope," Mr. Hale said.

Legal experts say it is rare for a civil suit with a single plaintiff to offer such a sweeping historical account. Mr. Hale said there is no case law defining whether his paperwork, which paints the church as a broad public nuisance, should contain detailed information or just bare-bones facts.

"Ultimately the courts are going to have to resolve whether it's viable," he said.

Asked to comment on the legal strategy, Santa Barbara civil attorney Desmond O'Neill said: "I've never seen anything like that."
"At the time, I thought I was the only one, but looking back, it's really not appropriate for priests to have 16-year-old boys sticking their tongues in their ears. The lines of demarcation were blurred, because these people were taking care of us, and we lived here, and they imposed themselves on us emotionally and physically"
Pablo Espinoza who alleges abuse in a 2003 suit
Mr. Hale said the church abuse scandal that emerged in the early 1990s at St. Anthony's Seminary is a major contributor to the numerous cases of alleged abuse.

But a San Francisco lawyer for the Franciscan Friars of California, the religious order most of the accused clergymen belonged to, suggested Santa Barbara appears to have a large number of abuse cases because the Franciscans — in the wake of the seminary scandal — were proactive in investigating themselves and revealing internal problems since 1992.

"It's very misleading to look at what has been made public and brought forward in Santa Barbara and assume there was more abuse," said Brian Brosnahan, adding he would not comment on specifics. "There's a lot of allegations in there that we are not familiar with, that we've never heard before. It's difficult figuring out some of them."

Alberic Smith, a spokesman and guardian at the Santa Barbara Mission, acknowledged the weight of the accusations, and said Franciscan friars must reassure the community that steps are being taken to protect children.

"Hopefully people will begin to have more trust. We've really been at this for a while. We know the dangers and parameters, where before we didn't. We really are taking care of these people well, in the sense that they are not a danger to children. The last thing that we would want to happen is they ever hurt anyone in the future."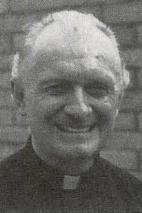 The Franciscans recently transferred Canadian fugitive Gerald Chumik from Santa Barbara to Missouri.
An archdiocese spokesman provided with a copy of the court papers said last week that most cases of abuse did not come to the attention of the church until 2003, when legislation temporarily lifted the statute of limitations on new civil suits in California.

"The church has been open to acknowledging where the efforts we took to protect children in hindsight were not as effective as they could be or could have been," Tod Tamberg said. "But that is a function of hindsight that takes into account what all of us have learned about the nature and treatment of abusive behavior."

Since at least 1985 and the appointment of Cardinal Roger Mahony, "No priest has been accused of abuse credibly and allowed to be sort of transferred around in ministry," he said, adding that now the credibly accused are treated and removed from the priesthood.

The lawsuit states that in some cases church officials knowingly transferred offending clergymen to Santa Barbara County for "safe haven" without telling the community.

"The reason that all of the other incidents of covering up and transferring are relevant is because our past experience has been that one of the church's approaches has been to try to narrow the focus of each lawsuit down to just the facts of that specific perpetrator, ignore the acts of the hierarchy and ignore the other misconduct going on around it," Mr. Hale said.

"This is an institutional problem. The church cannot simply take this lawsuit, pull it out of context and remove it from the fact that there is this institutional approach to receiving complaints, treating these guys and then sending them all off to a new community without warning."

Mr. Tamberg disputed the "safe haven" allegation.

"That's ridiculous," he said. "While I haven't seen Mr. Hale's version of what happened, I think that the church has been extraordinarily open about what it has found and perhaps most important what it has done to help victims heal and make sure this doesn't happen again."

He said that a February "Report to the People of God" from the archdiocese, which identified 211 accused clergymen including 12 from Santa Barbara, is as much as the church has been able to piece together. "It sounds like we differ on the degree of the problem." [See also the archdiocese's three errata pages and its addendum.]

Of the 31 alleged or known perpetrators named in the lawsuit who lived and worked locally, 25 are accused of assaulting children here, five were previous offenders transferred here, and one committed his known offense after his departure, according to the lawsuit. Six of the 31 have been convicted of criminal acts, the papers say, three of those in local courts.

Santa Barbara officials say they were ready to launch more charges, but changed course last year after a June 2003 U.S. Supreme Court decision struck down a California law extending the statute of limitations in criminal cases of child sex abuse. The court left in place another state law that temporarily lifted time constraints on civil cases.

"We were about to file charges against an additional four or five former priests from St. Anthony's," Senior Deputy District Attorney Ron Zonen said, adding the Santa Barbara Police Department was investigating several claims dating back decades and connected to civil suits. "We were about to take it to the grand jury. I could get indictments (for) at least four. We had witnesses who were prepared to testify. A number of victims had come forward."

Now, he said, "We are limited to anything that occurred after Jan. 1, 1988" for a criminal prosecution.

The court papers place abuse at St. Raphael's Church, Mission La Purisima Concepcion, Our Lady of Mt. Carmel, San Roque Church, St. Mary's Seminary, Our Lady of Sorrows, Our Lady of Guadalupe, St. Anthony's Seminary, the Santa Barbara Mission, St. Mary's Church of the Assumption, San Lorenzo Seminary and Old Mission Santa Ines over a period from 1936 to the early 1990s.

The alleged assaults took place in priest living quarters, church vehicles, offices, rectories, homes, at beaches, during camping trips, and on parish grounds, according to the court papers, which say numerous victims came from low-income or "broken" households.

Victims advocate Ray Higgins, whose son Mike said he was molested by two priests in the 1980s at the now shuttered St. Anthony's Seminary, said the new documents expand upon a 1992 study by an independent board of inquiry. That board concluded that 11 St. Anthony's faculty members had molested up to to 34 students dating to the 1960s.

"This shows that the original study that was made back in 1992 was only the tip of the iceberg," Mr. Higgins said. "Now we are seeing a little bit more, but there is still more to come, I am sure. It shows that this is extended over to the Mission. It's not just St. Anthony's Seminary, which was always claimed in the past."

Seven Decades of Allegations

The lawsuit names the Rev. Owen Da Silva as the first Santa Barbara perpetrator of child sexual assault. The Rev. Da Silva abused an altar boy in 1936-37 at the seminary, it says, citing an account by the alleged victim.

The Rev. Da Silva, known in wider circles for his 1941 book "Mission Music of California," has since died and is encrypted at the Mission. He was never charged or prosecuted.

Beginning in the 1940s and into the early 1950s, the court papers say, the Rev. Matthew Kelly of Our Lady of Guadalupe Church allegedly abused children — including members of his club for teenage boys called "The Blue Jackets."

Citing accusations dating back to 1958, the lawsuit says The Rev. Kelly took boys to Arroyo Burro Beach, or to his Santa Ynez mountain cabin on overnight trips to share alcohol and cigarettes, photograph them naked and share his bed.

One accuser cited says the priest molested him 75 times and gave him about $25 after each assault.

John Roe 4 claims he received approximately $100. His is the fourth pending lawsuit to identify the Rev. Kelly, who died in 2002.

Although the alleged abuse of John Roe 4 occurred long ago, his lawsuit can proceed because he says he only recently became aware of it. Child molestation victims can sue until they are age 26, or within three years of realizing they were victims.

The latter applies in this case, lawyers for John Roe 4 say.

Such recollections of abuse, known as repressed memory, have been controversial. Skeptics argue there is little scientific evidence to support the notion that traumatic experiences are unconsciously blocked from memory.

The court document claims that at least five independent witnesses reported seeing child pornography in the Rev. Kelly's mail.

"In the early to mid-1960s, Fr. Kelly's neighbors at the cabin made some disturbing discoveries," according to the court papers. "There was an oversized package placed on top of Fr. Kelly's mailbox. It had been raining and, consequently, the package was beginning to fall apart. ... There were numerous photographs of naked boys."

A subsequent owner of the cabin, according to the lawsuit, "discovered pictures of naked boys on the walls of the basement."

Slides of boys wearing nothing but pink underwear surfaced there in 2000 after the Rev. Kelly sold the property, the suit states.

At least two other priests complained to the church hierarchy about the Rev. Kelly in the 1960s but nothing was done, according to the lawsuit.

One of these clergymen frustrated by the situation later left the priesthood and is prepared to testify, according to the papers. "He recalls that defendants' attitude was that priests were the mouthpieces for God, and that so long as they were doing a good job of conveying God's message, their human failings could be tolerated and/or ignored," the files say.

Second Generation of Abuse

During the 1960s, according to the papers, at least four local clergymen assaulted boys, including St. Anthony's student Robert Van Handel, who entered the priesthood himself — and later was convicted of child molestation.

During this time, the Rev. Mario Cimmarrusti "was violently sexually assaulting boys" at St. Anthony's Prefect of Discipline, the court papers state, again based on the investigators' interviews.

The Rev. Cimmarrusti, who had never before spoken with a reporter about such claims, told the News-Press in a telephone interview from the Bay Area this month that he recalls no inappropriate behavior. But he also suggested abusive acts might have happened.

"I could have done this and I didn't realize it at the time," he said. If so, "Well, I'm very sorry."

Mr. Hale said the Rev. Cimmarrusti is identified in nine pending civil lawsuits.

"His first step was to 'screen' the student," according to the court papers. "The screening process involved Fr. Cimmarrusti fondling the student. If the student became aroused and embarrassed, Fr. Cimmarrusti used this against the student to force his silence as the abuse continued."

Other times, the court papers say, the Rev. Cimmarrusti conducted weigh-ins and performed thyroid gland checks that led to abuse.

He allegedly beat victims, drawing blood, and spanked one student 33 times, "once for every year of our Lord's life," according to court papers.

"Cimmarrusti would order students to his room to conduct supposed hernia exams," the lawsuit states. According to one unnamed victim cited, "Fr. Cimmarrusti conducted so-called hernia exams of every freshman at least three to four times a month."

The priest once required an entire class to strip to its underwear during a test, the court papers say. "The class was paraded through the school in their underwear, and was done so in full view of other students, teachers and priests," according to the document.

One victim in 1965 complained to a St. Anthony's rector about an attempted Cimmarrusti rape, according to court papers. The papers say the student was subsequently expelled.

In approximately 1967-68, another priest "walked in on Fr. Cimmarrusti orally copulating yet another victim, had a clear view of the abuse and turned around and walked out," according to the papers.

"Fr. Cimmarrusti's abuse of St. Anthony's students spanned most of the 1960s and could and should have been stopped by defendants' agents at least as early as 1965. Instead, they allowed him to become one of the most prolific abusers of children in Santa Barbara County, with no less than 16 of his victims identified to date."

Saint Anthony's in the '70s

In the 1970s, the Rev. Kelly continued to abuse local boys, and even after his transfer from the county in 1970 brought area victims to his cabin, the court papers say.

The Rev. Cimmarrusti left St. Anthony's 1970, but the abuse continued, the documents state.

In the 1970s, 15 clergymen, including the Rev. Van Handel, assaulted boys, according to court papers. "Van Handel twice in 1970 told an agent of the defendants of his attraction to young boys. Defendants' response to this information was to ... hire Van Handel and allow him to begin forming boys choirs as part of his ministry."

That St. Anthony's Seminary and his Santa Barbara Boys Choir became a source of victims for Mr. Van Handel from 1975 to 1992 is well documented. He was sentenced in 1994 to eight years in prison for childhood sexual abuse. He now lives in Santa Cruz, Mr. Hale said.

Fourteen victims of the Rev. Van Handel have been identified, according to the lawsuit, "a total exceeded only by Fr. Cimmarrusti."

Beginning in the mid-1970s, three brothers were victimized by numerous priests as members of the Boys Choir and, subsequently, as students at St. Anthony's, according to the court papers. One of these boys "was repeatedly sexually assaulted by as many as five different priests," including the Rev. Van Handel, the court papers say.

In approximately 1977, the Rev. Dave Johnson, a St. Anthony's alum and admitted molestation victim who graduated in 1967, was assigned to the school, according to the lawsuit. In the fall of 1977, he allegedly assaulted Pablo Espinoza several times in a case that garnered media attention when the alleged victim named himself publicly in suing the church.

The alleged victim is not named in the suit but spoke to the News-Press about his own lawsuit in July 2003.

"At the time, I thought I was the only one, but looking back, it's really not appropriate for priests to have 16-year-old boys sticking their tongues in their ears," Mr. Espinoza said. "The lines of demarcation were blurred, because these people were taking care of us, and we lived here, and they imposed themselves on us emotionally and physically."

Mr. Johnson has since left the order, according to the Rev. Smith. Attempts to determine his whereabouts from the Franciscans were unsuccessful.

Mr. Espinoza also claims he was assaulted on a weekly basis during his senior year by the Rev. David Carriere, a priest stationed at the Santa Barbara Mission who, according to the Franciscans, died in 1997.

He says he also was allegedly assaulted by a St. Anthony's lay teacher in his office.

On at least three occasions, the teacher "brought in men from the community," according to court papers. The teacher is not identified as a perpetrator of childhood sexual abuse because the victim by this time was 18 years old.

Still, the teacher "was so comfortable in the St. Anthony's environment as to essentially pimp out a student to men from the community for sexual assaults during school hours," according to the court papers. "This boldness was reflective of and fostered by an environment of childhood sexual abuse."

Also in the late 1970s, the Rev. Michael Terra replaced another alleged abuser at San Roque and began to assault a young girl who had sought counseling, according to the court papers. "The assaults took place in, among other locations, Fr. Terra's office in the rectory at San Roque, the Santa Barbara Botanical Gardens and at a local beach," the papers say.

"Worst of all," according to the papers, the Rev. Terra would tell the girl to attend confession on Saturdays, listen to her sins and then assault her inside the confessional.

Episodes of abuse lasted for about a year and a half, the documents say.

Attempts to reach the Rev. Terra through the archdiocese were unsuccessful. Mr. Hale and Mr. Tamberg said they do not know his whereabouts. Mr. Hale said he is the subject of a pending civil suit.

According to Mr. Hale, at least 17 clergymen abused local students during the 1980s.

Into The 1990s

The Rev. Gus Krumm — a St. Anthony's alum — was assigned to his alma mater and assaulted students there, the papers state. As with the Rev. Van Handel, whose abuse lasted through the early 1990s, accusations against the Rev. Krumm have previously been made public.

The Franciscan is identified as a perpetrator in one pending civil suit, plus one settled, and is believed to be living in California, Mr. Hale said.

One accused priest remains in Santa Barbara. Plaintiff Matthew Guy Stevens, now age 50, claims in a civil suit in Los Angeles that the Rev. James Ford molested him as a 14-year-old student from 1968 until 1971 at Orange County's Mater Dei High School.

The Rev. Ford has been assigned to multiple locations throughout Santa Barbara County, including St. Raphael's Church in Goleta from approximately 1972 to 1976, Our Lady of Mt. Carmel from approximately 1977 to 1981 and currently works at San Roque Church.

The Rev. Ford said in an interview that he is innocent and that a church investigation has already cleared him.

Church officials said in February that the allegations were reviewed by the archdiocese's 13-member Clergy Misconduct Oversight Board — nine of them lay people — which decided that it was not appropriate to place the priest on administrative leave.

Mr. Ford said that "there is no credibility whatsoever" to the accusations.

In the most recent development involving a Catholic clergyman here, the Rev. Gerald Chumik, a 69-year-old Franciscan priest who faces charges in Canada, was moved this month from the Santa Barbara Mission to Missouri after spending two years under "house arrest."
_____________________

Priest says he doesn't recall molesting anyone, but he's sorry if he did
Contacted by telephone at the San Damiano Retreat in Danville, where he lives a restricted life removed from active ministry amid 55 acres of wooded hills, the Rev. Mario Cimmarrusti listened to a list of allegations against him — and said he does not recall sexually abusing students.

The 74-year-old, in his first discussion with a reporter about the accusations, also said he might have forgotten about any abuse he might have committed at St. Anthony's Seminary, where he taught and worked in the infirmary.

"Some say that when you do something wrong you are so shocked you don't remember," he said. If the same were true for any alleged victims, he said, "We are both in the same boat then."

"This whole thing is something that I'm sort of — it really has made me a little bit insecure as far as my memory is concerned," the Rev. Cimmarrusti said. "Most of the time I think back and I can't think of anything. I never did anything that a doctor wouldn't do.

"Maybe at times I was a little bit affectionate with them," he said. "I don't consider that abusive."

He said if a student got poison oak on his genitals, he would try to cure it. "Maybe I was insensitive when I did that. I don't remember. I don't remember fondling or masturbating anybody, or performing oral sex."

The Rev. Cimmarrusti said he felt "tortured" by a lack of sexual education when he himself was a St. Anthony's seminarian from 1944-49. He said he only had one sex education class in those five years and that, once he became a teacher, he attempted to correct this by offering sex education classes that did not cast the topic as "dirty," but rather normal.

"I used to give the freshman a class in the birds and the bees, you could put it that way."

He said his superiors believe he abused students, that they have forced him to take psychological tests and offer him little information about lawsuits. "They don't say anything to me. They make all their decisions and then a messenger comes and tells me that I have no recourse."

He insisted that if he did do anything wrong his superiors never knew about it at the time.

"As far as my superiors knowing something about me, and not doing something about it, that is absolutely false."

Further, "I don't think I did anything that would warrant taking my ministry away from me, although I am being obedient and I'm not using this as an opportunity to denigrate my superiors."

"I actually liked my job and my students," he said. "I just put my life in God's hands and let him work it out. I certainly hope that anybody I've abused or I've hurt, I just hope that God will bless them and make up for the wrongs I have done."
—Thomas Schultz