Shreddin'!
Other Catholic Diocese Have Destroyed Incriminating Priest Personnel Files. Why Not Orange?

By Gustavo Arellano
Coughlin Case
March 24, 2005
http://www.ocweekly.com/news/ex-cathedra/shreddin/14979/
[See also other articles by Gustavo Arellano. BishopAccountability.org provides links below to documents and other sources.]

It's been almost four months since Orange County Catholic Church officials first promised to release all personnel files on employees accused of child molestation—and still nothing. Plaintiffs who settled with the diocese for a record-breaking $100 million say those documents will prove church officials knew about and protected the pedophiles in their ranks. But ever since lawyers for Orange Bishop Tod D. Brown turned over about 30 boxes of papers to Los Angeles Superior Court Judge Charles McCoy for review on Jan. 31, no one with the Church or the courts has said when—if ever—the public will see those supposed smoking guns.

According to a confidential Jan. 3 e-mail from diocesan officials to priests, the diocese "retains the right to object" to disclosure of documents "on any available legal grounds." And McCoy can only release what Orange diocese officials gave up. Which raises the fascinating question: Did the Orange diocese turn over all documents as required by the settlement? Or did some documents pay a visit to Mr. Shredder?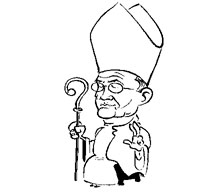 Photo by Bob Aul


Elsewhere in the U.S., lawyers have answered the question by issuing subpoenas to church employees (see below). But not here—where there's good reason for skepticism about the church's record keeping: when the Boston Archdiocese sex-abuse scandal erupted in 2002, one of the accused was Father Richard Coughlin. Coughlin served in Orange County from the late 1960s until his suspension in 1993 for allegedly fondling choirboys. Orange officials insisted they never knew of Coughlin's past and maintained their blissful ignorance until Boston officials released a Dec. 3, 1985, memo in which a Beantown priest alerted then-Orange Bishop John Steinbock about Coughlin. [See the 12/3/85 document, on which a note reports a 3/12/86 phone call with Steinbock.]

Here are a few other examples of diocesan record dumping:

* On Sept. 9, 2003, Father James Scahill admitted to a judge that Bishop Thomas Dupr� of the Diocese of Springfield, Massachusetts, once told a group of priests, "Fortunately for us, before his retirement, [the previous bishop] destroyed many personal and personnel records." Scahill described Dupr� as "very happy. He seemed happy, relieved" when the bishop made those remarks. Dupr� later became the first sitting bishop ever indicted on molestation charges. [See the passage in the Scahill deposition. See also part 2 of the Scahill deposition.]

* Two years ago, Monsignor Wilfrid H. Paradis told the Manchester, New Hampshire, Union-Leader he felt his superiors in the Manchester diocese had destroyed incriminating documents. A diocesan spokesperson confirmed the allegation: "If the priest or [his] medical provider requests that [a] document provided be returned or destroyed, the diocese has complied with such requests in the past." [See Monsignor: N.H. Priest Files Destroyed to Conceal Abuse Evidence, by Kathryn Marchocki, Union Leader, January 8, 2003. See also the May 3, 1989 letter from Manchester Bishop Odore J. Gendron to Rev. Peter Lechner of the Servants of the Paraclete, agreeing to "destroy the various psychological reports you included" about since-convicted molester Rev. Gordon MacRae.]

* In a 1990 speech before the Midwest Canon Law Society, Bishop A. James Quinn of the Diocese of Cleveland told church lawyers that, although destroying subpoenaed documents was illegal, "prior . . . thought and study ought to be given if you think it's going to be necessary; if there's something [in a personnel file] you really don't want people to see, you might send it off to the Apostolic Delegate [the papal representative to the Catholic Church in the United States] because they have immunity to protect something that is potentially dangerous." [See PDF page 31 of Bishop Quinn's speech.]

* A lawsuit co-filed by Costa Mesa attorney John Manly alleges the Diocese of Fairbanks, Alaska, destroyed documents "relating to the misconduct of their priests and religious officials prior to January 2003 and thereafter." [See More Priests Accused of Abuse, by Mary Beth Smetzer, Fairbanks Daily News-Miner, December 29, 2004.]

* During a 2004 deposition, lawyers asked George Crespin, former chancellor for the Diocese of Oakland, why he didn't include reports on priests accused of pederasty in the church archives. "That was the instruction we had from the lawyers," Crespin replied. [See Games Bishops Play: Why DA Bill Hill Should Be Wary, Dallas Morning News, February 15, 2005.]

* Under oath in 1992, Monsignor Edmund Tinsley, fiscal-affairs director for the Diocese of Worcester, Massachusetts, said he destroyed all records pertaining to the House of Affirmation, a diocese center set up to treat priests accused of pedophilia.

* While dumpster-diving in a Dallas parish in 1998, Frank Sharpe found incriminating documents thrown away by the Diocese of Dallas regarding Father Rudy Kos. The subsequent revelations led to a $23.4 million settlement with eight of Kos' victims. [See the account in Sharpe's second amended complaint.]

* As part of a $14 million settlement with 11 victims in 2002, the Diocese of Tucson—then headed by Orange County native Manuel D. Moreno—released records that showed diocesan officials destroyed incriminating documents. [Catholic Church Hid Sexual Abuse in Tucson, by Nena Baker, Arizona Republic, February 10, 2002.]