Scope of Sex Abuse Case Widens
Police Hear New Allegations against Former Local Priest

By Melissa A. Chadwick and Tammy Murphy
The Gazette
December 14, 2005

Several new possible victims and witnesses have been interviewed by police who are expanding their investigation into allegations of sexual abuse against a former Germantown priest.

Lt. Eric Burnett, spokesman for Montgomery County police, said detectives have received more information in recent weeks regarding allegations against the Rev. Aaron Joseph Cote, 54, a former associate pastor and youth minister at Mother Seton Parish in Germantown.

"Based on the information they've obtained, they're interviewing other witnesses and other possible victims," Burnett told The Gazette Tuesday.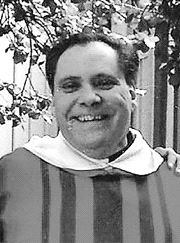 Aaron Joseph Cote


Last month, Brandon Rains, a former altar boy now age 18, filed a lawsuit against Cote, who is a member of the Order of Dominican Fathers and Brothers. The religious order and the archbishop of Washington were also named in the suit.

The suit claims Cote sexually abused the teen several times during 2001 and 2002 at locations in Germantown and Washington, D.C.

No court dates have been scheduled. Lawyers for Rains have not been able to obtain an accurate address to officially notify Cote of the lawsuit.

Attorney Joanne Lynch Suder said they have been waiting for Dominican officials to supply an address since the suit was filed Nov. 16.

County police said Rains reported the alleged abuse to detectives in August 2003, but the investigation was impeded by several factors.

Burnett also confirmed that Cote would not agree to be interviewed by police during the original investigation. He said detectives have not requested an interview since being turned down in 2003. If "enough information, enough evidence" emerges to warrant it, detectives will travel to Cote's current residence in Rhode Island, he said.

Burnett added that some of the new allegations "did not pan out" but said police are still actively seeking new information.

The Rev. Raymond Daley, an official with the Dominican Order in New York, said Cote is on administrative leave from his position as a youth minister at a church in Providence.

He said his organization investigated the allegations in 2003 and cleared Cote of any wrongdoing. In a phone interview Monday, he said the allegations are being re-investigated.

"The case is under investigation," he said. "We were told that the [police] case was closed. We are following our prepared and approved policy and that is what is taking place."

He declined to elaborate.

Cote was assigned to Mother Seton from 1999 to 2002. After Rains made his allegations in 2003, the order sent Cote for psychological evaluation, conducted an investigation and cleared him, according to church officials.

Rains was never interviewed for the order's investigation, according to his family.

In the new round of interviews, Rains' older brother talked with police, Burnett said.

Josh Rains talked with police via telephone for the first time because he could "corroborate a piece of the abuse," said Joe McMorrow, Brandon Rains' stepfather.

"Josh was witness to the fact that there was pornography being played at [Cote's] apartment," he said.

When allegations were first reported to police in August 2003, Burnett said the department "did what we could with the information we had. We needed some information that was missing. We needed to fill some holes."

Rains, who was in a Florida treatment center when he first told his parents of the abuse, talked with police by phone but did not meet with them until March 2004.

The alleged abuse occurred at a Germantown apartment and a Washington, D.C., hotel where Rains went on a retreat with Cote and other church youth, according to McMorrow.

While assigned to the Archdiocese of Washington, Cote also served at St. Jane Frances de Chantel in Bethesda and at St. Dominic Church and Priory in Washington, D.C.

Rains, who was not available for comment, was 14 and 15 years old at the time of the alleged abuse and living in Germantown with his stepfather and mother, Toni McMorrow.

Rains is currently employed in the Gulf Coast region where he works in construction.

Police ask that anyone with information or concerns regarding this investigation call the Family Crimes Division at 240-773-5400.