Rockford Man Sues Catholic Diocese, Conventual Franciscans

By Melissa Wangall, Staff Writer and Brandon Reid
Rock River Times
March 1-7, 2006

Donald Bondick alleges he was sexually abused as a child by Father Theodore Feely in 1969 when Feely was assigned to St. Anthony of Padua Church

Donald Bondick, under the pseudonym 'Thomas White,' was subject of July-August 2005 series in The Rock River Times

Alleging he was sexually abused when he was 14 by Father Theodore Feely, a Conventual Franciscan Friar of the Province of St. Bonaventure assigned to St. Anthony of Padua Church in Rockford in 1969, Rockford resident Donald Bondick filed suit against The Catholic Diocese of Rockford and The Conventual Franciscans Feb. 23.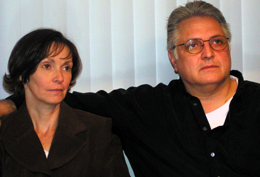 Donald Bondick and his wife after announcing at a press conference Feb. 23 his five-count lawsuit against the Catholic Diocese of Rockford. Bondick alleged he was sexually abused by a priest when he was 14 years old.
Photo by Melissa Wangall


The five-count lawsuit, filed in the Circuit Court of Winnebago County, alleges "vicarious liability," "negligence," "fraud," "fraud (intentional non-disclosure)," and "negligent and/or intentional spoliation of evidence."

Bondick and his attorneys are asking for a judgment of $50,000 on each count, "plus costs disbursements, reasonable attorney's fees, interest and such other relief as the court deems just and equitable." They are also demanding trial by jury.

In the 20-page complaint, it is also alleged Bondick witnessed Bishop Arthur O'Neill having sex with another man in a local health club in 2002. Bondick alleges O'Neill admitted to this act, and alleges this incident opened the door to Bondick's repressed memories regarding the alleged sexual abuse.

Bondick's allegations were featured in the five-part series "Emotional Stigmata: Living as the victim of clergy sexual abuse" in The Rock River Times in July and August 2005. Bondick chose at that time to share his story under the pseudonym "Thomas White." It is common practice in the media to withhold the actual names of those who allege they were sexually abused, whether as children or as adults. The series is viewable online at www.rockrivertimes.com in an archive search with keyword "Feely."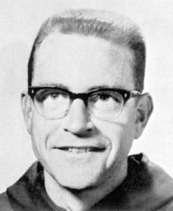 Father Ted Feely



At a press conference Feb. 23 at the entrance of the administration building of the Diocese of Rockford, Bondick said: "I want to come forward so that one more child doesn't ever have to go through this. After years of depression, suicide attempts, alcoholism, drug abuse, you name it, you know…I didn't want any child to go through that. And I feel terrible that I've kept silent for 33 years. I'm not proud of that fact. … It takes a survivor to come forward all in their own time."

The Catholic Diocese of Rockford issued the following statement Feb. 24 in response to the lawsuit: "We steadfastly believe that lawsuits should be resolved in a court of law, so we have no intention of attempting to try this case in the media. However, the allegations in this complaint are so sensationalized, harassing and irrelevant, justice demands that we respond.

"First, all charges and characterizations regarding the diocese and its officials in this complaint are false.

"Sexual abuse of minors is a grave sin and heinous crime. Victims should be comforted and assisted in their efforts to achieve healing, perpetrators should be severely punished, and the public should be protected from them.

"The diocese has consistently acted in accord with these principles, and we will continue to do so in the future.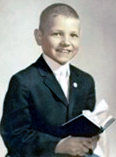 Photo provided Donald Bondick at the time of his confirmation.



"The complaint filed against the diocese is based on a number of assumptions that are false. In response to these assumptions, we note specifically that:

"Franciscan Father Theodore Feely was not a diocesan priest, did not work for the diocese, and was never under the direction of the diocese. He was a member of the Franciscan order and not a priest of this diocese.

"The diocese had absolutely no knowledge of alleged abuse by Franciscan Father Theodore Feely until 2002. At that point, the allegations were over 30 years old and Feely had been dead for a decade. Nevertheless, the diocese immediately notified officials of the St. Bonaventure Province of the Conventual Franciscans, who had jurisdiction over Feely and St. Anthony Parish. Soon thereafter, the Franciscans notified parishioners of St. Anthony Parish of the allegations of a cover-up, the record shows that we were forthcoming to our members and to the public regarding this case."

In 2002, Bondick was one of two men to make allegations of sexual abuse by Feely. According to a June 25, 2002, article in the Rockford Register Star, the Rev. Luke Poczworowski made parishioners aware of the allegations at weekend Masses. Both the Catholic Diocese and Bishop Thomas Doran issued follow-up statements to the media in 2002, condemning the alleged sexual abuse and calling sexual abuse in any form "a grave evil."

Also in 2002, the Rockford Diocese released a report concerning allegations of sexual abuse occurring in the Diocese from 1950 to 2002. The report said "Six priests from religious orders were turned over to the superiors of their respective orders for resolutions," but none was employed by the Rockford Diocese at the time of the allegations.

A statement about Bondick's lawsuit from the Conventual Franciscan Friars of St. Bonaventure was not released in time for publication. However, in part five of the "Emotional Stigmata" series, published Aug. 24-30, 2005, Anne Curley, who handles public relations for the Franciscans, said the church "had absolutely no idea [alleged] abuse was going on [in 1969]. ... It was impossible to have a thorough investigation [in 2002, due to Feely being deceased]."

Feely died of cancer Sept. 29, 1991, at the age of 60 at St. Mary's Regional Care Center in Reno, Nev.

Barbara Blaine, president of Survivors Network of those Abused by Priests (SNAP), who was present at the Feb. 23 press conference, alleged: "Donald has been through a very long journey of healing that has brought him to this point. This is not easy. It's embarrassing. It's painful. …We hope that he (Bondick) is successful [in his lawsuit] so that the truth can be opened up and the records in the diocese here can be made public. And that the secrets that have allowed children to be molested and raped by priests, that those records can be made public.

"What the diocese is really doing is splitting hairs," Blaine alleged. "The ultimate leader of the Catholic Church in the Diocese of Rockford is the Bishop, and so all the priests are under the Bishop."

According to the Vocation Office of the Rockford Diocese's Web site, "The Rockford Diocese serves an area 11 counties wide in Northern Illinois." Cook County, where the Conventual Franciscans of St. Bonaventure is located, is not in this jurisdiction. However, Feely did serve in Winnebago County, a county served by the Diocese, during the alleged abuse.

Bondick is represented by Marc J. Pearlman, Michael Brooks and Debra Goldberg of Kerns, Pitrof, Frost & Pearlman of Chicago, and Jeffrey R. Anderson of Jeff Anderson and Associates, P.A., of St. Paul, Minn. Anderson has been credited with representing more than 700 cases of alleged sexual abuse by clergy.

When asked why Bondick and his attorneys were seeking a judgment of $50,000 on each count, Anderson said: "[T]o file in a circuit court, you have to specify an amount of over $50,000. We have not specified… any specific amends at this point. That's why we have between six-12 persons (jury) to specify. I like to expose the wrongdoers and protect the children at the same time. I don't want the money to be the focal point of the case."

Bondick said: "I've never discussed any monetary issues with my attorney, Jeff Anderson. Never has that ever come up. We're just asking for the truth and to protect the children and to disclose all the records." Bondick added Feb. 24, the day after the press conference, "I didn't read that complaint until this morning over coffee."

Anderson verified he never spoke with Bondick about monetary reparations.

The lawsuit

Specifically, the lawsuit alleged the following:

"In approximately 1969 when Plaintiff was approximately 14 years old, Feely repeatedly molested Plaintiff to develop various psychological coping mechanisms and symptoms of psychological distress, including depression, repression and dissociation. As a result, Plaintiff was under a disability and has only recently been able to link his severe psychological and emotional problems with the acts perpetrated by Feely.

"Upon information and belief, Defendants had been apprised of Feely's pedophilic behavior and sexual abuse of young boys prior to the time that Feely was assigned to St. Anthony Padua Church and began abusing Plaintiff. Upon information and belief, before Plaintiff was first sexually abused by Feely, Defendants had actual or constructive knowledge of material facts regarding Feely's individual pedophile impulses and behavior, but failed to act on that knowledge thereby increasing the likelihood that Plaintiff would be harmed. Defendants' failure to act on that knowledge also contributed to Plaintiff's inability to have any knowledge of the wrongful nature of the events.

"Upon information and belief, Defendants did not inform parishioners, parents or law enforcement officials of Feely's criminal conduct and the danger he posed to children. Upon information and belief, despite its knowledge of Feely's sexual abuse of Plaintiff and other students, Defendants allowed Feely to remain as pastor of St. Anthony's Church and other assignments and represented him to be a priest in good standing, thus enabling him to retain his continued, unrestricted access to minor children, including Plaintiff. Upon information and belief, Feely was transferred between churches by Defendants to conceal his criminal behavior and Defendants' knowledge of it and to make it more difficult for parishioners, others in the community and law enforcement officials to discover Feely's criminal activities. Defendants thereby ratified Feely's behavior and increased the likelihood that Plaintiff would be harmed and would fail to obtain help. Had Defendants publicly disclosed the information it had to parishioners and to Plaintiff in particular, Plaintiff may have recalled the abuse he suffered at the hands of Feely and sought help earlier thereby avoiding years of pain and suffering.

"The failure of Defendants to take any action regarding Feely's sexual abuse of Plaintiff is consistent with its decades-long practice of failing to respond to credible allegations of sexual abuse. On numerous occasions since at least 1960 the Defendants received credible allegations of sexual abuse but failed to take the actions necessary to properly investigate the allegations. On information and belief, the Defendants engaged in a pattern and practice of pedophilic behavior, to protect its reputation and avoid the scandal that would result if parishioners and the public at large were aware of the incidents of pedophilia in the church community.

"The defendants did not take appropriate action to safeguard the children that were exposed to its employees. On information and belief, on numerous occasions, the Defendants transferred priests accused of inappropriate behavior toward a minor from one assignment to another, without disclosing any information about the priest's behavior to anyone in the community or to law enforcement officials. Additionally, the Defendants knowingly accepted known child molesters and assigned them to ministries without warning anyone in the community of the pedophilic behavior of these priests. These actions substantially increased the likelihood that children such as Plaintiff would be abused."

For reference, what follows is Feely's parish history:


1958—Ordained;


1959-1961—St. Thomas Church, Arlington, Calif.;


1962—St. Paul the Apostle, Pismo Beach, Calif.;


1963—St. Bronislava, Chicago;


1964-1968—Queen of Angels, Riverside, Calif.;


1969-1973—St. Anthony's of Padua Church, Rockford;


1974-1975—Our Lady of Guadalupe, Riverside, Calif.;


1976—St. Thomas, Riverside, Calif.;


1977-1978—Queen of Angels, Riverside, Calif.;


1979-1980—St. John of God, Norwalk, Calif.;


1982—St. George, Stockton, Calif.;


1983-1988—Queen of Angels, Riverside, Calif.; and


1989-1991—St. Thomas Aquinas Cathedral, Reno, Nevada.


Curley said in August 2005: "There was no awareness of any problem at that point. It was just a normal rotation in terms of St. Anthony's."

Additionally, the lawsuit alleged the following: "Further, and upon information and belief, Defendants and others maintained 'secret files' in which they kept allegations of abuse, making it almost impossible for Defendants' officials and Church leaders to learn of past abuse allegations directed at Feely or other pedophile priests. As a result, despite the Defendants' knowledge of the problem of pedophilic priests in general and any specific knowledge with respect to Feely, the Defendants made the youth accessible by and vulnerable to acts of pre-sexual grooming and abuse, all of which were done in the scope of employment or agency of the Defendants."

Also, with regard to the statute of limitations, which determines the maximum period of time after certain events legal proceedings based on those events may begin, the lawsuit alleged the following: "The applicable statutes of limitations are tolled because the Defendants and others fraudulently concealed Feely's exploitation and misconduct from Plaintiff, law enforcement, Plaintiff's family and other parishioners. Upon information and belief, in an attempt to avoid scandal in the Defendants and to protect the reputation of the Church and Defendants at any cost, Defendants concealed the nature of Feely's abuse by denying the wrongfulness of Feely's behavior, hiding the wrongfulness of his behavior from Plaintiff and others, and by improperly retaining Feely as a priest and spiritual advisor despite being aware of Feely's criminal conduct. Had Defendants not engaged in such concealment, Plaintiff may not have continued to not know that Defendants' conduct was wrong and may have taken action against Defendant sooner."

Additionally, the lawsuit alleged: "The applicable statute of limitations is further tolled by Feely and Defendants' acts of threats, manipulation and intimidation. Since approximately 1969, Plaintiff has been subjected to manipulation by Defendants in that Defendants failed to disclose to Plaintiff and others that Defendants knew of and concealed Feely's acts of sexual abuse of children both before and after Feely's sexual abuse of Plaintiff. Because Defendants failed to disclose this information to Plaintiff, Plaintiff was unaware that he had a cause of action against Defendants until recently."

From the March 1-7, 2006, issue