Man Canvasses Northern Suburbs to Warn Residents of Alleged Child Molesters from Local Parish

By Matthew Streib
Madill Reports
January 16, 2007

Robert Brangard took to the streets of Wheeling and Palatine Tuesday, knocking on doors to warn residents of the presence of alleged child molesters.

Joined by a small group of family and supporters, Brangard, 38, distributed red fliers asking other victims to come forward and warning residents of the presence of ex-priest James Steel, who currently lives in an apartment building in Palatine. On Monday, they did the same thing in Hebron, where former school principal Donald Ryniecki lives. Brangard alleges that Steel and Ryniecki sexually assaulted him in the early 1980s when they were affiliated with the parish of St. Joseph the Worker in Wheeling.

"What's important to recognize is that Brangard did what he should do and what we believe church leaders should be doing," said Barbara Blaine, president of Survivors Network of those Abused by Priests, a victims-advocacy organization of which Brangard is a member.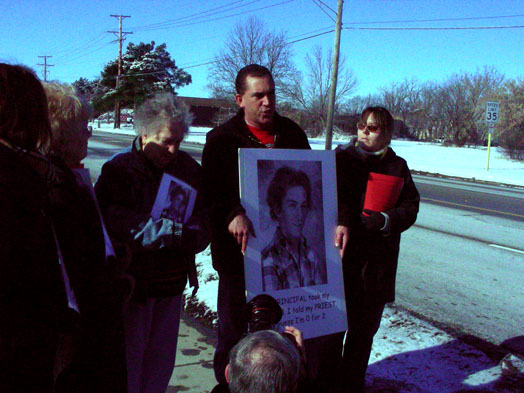 Photo by Matthew Streib


In many parts of the walk, Brangard was noticeably angry. His mother and wife, meanwhile, were tearful. "It's so hard, but we're doing it just so we can save children," his mother, Opal Brangard, said.

Brangard alleged that in 1982, when he was 13, Ryniecki took him to a cabin in Washburn County, Wis., where he was molested. When he returned, he said he told Steel, the parish's associate pastor. Steel subsequently began abusing him as well, Brangard alleged. Brangard said he was in a class of 82 students and he knew of seven others who also say they were molested.

Neither Ryniecki nor Steel has been charged.

After years of depression, Brangard said that he came forward in 2002 because the issue of sexual abuse by priests had become prevalent in the media. "I got to know that there were other people out there who went through what I went through," he said.

On the two routes, Brangard stopped at the houses of the men he accuses. On Monday, Ryniecki answered the door. Brangard said that at first, Ryniecki did not recognize him, and that he handed Ryniecki a flier with the former principal's picture on it. "I got to look the man who took my virginity from me in the eye and say, 'I am 6'2", I am 200 pounds, and I am not this kid anymore,' " Brangard said.

Ryniecki corroborated the meeting with Brangard, and that he didn't recognize him. "It was weird. It was snowing outside, he said, 'I'm Bob, remember me?' He handed me a paper and that was it," he said. He added that the he had not been charged with anything, and denied the accusations. He also said that he was not aware that the accusations were garnering attention from the media.

When Brangard approached Steel's house on Tuesday, no one was home. Brangard and his supporters gave a copy to the apartment building manager and passed out bulletins throughout the neighborhood, according to Blaine. Steel could not be reached for comment.

In November, an independent review board affiliated with the Archdiocese of Chicago, which oversaw St. Joseph the Worker, determined that there is reason to believe that Steel engaged in sexual misconduct with a minor, according to archdiocese spokesman James Accurso. In addition, the archdiocese decided in April that Ryniecki would no longer be eligible for employment or volunteer work with the archdiocese. Brangard has publicly voiced his accusations before, but this was the first time he was able name the men he is accusing, due to the archdiocese's findings.

Steel was ordained in 1968, left the priesthood in 1992, and was laicized in 2001 according to the archdiocese. He served as associate pastor of St. Joseph the Worker from 1979 to 1984.

Ryeniecki had an educator's license to work as a school principal as late as 2001, but it has not been renewed, according to the Wisconsin Department of Public Instruction.

Brangard is represented by attorney Jeff Anderson of St. Paul, Minn., who has made millions suing priests across the country who have been accused of molestation. Anderson has not yet filed a lawsuit, but said that they are looking into it. They can only file a lawsuit in Wisconsin, because the statute of limitations in Illinois has expired, according to Anderson. "[Statute laws] are written in a way to protect predators right now more than they are to protect children," Anderson said. He added that a lawsuit was third priority for his client, behind ensuring the protection of others and Brangard's recovery.

Vincent McCaffrey, another priest who served at St. Joseph the Worker parish in the 1980s, is now serving a 20-year federal prison sentence for possession of child pornography. Anderson negotiated a $4 million settlement with the Archdiocese of Chicago in 2003 for four men who claimed they were sexually abused by McCaffrey when they were children.

St. Joseph the Worker is adjacent to the Wheeling Police Department, where Brangard eventually reported the crime. "You have to understand the audacity of the molestation in the rectory when the police station is right behind it," Brangard said.

Robert Brangard explains to supporters his story of alleged sexual abuse in a Wheeling parish while his mother, Opal, left, and wife, right, Michelle, listen.