Priest Accused of Molestation

By Jami Maday
Queens Chronicle
February 15, 2007

A priest at Jamaica's St. Nicholas of Tolentine Church was stripped of his ministry duties late last week after superiors learned he allegedly molested a boy more than 20 years ago.

The Vatican will determine the ministerial fate of the Rev. Robert McConnin, who was pastor at St. Nicholas for 10 years. Frank DeRosa, a spokesman for the Diocese of Brooklyn, said the alleged incident did not occur at the Jamaica parish.

The allegations stemmed from an anonymous call made late last summer or early fall to the diocese's toll free line for such reports. A review board of eight laypersons within the diocese then investigated the information and determined the allegation was credible.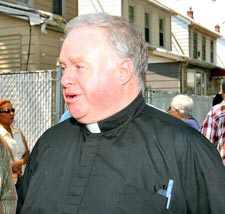 The Rev. Robert McConnin


DeRosa noted that the diocese sent a report to the Kings County District Attorney's Office, which indicates the incident occurred in Brooklyn.

McConnin, who had been a priest for 33 years, also oversaw St. Nicholas of Tolentine's primary school on Parsons Boulevard. DeRosa said McConnin has never been accused of inappropriate behavior at the parish or school.

"He was a beloved pastor to the people of St. Nicholas," DeRosa said.

The diocese is currently working on selecting a new priest to take over the parish.