Good Cop, Bad Church
Detective Still Heartsick over Diocese's Handling of the Only Convicted Child-Molesting Priest

By Gustavo Arellano
Orange County Weekly
February 19, 2004

[See also other articles by Gustavo Arellano.]

More than anything, Detective Tom Gilligan remembers the stonewalling.

The 29-year veteran of the Huntington Beach Police Department was one of two detectives who, in 1986, pursued allegations that Father Andrew Christian Andersen of St. Bonaventure Catholic Church had repeatedly fondled four preteen altar boys over the course of three years. Gilligan talked to witnesses. He visited scenes where Andersen was alleged to have assaulted the boys by reaching into their underwear and rubbing their penises. And Gilligan accompanied Senior Detective Gary Brooks to meet with diocesan officials.

The subsequent probe into the popular priest's activities concluded with Andersen pleading guilty to 26 counts of molesting four boys. It remains the only criminal conviction of a Roman Catholic priest on molestation charges in Orange County history. But Gilligan's most vivid—and painful—recollection involves visiting St. Bonaventure with Brooks and attempting to interview Andersen and his superior, Monsignor Michael Duffy.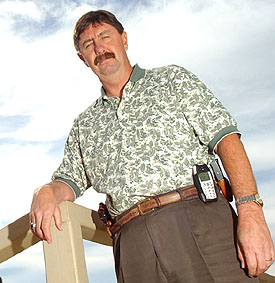 Photo by James Bunoan

"At that point in the investigation, no one seemed to know where Father Andersen had gone," said Gilligan, a lifelong Catholic who attends Santiago de Compostela in Lake Forest. "He apparently got wind of what was going on and left town. So, we went out to St. Bonaventure to talk with Father Duffy, thinking he could give us his whereabouts."

But despite repeated visits, phone calls and correspondence, the detectives received no cooperation from Duffy or other St. Bonaventure workers. In an April 21, 1986, police report, Brooks notes of Duffy, "It appears that he is attempting to avoid me."

Brooks, who has retired, was unavailable for comment on this story. But Gilligan recalls the Duffy runaround. "In my opinion, Duffy was reluctant to want to talk to us," Gilligan says. "He knew that something was going on and so tried to avoid us. As a Catholic and police officer, I was disappointed."

The Andersen affair is once again gaining attention following another county priest's recent confession to molesting a child. Father Gerardo Tanilong, who most recently served at Our Lady of Guadalupe Church in Santa Ana's rough Delhi barrio, pleaded guilty on Jan. 30 to molesting a 15-year-old girl. He apparently groped her breast and attempted to put his hand down her pants as they sat in the back seat of a car while her parents rode in front. Tanilong now faces at least three years in prison. A sentencing hearing is scheduled for April 2.

The Tanilong and Andersen cases shed light on the difficult task of incarcerating an admitted child molester who happens to be an Orange County priest. Andersen's supporters maintained his innocence even after he admitted to the molestations, drawing the admonishment of the judge presiding over the case. In a recent incident in front of Our Lady of Guadalupe after a Sunday-morning Mass, a man violently pushed a sex-abuse victim who attempted to pass out fliers alerting churchgoers to Tanilong's crime.

More disturbingly, Tanilong could get off—that's what originally happened to Andersen. Facing up to 58 years in state prison for his crimes, Andersen instead received what Gilligan still derisively refers to as a "sweetheart deal": a suspended sentence, court-mandated therapy, and five years' probation. In handing down Andersen's ruling, Judge Luis A. Cardenas—who was removed from his judicial post in 2000 after a commission found that he was lenient on criminal defendants who had hired defense attorneys close to the judge—admitted that he settled on the lenient sentence because of the "minimal nature" of the molestations.

In Tanilong's case, a Jan. 31 Orange County Register story quoted Deputy District Attorney Sheila Hanson as saying the Philippines-born priest "could go free on probation," a scenario that doesn't sit well with Gilligan.

"I've seen those types of suspended cases, but I thought [the Andersen case] was unusual," says Gilligan. "The appropriate sentence would've been a state prison sentence. But I wasn't too upset. There were some teeth in the verdict. Andersen might've gotten a good deal, but if he messed up, he'd go to state prison."

Andersen did eventually mess up, landing in jail after New Mexico police arrested him in 1993 for luring a 14-year-old boy into a car and attempting to rape him over three hours.

Eighteen years after his run-in with church officials, Gilligan is still angry. "I was disappointed," says Gilligan. "Knowing what I know now, [the Andersen case] was the tip of the iceberg for cases of sex abuse in the Catholic Church. I equate it to a dirty cop: if there's one on the force, we don't want him and we'll cooperate the entire way to make sure he's gone. That's not what the church did."