Supporters Pray for Accused Priest
Many Express Disbelief at Suit

By Phyllis Brill
Baltimore Sun
March 14, 1994
[See Sins of the Father, by Anderson Cooper, CNN, 360 Degrees (March 19, 2007) for background on this article, on the second allegation, and on Toohey's ultimate conviction.]
More than 125 people gathered on the grounds of St. John's Roman Catholic Church overlooking Long Green Valley yesterday afternoon and prayed together for their friend, the Rev. Jerome F. Toohey Jr.
The priest was accused in a civil suit last week of sexually abusing a student he counseled in the late 1980s.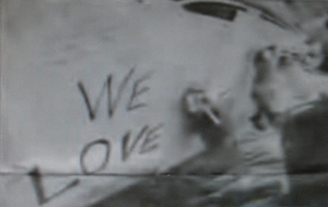 Posters supporting the Rev. Jerome F. Toohey Jr., named in a suit alleging abuse, are signed at a rally. Karl M. Ferron / Sun Staff Photo.
The gathering was organized Saturday evening after parishioners of the church on Long Green Pike in Hydes read about the suit in the newspaper. They wanted to show their support for the priest, a former chaplain at Calvert Hall College high school who said Mass at the school every Sunday as a weekend associate.
The multimillion-dollar suit, filed Thursday in Baltimore Circuit Court, claims that Father Toohey "engaged in a course of conduct whereby he sexually, mentally, emotionally, verbally and physically abused" a teen-ager from the spring of 1986 until Dec. 28, 1989.
The plaintiff is now 23. The Sun does not name victims or alleged victims of sexual abuse.
Kevin M. Kelly, a lawyer for Father Toohey and a former college classmate, issued a detailed two-page statement Saturday in which he said the priest "categorically denies" the charges.
Parishioners of St. John's are convinced of the innocence of the man they know as "Father Jeff."
"I guarantee this is a lie," said Bill Loeffler, a longtime member of the parish who has known the priest since 1984.
"The man would not even think of doing anything like this. It irritates me that newspapers use his name, and the alleged victim sits there in anonymity. The real victim here is Father Jeff because he'll never recover from this."
Father Toohey, 47, was chaplain at Calvert Hall from 1984 until last December, when his priestly powers were suspended because of the young man's allegations, archdiocese spokesman Bill Blaul has said.
The priest also has been president of the board of directors of John Carroll School in Bel Air and has been an associate pastor at Baltimore's St. Francis of Assisi parish.
St. John's parishioners said that after Father Toohey said 7:30 a.m. and 9 a.m. Masses there on Sundays he would drive to Shrine of the Little Flower parish in Baltimore to sign the weekly Mass for the deaf.
"I have known Jeff Toohey since he was a young boy, and I have the highest regard for his priesthood, for his morality and for his compassion," said Sister Agnesine Connors, a pastoral associate at St. John's who led the group in saying the rosary. "This is their way of expressing their support for Father Jeff," said Sister Agnesine of the gathering. "There are many people here whose sons have gone to Calvert Hall or are going to Calvert Hall now."
One of them was 27-year-old Brian Ray of Bel Air.
"There's no question in my mind that he's truly innocent," Mr. Ray, a 1985 graduate of Calvert Hall, said of the priest he has known 14 years. "He was basically a big brother. He looked out for everybody he was ever introduced to.
"I have been in so many social situations with him -- at my house for dinner, at his house -- and I have never been exposed to any situation where he insinuated or even talked in any way regarding sex about anybody," Mr. Ray said. "He was a man truly married to his work."
Near the back of the group was Mary Claire Toohey, Father Toohey's sister, quietly singing along.
"We're very grateful for the support people have shown our family," she told a visitor later. "We just came out to thank people who were so kind to us."