Incidents Allegedly Occurred in 1970s
Two Men Claim Priest Sexually Abused Them
A lawsuit accuses the Basilica of St. John Parish and the Des Moines diocese of negligence

By Loren Keller
Des Moines Register
December 16, 1995

Two former Des Moines altar boys claim they were sexually abused more than 20 years ago by a priest who died in 1993.
In a lawsuit filed Friday, the men — identified as John Doe No. 1 and John Doe No. 2 — say they were abused by Msgr. Francis Zuch, beginning in 1970 and ending in approximately 1975.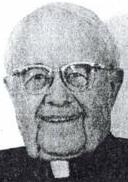 Zuch
Died in 1993
They filed charges against the Basilica of St. John Parish in Des Moines and the Roman Catholic Diocese in Des Moines, alleging the church and diocese were negligent in allowing the abuse to occur.
Surprised by Allegations
Des Moines diocesan officials said they were surprised when they learned of the allegations last month.
In a statement released Friday, diocese officials said they had "no indication at the time of any such abuse. The diocese also has no information that the diocese or the parish committed any act which caused problems" for the plaintiffs.
Zuch, who died two years ago at the age of 94, was pastor of St. John's from 1964 until he retired in 1972, officials said. He previously served as director of Catholic Charities from 1935 to 1955 and pastor of St. John's Parish in Cumming from 1953 to 1964, officials said. Zuch was ordained in 1932.
His sister, reached Friday at her home in Atlantic, said the allegations are unfounded.
"I can't imagine anybody saying that about my dear brother," Mary Zuch said. "This just makes me sick.... He was the most wonderful person in the whole world. I just can't believe that at all. No sir. No way."
Wives Included
The 13-page petition filed in Polk County District Court also names as plaintiffs the wives of the two men.
The attorney handling the case, Peter Berger of Des Moines, declined to discuss the case or his clients' refusal to identify themselves, saying, "I can only direct you to what is contained in the lawsuit. The lawsuit is self-explanatory."
According to the suit, both John Does are seeking unspecified damages for severe emotional distress, psychiatric and psychological treatment, lost wages and medical expenses. Their wives are are seeking damages for loss of companionship.
Chancellor Larry Breheny of the Des Moines diocese said the attorney representing the diocese has the names of the plaintiffs but could not release them.
"Whether it's anonymous or we know the names of the individuals involved, our concern is with what happened," Breheny said.
"Our concern is how to help the individuals involved get through this if in fact the incidents happened."
He added: "There's absolutely no indication that there were incidents or even cause for concern. We just simply don't know."
Des Moines Bishop Joseph Charron also commented in the diocese statement.
"For any priest to violate the trust placed in him by a young person is totally unacceptable," said Charron. "As our most recent statement from the United States bishops says, 'We are fully committed to preventing child sexual abuse and to restoring victims to health.' "