In the Name of the Father
Accusations of child molestation against Msgr. Francis Zuch have shaken the Catholic community

By Cory Zurowski
Cityview
January 24, 1996

As his reputation and name are crucified, Msgr. Francis Zuch isn't afforded the luxury of facing his accusers. Zuch, the former pastor of St. John's Catholic Church, died in 1993 at the age of 94.
Nevertheless, his death hasn't stopped two former altar boys from filing a suit in which they claim Zuch, their parish priest, sexually abused them more than two decades ago. The two men, residents of Polk County, are listed simply as "John Doe #1 and #2." They allege that the Basilica of St. John Parish and Des Moines Roman Catholic Diocese were negligent in allowing the abuse to take place.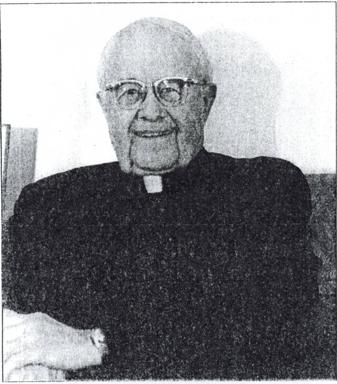 Msgr. Francis Zuch: pedophile or holy man?
The plaintiffs are seeking unspecified damages that will "fairly and fully compensate" them for severe emotional distress, psychiatric and psychological treatment, lost wages and medical expenses. Their wives, listed in the petition as only Jane Doe #1 and #2," are also seeking financial compensation for loss of companionship.
The suit states the men entrusted their spirit and youth to the church and their religion, and that "special relationship" was "blatantly violated" by Mgsr. Zuch.
Wall of silence
Since it was filed more than a month ago, the suit has been shrouded in silence. Zuch's sister Mary declined comment. Diocesan officials deny they had knowledge of the abuse. When asked to
comment for this article, spokesperson Tom Chapman said the diocese had nothing to add.
The plaintiff's lawyer, Peter Berger, who wouldn't field questions pertaining to the case, wishes to keep the names of his clients confidential. He has filed to keep the case sealed. Judge Linda Reade has said as of now, the proceedings are still open to the public.
The church's attorneys, LeRoy Voights and Frank Harty, are concerned. Court documents filed by the defense state: "The plaintiffs now seek to enlist the help of the court in an attempt to prosecute these serious claims under a cloak of anonymity." At a hearing last week, Voights remarked, "Everything's private in this case but my client's name."
When contacted, Voights would only say, "Right now all we know is we're asking them to reveal the names and they're objecting to it."
Hung jury
While the lawsuit has generated little comment from parties involved, it's been a dominant topic of gossip within the Catholic community. Indifference is nonexistent. Zuch is regarded as either a pedophile or a revered holy man. But like the lawyers, few of Zuch's former students are willing to speak publicly about the priest.
Thomas — who spoke on condition of anonymity — attended St. John's from fifth through eighth grade. When asked if he thinks Zuch sexually abused the boys, he says bluntly, "Oh yeah, I'm sure he did. I have no doubts... I know in my heart that he molested those guys."
Thomas has no first-hand knowledge of abuse. His views are based more on schoolyard talk and gut instinct than fact. But according to Thomas and other former students, Zuch was distant from most students. He did, however, have favorites who were altar boys. Thomas says it was a standard joke among the children that Zuch was "messing around."
"I remember he would take some guys up to his cabin during the summer. We knew something was going on. We didn't know if he was fondling them or having oral sex or whatever. We never knew specifics. But we'd hear stories of him crawling under the sheets"
Thomas says that Zuch would befriend timid boys, not those who were outgoing or vocal. "He never took me because he knew I would have said something."
There are others, however, who aren't as convinced of Zuch's guilt.
Chris Gates also attended St. John's, where he was a student from 1963 till 1971. Gates, an altar boy, had a great deal of contact with Zuch.
"It's hard to believe," he says. "I doubt that he did it... But if someone says he did, who am I to say they're lying?"
According to Gates, Zuch's words were taken as though God himself had spoken. "He was one of those people who command respect. He was a real leader, a man who did everything right." Gates says he has spoken with other former altar boys who all maintain that Zuch was many things, but certainly not a pedophile.
"I'm still a religious person," he says. "Because of his devotion to the church, I'm still Catholic and still pray. It's because of him."
Divine atonement
St. Paul-based attorney Jeffrey Anderson specializes in priest pedophilia cases. Anderson has represented hundreds of clients in lawsuits against the Catholic Church. He says these types of cases rarely go to trial; out-of-court settlements are far more common.
It's not unusual, says Anderson, for years to elapse between the time of the alleged abuse and litigation. "When abuse occurs by a priest or another authority figure, it's typical for a victim to suffer in silence and in secrecy for many years. There's a delayed discovery of the injury because of the
nature of the abuse. It isn't like being raped at gunpoint. The consequences of the abuse surface over
time."
Anderson adds that he has observed other cases where the alleged abuser is deceased and victims' identities are concealed. Moreover, he has never encountered any person who lies about sexual abuse at the hands of a priest, just for the sake of a buck. "People don't just fabricate something like this. This kind of abuse has such a stigma attached to it, why would they want to?"
Anderson has seen victims awarded $50,000 to $1 million, depending on the type of abuse and the injuries suffered.
But despite differing facts, says Anderson, each case contains a common thread. "You have a very serious emotional and psychological violation. Whether the abuser is alive or dead, whether the accusers' names are kept private or made public, whether the abuse happened yesterday or 20 years ago, that doesn't change the fact that the perpetrator has seriously hurt their victims and they'll feel the affects of the abuse for the rest of their lives."