Bishop Hired 2 Priests after Suspensions
He defends their work since joining FW diocese

By Brooks Egerton
Dallas Morning News
August 12, 1998
Fort Worth - Catholic Bishop Joseph P. Delaney hired two priests who were suspended in other dioceses, defended them despite protests to the Vatican and retained them after they were convicted of crimes, documents and interviews show.
Bishop Delaney defended his handling of both priests, who were forced out of dioceses near his hometown of Fall River, Mass., and became pastors in the early 1990s of tiny rural parishes in the 28-county Diocese of Fort Worth. He said Tuesday that he knew of no serious complaints about either man's work in Texas.
One of the clerics, the Rev. Philip Magaldi, is now chaplain of the diocesan scouting program and an assistant pastor in northeast Tarrant County, having completed a prison term for stealing from a Rhode Island parish. A judge said he embezzled more than $ 120,000, according to published reports; prosecutors said he used some of the funds for tropical vacations with adolescent boys and once gave a teenager he met in a park enough money to get a car.
The other priest, the Rev. Thomas Teczar, spent time in a molestation treatment program and was fined in Massachusetts on a misdemeanor charge of contributing to the delinquency of a minor, then stayed on the job in Texas until 1993. He then fled after refusing to answer questions from a grand jury investigating child sexual abuse; two of his associates were convicted in that case and sentenced to prison terms of more than 30 years each.
Father Magaldi, 62, a friend of Bishop Delaney for more than 40 years, did not return phone messages Tuesday at church and home. Father Teczar, 57, did not respond to repeated requests for comment. Neither has been convicted of sexual misconduct.
Bishop Delaney, 63, hired Father Magaldi in early 1990, while he was under criminal investigation and suspended by the Diocese of Providence, and kept him on duty after his indictment later that year. When the priest pleaded guilty in 1992, the bishop wrote his parishioners in counties bordering Oklahoma to say that he "probably unknowingly violated the law."
But the judge who sentenced him to two years in prison - stressing that he was a Catholic, too - suggested that Father Magaldi had not repented of his free-spending ways in Texas, according to newspaper reports. He said in court that dozens of parishioners in Clay and Montague counties had written him complaining about Father Magaldi's practices; some said he hired a bus to take altar boys on out-of-town pleasure trips.
One such letter, a copy of which was sent to the Vatican, blamed the Fort Worth diocese for "sending this man to us during this time of turmoil in his life. We were never told of any of the scandalous things that he was involved in prior to his arriving on our doorstep."
Father Magaldi served eight months in a work-release program before returning to Texas, where he has worked with altar boys at St. John the Apostle in North Richland Hills. Parishioners were advised of his criminal record, Bishop Delaney said, adding that Father Magaldi is not allowed to handle church funds.
As for the priest's suitability to work with children, the bishop said, "I have no reason to distrust him in that regard. . . . Here's somebody I've known most of my life."
One of Father Magaldi's former altar boys in Montague County, 21-year-old Jimmy Crow, praised him as a good influence who "has done his time." Several other former parishioners echoed these remarks - even as several detractors railed against both priest and bishop.
"I think it's a disgrace," said Minnie Lawyer , one of the Montague County residents who wrote the Rhode Island judge. "I don't know what's happening to our Catholic Church."
Bishop Delaney said that Father Magaldi "doesn't really work with kids at all" in the scouting program, merely serving as an adviser to the adult supervisors.
Daniel Scott, chairman of the diocesan scouting committee, contradicted that account. He said that Father Magaldi offers religious counseling to scouts and - as a matter of policy governing all leaders - is not allowed to be alone with them.
Mr. Scott said he was unaware of the priest's criminal record but did not think it should disqualify him.
*
Father Teczar, meanwhile, now lives in Massachusetts and hasn't been allowed to work as a priest since 1993. Criminal-investigation documents obtained under the Texas open-records law allege that he had encouraged one of his convicted associates to thwart police by destroying photographs of young abuse victims.
Authorities in west central Texas' Eastland County said they didn't pursue an investigation of the priest after no photos were located, no children complained about him and the Fort Worth diocese refused to help.
"This I know nothing about," Bishop Delaney said. "No one ever approached me." He said he thought Father Teczar left the state simply because "he decided he didn't want to be a priest in Texas any more."
Confidential church documents, surrendered in a pending molestation suit against Father Teczar and his original diocese of Worcester, Mass., show that he had been suspected of sex abuse since the 1960s.
The Worcester diocese declined to comment on the records, which also show that Bishop Delaney hired Father Teczar in 1988 after he'd been in treatment, out of work for about four years and rejected by several U.S. and foreign bishops.
Bishop Delaney kept him on the job after a written 1990 warning from Father Teczar's superior in Worcester, Bishop Timothy J. Harrington, that "he does not have my approval to function as a priest," the records show.
Bishop Harrington had initially blessed his transfer to Fort Worth. He sent the warning shortly after the family of a Massachusetts accuser learned of the move and complained.
That led Worcester prosecutors to charge Father Teczar with contributing to the delinquency of a minor and supplying alcohol to a minor. He was fined $ 375 after Bishop Delaney wrote a letter, filed with the court, pledging that "he is not working with young people in his present assignment, and I intend that this will be the continuing arrangement."
Bishop Delaney said he didn't know about the lawsuit, didn't recall Bishop Harrington's warning and had never heard about molestation allegations dating to the 1960s. He said that the Worcester diocese briefed him only about the alcohol incident, in which no sexual misconduct was proved.
Strictly speaking, church-law experts say, Bishop Delaney did not need the Worcester bishop's permission to continue employing Father Teczar. But his action is "incredible, unbelievable," said the Rev. Thomas Doyle, formerly canon lawyer at the Vatican Embassy in Washington, D.C.
Father Doyle has reviewed hundreds of clergy-abuse cases over the last decade, frequently testifying against Catholic leaders who covered up evidence and protected perpetrators. He said he couldn't recall any other cases in which a priest who'd been accused of child molestation worked in a new diocese without approval from his previous bishop.
"I have not seen any quite this blatant," said Father Doyle, now an Air Force chaplain. "After all these years, it's beyond my comprehension how stupid these guys can be."
*
In an interview with the Fort Worth Star-Telegram a few months ago, Father Magaldi said he headed west because of the lack of clerics.
He recalled going to San Antonio to study Spanish in 1988 and falling "instantly in love with Texas. After I returned to Rhode Island, they kept saying there was a shortage of priests in Texas, so I asked to go there."
The story did not mention his criminal conviction. Instead, it focused on his recent trip to Rome, where he and Bishop Delaney attended the Vatican's North American College in the late 1950s.
Father Magaldi said he was invited to Rome this year for the installation of new cardinals, including one he described as a friend for 29 years. "Through his intervention," he was quoted as saying, "I met personally Pope Paul VI and John Paul II."
The reigning pope signed a blessing for the North Richland Hills church - "a pledge of divine graces and favors, at the request of Father Philip Magaldi."
Father Magaldi has called attention to friends in high places before. In a 1983 affidavit supporting Rhode Island socialite Claus von Bulow - who'd been convicted of trying to kill his wife and was seeking a new trial - he called himself a personal friend of Rhode Island's governor and attorney general.
In 1985, a subsequent attorney general won an indictment of Father Magaldi on charges of perjury and conspiracy to obstruct justice in the von Bulow case. The charges were dropped two years later because of what authorities called faulty evidence.
About that time, Rhode Island church officials have said, they started investigating the finances of Father Magaldi's parish in North Providence. They have said that he resigned after they forwarded information to the attorney general.
After being indicted on embezzlement charges in 1990, Father Magaldi told Texas parishioners that he had been forced to resign to protect a banker and a Providence politician, according to published reports. He would not provide names.
"He's never impressed me that he truly accepted responsibility for his crimes," said Rhode Island attorney Richard Ratcliffe, who helped prosecute Father Magaldi. "I question why this person should be a priest, and I'm a Catholic."
*
Bishop Delaney let Father Teczar come to Fort Worth after meeting with him and Bishop Harrington. Writing to his fellow bishop in 1988, the Texas prelate expressed gratitude "for the frank and open way in which you expressed your concerns about his ministry in the future based on what has already happened.
"Having thought the matter over and prayed over it, I am now writing back to tell you that I am willing to give Father Teczar an opportunity to get back into active ministry, fully aware of the possible risks that may be involved."
The priest first went to St. Patrick's Cathedral in downtown Fort Worth, whose pastor at the time was the Rev. William Hoover. (Father Hoover was forced to resign in 1995 after admitting sexual abuse of a young parishioner in Dallas decades earlier. He insisted that he'd molested only one boy, but several others soon came forward. Bishop Delaney allowed Father Hoover, after undergoing counseling, to celebrate Mass at Holy Name Catholic Church in Fort Worth before he died in 1996.)
After working for a few months at the cathedral, Father Teczar served as an assistant pastor for about a year at St. Michael Catholic Church in Bedford. The Massachusetts parents whose complaints had led to his forced resignation saw the new assignment listed in the Worcester diocesan directory and protested.
"Your assurance to us," Norma and Edward Maciorowski wrote in January 1990, "was that he would never go to another diocese because in order to do so, Mr. Teczar would need your permission - something that you would never grant. . . . Bishop Harrington, how do you manage to live with yourself when you know Thomas Teczar's history of sexual abuse of young males, providing alcoholic beverages to Catholic Youth Council participants . . . and other deviations . . . ?"
When writing Bishop Harrington, the Maciorowskis sent copies of their letter to Bishop Delaney and the Vatican, asking for their help. Bishop Delaney, they said, never responded - but the Vatican's Congregation for the Clergy did.
"When Father Teczar sought out a Bishop who would receive him into his diocese, Bishop Harrington shared with that Bishop what had occurred and his reasons for not reinstating Father as an active priest," reads the response. "The recollection of Bishop Harrington is that he agreed with you not to reinstate Father . . . but he stated that he could not impose on another Diocesan Bishop to do the same.
"You can easily understand that this is a complex situation and the Bishop has tried to seek justice for all involved, responding empathetically and responsibly to the allegations made by you and protecting assiduously the good name of the Church.
"We trust that you will understand this painful and delicate process and, guided by your Christian principles which you have shown to cherish in the past, will let the local Authority handle the case with merciful justice."
The Maciorowskis pushed ahead with a criminal complaint, which ended with Father Teczar being summoned back to Worcester in early 1991 and being fined for the alcohol and delinquency charges. Meanwhile, Bishop Delaney had made him pastor of four rural churches at the 28-county Fort Worth diocese's western edge: St. Rita in Ranger, St. Francis Xavier in Eastland, Holy Rosary in Cisco and St. John in Strawn.
*
By early 1993, Ranger police were investigating two of Father Teczar's associates, Daniel Hawley and DeWilliam Bixler, on child molestation allegations. The inquiry began after another of the priest's friends complained to authorities about Mr. Hawley, saying that he had given him a drunken confession and showed him Polaroids of nude children.
The complainant, Duane Taylor, said Father Teczar learned about the investigation and tipped off Mr. Hawley, telling him to destroy the pictures. The mother of some victims gave police a similar account:
"Daniel said Father Tom said he better get his act straight and if he has any evidence he better get rid of it," according to the woman's written statement to police. She also admitted that she "told the kids not to say anything" because she had known about the abuse and not reported it.
Mr. Taylor said he was furious with the priest for alerting Mr. Hawley but forgave him. "He told me, "I got scared. I just freaked out,' " said Mr. Taylor, who worships at the Ranger church and runs a hair salon in his home across the street.
He said he had previously warned Father Teczar about the proclivities of Mr. Hawley, who did yard work at the rectory. But the pastor, he said, persisted in a friendship on the grounds that the man "was the type who needed help most."
There was more to the relationship than religious care, Mr. Hawley's statement to police indicated. He described how he and Mr. Bixler had sex with the priest at the rectory, adding that Father Teczar took and kept pictures of them naked.
All of this led authorities to suspect that Father Teczar had also abused kids, said Eastland County Assistant District Attorney Bill Dowell. "He was in the middle of it," he said, "but we didn't have a victim come forward."
Neither Mr. Hawley nor Mr. Bixler implicated Father Teczar in molestation, either. And Mr. Taylor praised him for drawing people back to church, adding that "somebody needs to defend him. I'm sick and tired of people trying to hang this man."
Mr. Hawley and Mr. Bixler were indicted in March 1993, the same month that the grand jury subpoenaed Father Teczar. Ronnie White, who was sheriff then, said the priest appeared with two attorneys and answered no substantive questions, invoking his Fifth Amendment right against self-incrimination.
After the grand jury hearing, Mr. White said he and a police investigator told Father Teczar that they would invite his parishioners to the indicted men's trials. He had vanished by the next day, the former lawman said.
"He left Texas pretty damn fast" and had his belongings shipped later, said his sister, Pat Ernitz. "He was afraid the police would be waiting for him at the airport."
Mr. White said that he wanted to arrest Father Teczar on a charge of failure to report child abuse. But when he asked the Fort Worth diocese for help, officials wouldn't discuss the priest's personnel history and maintained that they didn't know where he was, he said.
Eastland High School principal Larry Duncan, who was a parish council member at the time, said he questioned Father Teczar about the situation before he left town. The priest insisted that he merely had a counseling relationship with Mr. Hawley and didn't know he should report suspicions of abuse, Mr. Duncan said.
He said he didn't buy that explanation - and couldn't fathom why Bishop Delaney, without briefing parishioners, would take a chance on someone with a history as troubled as Father Teczar's.
"It looks like that would weigh on him," Mr. Duncan said. "It looks like the church would try to protect us."
David Lewcon, the 44-year-old Massachusetts man whose suit led to disclosure of Father Teczar's personnel file, is likewise amazed at how church leaders let him keep working for so long.
"It's like owning a bar," he said, "and hiring an active alcoholic to run it."
* * *
A Look at Teczar's Past
A 1996 lawsuit accuses the Rev. Thomas Teczar of sexual abuse and the Catholic Diocese of Worcester, Mass., of negligence. The diocese declined to comment on the case because it remains in litigation, and Father Teczar did not return repeated messages seeking comment. The suit has led to disclosure of his personnel file and other materials providing evidence of misconduct dating back more than 30 years: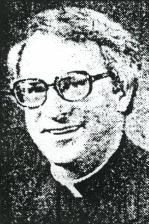 Teczar

• Worcester Bishop Timothy J. Harrington knew about "a trail of damaged youngsters [Father Teczar] left in one town," according to a 1986 letter written by the Rev. Raymond J. Page, then the diocese's No. 2 official. "The police there were far from pleased", and "threatened to find a reason to arrest him if he returned."

• Father Teczar was kicked out of seminaries in Loretto, Pa., and Ottawa before becoming a priest in 1967. In characterizing one dismissal, his bishop wrote that "practically the whole faculty was unanimous in the decision not to promote him. The young man had so many eccentricities that the Rector was convinced these would only become more pronounced as he grows older."

• In a deposition earlier this year, Father Teczar admitted that he also was fired from an orphanage in Leicester, Mass., before becoming a priest. He gave only vague reasons for the action but did allow that it occurred after he gave a 9- or 10-year-old boy a bath.

• The late Bishop Harrington's predecessor, the late Bishop Bernard J. Flanagan, ordained Father Teczar after a pastor who supervised him during an intemship confirmed more trouble. "I would suggest that no further warnings should be given about his formerly manifested predilection for intimate and rather exclusive companionship with young boys," the pastor wrote to Bishop
Flanagan.

• Father Teczar was transferred repeatedly within the Worcester diocese, serving in at least 11 parishes before finally becoming a head pastor in Rochdale in 1984. His sister, Pat Emitz, told The Dallas Morning News that he used to laugh about all the church jobs he'd had and made jokes such as "I hold the record for most amount of transfers."

• Less than a year after getting the Rochdale promotion, Father Teczar was accused of abusing a 15-year-old. "The boy and his parents, who were from a town where Tom had formerly served, came to see me and asked that the diocese take action to remove Tom from active ministry," stated the letter from the No. 2 official, Monsignor Page. "They threatened to press criminal charges if we did not act."

• Father Teczar was forced to resign as pastor and spent almost a year in inpatient therapy in California. He "went the full route from denial, unwillingness to be there, etc., to complete cooperation, admitting his problem, expressing remorse and the need to change," according to Monsignor Page's letter, which was addressed to a bishop who considered hiring the priest before Bishop Delaney did. Father Teczar testified in his 1998 deposition, however, that he was "always puzzled" about why he'd been sent to the treatment center.

• After the priest completed therapy, Bishop Harrington refused to give him another assignment, reasoning, according to Monsignor Page's letter, "that Tom is too well-known in our compact diocese. Though there was never any publicity about Tom's situation and the diocese worked out a settlement with the family involved, still there was a lot of 'talk.' ... Bishop Harrington told Tom to consider seeking [an assignment from] a benevolent bishop and asked that Tom be completely honest in the process as he, Bishop Harrington, would have to be."

• The California treatment center was part of a national chain co-founded by another Worcester priest who has also been accused of sexual abuse and removed from active ministry. A separate suit against the Worcester diocese was settled confidentially; the priest, the Rev. Thomas Kane, filed for bankruptcy. The chain, called House of Affirmation, shut down several years ago amid financial problems.