Childlike Quality Won Victims Many Friends

By Glenn Bunting
LA Times
March 24, 2002
[The layout of this page is a re-creation of the original web posting by the LA Times. We thank Holly Ilse for providing a printout of that posting. The text of this page is taken from the cache of the Internet Archive: http://web.archive.org/web/20020326151250/
www.latimes.com/news/local/la-032402boys.story.]
Related Story
Cloak of Silence Covered Abuse at Jesuit Retreat
Mar 24, 2002

Quote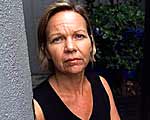 "It's such a terrible, terrible betrayal," she said. "This is so horrendous, so evil and so corrupt."
—Debra Sullivan, sister of James, one of the victims

Photos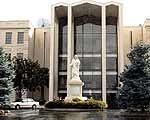 Sacred Heart Jesuit Center (Randi Lynn Beach / For The Times)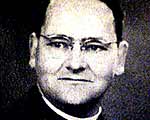 Father Burke, 1951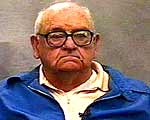 Burke at deposition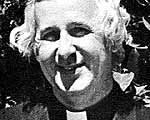 Brother Connor, 1975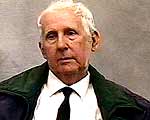 Connor at deposition



Victim and his idol (Robert Durell / LAT)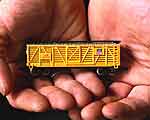 Hands of a victim (Robert Durell / LAT)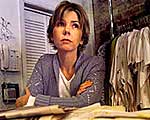 Holly Ilse (Robert Durell / LAT)

Quote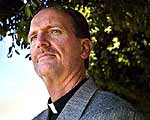 "Clearly, two men did things they shouldn't have done. We are not denying that. I wish this hadn't happened. I want to make sure that it never happens again."
— Father Thomas H. Smolich, head of the California Province



Los Gatos, Calif. — The boxes are filled with miniature train sets, stuffed bunnies, yo-yos and model cars, boats, battleships and planes.

Like the two mentally disabled men who packed them up months ago in anticipation of moving, the brown boxes sit in a storage facility. The two-story stone building on the grounds of the Sacred Heart Jesuit Center is the only home these men have known for three decades.

Now, after enduring years of sexual abuse, the victims—referred to in court documents as "John Doe" and "James Doe"—are ready to start over.

John, 56, says he wants a red bicycle and flat land to ride it on.

"I want to get rolling," he says, letting out a deep sigh. "I'm so sick of this place. I need a change. I want to cook and do some gardening. I want a DVD player. I want a large refrigerator. I need to make my models. I don't like airbrush. It's too messy. I like spray paint."

James, 50, says he yearns for a place to set up his trains.

"I'm getting ready to move. I have everything in this room. I have animal crackers and marshmallows over there to eat when I'm watching my train tapes. I'm just waiting. I don't really like it here. I just want to run the trains. They just sit. There's no place to run 'em. I'm hoping to get a warehouse."

It appears that the men, along with their boyish possessions, won't be leaving any time soon.

They have remained in adjacent second-floor rooms since the sexual abuse was first documented in 1995 because they cannot afford to live elsewhere. Their lawyers have been negotiating a monetary settlement for the past year with attorneys representing the California Society of Jesus, better known as the Jesuits.

"We're doing our best to take care of them," says the Rev. Thomas H. Smolich, head of the California Province. "However this ends up, they're going to be taken care of."

A Times reporter and photographer recently spent a few hours with the two men. Both are mentally retarded, according to psychiatric evaluations. Friends describe them as straight out of the "Odd Couple."

John is the nit-picky one who likes everything in order. His clothes must be ironed and perfectly hemmed. He is obsessed with his shoes. Shirts from each branch of the military hang crisply in a closet with each hand-painted medal in its proper place.

He says he has always wanted to enlist in the military. "I have polio and they won't take me."

James is the happy-go-lucky one whose hair is never combed and whose attire is always messy. He buys his clothes at the Happy Dragon thrift shop. His favorite outfit consists of sweatshirt, shorts, sandals and white tube socks.

Items for his two cats—Fancy and Princess—are spread everywhere in his room: a cat welcome mat, a cat blanket, food dishes at the foot of his bed, a litter box in one corner and two scratch pads on the floor. "Fancy was named Crusty. We changed it," James says. "I call her the Vampire Cat."

Both men have an innocent quality that has won them many friends among the caseworkers, lawyers and detectives who have come to know them in recent years. They are familiar faces to the merchants who run upscale shops in the heart of Los Gatos, a mile walk down the hill from Sacred Heart Jesuit Center.

In 1989, days after the Loma Prieta earthquake damaged much of Los Gatos, John introduced himself to Holly Ilse as she swept the sidewalk in front of her dress shop. "He just kept coming back," Ilse says. They became fast friends.

John's nicknames for Ilse are "Sugar" and "Sweetness." He adds: "She is a sweet little thing. I like her dogs [Australian shepherds Dally and Dewey]. But I don't want them. I want to do my models. I don't want to deal with animals."

The crusading efforts of Ilse brought the allegations of sexual abuse to the attention of authorities. Since she first heard reports of molestation in 1997, Ilse, 36, the only daughter of a retired San Jose police lieutenant, badgered investigators and county protective services workers.

"Holly is quite reactive," says Sgt. Lawrence Goodman, who was formerly assigned to the Santa Clara County Sheriff Department's sex crimes unit. "God bless her. To her credit, she did look out for those boys because she had a true caring for them and didn't want to see them taken advantage of."

John and James are frequently referred to as "boys," even though they are old enough to be grandparents.

In many ways, Ilse says, they were perfect victims: They lived in a facility separate from the Jesuit residence. They had no one to look after their interests. They are eager to please and never question authority.

"That's why they were so easily taken advantage of," she said.

Ilse is John's court-appointed guardian in a lawsuit seeking more than $10 million in damages. But she vows not to take a penny of any settlement.

"They're sweet, innocent little guys," she says. "I just want them to have a life."

Their childlike ways are evident from one glance at their rooms.

John's walls are covered with Elvis photos. He likes to watch Elvis tapes and enjoys doing his Elvis imitation for anyone who asks. He grabs an imaginary microphone with his right hand and holds it close to his lips as he begins to gyrate. He sings "Just Pretend," hitting all the low notes while wiping sweat off his brow.

"He was a good guy," John says of the King. "His friends turned on him. You know what I like? These suits," he says, pointing to a white jumpsuit on an Elvis poster. "I want to get one of these."

As John keeps talking, two loud train whistles roar in the background. They are coming from the two train clocks that sound off on the hour in James' room.

John rolls his eyes. "Ching! Ching! Ching!" he says, mimicking the noise. "I put up with it."

Next door, James is watching a train video. He has a collection of more than 100 tapes. The shelves of his room are lined with toy cars and trucks. James points out that all of his miniature trucks fit onto the freight cars packed away with his train sets.

"This is my little UPS truck," he says. "I can put them on flat cars and pretend I'm moving up to the next town."