Follow-Up
State Action on Priest Fell Short, DYS Team Says

By Matt Carroll
Boston Globe
March 25, 2002

http://www.boston.com/globe/spotlight/abuse/stories/032502_state_spotlight.htm

The passage of time is likely to make it difficult to prosecute many priests who allegedly molested children - even the Rev. Bernard J. Lane, who allegedly raped teenage boys at Alpha Omega, a Littleton facility for troubled youths that he ran under state contract in the 1970s.

Back then, however, state officials missed a chance to bring an early end to the alleged abuse. And once they stumbled upon evidence of inappropriate sexual behavior, the state and the Archdiocese of Boston decided it was better to transfer Lane to avoid public embarrassment, according to documents and interviews by the Globe Spotlight Team.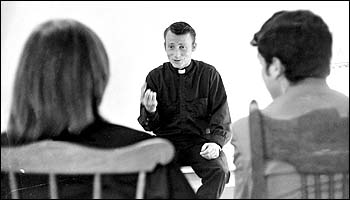 The Rev. Bernard J. Lane allegedly molested children at Alpha Omega, a Littleton facility for troubled youths that he ran. (1969 Globe File Photo / Harry Holbrook)
At the time, the state could have launched a broader inquiry that might have led to criminal charges. As for the archdiocese, it simply assigned Lane to St. Peter's parish in Lowell, where he continued to have access to children.
And to replace Lane at the center, the Church selected the Rev. C. Melvin Surette. In the 1990s, the archdiocese settled a claim after a boy from the center accused Surette of sexual abuse. Surette's attorney has said that Surette denies the allegations.
In January, the Globe reported that the archdiocese settled at least six sex abuse cases against Lane, many of them involving allegations he raped boys at the facility or at a family summer home in New Hampshire. Despite the settlements, Lane has denied the allegations through his attorney. But since January, several men who spent time at Alpha Omega when they were teenagers have come forward with similar allegations.
Much of the abuse might have been prevented, according to members of a state Department of Youth Services evaluation team. The team members told the Globe that in either 1976 or 1977 - a year or two before Lane's 1978 removal - the team arrived at Alpha Omega for an intensive review that would have involved several days of interviews with the staff and teenage patients. But Lane refused to let the team in for the state-mandated review. When the team alerted its superior, John Isaacson, then the DYS assistant commissioner, he refused to intercede.
Isaacson's decision, members of the team said in recent interviews, was a serious lapse by the agency. ''If we had been able to do the work we should have done at the time, there might have been some kids who weren't harmed,'' said Jean Bellow, one of the survey team members. She said they believed the DYS was afraid to offend the archdiocese.
Isaacson said he does not recall discussing Alpha Omega with the team, but does not dispute the account by members. However, he said he had little faith in the evaluation team. He described them as well-meaning but ''nuts, and you can quote me.''
He said they were unreliable, ideological, and mostly interested in shutting down programs. ''They were constantly crying wolf,'' he said.
Isaacson denied giving the Church favorable treatment.
Robert Watson, who was the director of contracts for the DYS, said Isaacson's criticism of the team is without merit.
Attorney Nance Lyons, who has represented several of Lane's victims, said she was dumbfounded when she recently learned from the Globe about the state's inaction. ''What were these people thinking of?'' Lyons said. If, she said, the state ''had gone and interviewed clients, my other clients would not have been abused. It is beyond the ability of any reasonable person to understand.''
But 25 years ago, Isaacson noted, the Church was treated differently. ''We were more respectful of priests than we would be today. It was a different era,'' he said.
Because priests were dedicated to service and poverty, Isaacson said, ''they got a lot of respect ... When we encountered a priest in a home, the original assumption was that this was a good man. The commitment in those days was they would take care of the kids. That was very powerful.''
In the late 1970s, Alpha Omega had two homes in Littleton, each housing 15 boys between the ages of 14 and 17. The homes were for youths with ''serious acting-out problems,'' which included drug or alcohol abuse and car theft or worse crimes, according to Alpha Omega literature.
At the time, Alpha Omega was not an archdiocesan facility. It was run by a secular nonprofit in Malden called Adolescent Counseling in Development Inc., which Lane had helped found. (The facility is still open under the same name, but operated by Life Resources Inc., a separate corporation under the archdiocese.)
Scott Surrey, a member of the DYS evaluation team, said he did not anticipate a problem when he knocked on the door of the Alpha Omega home in 1976 or 1977. He and his team had done more than 30 inspections and expected to spend four or five days at the Littleton house, talking to staff, boys, and examining records.
But Lane refused to let the team in, even though blocking the team was in direct violation of his state contract, according to Surrey and Bellow. Surrey said in an interview that Lane told him he didn't think it was appropriate for the team to observe group therapy. That, Surrey said, was ''a ridiculous argument.''
Upset and seeking the backing of superiors to get into the facility, Surrey and Bellow met with Isaacson. But he refused to help, said Surrey, Bellow, and David Danforth, a third member of the team.
The team never returned.
In 1978, the DYS received an allegation that Lane had fondled a boy from Alpha Omega at Lane's cottage in Barnstead, N.H, according to Watson and Dr. Stephen Howard, the center's medical director. Isaacson, in an interview, recalled that the accusation was that boys at Alpha Omega were rolling around on the floor in the nude, with maybe nude touching. When Lane was questioned about the charge, Isaacson said, ''Lane made claims it was therapeutic and the kids were being honest with each other.''
Isaacson said he found that explanation incredible.
But even when the DYS was confronted with the 1978 allegations, it participated in a resolution that allowed Lane to escape culpability, according to documents and interviews with the officials involved.
The DYS worked on the issue with the state Office for Children, which handled licensing of the facilities. On Oct. 20, 1978, the Office for Children wrote to Alpha Omega House and threatened to pull its license for ''unusual treatment practices.''
But at about that time, DYS officials met with officials from the Archdiocese of Boston. The state officials said they could not recall which Church officials were involved.
''My sense,'' said Watson, who was at the meetings, ''was they [the archdiocese] knew they had a problem, and they were looking to minimize the exposure of the archdiocese and Bernie Lane.''
Two other officials, one of them Isaacson, offered similar recollections. Isaacson said the DYS didn't want publicity, either. Despite the problems, he said he believed the program was one of the better ones and he wanted to keep it open. Isaacson said he preferred ousting Lane.
By Nov. 15, the state and Alpha Omega had hammered out an agreement to keep its license, but Lane and Howard were forced to quit. One of the two houses at the Littleton facility was closed.
Howard, now a psychiatrist in Atlanta, believes the state overreacted.
''They jumped to the conclusion that all sorts of sex things were going on. I think it was greatly overblown,'' he said.
Asked whether he believed any of the people who have received settlements from the archdiocese, he replied, ''I have no reason to believe any of that.''
Alpha Omega's parent, Adolescent Counseling in Development, was also soon out of the picture, replaced by another nonprofit, Life Resources Inc. Surette was put in charge and remained there until 1990.
Attempts to reach Lane were unsuccessful. Surette said he would not comment.
''Bernie messed with a lot of kids,'' said one man, who says he was molested by Lane when he was at Alpha Omega as a 17-year-old but has not filed a claim.
But his feelings are mixed about the place. A counselor helped straighten him out, and he is very grateful. ''There was just one sour man who was taking advantage of kids there.''
Lane, after leaving Alpha Omega for the Lowell parish, was later transferred to St. Maria Goretti in Lynnfield; St. Charles in Waltham, where he was in charge of altar boys and catechism classes; St. Anthony's in Cambridge; and Our Lady of Grace in Chelsea.
He went on sick leave in 1993, and then worked at Regina Cleri, the Boston home for retired priests, until he retired in the late 1990s. Some staff members at Alpha Omega were mystified by his departure, saying they heard rumors that the archdiocese thought Lane had gone too ''secular,'' and wanted him to return to parish work.
Cornelius Coco, Alpha Omega's staff psychologist during the 1970s, said he did not learn the reason for Lane's departure until the accusations against him became public in January, and was shocked to read them.
Still, there had been clues to problems, he said. ''There were occasions where Bernie would tell the staff that one of the boys had crawled into his bed, he had talked to the boy for a while, and then had sent him back to his own bed,'' said Coco.
Another staff member confirmed the account. Coco said he talked with the boys about the ''inappropriateness'' of this, but he added, ''No one ever mentioned if it was the other way around.''
Matt Carroll can be reached at mcarroll@globe.com
This story ran on page A1 of the Boston Globe on 3/25/2002