Charged Priest Served St. Rose in 70's

By Howard Schwach
The Wave
April 6, 2002

http://www.rockawave.com/News/2002/0406/Front_Page/A-Charged_Priest0406.html

A priest charged in Massachusetts with raping a boy over a period of several years more than two decades ago, once served the St. Rose of Lima Parish for three years in the early 1970's, according to Frank De Rosa, a spokesperson for the Brooklyn Diocese.

The Reverend Romano Ferraro, 67, who now lives at the Parson's Manor, a home run by Mary Immaculate Hospital in Jamaica, has been charged with repeatedly raping and sexually assaulting a boy in Massachusetts more than 20 years ago, when the victim was between the ages of 7 and 13 years old.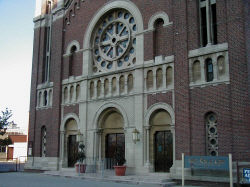 It is not clear whether Ferraro worked with children during his time at St. Rose of Lima. A woman at the church refused comment and a number of old-time parishioners at the church refused comment as well.
While Romano was never assigned to a parish in Massachusetts, according to sources in that state, he often traveled to that state from New York during the years between 1973-1978. During some of that time period, he was assigned to St. Rose of Lima on Beach 84 Street.
According to church records, Ferraro's tenure as a priest was marked by several unexplained leaves of absence, one as long as four years. It appears from those records that he never again served as a priest in any parish after 1988, when he was accused of "misconduct with a boy at a Queens parish."
One leave came after Ferraro told a group of children at a New Jersey parish that "Santa Claus is dead."
Ferraro remains in protective custody until a hearing on April 5. He has waived his right to fight extradition to Massachusetts, and officials from that state are expected in New York to return him for trial.
He is charged with rape of a child and three counts of indecent assault and battery of a child under the age of 14.
It is not clear whether Ferraro worked with children during his time at St. Rose of Lima. A woman at the church refused comment and a number of old-time parishioners at the church refused comment as well.
De Rosa told The Wave that Ferraro served as a assistant to the parish priest from 1971 until 1973.
"He didn't run the parish," De Rosa said. "He celebrated mass and hear confessions and probably got involved with the parish organizations, both with adults and with youth groups."
He added that there was no way of knowing what his specific duties were at the Rockaway church, but agreed that the cleric's career was "certainly unusual."
As to the 1988 charge, De Rosa says, "A family came to the diocese to make an allegation. The family and the diocese met and worked together and it was resolved to the satisfaction of the family."
De Rosa said that the allegations were never reported to the police or to other authorities. He added that the church sent Ferraro for psychological evaluations and for counseling and that he was never again restored to active duty. In fact, De Rosa told The Wave that records indicate that the St. Rose Parish "was the last one that he was officially assigned to."
A St. Rose parishioner who was a young man at the time that Ferraro served there, who asked to remain anonymous, told The Wave, "Ferraro was always around. He was a goofy looking guy with glasses – a little strange."
He did not remember exactly what the priest's specific duties were, but did not remember him working with any of the youth groups at the parish.
Following Ferraro's brief appearance in a Queens court, his attorney, Joseph Ostrowsky, told reporters, "An allegation is only an allegation. It does not mean that it is true."
"This was a long time ago," Ostrtowski added. "Don't you think that people can distort or exaggerate something? That has been known to happen."
The complaints against Ferraro were initiated last fall, before the sexual abuse scandal hit churches in several states, when the young man went to police.
Following those revelations, the Archdiocese of Boston turned over to prosecutors the names of more than 80 priests accused of sexual assault over the past 40 years.
Officials in the Brooklyn Diocese have so far refused such a request by prosecutors in New York.