Billerica Case
Brooklyn Priest Pleads Not Guilty to Assaults

By John Ellement
Boston Globe
April 9, 2002

http://www.boston.com/globe/spotlight/abuse/stories/040902_ny_priest.htm

Cambridge - Holding a book of prayers for priests in his hands, a suspended Brooklyn priest yesterday pleaded not guilty to charges he raped and molested the son of a family friend while visiting the family's Billerica home over a seven-year period ending in 1980.

The Rev. Romano Ferraro, who has never been assigned to a Massachusetts parish, has spent most of his clerical career in the New York City area following his ordination in 1960, according to church records and his attorney, Joseph S. Oteri.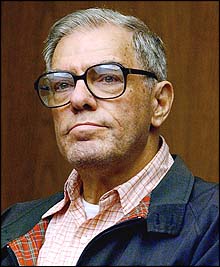 The Rev. Romano Ferraro at his arraignment on rape and abuse charges. (AP Photo)
Oteri said Ferraro has been suspended as a priest for the past 13 years, but would not specify why the sanction was imposed on him by the Diocese of Brooklyn.
''He is a terribly conflicted man who is really a decent human being,'' Oteri said of the client he met for the first time over the weekend. Oteri said Ferraro has ''serious problems that I'm sure will be worked out over time.''
Oteri would not clarify his meaning, saying that Middlesex County prosecutors potentially could use his answers against his client.
Oteri said later that Ferraro has no other connection to Massachusetts.
Ferraro is charged with one count of rape of a child and three counts of indecent assault and battery on a child under the age of 14, charges that were filed after his alleged victim ended more than 20 years of silence and contacted law enforcement last year.
The victim, who is believed to be in his mid-30s, watched intently yesterday as Ferraro walked into Middlesex Superior Court carrying a book that Oteri identified as a book of prayers for priests. The victim declined to speak with reporters, but a family friend, attorney Jeffrey A. Dretler, read a brief written statement following the arraignment.
''This is the first step towards reclaiming a life that was taken from me in my early childhood,'' the statement said.
''I hope by coming forward I give strength to others who are afraid to speak out.''
In court, Middlesex Assistant District Attorney Katharine Folger said Ferraro would force the victim to sleep naked, performed oral sex on the child, and forced the alleged victim to stroke his genitals while Ferraro stroked the child's genitals. The victim was 7 when the assaults began and 13 when they concluded, she said. She said the victim reported that Ferraro would close the bedroom door and shut off the lights and that the adult would lie on top of the child, making him feel ''boxed in.''
Folger said Ferraro was friends with the victim's father and would arrive, unannounced, at the family's home in Billerica. She described the family as ''very religious.''
The allegations against Ferraro were investigated by authorities from Massachusetts and New York City. At Oteri's request, Judge Elizabeth Fahey impounded a court record that detailed a statement Ferraro allegedly made to New York authorities following his arrest last week.
The judge accepted the request of prosecutors and set bail at $50,000 cash. Oteri said Ferraro's sister, who lives in the New York City area, would post that amount soon, possibly by today.
Meanwhile, Ferraro was being held at the Middlesex County jail.
This story ran on page A13 of the Boston Globe on 4/9/2002.