Silent No More
Wellesley Woman Goes Public with Her Accusations against a Former Priest
By Carmella Maffeo
Wellesley Townsman
July 4, 2002
[This article was scanned by BishopAccountability.org from a paper copy of the original article.]
Ann Hagan Webb says that as a student at the Sacred Heart School in West Warwick, R.I., she was treated differently than her classmates.
"I was always being chosen for everything," remembers the 50-year-old Wellesley resident.
Webb says that when teachers needed an older student to play a role in a kindergarten play, they chose her—even though another student had already been given the part. During the children's Mass, Monsignor DeAngelis would call on her to answer questions—even if her hand wasn't raised.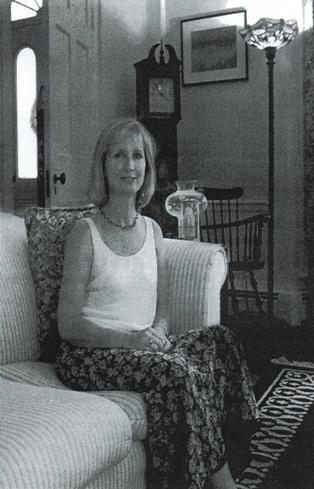 Ann Hagan Webb in her Wellesley home. Townsman photo by Carmella Maffeo.
The good grades and extra attention that Webb received from kindergarten through seventh grade only served to mask what she says was really going on. Webb says that she was sexually abused by Monsignor DeAngelis—who has since died—from about 1957 to 1965, but blocked the horrific incidents from her mind until 1991.
"Especially when abuse starts at an early age, it's easy to repress," says Webb, who is a psychologist. Looking back, she says, the symptoms of abuse were all there—the sleep disorder, the hypervigilance, the internal feeling of not being good enough.
Finally, as her children became the same age that she was when the abuse started, and as stories of Father James Porter (who is currently in prison for child molestation) began to hit the papers, the floodgates opened and the memories all came back.
Now, buoyed by the support of her family, Webb is speaking out about the sexual abuse she says she suffered through as a child, and is providing much-needed support for others.
On June 23, Webb—along with her husband and three teenaged children—joined about 300 people in a solidarity march for the alleged victims of sexual abuse by priests.
The single-file procession made its way from the Boston Common to the Cathedral of the Holy Cross, as 60 people held up posters of the alleged victims as children. Webb's 13-year-old daughter, Caroline, held her mother's picture.
When the procession ended at the cathedral, Webb was one of the six alleged victims who spoke to the crowd.
"Look at my face," Webb said to the crowd during her speech. "This is the face of a survivor of sexual abuse by a Catholic priest. There are many whose faces you won't see today because they didn't survive.
"I don't want your sympathy," Webb continued. "I don't want to be seen as damaged. I would like your respect."
It has not been an easy path that led Webb to the steps of the cathedral that Sunday morning. Webb went through a lot of therapy in the 1990s; she attended about two sessions a week for five years.
In the early 1990s, Webb was also involved with SNAP (Survivors Network of those Abused by Priests) and Survivor Connections, a Rhode Island-based organization headed up by Frank Fitzpatrick, who was sexually abused by Father Porter as a child and was the first to speak out against him.
"Even then (in the early 1990s), Frank had a couple of 'Speak Outs,'" recalls Webb. "There were hundreds of people in the audience, and most were abused by priests."
In 1994, Webb went to the Office of Education and Compliance set up by the Diocese of Providence to seek help in paying for her therapy bills.
"It was horrible," remembers Webb. Before going to the office, Webb typed up a five-page account of her abuse in order to keep the events straight in her mind when she spoke with the Coordinator for Sexual Concerns, who was a former state police officer.
She gave a copy to the coordinator, as well as to her parents and to the parish priest at Sacred Heart Parish—who in turn locked it in a safe.
The coordinator never contacted her parents or the priest, and Webb never heard anything else about that letter. About a month ago, she called the church's current pastor to see if the letter still existed.
"He said he didn't know anything about it, he didn't even know if there was a safe," says Webb.
Webb did receive assistance from the diocese with the co-payments for her therapy; part of the agreement being that she could not ask the church for any more money.
"But I didn't agree to keep quiet," says Webb.
A few months ago, Phil Saviano—an alleged survivor of sexual abuse by a priest and the head of the New England chapter of SNAP—asked if Webb would be willing to speak to a reporter about her story.
Webb declined, but then decided to write a letter speaking out against Cardinal Bernard Law. She says she sent the letter to the Boston Globe first, but didn't get a response.
She then sent it to the Boston Herald, and got a call from the paper saying it would publish the letter [see the text of the letter]. Shortly after the letter appeared in the Herald, the Globe ran it as well.
"If a person drives the getaway car from a robbery, he goes to jail," said Webb's letter in the Herald. "Law drove the getaway car for many pedophiles when he transferred them to unsuspecting parishes. Should he be above the law?"
Webb says she was hesitant at first to go public with her stance against Law and the fact that she says she is a survivor of sexual abuse by a priest.
"But I've got nothing but positive responses from colleagues and clients," she says. Webb, who sees a few patients out of her Wellesley home, is also the co-director of the South Shore Counseling Center in Hingham.
Webb says her parents, who were horrified when she told them her story, did not know that the abuse was going on.
"One of the other teachers at the school had told them [I was] being taken out of class a lot," says Webb. "It never occurred to them that I was going over to the rectory."
But back in the 1950s and 1960s, the idea that a priest could abuse a child was "completely out of the realm of possibilities," Webb says.
Webb says her parents have been very supportive of her decision to speak out; she's also grateful to her husband, Richard, 50, and her three children—Jessica, 17, Nathaniel, 15, and Caroline—for standing by her.
"My husband's support through all of this has been amazing," Webb says, adding that he has been picketing outside the cathedral for the past few months. "He's better at being angry than me. He can be my angry voice."
Webb's activism doesn't stop at the picket line. She is now helping Saviano run the New England chapter of SNAP and is one of its contact people.
"I'm amazed," says Webb. "Almost every day there is one more phone call or e-mail" from an alleged victim.
As more alleged victims share their stories—whether during SNAP meetings or over the phone—Webb says one element that the media hasn't focused on is the fact that many of those stepping forward are women.
"When you read the papers, it looks like it's all men," she says, adding that there were more women than men at a recent SNAP meeting she attended.
She said based on her own observations, she thinks "men deal with it differently. They go to court and we go to therapy," she has observed.
And as painful as speaking out may be for alleged victims, Webb says it's a step in the right direction.
"It does feel like the only way we are going to get change is if people hear the horror of it and realize that [sexual abuse] should never be covered up again."