Late Bishop Had Secret
Welsh was accused of trying to strangle prostitute


By Carla K. Johnson and Kevin Taylor
Spokesman-Review
October 25, 2002

http://www.spokesmanreview.com/news-story.asp?date=102502&ID=s1241259

A 16-year-old police report reveals that the late Catholic Bishop Lawrence Welsh -- whom parents turned to when they suspected their children were sexually abused by priests -- was investigated himself for involvement in an alleged sex crime.

Welsh was never charged with allegations that he choked a male prostitute during a sex act in a Chicago hotel. One former Spokane detective involved in the case said Thursday he felt it had been handled in a "hush-hush" manner.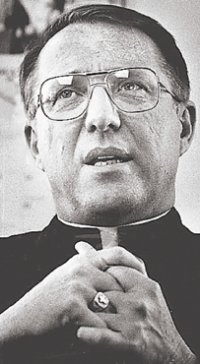 Welsh in 1987
At a glance
The Spokesman-Review obtained the 1986 Spokane Police report through a public records request:
Read the report.

Advocates for victims of clergy sex abuse, meanwhile, said the news pointed to broader problems in the diocese at the time. As bishop from 1978 to 1989, Welsh oversaw several priests who have recently been accused of sexually abusing minors during those years.
"Why couldn't Welsh blow the whistle on these guys? He had to keep their secrets. Otherwise, they wouldn't keep his secret," said Tim Kosnoff, lead attorney representing several plaintiff's suing a former priest and the church.
According to a one-page police report obtained by The Spokesman-Review, a male prostitute in Chicago told police there that he met a Washington state man at a Knights of Columbus convention in August 1986, agreed to perform oral sex and that the man began to strangle him during sex.
"It was my understanding that this guy thought he was going to be killed, that he was traumatized by what happened," said former Spokane Police Detective Ron Graves on Thursday.
Graves, now retired after 25 years with the Spokane Police Department, was one of two detectives here who followed up on the Chicago police complaint and interviewed Welsh.
The victim never knew his client was a bishop. The report that a Washington man tried to strangle a prostitute was routed at first to the task force investigating the Green River serial killings.
But after finding out the Chicago incident involved the bishop, "The Green River boys said, 'No, it's not him,"' said one former Spokane police official who had slight involvement with the case and did not wish to be named.
The handling of the investigation was "hush-hush," Graves said. Another former Spokane police official said it was handled "carefully."
Instead of turning the report over to a sergeant, "We turned the report in to the brass" and were told not to talk about it, Graves said.
"I worked there 25 years -- I was in homicide for 10 -- and I never knew we had secret files," Graves said.
On Sept. 24, 1986, Graves and Robert Webb, both detectives, arrived at Welsh's home and described the complaint from Chicago.
Welsh, according to the one-page police report, admitted having been in Chicago on the date in question for a Knights of Columbus convention. Welsh at first told the detectives he picked up a drug addict and took him to his room at the Chicago Hilton for counseling.
"He gave us a song and dance. But we song and danced him into telling us what happened," Graves said. "Sometimes it takes hours to get a confession. This didn't take a long time."
According to both the 1986 report and his own recollection, Graves said Welsh admitted to everything in the Chicago complaint except for the level of violence against the victim.
Here is an excerpt from the report: "Mr. Welsh was reluctant to tell us the whole truth at first but as the interview went along he would reveal a little more of the truth all the time, until his version of what happened came pretty close as to what the victim had said. The only thing Mr. Welsh took exception to was the amount of violence used."
The detectives told Welsh they wished to discuss the incident with someone higher in the church hierarchy. Welsh agreed they should meet with his superior, Archbishop Raymond Hunthausen of Seattle.
Five days later, the detectives, Welsh and Hunthausen all met at Welsh's home, the report says.
The detectives told Hunthausen they would like Welsh to be "evaluated by a psychiatrist who specialized in sexual abuse cases ..." The archbishop agreed.
The detectives closed their report with these words:
"... Mr. Welsh is truly imbarrased (sic) and regretful of the incident and ... there is no reason to believe he is a threat to society."
But Graves said his gut feeling was not so sanguine.
"My guess is all that talk about counseling ended when we walked out the door," he said. "My sense of Hunthausen was that this was going nowhere. This was no big deal. That we were being paid lip service."
Hunthausen could not be reached for comment Thursday.
When the victim in Chicago decided not to pursue charges, "We had no way to follow. We had no hammer," Graves said.
Three years later, Welsh resigned after being arrested for drunken driving along East Sprague, police sources say. He died in January 1999 at age 63.
Graves knew through sources of his own that this long-ago report was being sought by the newspaper.
"I wasn't going to talk to you," he told a reporter. "But this whole thing just ticks me off. It goes directly to the leadership of the church."
His anger was shared Thursday by people pressing the Spokane diocese for information about allegations of sexual abuse by several priests.
"This is a perfect example that we cannot trust the bishops," said Molly Harding, one of the leaders of a Spokane group for victims of sexual abuse by priests. "We need to restructure the (sex abuse) review board to have victims, victim advocates, law enforcement, therapists ... They are not under Vatican rule."
The 1986 police report hints at a conspiracy of secret-keeping among the bishops and the priests under his authority, said Kosnoff, the attorney representing several plaintiffs suing the former Rev. Patrick O'Donnell and the church.
Among the allegations against O'Donnell, three Spokane families say they approached Welsh with allegations that O'Donnell had molested their sons, and Welsh reassigned O'Donnell to another parish.
Bishop William Skylstad, who on Wednesday publicly named six priests accused of decades-old child sexual abuse, commented on his predecessor's behavior.
"Obviously, he had a very serious drinking problem," Skylstad said. "Certainly, it's very sad behavior associated with that drinking. That would be my observation."
Asked about Kosnoff's theory that Welsh and O'Donnell kept each other's secrets, Skylstad said, "I don't have any information about who knew what. Clearly, there was a drinking problem. I just don't have any information."
Vicar General Steven Dublinski, who said he first saw the 1986 police report Wednesday when police officials showed it to him, also commented on Welsh's behavior.
"It's not the behavior we would expect by any leader of the church," Dublinski said. "It's not behavior we would expect of people in society. It's very tragic. It's part of a sickness that he had."
Dublinksi also said: "The problem of sexual abuse of minors by clergy is much bigger than Bishop Welsh."
Spokane Assistant Police Chief Jim Nix said from his reading of the 1986 report, Bishop Welsh received no special treatment.
"We did the follow-up as requested. We contacted the church leadership. There was nothing here to indicate there was any crime in our jurisdiction," he said.
Nix also said the report met today's standards of good police work.
"I don't see where we would have done much different in this matter," he said. "I hope we looked at other cases we had locally to see if the bishop had been involved. I hope we would have done that back then too."