My First Impressions

By Richard Suttle
Claretian Missionaries Bulletin
October 2002

http://missionaries.claret.org/bulletin/richard.html

I entered Vietnam on October 1, 2002, the month of St. Anthony Claret and Mary. Angel and I were greeted warmly at the airport by Angelito. His large and warm smile made my entrance even more enjoyable. We went by taxi to the guest house where we were to stay. I was impressed with the clean air and the cleanliness of the city. It is a large city but the people are as warm and friendly as the small towns of the South where I grew up.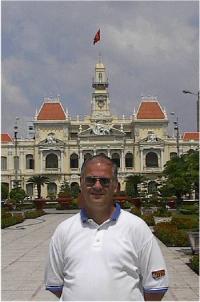 During the next few days Angel gave me a whirlwind tour of the city and introduced me to so many people that it will take me the rest of the year to sort them all out. Everything went very smooth everywhere we went, I was able to get enrolled in Vietnamese Language School and apply to teach English both at the Australian and American Language Schools. Everywhere we went people wanted to feed us so I felt that I spent four days eating constantly.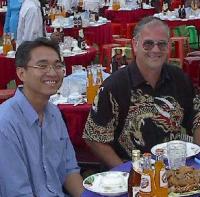 The highlight of the week was of course meeting our students. We had prayer and shared evening meal with them. They were very excited to meet me and gave me the warmest welcome of all. On Sunday I had the chance to go out exploring the city of Saigon on the back of a motorcycle driven by one of the students along with Lito on another. We purchased a stereo for the students and I had the task of carrying it in one hand while riding on the back of the motorcycle back to the house. We then went grocery shopping and loaded all of the groceries onto the three motorcycles with ourselves. On the way back we stopped for sports equipment and I was allowed to drive the motorcycle with one of the students on the back to the house. It was only a short distance, but it was a lot of fun and showed me that I could drive one of these motorcycles on the streets of Saigon.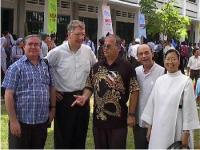 We began our English Language Instruction with the students and they are improving daily. A new student came into the house and the others made him feel so welcome that he already considers himself to be at home. The excitement and potential of this new enterprise is so great that it is hard to put in to words the feeling. I can only close by saying that St. Anthony Claret and the Virgin Mary are with us as we have again followed the calling of God to Spread the Gospel to all people and to enhance the growth of our Congregation worldwide.
Yours in Christ,
Richard Suttle