3 Priests' Dismissals Shake Up Diocese
Clerics will be defrocked for sexual misconduct

By Shirley Ragsdale and Colleen Krantz
Des Moines Register
September 20, 2003

http://www.dmregister.com/news/stories/c4788993/22302217.html
[See below for photographs of Revs. Ryan, Wilwerding, and Wagner, with summaries of the allegations and maps showing the parishes and schools where they worked.]

The sickening news hit Roman Catholics from Des Moines to Council Bluffs on Friday: Three men who baptized their babies, heard their confessions and buried their dead are being removed from the priesthood for sexual misconduct.
The Des Moines Catholic Diocese named the priests accused of sexual abuse of children - including a popular former Dowling Catholic High School president - and announced they have been removed from ministry.
Albert Wilwerding, 73, John Ryan, 79, and Richard Wagner, 68, the former Dowling president, have agreed to cooperate in the process of being defrocked.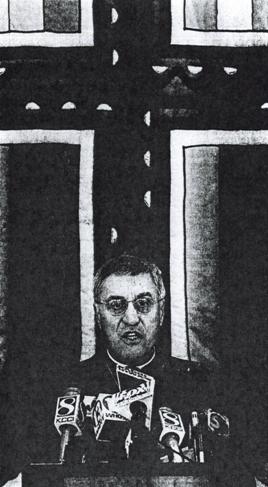 Taking action: Bishop Joseph Charron of the Des Moines Catholic Diocese announces Friday that three priests have been removed from the ministry. [Photo by] Warren Taylor / The Register.
"The last year and a half has been a very distressing time for the Catholic Church," said the Rev. Joseph Charron, bishop for the Des Moines Catholic Diocese. "There has been pain, anger and sadness, all stemming from the issue of sexual abuse of children by clergy. It has also been a trying time for victims of abuse."
The dismissals bring home to Des Moines, Harlan and a dozen other Iowa towns a story that has played out across the nation in recent years - abuse by priests and secrecy by the church in handling the matter.
"It makes me ill. It makes me kind of sick to my stomach," said Mary Ellen Michalski, 73, a member of Holy Family Catholic Church in Council Bluffs, where Wagner once served. "You always told your children those were priests and you respected that. I just am really, really surprised."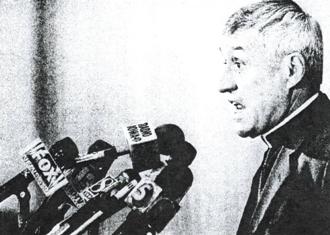 Center of attention: Bishop Joseph Charron speaks Friday on the Des Moines Catholic Diocese's defrocking of three priests. [Photo by] Warren Taylor / The Register.
The diocese's decision also brings down men who - from their parishioners' almost-instinctive respect for the position - had long been set on pedestals.
"You were born and raised as Catholic and you looked up to the priests," Michalski said. "There were no questions. They knew what they were doing."
The incidents of abuse by the three men date back to the 1980s, according to Robert Holz Jr., chairman of the committee that reviewed old allegations in the diocese after the U.S. bishops set a new policy on abuse last year. Each of the priests faced one or two allegations of abuse, but Holz said the diocese has no idea how many victims there may have been.
There were no allegations of abuse occurring when Ryan or Wagner worked at Dowling Catholic High School.
Holz said the committee conducted a yearlong investigation that included interviews with victims, their families and the priests.
"The memories of abuse are lifelong and they are painful" for victims, Charron said.
The committee investigated two additional cases of alleged sexual abuse but did not find them credible. The bishop did not name the priests who were exonerated. The committee is in the process of investigating one additional abuse allegation against a priest. The accused priest was not named. Holz said the alleged abuse occurred about 20 years ago but just recently came to light.
Many who know the three men struggled Friday between the emotions of sorrow and hope that the dismissals might prove the church is working honestly to address sexual misconduct.
The Rev. Ken Gross, priest at St. Mary Parish in Red Oak, knows the three men. This Sunday, he'll read a statement from the bishop to his parishioners at St. Mary, where Wagner served for seven years.
"It's quite sad at this time because we're losing some priests," Gross said. "But at the same time, if the allegations were well-founded, then it is maybe something where we can move forward from here."
Charron said that he hoped that in dealing with these cases, the diocese will have dealt with all known cases. But part of the reason for announcing the priests' names was to give other victims an opportunity to come forward.
A critic of the approach said "survivors need and want options."
"A safer approach would be to encourage victims to contact law enforcement, rather than report to the church," said David Clohessy of St. Louis, director of Survivors Network of those Abused by Priests.
Wagner was ordained in 1961 and has been a high-profile priest in the diocese. Allegations concerning a female high school student surfaced in 1993 stemming from an incident in the late 1980s, when Wagner was pastor at St. Mary Parish in Red Oak.
His case was previously addressed by the diocese under its 1988 sexual misconduct policy, which gave priests the option of returning to the ministry after treatment and notification of civil authorities. Wagner got treatment and since has lived under supervision with the brothers at the Basilica of St. John in Des Moines.
Known by many for his collection of Pepsi memorabilia, Wagner has served as a parish priest in restricted ministry since 1993. He celebrated Mass as recently as last weekend.
Liz Schmid, a parishioner at St. Mary in Red Oak, was caught off guard by the news that Wagner was accused of sexual misconduct.
"It is shocking to hear that there might have been something," said Schmid, 80. "He was always well-liked by the youth of the communities."
Harry Hillaker, a member of the Basilica of St. John in Des Moines since shortly before Wagner joined the church in 1994, said he has mixed feelings about the priest being dismissed years after the diocese apparently dealt with his misconduct.
"As far as I know he's done just fine in his second chance and done what he should have given the policy in place at the time it happened," said Hillaker, also the state climatologist.
Wilwerding was ordained in 1956. He served in 11 parishes, according to Tom Chapman, spokesman for the diocese. He has been forbidden to serve publicly as a priest and has lived at a treatment facility near St. Louis since 1981. The bishop said Wilwerding's sexual abuse of minors was documented by meetings with victims.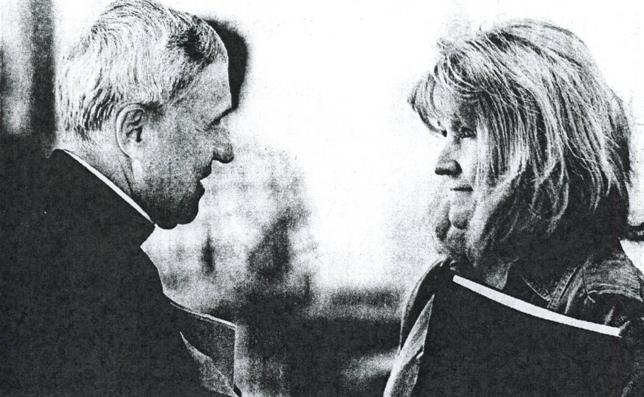 Face to face: Bishop Joseph Charron talks with Jane Newlin after announcing that the Des Moines Catholic Diocese would move to defrock three priests. Newlin's brother, Tommie Pierick, was abused by one of the priests, the Rev. Albert Wilwerding, for several years. Pierick committed suicide in 1985, and Newlin's road to justice had been filled with obstacles. [Photo by] Warren Taylor / The Register.
Wilwerding was an energetic leader at St. Mary Parish in Shenandoah, where he served from 1978 to 1980, and was determined to get members more involved, said Rita Gibson, a member of the church.
"I remember his directions about involvement were directed a lot toward the youth in trying to get them motivated, especially the high schoolers," Gibson said.
Ryan was ordained in 1950 and retired in 1988. The abuse occurred during the six years he served at St. Theresa Parish. He was removed from public ministry in 1993. The allegations against him concern adolescent boys, according to the diocese.
"I've never heard anything bad about him," said Virginia Klemm, a member of St. Mary of Nazareth Parish in Des Moines, where Ryan served from 1975 to 1982.
The Allegation Review Committee process was intended to look at cases needing discipline, according to Des Moines diocese spokeswoman Anne Marie Cox.
"It is not possible to impose discipline on a person who is deceased," Cox said.
Register staff writer Dana Boone contributed to this report.
| | | | | |
| --- | --- | --- | --- | --- |
| | | | | |
| John Ryan Accused of abusing adolescent boys while he served at St. Theresa Parish in Des Moines in the 1980s | | Albert Wilwerding Accused of abusing at least two boys. The family of a man who later killed himself said the victim was abused in Des Moines in the 1960s. | | Richard Wagner Accused of abuse of a teenage girl in Red Oak in the 1980s. |
Where They Served

Three priests being defrocked for child sexual abuse served in 19 parishes across the Des Moines diocese over four decades. Two also worked at Dowling Catholic High School in West Des Moines for several years.

Rev. John Ryan

Ordained: 1950

1. 1950-53: St. Mary Parish, Portsmouth
2. 1953-65: Dowling Catholic High School, West Des Moines
3. 1965-75: St. John Parish, Cumming
4. 1975-82: St. Mary of Nazareth Parish, Des Moines
5. 1982-88: St. Theresa Parish, Des Moines




Rev. Albert Wilwerding

Ordained: 1956

Where He Served

1. 1956: St. Ambrose Cathedral, Des Moines, and St. Boniface Parish, Westphalia
2. 1957: St. Peter and Paul Parish, Atlantic
3. 1958: St. Francis Parish, Council Bluffs
4. 1960-62: St. Patrick Parish, Perry
5. 1962-65: St. Mary Parish, Portsmouth
6. 1965-69: All Saints Parish, Des Moines
7. 1969-75: St. Mary and Augustine parishes in Rosemount and Milo, respectively
8. 1975: St. Boniface, Westphalia
9. 1976: St. Peter Parish, Council Bluffs
10. 1977: St. Patrick Parish, Imogene
11. 1978: St. Mary Parish, Shenandoah
12. 1980: Basilica of St. John, Des Moines




Rev. Richard Wagner

Ordained: 1961

Where He Served

1. 1961-64: Holy Family Parish, Council Bluffs
2. 1964-65: St. Ambrose Cathedral, Des Moines
3. 1965-76: Dowling Catholic High School, West Des Moines
4. 1976-82: St. Michael Parish, Harlan
5. 1982-87: St. Patrick Parish, Council Bluffs
6. 1987-94: St. Mary Parish, Red Oak
7. 1994-present: In residence at Basilica of St. John, Des Moines


Dealing with Child Abuse

How the Des Moines Catholic Diocese has dealt with the issue of child abuse by priests and church leaders:

1988
The diocese implements a new policy addressing sexual abuse of minors by clergy. The policy allowed accused priests to receive treatment and be reassigned in the ministry. It did not require any public disclosure of founded allegations or require the diocese to notify police or prosecutors about allegations
of abuse.

May 2002
Bishop Joseph Charron apologizes to the families of victims abused by the Rev. Albert Wilwerding, who was placed on leave by the diocese in 1981.

June 2002
After a year of controversy, prompted by disclosures that Boston bishops moved child-abusing priests from parish to parish rather than punishing them, the U.S. Catholic bishops meet in Dallas and set new guidelines for dealing with priest abuse of children. The new policy promised public accountability to church members. Allegations of abuse would be turned over to police and prosecutors and priests with founded allegations against them would be defrocked.

September 2002
Charron releases an updated diocese policy, which creates the Allegation Review Committee and names Jo Mulvihill as the diocese's victim assistance advocate.

December 2002
The Allegation Review Committee revises local policy to reflect the guidelines set earlier in the year by U.S. bishops and begins reviewing diocese files for old allegations of abuse.

September 2003
Charron accepts the recommendations of the Allegation Review Committee, identifies three priests, and begins the process to defrock them.

What's Next

This Weekend: Charron distributes a letter to be read at every parish in the diocese this weekend. The letter explains the actions he took earlier this week against three priests.

Oct. 20: An audit team will visit the Des Moines diocese to measure its compliance with the new U.S. Catholic charter on protecting children.

December: The results of the nationwide audit are expected to be released by the U.S. Conference of Catholic Bishops.

Victim assistance

Bishop Joseph Charron said diocesan officials want any other victims to come forward. The diocese is committed to providing help for victims of clergy sex abuse. To make a report or seek assistance, call the diocese's victim assistance advocate, Jo Mulvihill, at (515) 286-2031 or e-mail advocate@dmdiocese.org

Memories of service

Are you among the Iowans with memories of Albert Wilwerding, John Ryan or Richard Wagner's four decades of service in the Catholic Church? The Register is interested in recollections. Call Religion Editor Shirley Ragsdale at (515) 284-8208.