Mantua Man Files Lawsuit against Phila. Archdiocese
He has accused the former principal of Archbishop Ryan High School of corrupting him a decade ago

By Jim Remsen
Philadelphia Inquirer
June 17, 2004
A 25-year-old Gloucester County man filed a searing lawsuit yesterday against the Archdiocese of Philadelphia, the Franciscan religious order, Archbishop Ryan High School, and church leaders, alleging that the school's former principal repeatedly seduced him with drugs a decade ago and that a Franciscan official improperly pressured him to accept a $50,000 settlement.
The suit by Arthur Baselice 3d of Mantua is the first clerical-abuse claim filed in Philadelphia in the last year to fall within the statute of limitations for both civil and criminal cases.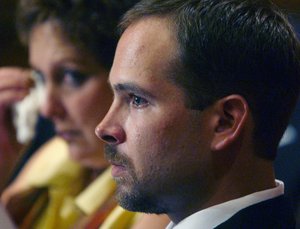 Arthur Baselice 3d, who sued the Archdiocese of Philadelphia, at a news conference. His mother, Elaine Baselice, is next to him. [Photo by] Jacqueline Larma, Associated Press.
Baselice recently gave a statement to the District Attorney's Office after being contacted by prosecutors, said his attorney, Jay N. Abramowitch.
"This is the next generation of victims of pedophilia," Abramowitch said at a news conference, as Baselice sat stiffly and his mother, Elaine, choked back tears.
Baselice's suit alleges that he was corrupted by the former principal of Ryan, the Rev. Charles Newman. The suit says the abuse lasted from 1994 to 1996, when Baselice was a student at the Northeast Philadelphia school.
Newman has left the area and could not be reached for comment. A spokeswoman said the archdiocese knew of no other allegations against him.
According to the suit, Newman "routinely performed oral sex" on Baselice and plied him with drugs and alcohol to the extent that Baselice became addicted.
Newman resigned from Ryan in November after the archdiocese said it had found indications of "financial irregularities" but no evidence of criminal behavior. Abramowitch alleged yesterday that Newman had diverted more than $30,000 from a tuition fund to cover Baselice's mounting drug debts.
The suit says Baselice managed to stop the sex abuse after he graduated by persuading Newman that he had venereal disease. Newman continued providing money until November, according to the suit.
Newman was transferred to Indiana, but the archdiocese has refused to say exactly where, preventing Baselice from suing him or reporting his whereabouts to authorities, according to the suit.
The defendants include Cardinals Anthony Bevilacqua and Justin Rigali, as well as Newman's order, the Franciscan Friars Assumption Blessed Virgin Mary Province, based in Wisconsin, and its top official, the Rev. Thomas Luczak. The order staffs Ryan, the largest Catholic high school in the archdiocese with about 2,500 students.
In December, the suit says, archdiocesan investigator Jack Rossiter contacted Baselice about the payments from Newman. Baselice told him of the abuse and won an assurance that the archdiocese would pay for his counseling.
After meetings with archdiocesan and Franciscan officials, Baselice was referred to a counselor and then was admitted for treatment to a substance-abuse facility in Berks County.
While he was there, according to the suit, Luczak sent Baselice an unsolicited document offering him $50,000 if he would end his claims against the Franciscan province, the school and the archdiocese. The suit says Pennsylvania law prohibits such legal moves while people are in treatment centers.
Baselice did not sign the form. After his discharge, he got an identical document from Luczak, which he also did not sign, as well as repeated phone calls from Luczak, the suit says. Copies of the form were attached to the suit as legal exhibits.
That effort by the defendants "constitutes an admission of their liability," the suit alleges.
Luczak was not available for comment. In a prepared statement, he said the order removed Newman from active ministry once it learned of allegations against him. "Further, at the time of the allegations, we cooperated fully with the Archdiocese of Philadelphia and facilitated its reporting of the allegations to the appropriate legal authorities."
The suit seeks more than $50,000 in damages on each of 18 counts, such as civil conspiracy and fraudulent concealment.
In a statement yesterday, archdiocese spokeswoman Catherine Rossi said that if Luczak "improperly attempted to obtain from [Baselice] a release of claims on behalf of all defendants in exchange for a payment of $50,000 . . . Luczak was not acting with the prior knowledge or approval of the archdiocese."
Rossi also said that "early in the course of the financial investigation" at Ryan, "the archdiocese learned of possible misconduct/allegations of abuse and misappropriation of funds involving Father Newman and acted decisively and swiftly to report its findings to the Philadelphia District Attorney's Office. It is our understanding that this was the first indication made to law enforcement concerning these alleged acts."
The archdiocese's response, she said, "gives evidence of Cardinal Rigali's resolve in these matters and the fact that the current Archdiocesan procedures do work."
A report on Ryan's finances by outside auditors is being reviewed by church officials, Rossi said. The Franciscans, she said, have pledged to reimburse the archdiocese "for any possible loss resulting from any misappropriation of funds."
Alleged sex-abuse victims have brought about two dozen lawsuits in Common Pleas Court in the last year, 18 of them filed by Abramowitch. Most of them fall beyond the statute of limitations, which requires victims of sex abuse as minors to sue by age 30.
That has been a major hurdle for civil suits, though Abramowitch and other lawyers have asserted a theory that the plaintiffs' recent discovery of church concealment of abuse cases constitutes a new injury.
Abramowitch declined to say whether Baselice had been contacted by the Philadelphia grand jury that is investigating the sex-abuse scandal. A spokeswoman for the District Attorney's Office also declined to comment.
Contact Faith Life editor Jim Remsen at 215-854-5621 or jremsen@phillynews.com.