Prevention more important than money, abuse victims say

By David Yonke, Blade Religion Editor
Toledo Blade
July 3, 2004

A simple oversight, or a slap in the face?
A small matter, or something more important than money?
A noneconomic item in a legal settlement became headline news this week when 6 of the 13 parishes where a former priest had served failed to place an announcement in their bulletins stating that the former cleric had faced "credible allegations of sexual misconduct with a minor" and was removed from ministry.
The announcement had been agreed upon by attorneys representing the Toledo Catholic diocese and attorneys for two brothers, William and Scott Claar, who filed lawsuits in Lucas County Common Pleas Court alleging they were molested as children by the Rev. Bernard Kokocinski.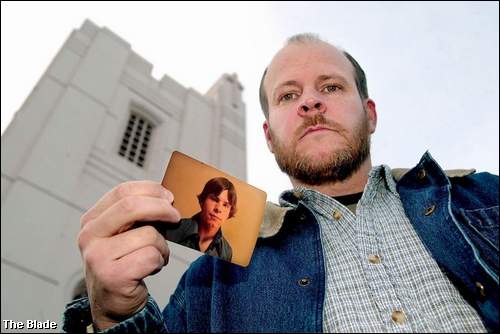 William Claar holds a photo of himself at the age when he allegedly was molested. Associated Press / Al Grilo
One of the churches that did not include the announcement was Saint Joseph's in Fremont, the Claars' former parish.
"I'm the one who called Bill Claar and told him," said Claudia Vercellotti. "I said, Bill, I've got bad news for you: It's not in all the bulletins. I'm sorry. It's not even in St. Joe's."
Ms. Vercellotti, co-coordinator of the Toledo chapter of SNAP (Survivors Network of those Abused by Priests), and another member of the victims' advocacy group drove hundreds of miles over the weekend to parishes as far away as Payne, Shelby, and Vermilion to check the bulletins for the announcement.
Mr. Claar, 44, now lives in Alaska, and his younger brother, Scott, lives in Florida.
"I wanted to warn others, to protect children, and to encourage others to come forward," William Claar said in an interview this week. "This doesn't cost them anything. The only logical explanation I can come to is that maybe they don't want to get the word out in all 13 parishes."
Sally Oberski, director of communications for the diocese, said it isn't so. The omissions were simply a mistake.
Bishop Leonard Blair sent notices to priests at the 13 parishes involved, telling them to run the announcement, but many of the clerics were out of town during the week for a diocesan convocation.
"It was all blown out of proportion," Ms. Oberski said. "It was essentially a bad timing issue. It's not like we're not going to do it. It's been mandated by the bishop now that it better be there this weekend."
Mr. Claar, who said he struggled in silence for decades over his childhood abuse, said the diocese kept backpedaling on the terms of the announcement.
At first, he said, diocesan attorneys offered a written apology from Father Kokocinski, but eventually withdrew the offer. He had asked that an apology and a statement be read from the pulpits, but eventually accepted what he termed "a sanitized, neutral statement" to be printed in the bulletins.
Mr. Claar said he received a payment of $150,000, but the financial terms were not nearly as important to him as the noneconomic issues.
He said he had asked for five nonmonetary points: that Father Kokocinski be defrocked; that the diocese conduct background checks on all current and future priests; that the diocese and its affiliates not provide financial support of any kind to the former priest; that the church send him a letter of apology and publicly confirm that the abuse occurred, and that counseling be provided for him and his wife, Pat.
Catherine Hoolahan, a Toledo lawyer who has filed 10 lawsuits against the diocese but does not represent the Claar brothers, said that, generally speaking, noneconomic issues "have been, and always will be, critical elements" in lawsuits filed by victims of clerical sexual abuse.
"There's a perception that they're looking for a payday, but no amount of money will ever make them feel better," Ms. Hoolahan said. "They could give him $5 million and he would trade that in a heartbeat to not have gone through the abuse."
Since both parties, working with a mediator, agreed to the terms of the settlement, the judge has the power to impose a fine if the items are not adhered to, Ms. Hoolahan said.
She said a fine is unlikely in such a case, however, and that a judge would probably tell the church to make sure it gets the announcement in next week.
Mr. Claar said he now wants the diocese to fly him and his wife to Fremont and have Bishop Blair personally make the announcement from the pulpit.
Ms. Oberski said the bishop will consider Mr. Claar's request.