Court Now Has Control over Diocese Finances
Victims' advocates decry bankruptcy filing

By John Stucke
Spokesman-Review
December 7, 2004

http://www.spokesmanreview.com/sections/diocese/?ID=41815

Sex-abuse claims against the Roman Catholic Diocese of Spokane could reach $75.7 million, a number so large that it drove Bishop William Skylstad to file for bankruptcy protection Monday.

Documents
• Statement regarding authority to sign and file petition (PDF)
• List of top 20 creditors (PDF)

The move suspended lawsuits, but relinquished ultimate authority over the financial affairs of the diocese to a federal court.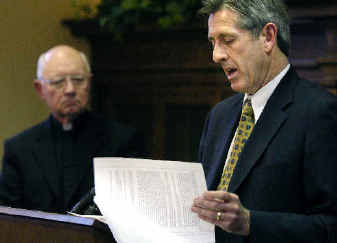 Spokane attorney Shaun Cross explains the diocese bankruptcy filing. (Christopher Anderson/The Spokesman-Review)
Before Skylstad can pay the diocese's Avista utility bill, cut a paycheck to employees or give money to a Christmas charity, he must get the OK from a federal bankruptcy judge.
Skylstad, who was elected last month as president of the U.S. Conference of Catholic Bishops, said he took the extraordinary step of filing for Chapter 11 bankruptcy to protect the religious mission of Eastern Washington Catholic churches and ensure each of the 125 victims is treated fairly.
"Demands by plaintiffs continue to be beyond the ability of the diocese to meet," he said. "Chapter 11 protects victims from losing a race to the courthouse," Skylstad said. "All valid claims will be treated equally."
Some victims vehemently disagreed.
"This is horrible for victims," said Michael Ross, co-founder of the local chapter of Survivors Network of those Abused by Priests.
Speaking to reporters outside the chancery just minutes after Skylstad's press conference, Ross said the bankruptcy was the bishop's attempt to avoid an embarrassing and perhaps ruinous court trial.

"This is the result of 70 years of cover-up," he said. "The truth is that Skylstad does not want to get on the witness stand."
The church has enough money, Ross said, asserting that insurance policies and church assets were ample.
The diocese's liability insurers have balked at settling claims that a handful of priests sexually abused children for decades. Often these priests were moved from one parish to another, leaving a trail of victims that circled right back to the diocese, which now faces 19 lawsuits representing 58 alleged victims. In all, nine diocesan priests and two Jesuit priests have been accused in the cases.
Skylstad said the diocese has identified about 125 potential victims.
According to court records the diocese has overall liabilities of $81.3 million.
About $11.1 million in assets were listed.
Of the assets, about $4.1 million is available through checking, savings and investment accounts.
Some money is tied up in property, such as the chancery ($1.1million); 93 acres near Medical Lake ($909,200); a farm ($501,880); the Rockwood Lane Units ($361,062); the Bishop White Seminary ($350,000); and the Bishop's house ($125,912).
Another $3.2 million is listed in accounts receivable as money owed from groups, mostly parishes and charities.
And finally, there are three cars – two Nissans and a Ford – along with a lengthy list of office and household assets with unknown values. They range from computers to cookbooks to bird feeders, desks, lamps, rugs, and a portrait of the pope.
Attorney Shaun Cross, whose firm Paine Hamblen Coffin Brooke & Miller has been paid $170,000 so far for its work on the bankruptcy and debt counseling, will now attempt to keep the most valuable Catholic holdings – parish properties, investments and even money from offering plates at individual churches – from bankruptcy creditors.
To do that, he will argue for federal bankruptcy Judge Patricia Williams to apply state and canon law in the case, a difficult charge that promises to test federal law.
Such a move would shield the more than $62.2 million in parish properties, schools, endowments and charities operated throughout Eastern Washington.
These include such recognizable Spokane churches and schools as Our Lady of Lourdes Cathedral, worth an estimated $2.8 million; St. Peter Church, $4.3 million; St. Mary Church, $3 million; St. Aloysius School, $2.3 million; St. Augustine, $2.8 million; St. Anne's Children and Family Center, $310,700; and the Immaculate Heart Retreat Center, $2.8 million.
It also includes churches, schools, and endowments across the Eastern part of the state, including the St. Patrick Church in Walla Walla, worth an estimated $1.7 million; the Guse Trust for the Poor, $3.8 million; Walla Walla Orphanages, $219,000; and St. Vincent Church in Connell, $3.8 million.
All the 81 parish churches and 16 schools combined, however, still don't equal victims' claims, according to the court filings.
Many of the claims center on former priest Patrick O'Donnell. He has admitted sexually abusing boys as a priest in Spokane and Seattle. Now 62, O'Donnell lives on the West Side.
The bankruptcy filing had been expected for weeks. It is the third for a U.S. Catholic diocese this year. The Portland Diocese filed for bankruptcy in July, followed by the Tucson Diocese in September.
Skylstad intends to keep the 41 diocese employees on the payroll during the case.
He said the case would be complex and declined to say how long he expected it to last.