United by Their Need to Heal

By Maya Kremen
Herald News
April 3, 2005

http://www.northjersey.com/page.php?
qstr=eXJpcnk3ZjczN2Y3dnFlZUVFeXk2MTAmZm
diZWw3Zjd2cWVlRUV5eTY2NzQ4MjgmeXJpcnk3ZjcxN2Y3dnFlZUVFeXkz
[Note from BishopAccountability.org: The photographs were scanned from paper copies of two versions of this article in the Carlos Perez archive, one printed in The Record and the other in the Herald News.]

Totowa - In the past, they might have found themselves on separate sides of a protest march. One is a Mexican-American police officer and former Marine with a neat haircut. The other is a bearded Chicano professor with a rebellious streak.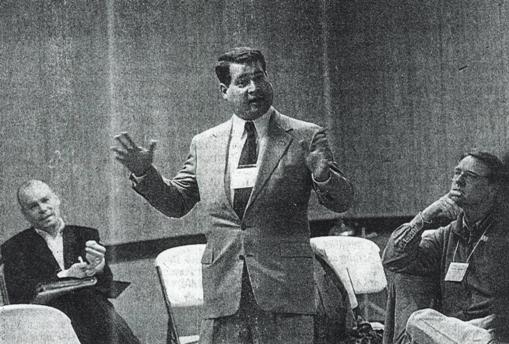 Carlos Perez, from Leonia, participates in a dialogue during SNAP Latino's first national conference Saturday at the American Legion Hall in Totowa. Perez says he had been abused by a priest as a boy in the Bronx. Kye-Ryung Lee / Herald News.
But on Saturday the men came together for the same cause: to talk about being abused as children by Catholic priests, and to encourage other Latino victims to come forward.
About 25 people showed up at the first national meeting of Latino clergy abuse victims, held at the borough's American Legion hall. The meeting was organized by Johnny Vega of Wallington, who says he was abused by a parish priest in Paterson more than 20 years ago. Partly as a way to cope, Vega founded a Latino branch of the group SNAP (Survivors Network of those Abused by Priests) in Totowa in May of last year. This year, he decided to broaden the group to Latino victims nationwide.
However, on Saturday, few of the victims, victims' supporters and family members who sat on folding chairs watching a panel of speakers were Latino. Vega said he wasn't surprised. He said Latino victims were often "too scared" to come out publicly about sexual abuse.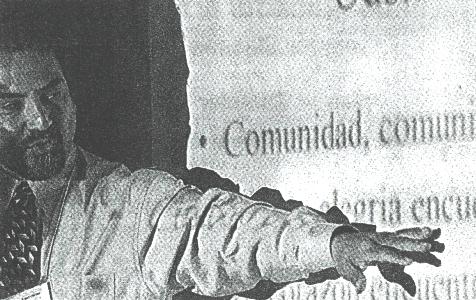 Dr. Jaime Romo, leader of SNAP San Diego, speaks Saturday at the first national conference for SNAP Latino in Totowa. Kye-Ryung Lee / Herald News.
"You repress it, you forget about it," he said. "But eventually it's going to surface again, and you're going to have to face it." Talking about it, he said, is "one way to face it."
A common theme among speakers was how difficult it is for Latinos to speak out about sexual abuse. The deep connection between faith and culture makes it especially difficult to accept that a member of the clergy is wrong about anything, said Manuel Vega, a police officer from California. Vega, who is not related to Johnny Vega, claims his parish priest sexually abused him, fondled him and took nude pictures of him when he was an altar boy.
"It's almost like DNA strand," he said of faith and Hispanic culture. "To pull them apart is almost impossible."
Dr. Jamie Romo, a professor at the University of San Diego, spoke about his experience being abused by a priest who "was like God" to his family. At the age of 28, he told his mother the priest had molested him when he was a boy. Because of his mother's close relationship with the priest, she refused to believe him, he said.
"I lost my relationship with my mother," he said. A year later, his mother died. He said confronting his abuse has at times made him feel isolated, and on the verge of a breakdown.
"Some things are going to happen that we don't like," he said, of speaking out about sexual abuse. "Our families are going to be messed with."
But good can come out of a bad situation, said Manuel Vega.
Instead of simmering about his past, Vega did something about it. He poured his energy into lobbying the California state government to lift the statute of limitations for abuse victims to file civil suits. In 2003, the statute was lifted, and hundreds of alleged victims filed lawsuits.
Vega encouraged other victims to be brave and take similar actions.
"Don't be afraid to take that first step," he said. "Trust your instincts."
E-mail: kremenm@northjersey.com