From a Memorial Website in Honor of Arthur Baselice III

This memorial website was created in the memory of our loved one, Arthur Baselice III who was born in Fort Worth, Texas on June 30, 1978 and passed away on November 30, 2006 at the age of 28.

Born in Fort Worth, TX he was a Mantua resident for 10 years. Art enjoyed football, baseball, and basketball. He played football for Penn Charter & Calvary Athletic Association and was an avid Eagles fan. He loved spending time with his family and friends.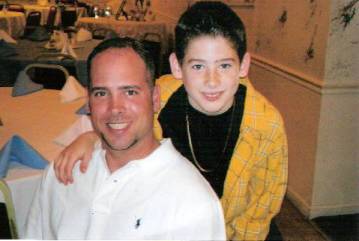 Arthur and his son Anthony on October 28, 2006
He is survived by his parents Elaine (nee Capizzi) and Arthur J. Jr. of Mantua, his son Anthony J. Millar and Anthony's mother, Noelle, his sister Ashleigh Baselice of Mantua, grandmother, Janet Capizzi, grandfather, Arthur J. Baselice Sr., his aunts, uncles, cousins, and their families.
In lieu of flowers, contributions in Arthur's memory may be made to the Memorial Fund for his son, Anthony Millar c/o Commerce Bank 1101 Mantua Pike Mantua, NJ 08051