Fighting for Their Faith

By Scott Stafford
Berkshire Eagle
November 7, 2008
[Photographs scanned from the original print edition.]

Adams—Facing the pending consolidation of their three churches, more than 300 parishioners packed an informational meeting last night to trade denunciations and concerns with a representative of the Diocese of Springfield.
The setting was the St. Thomas Aquinas Church, and the tone of the discourse between Monsignor John Bonzagni, director of pastoral planning for the Diocese of Springfield, ranged from accusatory to prideful, analytical to congenial.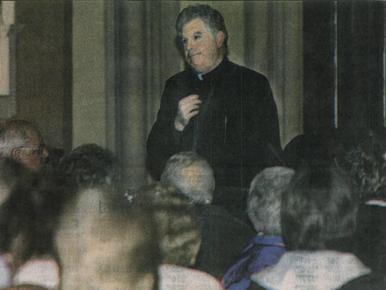 Voicing Concerns: Monsignor John Bonzagni speaks to the crowd at St. Thomas Aquinas Church in Adams during last night's informational meeting. Talks cenetered on the process of closing several Catholic churches in the area. Photos by Caroline Bonnivier / Berkshire Eagle Staff.
"We are trying to do the right thing for the Catholic community in Adams," said one woman, speculating about the fate of the parishes even beyond the consolidation scheduled for Jan. 1, 2009. "We don't want our church in Adams, regardless of where it is, to close in four years."
The diocese in August announced three Adams churches -- St. Stanislaus Kostka, St. Thomas Aquinas, and Notre Dame Church -- were among six in Berkshire County that would be closed or consolidated. The three Adams parishes are slated to be consolidated at the Notre Dame site as a new parish bearing the name Pope John Paul the Great.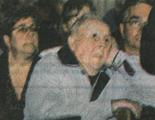 Walter Mikutowicz is a lifelong parishioner of St. Stan's, having been baptized there 82 years ago.
The main thrust of comments from parishioners revolved around the hope to save St. Stan's, as it is affectionately referred to in the community.
Some accused the diocese of saying the selection of Notre Dame revolved around money, then contending finances had little to do with the decision. St. Stan's, they said, would cost less to maintain, and would therefor be easier to sustain financially in the long run.
But as Bonzagni noted, the decision of Bishop Timothy A. McDonnell to move the three churches into the Notre Dame building was based on three main points:
• Notre Dame seats more people, about 600.
• There are more buildings on the Notre Dame campus that can be used for a variety of ministries.
• Notre Dame is located in a prominent part of town, "too prominent to abandon," Bonzagni said.
"Those are the reasons the bishop made his decision, and the pastoral planning board agreed," he said. "We spent a lot of time making the pastoral plan and there is no need to reinvent the wheel. The bottom line is there is going to be a change come Jan. 1."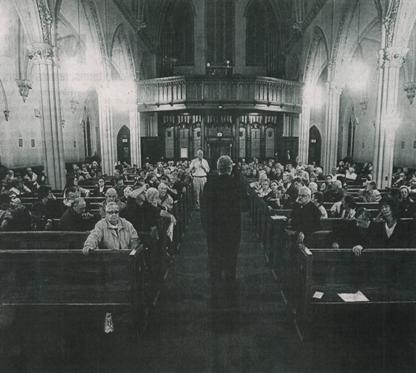 Monsignor John Bonzagni speaks to the crowd gathered at St. Thomas Aquinas Church in Adams. Tensions were high during last night's informational meeting. Caroline Bonnivier / Berkshire Eagle Staff.
Another woman said that by closing St. Stan's, a number of church members would be lost.
"You're gonna lose a lot of people," she called out. "We'll go somewhere else. We should have had a say in this."
Bonzagni said there was an opportunity for local input during a listening session last winter.
"If people came to that meeting and did not use their time wisely, that is not the fault of the process," he said.
One parishioner said he was sorry to see the letters in the newspaper taking an accusatory tone aimed at the Rev. Daniel Boyle, who has been conducting Mass at all three churches.
Bonzagni expressed disgust with some of the things the letters had said about Boyle.
"Father Boyle is as much a victim of this as anyone," he said. "Anyone who has attacked Father Boyle in letters to the editor ought to reconsider Catholic charity."
He added that such attacks are considered by Catholic law to be a crime and a sin.
Bonzagni noted that the rectory Boyle lives in has nothing to do with the consolidation process.
"Where a priest lives is between him and his bishop, so knock it off," Bonzagni said.
Another gentleman stood and scolded the gathering for the tone some had taken.
"We are united in the Diocese of Springfield, and our diocese is hurting right now," he said. "The infighting and the bitterness is tearing (our congregations) apart. I don't want our churches to close but I would like us to remember we are united as Catholics."
To reach Scott Stafford: sstafford@berkshireeagle.com or (413) 664-4995.