Priest admitted letting teen watch porn, sharing bed with him
By John P. Martin and Joseph A. Slobodzian
Philadelphia Inquirer
May 1, 2012

http://articles.philly.com/2012-05-01/news/31498537_1_william-j-brennan-canonical-trial-priest

The Rev. James J. Brennan told church investigators four years ago that he let a 14-year-old boy view online pornography and share his bed in 1996 but denied that he touched the teen or exposed himself, according to documents revealed Monday at his landmark clergy sex-abuse trial.
Brennan told his interrogators at a 2008 canonical proceeding that his decision to let the boy view the images and sleep next to him that night was "borderline" inappropriate. Still, he said he was blindsided when the young man came forward after a decade and accused him of sexual assault.
"I was just devastated," Brennan testified, according to a transcript read to jurors.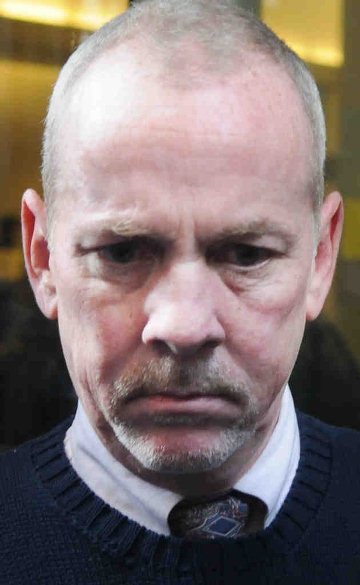 The Rev. James J. Brennan
His statements emerged as the trial against Brennan and Msgr. William J. Lynn began its sixth week, and on a day that ended with one witness breaking down and lashing out at the church for protecting the parish priest he said repeatedly molested him.
Prosecutors and Brennan's defense lawyer had clashed in recent weeks over if and how his statements to church investigators could be used at the criminal trial. Assistant District Attorney Patrick Blessington told Common Pleas Court Judge M. Teresa Sarmina that the transcript included potentially incriminating statements.
But the 55-page document, read aloud in court by Msgr. Kevin M. Quirk, a West Virginia priest who served as the presiding judge at Brennan's church trial, wasn't a smoking gun. In it, Brennan repeatedly contradicted the testimony of his accuser, a 30-year-old Bucks County man who said the priest, a longtime family friend, molested him during a sleepover at Brennan's West Chester townhouse.
That accuser had previously testified that Brennan showed him pornography, wanted to compare their private parts, encouraged him to masturbate and forced him to sleep in the same bed. There, he said, Brennan allegedly pulled him close and pressed his genitals against the boy.
In the transcript read to jurors, Brennan said they slept clothed on opposite sides of the king-size mattress, the only bed in his townhouse. He said it was the boy, not he, who asked about penis sizes and erection. He repeatedly denied any physical contact and said the teen never objected.
"Is it possible you touched him?" Quirk asked during the 2008 hearing, according to the transcript.
"No," Brennan replied.
"Did you attempt to hold him close to you?" the judge asked.
"Not that I recall," Brennan said.
The priest said he agreed to let the boy look at online pornography because the teen threatened to toss his computer out the window. Later, Brennan said, "I'm thinking to myself: What the hell did I just do, and boy was that stupid."
The accuser reported his allegation to the archdiocese in 2006. The outcome of the canonical trial is unclear. Brennan, 48, remains on restricted ministry.
Brennan's lawyer, William J. Brennan, who is unrelated to his client, has claimed the accuser fabricated the allegation because he was jealous of the priest, or in a bid to get money or to explain a decade of drug use and petty crime.
During his cross-examination of Quirk, he noted that the accused priest voluntarily answered questions at the church proceeding. And that when the allegation came to light, church officials had adopted a zero-tolerance policy that called for a swift removal, regardless of proof. "You're aware that only one individual has made an allegation against this man?" the lawyer asked.
"That's right," Quirk replied.
The prosecutors' decision to use the transcript is part of a larger strategy to try to convict the defendants with their own words. They also have read to jurors volumes of testimony that Lynn gave to a grand jury about his investigations into accused priests during his tenure as secretary for clergy between 1992 and 2004.
He is accused of endangerment for not removing Brennan from ministry despite signs that he might abuse minors. Accusers of other priests have also testified, offering accounts that prosecutors say demonstrate that Lynn and other church leaders routinely ignored or failed to act on credible allegations of child sex-abuse.
One of those accusers, a 47-year-old Bucks County man, told jurors Monday how he was repeatedly sexually assaulted as a boy by the Rev. David Sicoli, an assistant pastor at Immaculate Conception in Levittown.
He said the priest showered him with gifts and attention, took him to the movies and a Beatlemania concert, taught him how to drive in his white Chevy Citation or on trips to his Sea Isle City house.
In time, he said, Sicoli began sexual assaulting him and demanding he reciprocate, the man said. He recalled driving with the priest to get Phillies playoff tickets in 1980 and Sicoli performing oral sex on him in the car. Sicoli often got him drunk and routinely plied him with alcohol in visits to bars like the Red Garter in North Wildwood.
"I would go to bed clothed and wake up naked with him next to me," he said.
Breaking into sobs on the witness stand, the man said he kept the abuse a secret until telling his mother in 1998.
The man had been named as a possible victim in letters sent to church officials in 1983, six years after the first allegations emerged against Sicoli. Those letters became part of the files that Lynn reviewed when he became secretary for clergy in the early 1990s.
But no one from the archdiocese contacted him until 2004, the year Sicoli was finally removed and as the grand jury investigation here was intensifying.
"Ever since the scandal in Boston, I kept waiting," he told jurors. "When is it going to happen. When is this guy [Sicoli] going to get his?"
But he said the closest thing to remorse he heard was not from church leaders, but an archdiocesan priest who was also a friend.
"To this day, only one person has apologized for this crap," the witness said, glaring toward the defendants. "Thirty-five years, this is what you get."
Contact John P. Martin at 215-854-4774 or at jmartin@phillynews.com. Follow him @JPMartinInky on Twitter.