Second survivor comes forward with abuse allegations
By Zack Huffman
Senior Reporter
The Bulletin
West Roxbury-Roslindale
September 13, 2012
A second alleged victim of abuse from Rev. James J. Foley publicly spoke out Monday morning about his experiences for the first time.
Foley Jr., now 60, was assigned to St. Ann's in Dorchester in 1978 before moving to Holy Name in West Roxbury in 1981.
It was at Holy Name when he was alleged to have had committed abuse.
Later, Foley served in Scituate, Beverly and was in New Mexico when the first allegations of abuse came out in 1999. In that same year, Foley was placed on health leave and was formally banned from ministering to minors by the Boston Archdiocese, which had ordered him back to the Commonwealth.
Since then, Foley's case has remained in limbo while in the church's internal legal system. Meanwhile, Foley has reportedly remained on the payroll of the Archdiocese, while maintaining his own law practice.
The second victim, who requested that he not be identified, decided to come forward in case there were any other victims in the Parkway area that were remaining.
The second victim learned of the accusations against Foley when he found archived information about it on bishopaccountability.org - an outreach and research organization that focuses on documenting alleged abuse from clergy members.
"My reasons for coming forward were that I found out that unlike what I thought, I wasn't the only person that Foley did this to," said the victim. "That was a big deal. I saw that he did the same behaviors in terms of how it was described by the first accuser. The same things happened to me."
According to the victim, as time went on after that revelation, his emotions over it continued to built up.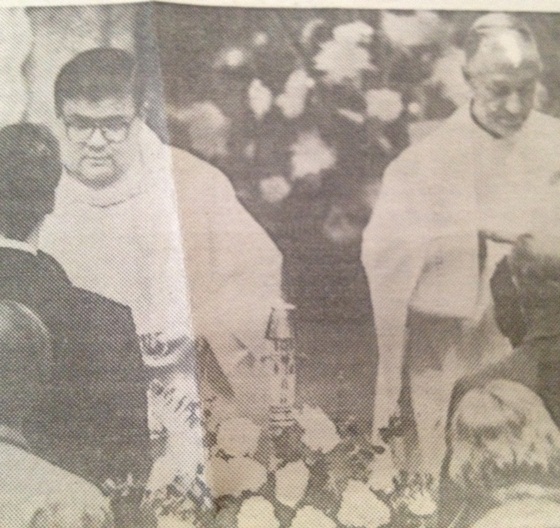 A second victim came forward this week alleging that he had been sexually abused by Rev. James J. Foley, picture left. (Courtesy Photo)
"That feeling built up enough to where I wanted to do something about this," he said. "I want to try to help protect children. That really is the main thing. What happened to me is done."
Just moments before speaking out publicly Monday morning, many of those same feelings of self-loathing came flooding back in.
"I was feeling the things that kept me quiet for all those years - shame, embarrassment, just feeling really awful about what had happened and my part in it," he said.
Over the years, it was the same anxiety that made it difficult for him to come forward in the first place.
"I was feeling insanely nervous," he said. "I made phone calls that I hung up on and I wrote out emails that I never sent, it took me, literally, years to really get the internal fortitude to even do something."
Once he began to learn more about other victims of abuse, he realized that he was not as alone as he had previously thought.
"I went from thinking I was completely unique, to finding out that I was kind of cliché," said the victim.
"Very often there's a whole subtext with survivors coming forward," explained Terence McKiernan of Bishop Accountability. "There is tension within the family because the abuse can happen in a familial or religious context."
McKiernan also said that the second victim was unique in that he was able to properly articulate his feelings about the abuse and the struggle to come forward in an intelligent way.
"It's going to help people a lot to hear him talk through this," said McKiernan. "There are many priests out there whose names are not even known. People don't come forward unless they feel that they can do so safely."
McKiernan also praised what he described as generosity on the part of the survivor as well as those others who have had the courage to come forward.
"Every single priest whom we know is accused - the information is there because a survivor was willing to put themselves on the line," he said.