Phoenicia's Gallagher's Elevated Tree-pee
By Violet Snow
Hudson Valley One
February 22, 2016

https://hudsonvalleyone.com/2016/02/22/phoenicias-gallaghers-elevated-tree-pee/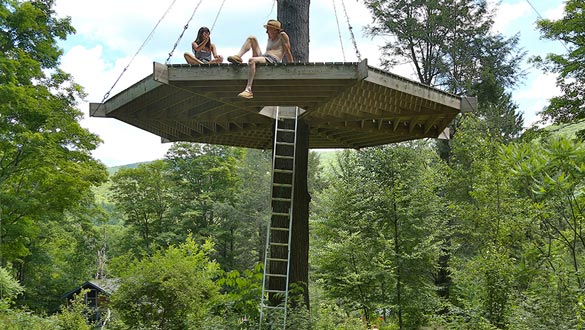 Photo by Ryder Haske
"I've loved trees since I was a youngster," said Phoenicia resident Ralph Gallagher, better known as Chip. "And I've always loved tree houses, being up in trees, climbing trees." Six years ago, he designed and built his own version of a tree house, a 450-square-foot octagonal wood deck, suspended 25 feet off the ground by eight cables from the trunk of a giant hemlock in his yard.
He calls the platform a tree-pee, since it could easily be enclosed with fabric on the cables to make a tepee. (Walls and a roof could approximate a yurt.) However, Gallagher has maintained his tree-pee as an open deck, hanging in the sky. Now that the platform has sturdily survived a six-year test period, he is ready to build them for other people.
"I like to get people up in the trees," he remarked. "The beauty of this design is you don't need several trees or a specific arrangement of branches. You just need a nice, firm trunk, the bigger the better." Although his model tree-pee is 25 feet in the air, it could just as well be five feet off the ground, a large outdoor deck without the trouble of pouring several cement footings in the ground, since this design is based on suspension, rather than compression, like most houses and tree houses.
Years ago, Gallagher recalled, he was driving down the road, observing the way telephone poles are cabled to the ground, and he wondered, "What if you had eight cables all the way around and hung an octagon from a single pole?" It would be twelve years before he put the idea on paper and built a model. He did a test on similar tree in his yard, establishing the correct hypotenuse for the cable from ground height. That tree still has the eye hook in its trunk, and the tree is slowly growing around it, locking it in, reinforcing the stability, as any healthy tree will.
The model platform has survived two hurricanes and three feet of wet snow on the deck. The cables are 3/8 inch in diameter and rated to hold 15,000 pounds each. Working from a carefully calculated design, Gallagher, a builder by profession, hung the framing in three days with the help of three other men. The decking of the platform was laid on in a few more days.
Sometimes he and his wife climb up the ladder and sleep on the deck under stars. "We don't have to worry about snakes or mice," he noted. "I like to just go up and hang out, have lunch or a glass of wine, and look at the mountains. Any view changes drastically when you're 25 feet up. The youngest person we've had up there is a three-year-old and the oldest was 82. People have done yoga there in the mornings and evenings — we call it Higher Yoga. We've hung hammocks from the cables to the trunk. I'd love to get a rock band up there."
Now that the tree-pee has proved its durability, Gallagher is prepared to build more of them for anyone who is interested. The plans are flexible in terms of height off the ground and size of the deck. "I've been building and renovating houses for 30 years," he said, "in Hawaii and the East Coast. This design is very solid. I love working with trees, and whenever one has to come down for whatever reason, especially a large one, I think we need to honor these big beauties and really look at them before cutting them all up."
Gallagher also makes art from trees, creating sculptures from the tripod shapes found throughout the limbs. He added, "The tree-pee is a great way to get up amongst the trees and enjoy them."
See Gallagher's website
https://web.archive.org/web/20150815234000/http://tree-pee.com/
for more information.