Grand jury report raises questions about relations between Altoona-Johnstown Diocese and law enforcement

By Joe Smydo
Pittsburgh Post-Gazette
March 6, 2016

http://www.post-gazette.com/local/region/2016/03/06/Grand-jury-report-raises-questions-about-relations-between-Altoona-Johnstown-Diocese-and-law-enforcement/stories/201603060138

A grand jury report documenting a half-century of sexual misconduct in the Altoona-Johnstown Diocese identified three groups of villains: priests who abused hundreds of children, diocesan officials who protected the priests and, in an added twist, civil authorities who looked the other way at times when they knew something was wrong.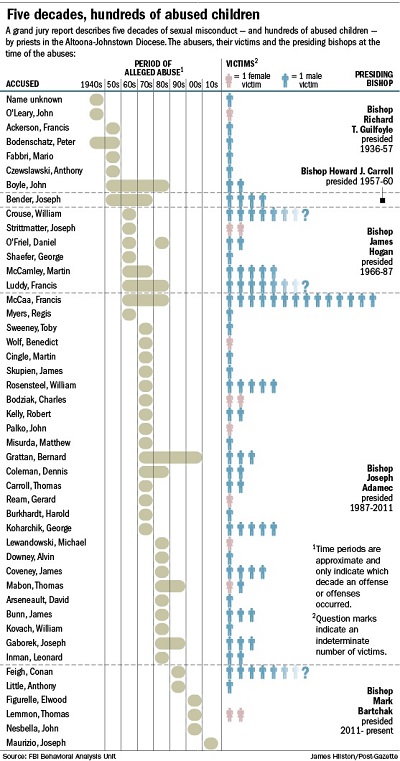 [Informational Graphic by James Hilston of the Pittsburgh Post-Gazette, based on the timeline from the Altoona-Johnstown grand jury report. Click on the image to view a larger image. The larger image also appears at the end of this article. Click here to view a PDF.
State police dropped the ball in a 1982 case, Altoona police conducted a half-hearted investigation of a 1986 allegation, and two former Cambria County prosecutors could not explain why a 1985 case died, according to the report, which state Attorney General Kathleen Kane released Tuesday after a two-year investigation.
The report pointed to a cozy relationship between government and diocesan leaders and to reluctance by law enforcement officials to push priest misconduct cases in what one of those interviewed for the investigation, Cambria County Judge Patrick Kiniry, called "an extremely Catholic county."
The report said a pair of Cambria County judges tried to find a job for one troubled priest, and that a diocesan administrator, Monsignor Philip Saylor, told the grand jury he had influence in the selection of local police chiefs.
The civil authorities' "willful blindness to criminal activity" is one of the biggest red flags in the 147-page grand jury report, said Paul DerOhannesian, a former prosecutor in Albany, N.Y.
"I think it's something that should be discussed and not simply treated as a closed chapter," said Mr. DerOhannesian, who wrote "Sexual Assault Trials," a resource for legal processionals. "I'm not convinced the dynamics affecting this problem are no longer in place. That is a concern."
Blair County District Attorney Richard A. Consiglio criticized Ms. Kane for holding a "theatrical" news conference to release the report when no criminal charges were brought in connection with the investigation. However, he said the grand jury's work is "more than important. ... I think there are lessons to be learned from it on all sides, including law enforcement."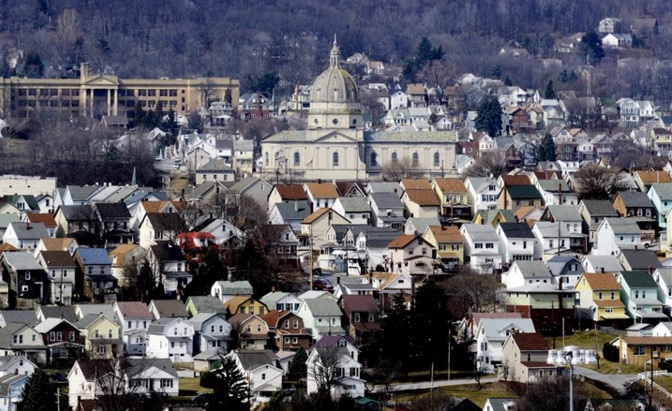 The Cathedral of the Blessed Sacrament, part of the Altoona-Johnstown Diocese in Altoona. Darrell Sapp / Post-Gazette.
Stung by the grand jury report's portrayal of his department's work, Pete Starr, former Altoona police chief, said Ms. Kane should "hold classes" to teach her investigators about the need to gather evidence before slapping a person in handcuffs. "We don't arrest just to arrest people," said Mr. Starr, now a candidate for the 79th District state House seat.
The grand jury described as "heroic" Altoona businessman George Foster, who began investigating misconduct allegations on his own even though he had no duty to do so.
In 2014, Mr. Foster met state investigators at a hotel and turned over letters, files and other documents he had been compiling for 14 years. The report quoted him as wondering at the longtime inaction of civil and religious leaders.
"Where were the police and the bishops?" he said.
It's a question that has been asked about other abuse cases in other parts of the country. Mr. DerOhannesian and Jennifer Marsh, vice president of victim services for the Rape, Abuse and Incest National Network, said institutional leaders and civil authorities have a record of closing ranks when special interests, such as churches and college athletic programs, are threatened.
One of the accused priests, Joseph Gaborek, who was removed from the ministry in 2004, told the grand jury: "… It was like you protect the institution, you protect the priest, teacher. … the victim will get over it or something; I don't know."
In 1982, alerted to a 16-year-old boy's abuse claims against Gaborek, state police approached then-Bishop James Hogan. The report said the bishop talked his way out of an investigation." In diocesan records, Bishop Hogan wrote that the trooper, though not Catholic, was "great."
State police spokeswoman Maria Finn did not immediately comment on the case.
In 1986, the grand jury said, Altoona police began, then dropped, an investigation into a 16-year-old boy's abuse allegations against the Rev. Leonard Inman. In front of the grand jury, prosecutor Daniel Dye sharply questioned Mr. Starr about why he did not push harder to build a case against Father Inman or pursue him to Baltimore, where the priest went for treatment.
In an interview last week, Mr. Starr said the case boiled down to the word of a respected priest against that of an alleged victim who gave conflicting statements and had a mental illness.
"We didn't have enough to arrest. We didn't have enough to make out a criminal complaint," Mr. Starr said.
He said he did not believe he would have access to Father Inman during his stay in the mental health facility. "There was no sense in even trying," he said, adding he next saw the priest years later, after Mr. Starr had left the department.
In 1985, concerned that allegations against Monsignor Francis McCaa would become public, Bishop Hogan met with representatives of the Cambria County district attorney's office and left the meeting believing they would try to "defuse" the situation but could not "whitewash" a complaint. The grand jury said it could find no record of charges ever being filed.
Gerard Long, who was Cambria County's district attorney in 1985 and later a judge, told the grand jury he did not know why his subordinates met with the bishop and could not explain their actions. Judge Kiniry, an assistant district attorney at the time and one of those who met with the bishop, said the decision about charging the priest would have been Judge Long's. Neither Judge Long nor Judge Kiniry could be immediately reached for comment.
Mr. DerOhannesian said the grand jury report highlights the need for law schools to better teach ethics and professionalism. Even if no charges were filed, Ms. Marsh said, victims may find it "incredibly healing" to have their experiences validated by the grand jury report.
Joe Smydo: jsmydo@post-gazette.com or 412-263-1548.