Diocese of Gary names 10 former priests it found guilty of 'credible actions of sexual molestation of minors'
By Carole Carlson
Post-Tribune
August 29, 2018

http://www.chicagotribune.com/suburbs/post-tribune/news/ct-ptb-diocese-priest-listing-st-0829-story.html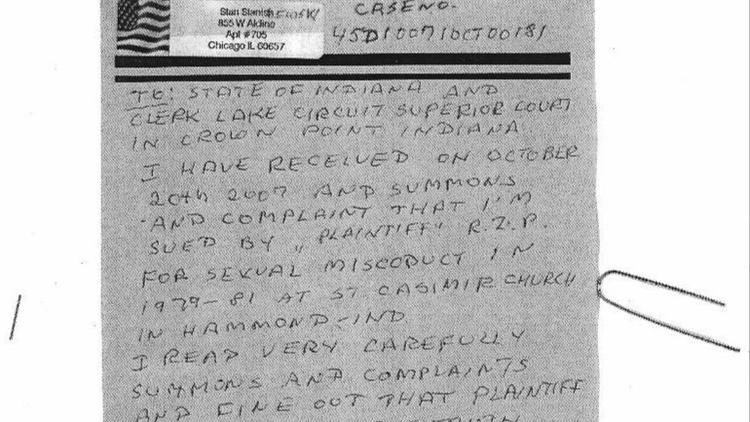 A letter from Stanley Staniszewski, a former priest at St. Casimir in Hammond, denying allegations he abused a boy from 1978 to 1981. (Lake County Clerk)
The Roman Catholic Diocese of Gary has published a list of 10 former priests who it says have been found guilty of "credible actions of sexual molestation of minors."
Diocesan spokeswoman Debbie Bosak said Tuesday the link was placed on the site, as most dioceses have recently done. She said it will also appear in the next edition of the Northwest Indiana Catholic newspaper.
Seven of the 10 priests have died, according to the diocese.
The list is posted underneath an Aug. 15 statement from Bishop Donald J. Hying who responded to an allegation against the Rev. Raymond Lukac, a diocesan priest in Greensburg, Pa., near Pittsburgh.
Lukac taught at the Bishop Noll Institute in Hammond from 1961 to 1963.
Lukac was named in a recent Pennsylvania grand jury report that said 300 "predator priests" had abused more than 1,000 children in six Pennsylvania counties over the past seven decades.
Lukac is not on the list of priest offenders posted by the Gary diocese.
These are the ten priests named:

• Richard Emerson, four allegations; Laicized July 30, 2006.

• Stanley Staniszewski, two allegations; Left the Diocese of Gary Oct. 20, 1983, removed from public ministry. Died April 2, 2016.

• Don Grass, one allegation; Removed from public ministry in 2004 and was no longer allowed to present himself as a priest. Died July 2, 2010.

• Terrence Chase, one allegation; Removed from public ministry and laicized Jan. 4, 2016

• George Kavungal, CMI, six allegations; Last known to be in India, removed from public ministry.

• Ambrose McGinnity, six allegations; Removed from public ministry in 1993. Died Feb. 27, 2000.

• Stephen Varga, one allegation; Laicized 1970. Died July 12, 2006.

• Louis Jeziorski, three allegations; Died April 6, 1973.

• Joseph Buczyna, one allegation; Died Jan. 12, 1976.

• Julian Jercha, three allegations; Died June 27, 1987.

At least two of the priests have been named in civil lawsuits. It couldn't be immediately determined if any of the priests were ever criminally charged.
The Rev. Richard Emerson, a Hammond native who had served at St. Thomas More in Munster, faced multiple allegations of sexual misconduct.
He was serving in the Diocese of Gary in 2005 when a Florida attorney filed a civil lawsuit against Emerson on behalf of a Florida man who accused Emerson of sexually assaulting him when he was a minor in Florida.
Ordained by the Diocese of Gary in 1978, Emerson had served as a priest at St. Charles Borromeo Catholic Church in Orlando. Emerson served in Florida from 1986 to 1991.
Court records showed Emerson's alleged behavior hadn't gone unnoticed.
Orlando Bishop Norbert Dorsey wrote to Bishop Norbert Gaughan, then bishop of the Gary Diocese, saying it was "necessary to ask Father Emerson to return to his home diocese."
Emerson was "giving inappropriate attention to two teen sons of a particular family, especially the 15-year-old," Dorsey wrote in the letter. Dorsey said Emerson had been spoken to about the relationship, according court documents.
Even after his return to Gary, Gaughan's successor documented his concerns.
Bishop Dale Melczek, wrote a 2004 letter to Cardinal Joseph Ratzinger, who later became Pope Benedict XVI, about Emerson, and sought permission to have him removed from the priesthood.
"Since my arrival in the diocese in 1992, on a number of occasions priests and lay people have expressed their concerns to me about Father Emerson taking on several occasions, boys who were minors on outings or vacations with himself and also about his having them stay in the rectory," Melczek wrote in the Dec. 22, 2004, letter, filed in Orange County (Fla.) Clerk's Office. "I have warned Father Emerson about that matter."
With call for pope to resign, divisions within the Catholic Church explode into view »
The Gary Diocese placed Emerson on leave after the lawsuit was filed. A church investigation followed and a second set of allegations against Emerson were found to be credible by the Gary Diocese, prompting a new review. In all, the Gary Diocese posted four credible allegations against Emerson.
Emerson was pastor of Michigan City's Notre Dame parish in 2003. His career also included stays at Our Lady of Perpetual Help in Hammond, Schererville's Hoosier Boys Town, as well as St. Thomas More.
The Rev. Stanley Staniszewski was sued in Lake Superior Court by a former Hammond man who alleged he was sexually abused by the priest while he was an altar boy at St. Casimir Church in Hammond. The man alleged the abuse took place from 1971 to 1978.
The victim said he reported the abuse to the Gary Diocese in 2007 and filed a lawsuit the same year.
Staniszewski denied the allegation.
The lawsuit was settled in 2009.
The Rev. Terrence Chase was placed on leave in 2010 after he denied sexual misconduct allegations with a minor while he served as an associate priest at St. Patrick Church in Chesterton in 1991.
In 2003, Monsignor Don C. Grass, of St. Mary Catholic Church in Crown Point, was removed from the ministry after he admitted to sexually abusing a girl more than 30 years ago. The abuse took place when Grass was an assistant pastor at Gary's Holy Angels Cathedral in the late 1960s.
The victim alerted diocesan officials to the abuse in 2003. Grass died in 2010.
Pope on sex abuse: 'We showed no care for the little ones' »
Meanwhile, Lukac came to the Gary Diocese on a "trial" basis following a series of alleged entanglements with teenage girls. The Pennsylvania report said Lukac was accused in 1955 of being romantically involved with a 17-year-old girl while he was serving in Pennsylvania. The report said Lukac got the teen pregnant and later married and divorced her.
In 2012, Hying said an individual in the Gary Diocese made an allegation against Lukac. Kelly Venegas, the diocesan delegate for sexual misconduct, oversaw a process that determined the allegation wasn't credible.
"After a process of due diligence and careful investigation, the Board concluded that there insufficient evidence to affirm credibility," Hying said.
Craig Lyons contributed.
Carole Carlson is a freelance reporter for the Post-Tribune.