Survivors say Norwich Diocese's list of priests accused of sexual abuse is missing names

By Dave Altimari
Hartford Courant
February 13, 2019

https://www.courant.com/news/connecticut/hc-news-norwich-priests-survivors-20190213-xpjng4h2und73e5jivzhfdzkje-story.html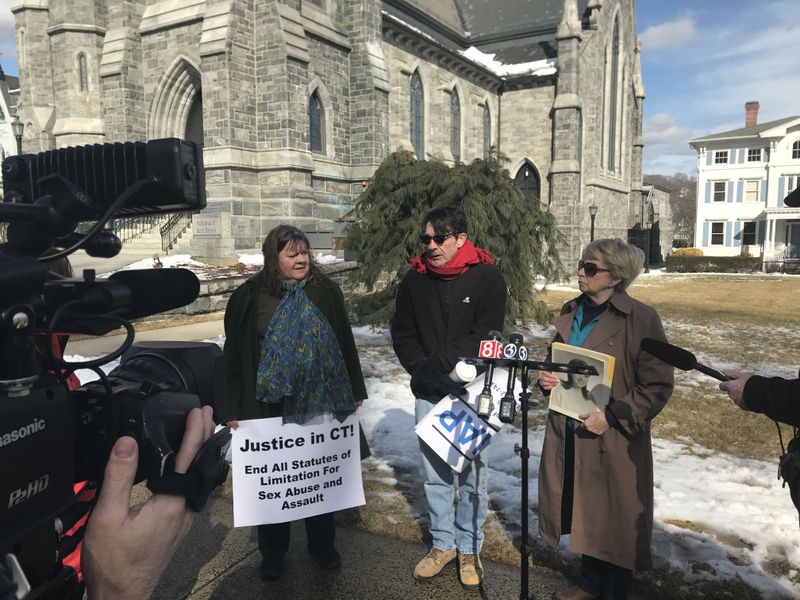 The Connecticut chapter of the Survivors Network of those Abused by Priests (SNAP) held a press conference Wednesday in Norwich to say the city diocese left some names off its list of priests accused of sexual abuse. (Dave Altimari / Hartford Courant)
With all three Catholic bishops in the state now having released the names of priests accused of abusing children, the director of the only survivor's group in the state said more victims continue to step forward.
"I've been getting a call a week from victims who have finally ... gotten up the nerve to make the call," said Gail Howard, the leader of the Connecticut chapter of the Survivors Network of those Abused by Priests (SNAP).
On Wednesday, Howard and another victim, John Timothy Maguire, stood outside the Cathedral of St. Patrick in Norwich, next door to the Diocese of Norwich offices. Norwich was the last diocese in the state to release the names of "credibly accused" priests on Sunday, when it announced there were 22 priests from its diocese and 19 others assigned to it from others who had at least one claim of sexual abuse against them.
As she had done just weeks before when the Hartford Archdiocese released its list of priests, Howard said this one wasn't complete. She said there are at least three priests that SNAP has identified as abusers who were not included on Bishop Michael R. Cote's list.
"I'm not surprised that the list is incomplete but the diocese has an obligation to let people know where these offenders were assigned and what parishes allowed them access to children," Howard said.
Norwich Diocese spokesman Wayne Gignac said Wednesday the diocese is reviewing the names mentioned by SNAP.
"We received the information and, as Bishop Cote stated in his Feb. 7 letter, the publication of names will be updated as any new information becomes available," Gignac said.
"We are currently reviewing the information and will make updates to the list once the information is confirmed," he said.
The rise and fall of Rev. Daniel McSheffery, the 'sickest, sociopathic monster ever to wear a Roman Catholic collar in Connecticut' »
The list that Cote released Sunday included 22 priests who were ordained in the Diocese of Norwich and were accused of abuse while working in the diocese. Among them are priests, such as Richard T. Buongirno and Thomas W. Shea, who were sued by multiple victims. There are also seven priests who belonged to religious orders and served in the diocese and 12 priests who served or resided in the diocese but were accused of sexual abuse while serving in another diocese. There were two priests — Louis Paturzo and Bruno Primavera — who spent time in both the Norwich Diocese and the Hartford Archdiocese.
Cote followed the lead of the state's two other dioceses — Hartford and Bridgeport — which already have released their rosters of accused priests. Cote also announced that, since July 1, 1977, the Diocese of Norwich has paid almost $7.7 million in settlements to victims in connection with nine cases.
But unlike Bridgeport and Hartford, Cote has not committed to hiring an independent source to review all of the diocese personnel files and make an separate report. Both Bridgeport and Hartford have hired retired state judges to conduct such reviews.
Amid release of accused priests' identities, Connecticut lawmakers seek to eliminate statute of limitations on sex-abuse lawsuits »
One of the priests on the Norwich list was the Rev. James Curry, the priest Maguire said abused him when he was an altar boy back in the 1970s.
"I talked to a lawyer when I was 48 years old and three weeks, so I missed by three weeks," Maguire said. "I thought I had put it all away in a box and then it just all came out when I saw the priest's name in the newspaper that had abused me." Currently, state law prohibits anyone older than 48 from filing a civil lawsuit alleging they were abused as minors.
Maguire said all he wants is for the church to be held responsible for what happened to him. He believes there are a lot of people like him who are unable to sue because of their age or because they locked the abuse away for years and never talked about it.
Currently, the statute of limitations for the sex assault of minors applies to cases where the alleged perpetrator has not been criminally charged. There is no statute of limitations to bring a lawsuit in cases where there has been a criminal conviction.
Maguire may get his opportunity in court if some state legislators have their way. State Sen. Mae Flexer said she is prepared to amend a bill she has proposed to include eliminating the statute of limitations on when victims can file civil lawsuits.
By eliminating the statute of limitations, the legislature would open the door to possibly hundreds of new lawsuits against the church. Flexer said she's aware of the potential financial implications, but she said she hoped the church hierarchy wouldn't oppose the change.
"I hope that the Catholic Church now, as a gesture of good faith, will allow victims to seek justice and not work behind the scenes to get the bill killed," Flexer said.
Flexer said she was shocked by the sheer number of priests — more than 100 — accused of sexual abuse and the number of victims, which is well over 300.
SNAP's Howard said the number of victims would grow considerably if the statute of limitations was lifted.
"Since August, I have added 15 victims to my list of survivors and all of them are too old to go to the courts," Howard said. "There are a lot of people who don't even know where to start, they can't even talk to a lawyer about it."
The rise and fall of Rev. Daniel McSheffery, the 'sickest, sociopathic monster ever to wear a Roman Catholic collar in Connecticut' »
But a lobbyist for the Catholic Church said the church opposes the idea.
"We feel that the current law provides enough time for people with claims to pursue them,'' said Christopher C. Healy, executive director of the Connecticut Catholic Public Affairs Conference. "We also support efforts to lengthen the statute of limitations for criminal prosecutions of these kinds of crimes. We think that's important."
Howard said she would expect the church to fight any change to the laws.
"They have been covering up this behavior for years and years, constantly doing damage control," Howard said. "I'd like to see the state conduct a statewide investigation of the church."
Dave Altimari can be reached at daltimari@courant.com.