Catholic Diocese Names 39 Priests 'Credibly Accused' of Sex Abuse in Vermont
Posted by Sasha Goldstein
Seven Days
August 22, 2019

https://www.sevendaysvt.com/OffMessage/archives/2019/08/22/catholic-diocese-names-39-priests-credibly-accused-of-sex-abuse-in-vermont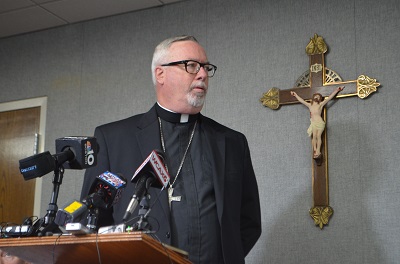 Bishop Christopher Coyne at Thursday's press conference - Photo by Sasha Goldstein


In seeking to atone for the lengthy history of sexual misdeeds by clergy, the Roman Catholic Diocese of Burlington released a report Thursday morning that details the names and biographies of 39 priests since 1950 who have been credibly accused of abusing children in Vermont.

"These sins of the past continue to haunt us," Bishop Christopher Coyne told reporters during a press conference at the diocese headquarters on Joy Drive in South Burlington. "These shameful, sinful and criminal acts have been our family secret for generations."

Last November, a committee of seven men and women began reviewing thousands of documents related to 52 clergy members who'd served in Vermont since 1950 and who had been accused of abuse.

The committee considered three criteria to determine whether a priest was credibly accused: whether the allegation was "natural, plausible and probable"; corroborated by other evidence; or admitted to by the accused.

"If you had one of those three, we defined that as a credible allegation," said Mark Redmond, the executive director of Spectrum Youth & Family Services and a member of the committee. "That was the first task: What does it mean to be credibly accused? And that's what we came up with."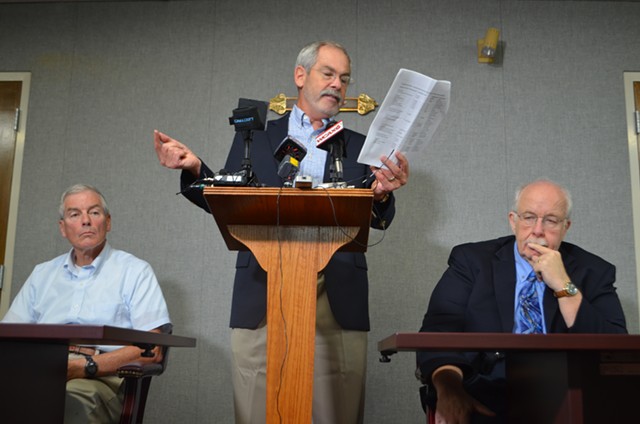 From left: committee members John Mahoney, Mark Redmond and Mike Donoghue - Photo by Sasha Goldstein


Of the 52 accused, the committee named 39 whom its members determined had been credibly accused in Vermont. (A 40th priest, Mark L. Quillen, had been accused of sex abuse in Iowa in 1977, but the committee learned of no accusation against Quillen during his four years in Vermont in the early 1990s.)

Thirteen of the clergy named in the report are still alive. The bishop said he'd contacted eight of them, including several who still reside in Vermont, to let them know their names were on the list. None admitted to the abuse, according to Coyne, and some adamantly denied the accusations.

"Some were very short — 'OK, thank you, Bishop' — and hung up," Coyne said of the phone conversations. "And others were, 'This is a travesty of justice, I've never gotten my day in court. Why are you doing this now? I'm 80 years old; this happened 40 years ago.' Others said, 'OK, Bishop, I appreciate that you gave me a call.' It ran the gamut of all different kinds of emotions."

Coyne noted that there'd been only one substantiated abuse claim against a Diocese of Burlington priest since 2002, when the United States Conference of Catholic Bishops implemented more stringent child protection rules. It involved Stephen J. Nichols, a Lyndonville priest who was sentenced to 30 days in jail for inappropriately touching a teen in 2005.

"We communicated yesterday, and he didn't have much good to say to me," Coyne said. "I was a classmate of his at Saint John's Seminary in Brighton [Mass.], class of 1986."

All of the names and files have been turned over to the Vermont Attorney General's Office. The office is involved in a separate law enforcement task force that formed after BuzzFeed published a story in August 2018 about abuse allegations at the former St. Joseph's Catholic Orphanage on North Avenue in Burlington. That criminal investigation is ongoing, Attorney General T.J. Donovan said in a statement Thursday.

"We reviewed the lay committee's report, and are aware of all the names listed," he wrote. "I appreciate the lay committee's work and diligence on this matter."

Among those on the committee was 65-year-old John Mahoney, a retired schoolteacher who says he was sexually abused as a child by a priest named Edward C. Foster, who died in 2000. Mahoney publicly detailed his accusations for the first time this week, recounting how Foster molested him several times during the 1960s, beginning when Mahoney was in middle school.

Mahoney eventually told a "trusted adult" about what had happened when he was in high school and brought his allegations to the diocese in the 1990s; he received a monetary settlement in the early 2000s.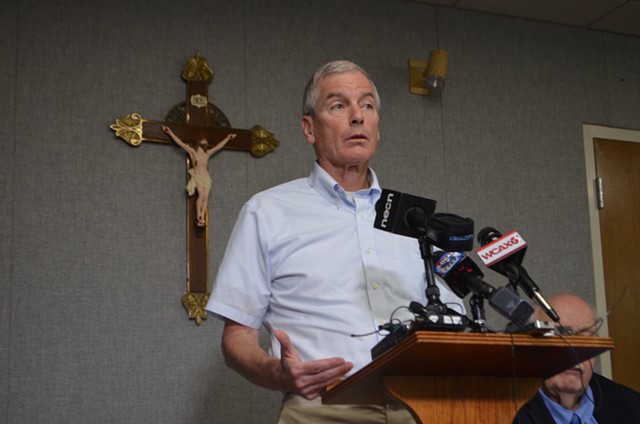 Committee member and abuse survivor John Mahoney - Photo by Sasha Goldstein


Mahoney, who paused for long periods and appeared emotional as he spoke at Thursday's press conference, said he received an email Wednesday night from someone he'd grown up with that simply read, "Thank you, John."

"That was important for me to get that affirmation that what we're doing here is important for a number of people," Mahoney said. "It has been stressful, but for me, today, I feel an awful lot of support from close family and friends and certainly from the bishop as well."

Coyne said there are currently six people suing the diocese and, with the release of the list, he expects more survivors to come forward. Since 2002, the diocese has paid more than $31 million in settlements.

"If someone was abused, I want to give them the justice they're due, and I've tried to do that since I've gotten here," said Coyne, who noted the church has settled with every survivor who has come forward.

But, Coyne said, a Vermont law enacted in May that eliminates the statute of limitations for child sex abuse lawsuits "blows my mind" and "is taking away our rights to a just defense." He said the diocese could challenge the law, known as Act 37, in court. The church "has no money" and no insurance to cover future claims, according to Coyne.

"If I settle 10, nine cases and I'm out of money, and somebody else comes forward — what do you do?" he said. "You just say, 'I don't have any money, I can't do anything for you.' And so we're constantly behind the eight ball. I don't want to go to litigation, but I think we're getting to the point that we're gonna have to."

Read the full report, which includes information about the accused priests, below: