Father Joseph M. Henry, MM

Born: February 18, 1902
Ordained: June 11, 1933
Died: November 13, 1974

Maryknoll Missionary Archives
Accessed June 21, 2017
http://maryknollmissionarchives.org/?deceased-fathers-bro=father-joseph-m-henry-mm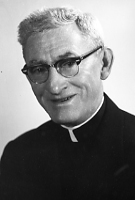 Father Joseph Michael Henry died at 10 p.m. (Honolulu time) Wednesday, November 13, in Oahu, Hawaii. He had been active and enjoyed good health most of his life.
Father Henry was born February 18, 1902 at Doo Castle, County Sligo, Ireland. In a 1973 letter, he described his years in Maryknoll: "Entered in 1922 at the Venard, was ordained at Maryknoll in 1933 and spent my first year converting the cowsheds, horse stables and hay lofts into the new Maryknoll Novitiate at Bedford. My second year was spent as procurator at Maryknoll. Then I went to Manchuria and became a member of the famed 'Manchu Dynasty'. Spent some time in a prison camp in 1941-42, was repatriated and returned to Maryknoll. Spent one year with the Home Missioners at Cincinnati, who were then just getting started. Spent the remaining years of World War II at Maryknoll with the Field Afar work. Returned to Manchuria in 1946, was forced out by the communist takeover in 1948. Spent some time in Kwangsi Province at Kweilin, some more time in Hong Kong and Canton and was assigned to Hawaii in 1949. Spent one year as an Assistant in Sacred Heart Parish in Honolulu, and became Pastor of St. Anthony's here on the windward side of Oahu on August 4, 1950. Have been here ever since."
St. Anthony's Parish in Kailua was Father Henry's pride and joy. The present beautiful church building, which serves some 7,500 parishioners and has a Polynesian motif, was dedicated Easter 1968. The Wake and Mass for Father Henry took place at St. Anthony's on Monday evening, and the Funeral Mass was Tuesday morning, November 19. Burial took place in Oahu. Masses were also celebrated for Father Henry at 12 noon on Saturday, November 16, at the Seminary Chapel, Maryknoll, N.Y., and at 12 noon on Monday, November 18, at the Hingham (Massachusetts) Seminary.