The Rev. Gordon Patrick Wagoner


Carroll County Comet (Indiana)
September 3, 2008
http://www.carrollcountycomet.com/news/2008-09-03/obituaries/031.html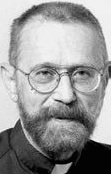 The Rev. Gordon Patrick Wagoner, 71, Noblesville, passed from this earth on Tuesday, Sept. 2, 2008, after a long struggle with cancer.
Born Aug. 19, 1937, in Lafayette, Father Gordon was the son of Donald and Susie (nee Patrick), both of whom preceded him in death.
After graduation in 1955 from Rossville High School, Father Gordon attended De- Pauw University, Greencastle, as a Rector Scholar and was graduated Phi Beta Kappa, maxima cum laude in 1959. He received a Master of Arts degree from the Catholic University of America, Washington, D.C., as a Woodrow Wilson Fellow.
Father Gordon was awarded a Pontifical Licentiate in theology from the Catholic University. Ordained priest by Bishop Leo Pursley in May 1965, Father Gordon began his first pastoral assignment at the Cathedral of St. Mary in Lafayette.
Father Gordon pursued postdoctoral studies at the University of Chicago from 1966-1970. He taught at St. John's College of Cleveland for one year, then returned to Indiana for a professorship in History of Religions at the Catholic Seminary of Indianapolis, at that time affiliated with Christian Theological Seminary. Concurrently he served as Director of Campus Ministry at Wabash College, Crawfordsville. In 1975, Father Gordon accepted an invitation to become Director of Campus Ministry at the University of Albuquerque, where he also served as Professor of Theology.
For reasons of health, he returned to Indiana 1983. Father Gordon achieved certification in Clinical Pastoral Education at the Central State (Indianapolis) and Howard Community (Kokomo) hospitals and was elected to membership in the National Association of Catholic Champions. He became chaplain of the St. Joseph Hospital and Health Center (Kokomo), while providing administrative leadership to St. Elizabeth Church in Lucerne.
Father Gordon's next assignment took him to the chaplaincy of the Veterans Administration (VA) facility in Marion, followed by appointment as chaplain to the Roudebush VA medical center in Indianapolis at the 10th Street facility. He worked primarily with chemically dependent and PTSD patients. Upon retirement from the VA, Father Gordon trained teachers for the Ecclesial Lay Ministry Program of the Diocese of Lafayette-in-Indiana.
Survivors include a sister Melinda Deboy (nee Wagoner) and brother-in-law Gail Deboy, their sons Jason and his wife, Kathleen, and Darrin; a grandnephew Nolan and a grandniece Maggie, children of Jason and Kathleen.
Father Gordon will be greatly missed by his family, friends and associates.
A Wake Service for Father Gordon will be held in the Parish Hall at Our Lady of Grace Church (OLG), 9900 E. 191st St., Noblesville, on Thursday, Sept. 4, with calling from 5- 8 p.m. The funeral Mass of the Resurrection will be held on Friday, Sept. 5, at 11 a.m. at the church, with Bishop William L. Higi and Rev. Tom Metzger presiding. After the funeral liturgy, lunch will be provided at the church prior to burial at the North Fork Old German Baptist Cemetery, Pyrmont.
The family wishes to thank all the Friends of Bill W. at the Suburban North club, who provided invaluable care and assistance during Father Gordon's final days.
Memorial gifts may be made to Suburban North, 1811 S. 10th St., Noblesville, IN, phone 317-770-1399