In sexual abuse lawsuit, neither the Kansas City diocese nor those suing it scored a clear win

By July L. Thomas
The Kansas City Star
October 18, 2014

https://www.kansascity.com/living/religion/article3012507.html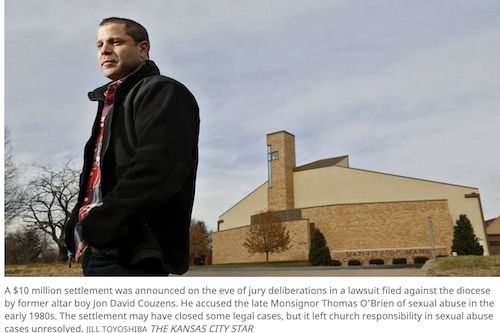 Last week's $10 million settlement cleared the deck of dozens of priest sexual abuse lawsuits in the Kansas City-St. Joseph Diocese. But in the end, neither side could declare victory. The plaintiffs won no massive payout or declaration from the jury that the diocese had failed miserably to protect children.

By the same count, the diocese wasn't cleared of wrongdoing, nor was it shielded from future litigation. "It may sound like it was a good financial deal for both sides. … But it's also really sad," said Nicholas Cafardi, a law professor at Duquesne University and a former general counsel for the Diocese of Pittsburgh. "The difficult thing is to get closure for a victim, and you hope that this brings closure because the injuries can be so horrific it takes a lifetime to get past them."

The $9.95 million settlement was announced late Tuesday on the eve of jury deliberations in a trial of a lawsuit filed against the diocese by former altar boy Jon David Couzens. He accused the late Monsignor Thomas O'Brien of sexual abuse in the early 1980s at Nativity of the Blessed Virgin Mary parish in Independence. The diocese was told repeatedly that O'Brien was a danger to children, Couzens said, but failed to prevent the abuse. O'Brien died last fall at age 87.

The settlement covered 32 lawsuits filed from September 2010 through February 2014. Those lawsuits involved 14 current and former priests in allegations of sexual abuse covering three decades. Three of the cases had been dismissed on the grounds that the alleged abuse did not occur on church property. Another dismissed case had been filed by a man who said a priest fathered a child with his wife.

In a rare move, the plaintiffs agreed to share the settlement with everyone who had filed a lawsuit — even those whose cases had been dismissed.

"We've reached the right result because now each and every one of those victims of sexual abuse who filed their lawsuits will receive some compensation," said Rebecca Randles, one of the plaintiffs' attorneys. "They had all agreed to share and share alike, regardless of whether they won or lost their case, to make sure that every single person was compensated in some manner."

Tuesday's settlement wasn't the first that the diocese resolved in one lump sum. In 2008, the diocese announced a $10 million settlement with dozens of victims who alleged abuse by 12 priests going back decades.

Unlike the 2008 settlement, Randles said, the agreement Tuesday did not include any non-monetary provisions, such as a written apology from Bishop Robert Finn to the plaintiffs or a policy requiring parental consent for a child to be taken out of class by a priest.

"We asked for some policy changes," she said, "but they wouldn't consider anything this time."

Trials in cases alleging sexual abuse by clergy are rare. Of the thousands of such civil suits filed in the United States, only a few dozen have made it to a jury verdict.

"One reason is the publicity and not wanting to reveal, in public, things that will make a number of people uncomfortable, including the litigants," said Carl Tobias, a law professor at Virginia's Richmond University. "No one, on either side, really wants … to air these issues."

What's more, he said, there is no way to know for sure what a jury will decide.

"You always have to wonder if it goes to a jury, are you going to win the case or not?" he said. "They just don't know until the jury comes in with a verdict one way or other, and sometimes it's better to split the difference."

Sharing the damages among all the plaintiffs, Tobias said, is unusual.

"When you have a group of people, it's just harder because people have different goals on why they would even decide to litigate," he said. "And it's especially hard in this context. For some, it's not about the money. It's vindication for the harm."

Others, he said, just want to be able to tell their stories.

"That's real important in these kinds of cases for some people," he said.

Defending sexual abuse lawsuits puts a diocese in a bizarre situation, said Cafardi, a former chairman of the U.S. Bishops' National Review Board for the Protection of Children and Youth.

"There's a very fine line," he said. "We know we've had phony victims in some cases, and a diocese has a right to try and ferret out who those are.

"But it puts the diocese in an awkward position. You don't want to use the same methods with somebody who in fact has been abused because when you do that, in a way, you're perpetuating the abuse. You're retraumatizing them."

Going up against current or former church members in court can be extremely sensitive, he said.

"To be fair to the church, these are charitable assets," Cafardi said. "They do need to protect them. On the other hand, if it's a real victim who in fact the priest has abused, you need to make that right as well."

He said it was wise for the diocese to settle the lawsuits in one large batch.

"It's smart because an average of $200,000 per victim, or $300,000 per victim, is much lower than some single jury verdicts I've heard," Cafardi said. "So from a pure financial basis, this makes good sense for the diocese. You just hope that the dollars that go in the victims' pockets somehow will be used by them to get past the injury they suffered."

In its announcement of the settlement, the diocese said that a large portion would be covered by insurers.

Jack Smith, a spokesman for the diocese, said he could not provide a breakdown of how much of the settlement was covered by insurance and how much would come from the diocese.

"At some point, much of this detail will be included in the annual report of the diocesan insurance operation," he said in an email. "I'm unable to provide detail, in part, because all of the pieces are not yet clear."

While some wonder whether Tuesday's settlement will leave the diocese more vulnerable to future lawsuits, Cafardi wasn't so sure.
"It's not that big a settlement," he said. "My experience has been that one settlement doesn't necessarily lead to another."
Couzens spoke Friday at a news conference on the steps of the Cathedral of the Immaculate Conception, surrounded by about 20 friends, family members and other plaintiffs. Many had attended his trial day after day to offer support.
"It's OK to be Catholic," he said. "But our children today need to know that they can go to confession and they can serve Mass and they can do those things without being afraid that a priest is going to touch them."
The settlement, Couzens said, is "a little bit of vindication, it's retribution. And it's unfortunate because the general public would think that our motivation, that all victims' motivation, is for money. But it's just the reverse. It's about money for them because they think that they can pay these victims off and then they keep shut. … I'm not going to shut up."
David Tate, one of several men who filed lawsuits against the Rev. Michael Tierney, said the plaintiffs met multiple times and made the decision to share any settlement with everyone.

"Jon David was the first to step up," he said. "Everybody had to be on board."

Though the cases are now settled, Tate said, "by no means is this the end."

"This is not about the money," he said. "It's about the actions of the diocese. Our stories are real. Now the diocese needs to stand up and show everyone how they're going to handle any similar situations in the future."


To reach Judy L. Thomas, call 816-234-4334 or send email to jthomas@kcstar.com.

The priests

In addition to the late Monsignor Thomas O'Brien, the current or former priests who were the subjects of the lawsuits in Tuesday's settlement were Thomas Cronin, Jim Ford, Martin Froeschl, Joseph Hart, Mark Honhart, Joseph Matt, Hugh Monahan, Francis McGlynn, Tom Reardon, Michael Tierney, John Tulipana, Jerry Wegenek and Stephen Wise. Some were named in multiple lawsuits. O'Brien, Ford, Froeschl, McGlynn, Tulipana and Wegenek have died.