Former San Antonio priest accused of raping, drugging minor in Pennsylvania

By Caleb Downs
MySanantonio.com
August 17, 2018
https://www.mysanantonio.com/news/local/crime/article/Former-San-Antonio-priest-accused-of-raping-13163263.php#photo-16028177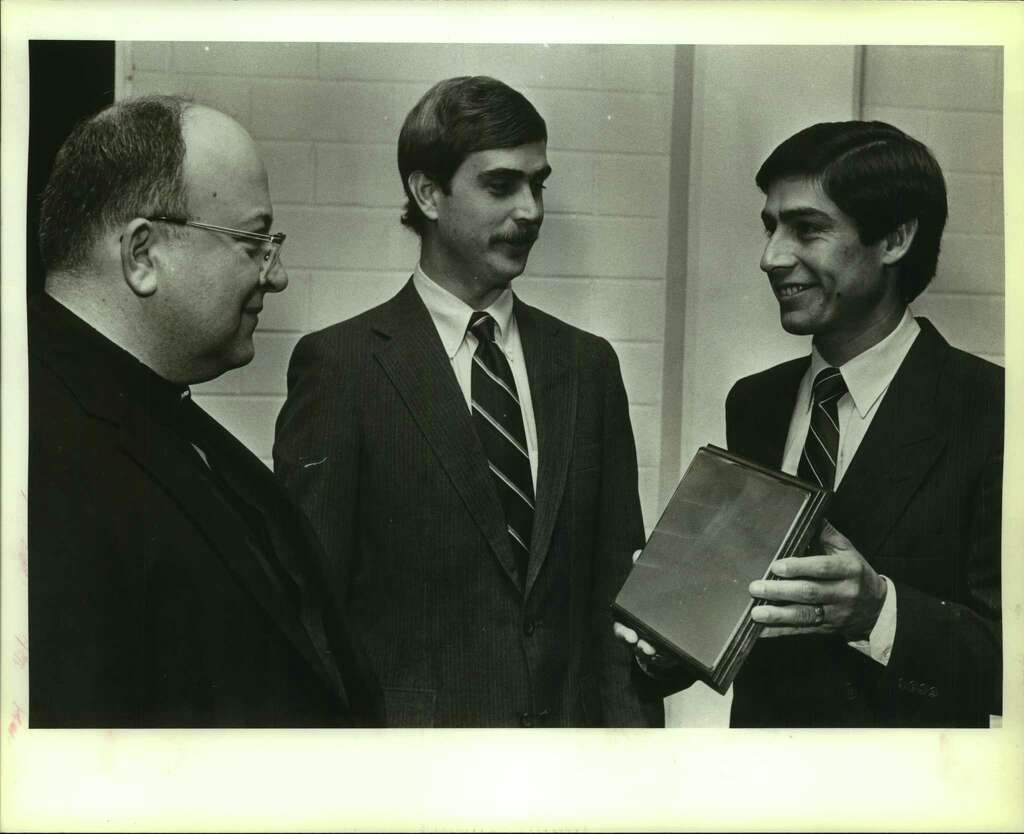 Photo: Charles Barksdale, San Antonio Express-News
This undated San Antonio Express-News file photo shows the Rev. David Connell (left) receiving an Outstanding Alumni Award at Antonian College Preparatory High School. Connell was accused in the Pennsylvania grand jury report of drugging and raping a minor on at least two occasions. less
A Catholic priest who served in San Antonio for almost 20 years was accused in the Pennsylvania grand jury report released this week of drugging and raping a minor on at least two occasions, sexually abusing the victim's brother and trying to have sex with another victim on a camping trip.
Now, the Archdiocese of San Antonio is asking anyone with information about further abuse by Rev. David Connell, who served as a teacher and pastor in San Antonio from 1976 to his death in 1995, to come forward.
"The information contained in the Pennsylvania grand jury report is being taken extremely seriously by the Archdiocese," says a statement from church officials released Thursday.
"Regarding Rev. Connell's time in San Antonio, there have been no reports to the Archdiocese of San Antonio of misconduct or allegations of abuse from parishioners or students in the Archiocese," the statement continues.
Connell was a biology and theology teacher at Antonian College Preparatory High School, and later served as the school's vice principal, and finally, principal. He left the high school in 1988, and in 1989 he became the pastor of St. Thomas More Church, a position he held until his death.
According to the grand jury report, which documents in excruciating detail the systematic abuse of more than 1,000 children by as many as 300 priests in six dioceses in Pennslyvania, Connell was a Carmelite priest and high school teacher in Pottsville, Pennsylvania, in the Archdiocese of Allentown from 1973 to 1976.
The rape allegation against Connell contained in the report is graphic, and it follows the familiar narrative of a young victim who is abused by a priest, silenced by church officials and, finally, left helplessly watching their abuser flee to new territory without punishment.
The victim who accused Connell officially reported the abuse in 2007, about 40 years after an earlier attempt to report the abuse was stifled, according to the report. He said the abuse began after his family's house burned down and the Carmelite priests gave the victim and his brother space to live in the priory.
The victim said he was sexually abused by his basketball coach, Jim Gross, and Connell during his time at the church.
"The victim remembered drinking juice that Connell gave him and the next memory the victim had was waking up in his own bed naked, with Connell in the room," the report says.
The victim reported another incident in which Connell gave him some tea that gave him a bad headache. Connell then abused him, and "even though he was strong and athletic, he could not stop Connell from abusing him because he was drugged," the report says.
RELATED: Vatican in 'shame and sorrow' over abuses in Pennsylvania
Seeking help, the victim told another priest, Rev. Timothy Johnson, of the abuse, saying he was going to tell the police. But Johnson allegedly told him not to. When the victim insisted, Johnson beat him with a leather belt and threatened to do it again if he reported the abuse to police, according to the report.
It wasn't until 2007 that the victim was able to report the abuse without fear of retribution, the report says. He told Father Michael Kissane, Provincial of the Carmelites, of the abuse, adding that his brother had also been abused but never talked about it.
Kissane told the victim that other sexual abuse allegations had been made against Connell, pointing to a report from May 1976 saying he had "made a pass" at a student during a camping trip. No action was taken against Connell, and he soon went to San Antonio.
The Archdiocese of San Antonio said in a written statement that when Connell arrived in August 1976, he provided them with documentation about the alleged camping trip incident, but denied it had happened. They were not made aware of the rape allegations until the Pennsylvania grand jury report was released on Tuesday.
A representative of Antonian College Preparatory High School said no current staff members worked with Connell and directed all questions to the Archdiocese of San Antonio.
Anyone with information about abuse committed by Connell is asked to contact Steve Martinez, director of the Archdiocesan Office of Victim Assistance and Safe Environment, at 210-734-7786 or 877-700-1888, or email at ovase@archsa.org.
Text "NEWS" to 77453 for breaking news alerts from mySA.com
Caleb Downs is a crime reporter for mySA.com. Read more of his stories here.| cdowns@mysa.com | Twitter:@calebjdowns