We Saw Nuns Kill Children: The Ghosts of St. Joseph's Catholic Orphanage

By Christine Kenneally, Buzzfeed, Senior Contributor
Buzzfeednews.com
August 27, 2018
https://www.buzzfeednews.com/article/christinekenneally/orphanage-death-catholic-abuse-nuns-st-josephs
It was a late summer afternoon, Sally Dale recalled, when the boy was thrown through the fourth-floor window.

"He kind of hit, and— " she placed both hands palm-down before her. Her right hand slapped down on the left, rebounded up a little, then landed again.
For just a moment, the room was still. "Bounced?" one of the many lawyers present asked. "Well, I guess you'd call it — it was a bounce," she replied. "And then he laid still."
Sally, who was speaking under oath, tried to explain it. She started again. "The first thing I saw was looking up, hearing the crash of the window, and then him going down, but my eyes were still glued—." She pointed up at where the broken window would have been and then she pointed at her own face and drew circles around it. "That habit thing, whatever it is, that they wear, stuck out like a sore thumb."
A nun was standing at the window, Sally said. She straightened her arms out in front of her. "But her hands were like that."
There were only two people in the yard, she said: Sally herself and a nun who was escorting her. In a tone that was still completely bewildered, she recalled asking, Sister?
Sister took hold of Sally's ear, turned her around, and walked her back to the other side of the yard. The nun told her she had a vivid imagination. We are going to have to do something about you, child.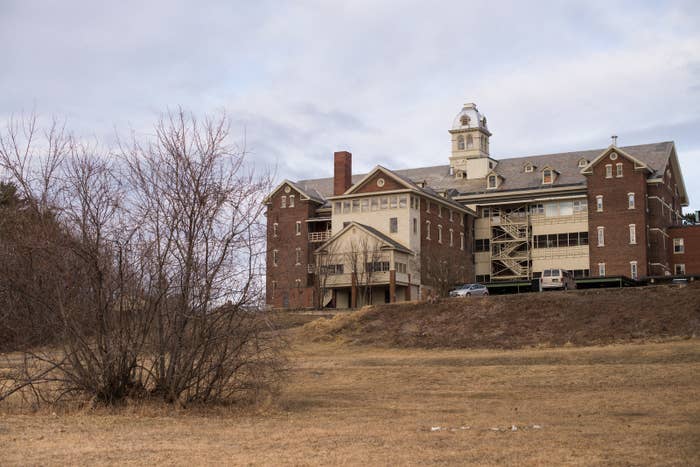 Ian MacLellan for BuzzFeed News
The back of the now-closed St. Joseph's Orphanage in Burlington, Vermont.
Sally figured the boy fell from the window in 1944 or so, because she was moving to the "big girls" dormitory that day. Girls usually moved when they were 6, though residents of St. Joseph's Orphanage in Burlington, Vermont, did not always have a clear sense of their age — birthdays, like siblings and even names, being one of the many human attributes that were stripped from them when they passed through its doors. She recounted his fall in a deposition on Nov. 6, 1996, as part of a remarkable group of lawsuits that 28 former residents brought against the nuns, the diocese, and the social agency that oversaw the orphanage.
I watched the deposition — all 19 hours of grainy, scratchy videotape — more than two decades later. By that time sexual abuse scandals had ripped through the Catholic Church, shattering the silence that had for so long protected its secrets. It was easier for accusers in general to come forward, and easier for people to believe their stories, even if the stories sounded too awful to be true. Even if they had happened decades ago, when the accusers were only children. Even if the people they were accusing were pillars of the community.
But for all these revelations — including this month's Pennsylvania grand jury report on how the church hid the crimes of hundreds of priests — a darker history, the one to which Sally's story belongs, remains all but unknown. It is the history of unrelenting physical and psychological abuse of captive children. Across thousands of miles, across decades, the abuse took eerily similar forms: People who grew up in orphanages said they were made to kneel or stand for hours, sometimes with their arms straight out, sometimes holding their boots or some other item. They were forced to eat their own vomit. They were dangled upside down out windows, over wells, or in laundry chutes. Children were locked in cabinets, in closets, in attics, sometimes for days, sometimes so long they were forgotten. They were told their relatives didn't want them, or they were permanently separated from their siblings. They were sexually abused. They were mutilated.
They were forced to eat their own vomit. They were dangled upside down out windows, over wells, or in laundry chutes.
Darkest of all, it is a history of children who entered orphanages but did not leave them alive.
From former residents of America's Catholic orphanage system, I had heard stories about these deaths — that they were not natural or even accidents, but were instead the inevitable consequence of the nuns' brutality. Sally herself described witnessing at least two incidents in which she said a child at St. Joseph's died or was outright murdered.
It's likely that more than 5 million Americans passed through orphanages in the 20th century alone. At its peak in the 1930s, the American orphanage system included more than 1,600 institutions, partly supported with public funding but usually run by religious orders, including the Catholic Church.
Outside the United States, the orphanage system and the wreckage it produced has undergone substantial official scrutiny over the last two decades. In Canada, the UK, Germany, Ireland, and Australia, multiple formal government inquiries have subpoenaed records, taken witness testimony, and found, time and again, that children consigned to orphanages — in many cases, Catholic orphanages — were victims of severe abuse. A 1998 UK government inquiry, citing "exceptional depravity" at four homes run by the Christian Brothers order in Australia, heard that a boy was the object of a competition between the brothers to see who could rape him 100 times. The inquiries focused primarily on sexual abuse, not physical abuse or murder, but taken together, the reports showed almost limitless harm that was the result not just of individual cruelty but of systemic abuse.
In the United States, however, no such reckoning has taken place. Even today the stories of the orphanages are rarely told and barely heard, let alone recognized in any formal way by the government, the public, or the courts. The few times that orphanage abuse cases have been litigated in the US, the courts have remained, with a few exceptions, generally indifferent. Private settlements could be as little as a few thousand dollars. Government bodies have rarely pursued the allegations.
So in a journey that lasted four years, I went around the country, and even around the world, in search of the truth about this vast, unnarrated chapter of American experience. Eventually I focused on St. Joseph's, where the former residents' lawsuits had briefly forced the dark history into public view.
The former residents of St. Joseph's told of being subjected to tortures — from the straightforwardly awful to the downright bizarre — that were occasionally administered as a special punishment but were often just a matter of course. Their tales were strikingly similar, each adding weight and credibility to the others. In these accounts, St. Joseph's emerged as its own little universe, governed by a cruel logic, hidden behind brick walls just a few miles past the quaint streets of downtown Burlington.
When I first started looking, it seemed that all that remained of St. Joseph's were deposition transcripts and the sharp, bitter memories of the few remaining survivors I was able to find. But over the course of years I found that there was far more to discover. More than the former residents themselves knew, and more than was uncovered during the 1990s legal battle. Through tens of thousands of pages of documents, some of them secret, as well as dozens of interviews, what I found at St. Joseph's and other American orphanages was a vast and terrible matrix of corroboration.
The Diocese of Burlington, Vermont Catholic Charities, and the Sisters of Providence, the order of nuns who worked at St. Joseph's, all chose not to speak with me about these allegations. At the end of my reporting, Monsignor John McDermott, of the Burlington Diocese, provided a brief statement: "Please know that the Diocese of Burlington treats allegations of child abuse seriously and procedures are in place for reporting to the proper authorities. While it cannot alter the past, the Diocese is doing everything it can to ensure children are protected."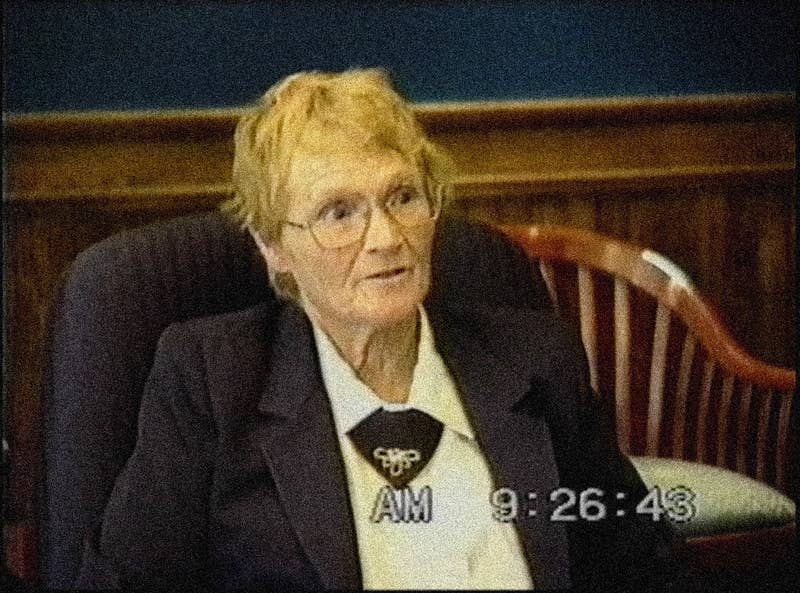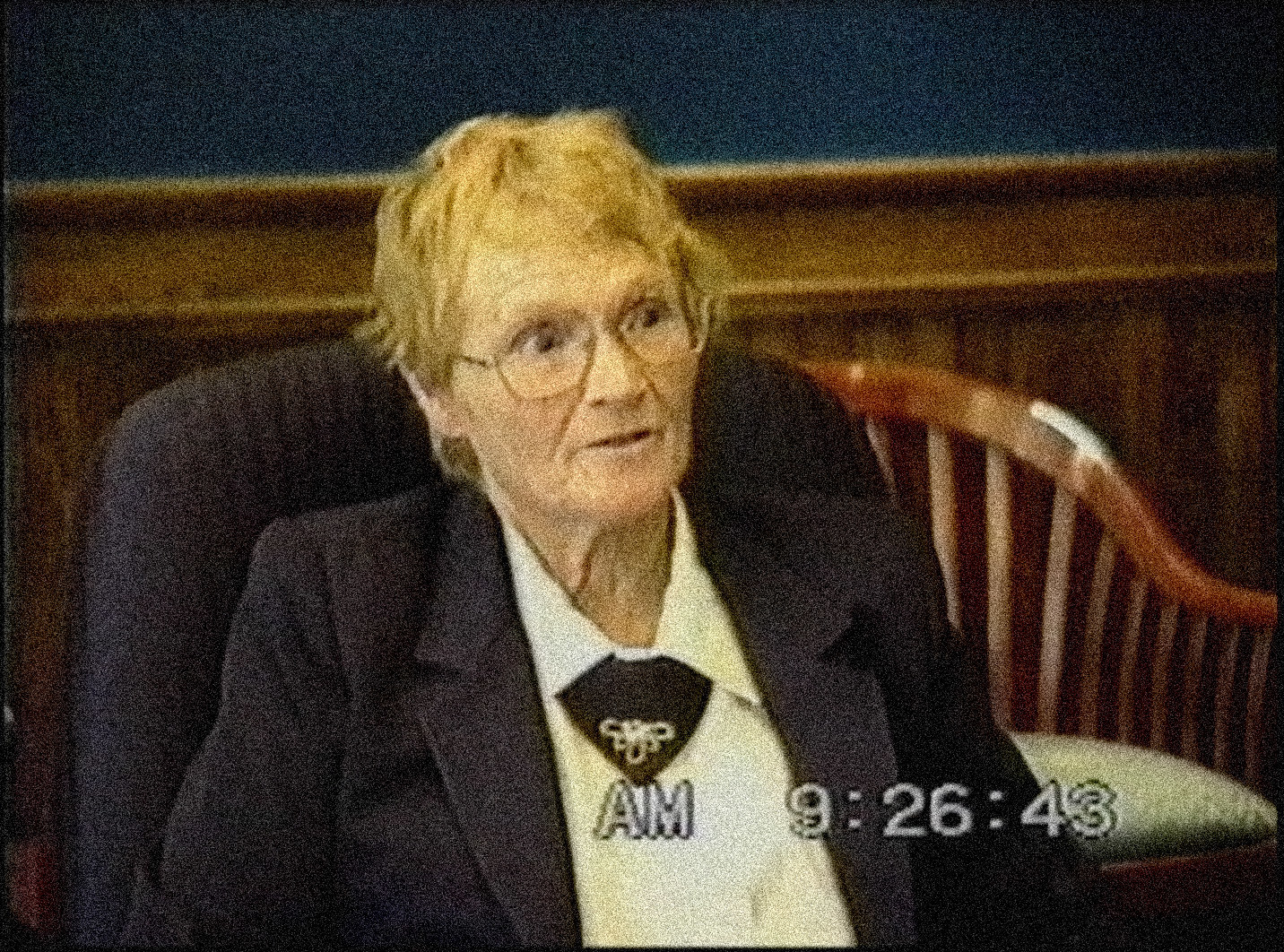 Obtained by BuzzFeed News
For decades, Sally Dale, like so many of the children of St. Joseph's, avoided speaking about what happened there. Many of the orphans went on to marry, and to have children and grandchildren, without letting on that they had spent any time in an orphanage. Some, their trust forever shattered, had been unable to forge any close connections. Robert Widman, the attorney who sat beside Sally, offered them a chance to be heard, and to force the world outside the orphanage to reckon with what went on inside its walls.
That legal effort lasted three years. It cost Widman's law firm dearly, and it pushed him to the edge emotionally. Decades later, he described it as one of the most wrenching cases of his life.
For the former residents of St. Joseph's — and for people in Albany and Kentucky and Montana who emerged from orphanages with similar stories — the fight was something much more. It was a chance most of them had never had before: to be heard, and maybe believed.
For the Catholic Church, too, the stakes were enormous. If the Burlington plaintiffs won, it could create a precedent and encourage civil cases at a massive scale. The financial consequences would be hard to fathom. Widman and his band of orphans posed a profound threat, and the church was going to bring all its might to oppose it.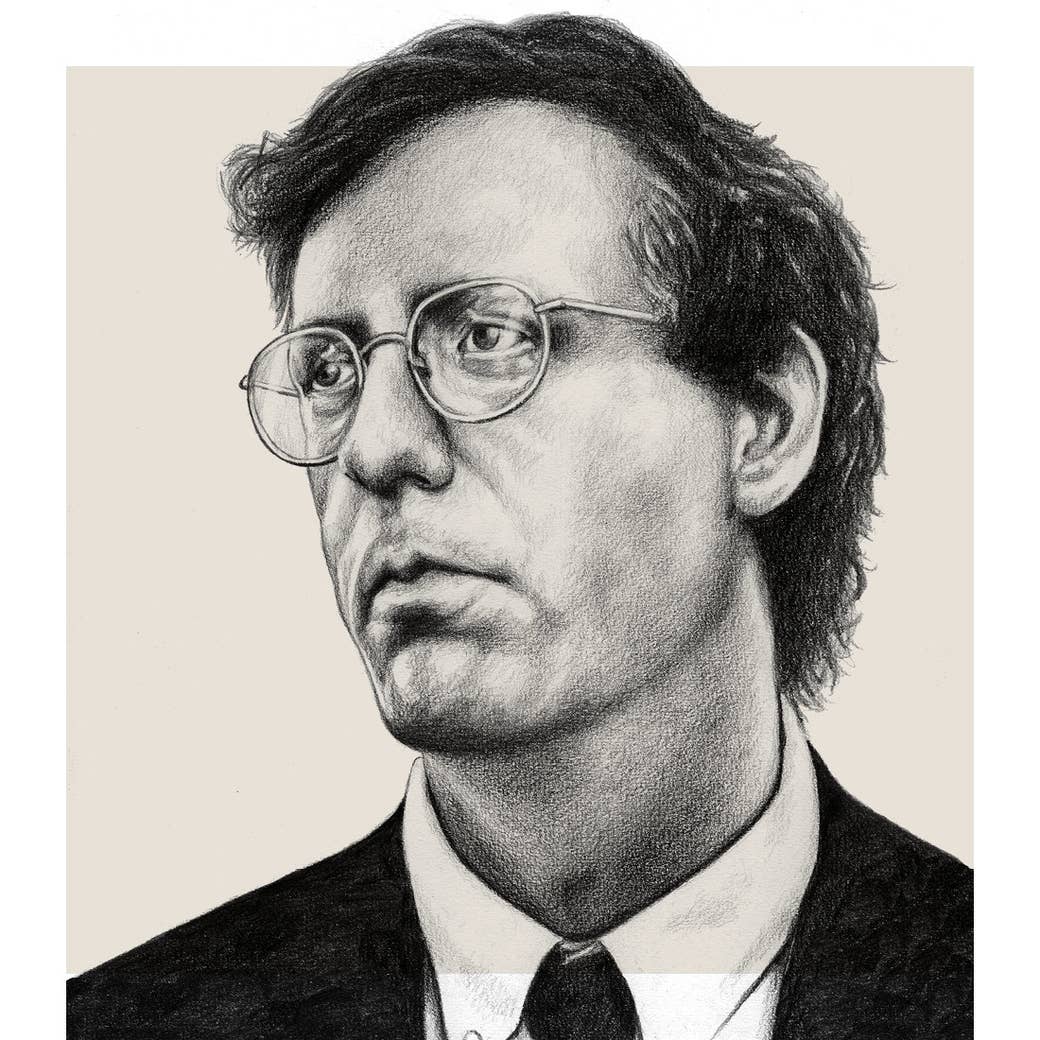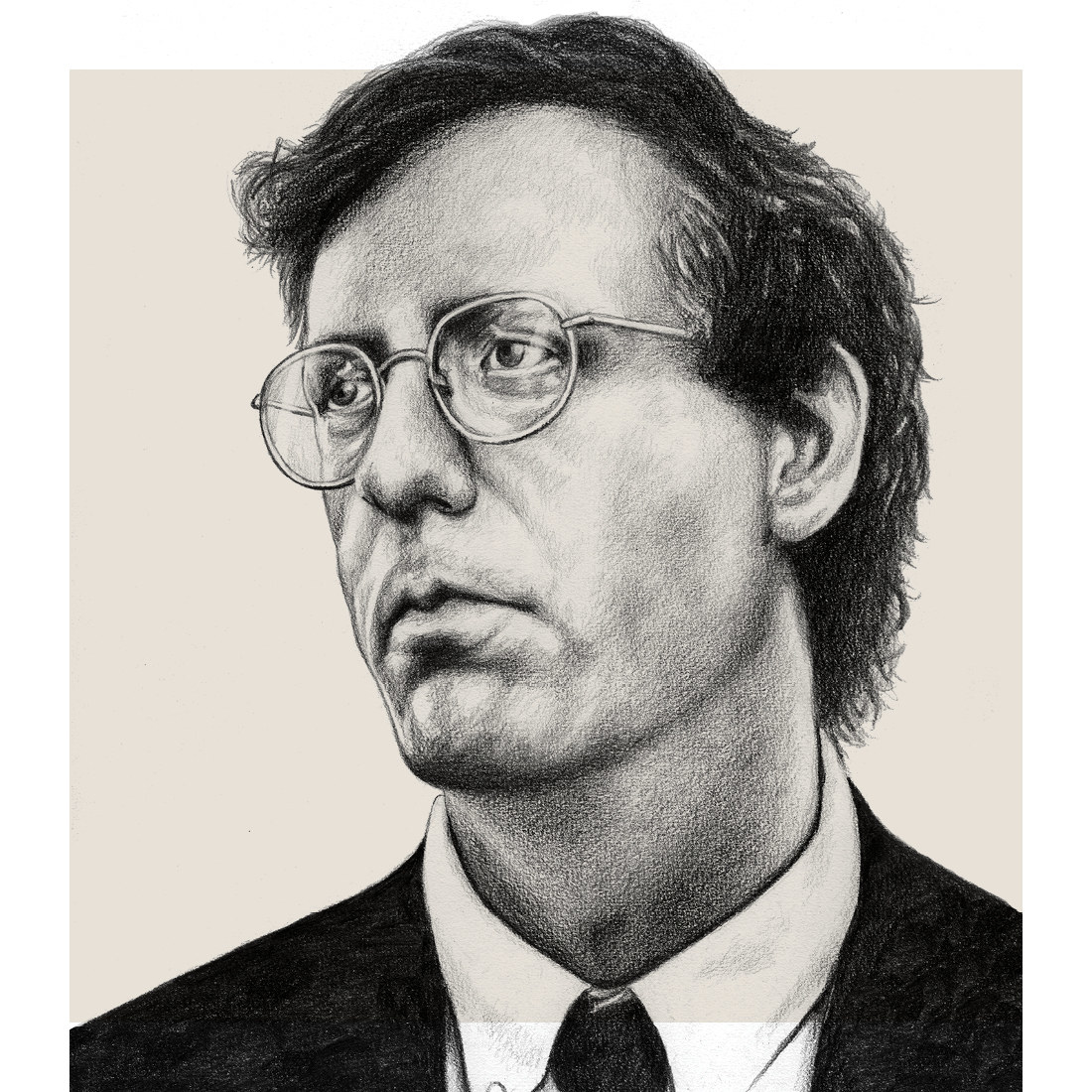 Catherine A. Moore for BuzzFeed News
Philip White was sitting in his large, third-floor law office one afternoon in 1993 when the mysterious caller arrived. He said his name was Joseph Barquin.

White invited him to have a seat and tell his story. Barquin asked White to send his secretary out so the two men could speak privately.
Barquin said he had recently married, and that his new wife had been shocked by the sight of terrible scars on his genitals.
Barquin told White what he had told her: that in the early 1950s, when he was a young boy, he had spent a few years in an orphanage called St. Joseph's in Burlington, Vermont. It had been a dark and terrifying place run by an order of nuns called the Sisters of Providence. Barquin recalled a girl who was thrown down stairs, and he remembered the thin lines of blood that trickled out of her nose and ear afterward. He saw a little boy shaken into uncomprehending shock. He saw other children beaten over and over.
A nun at St. Joseph's had dragged Barquin into an anteroom under the stairs and forcefully fondled him, and then she cut him with something very sharp. He didn't know what it was; he just remembered that there was blood everywhere.
Barquin's wife had encouraged him to go to therapy. To get help with the cost, and to get an apology, Barquin spoke to two priests at the diocese, but he received very little response. Now he wanted to sue.
He had come to the right lawyer. As a prosecutor in Newport, Vermont, and then as a private attorney, White had devoted his career to challenging and changing the prevailing wisdom about young victims of sexual abuse.
Before 1980, White told me, social services typically steered child abuse victims away from court, because the process was thought to be too traumatic for the children and the cases were too hard to prove. White maintained that the fear of trauma had more to do with the adults' discomfort than with the actual needs of the children. So he and some of his colleagues brought together social services, police, and probation officers and created a new set of protocols for how abuse should be addressed. White and his colleagues traveled around the state, and eventually the country, encouraging different agencies to work together, and educating mental health workers and teachers about how and why to report abuse. When prosecutors said they didn't go after child sexual abuse because they couldn't face the guilt of losing, White would reply, "If you don't bring the case, how can you sleep?"
White's team developed a way for children to testify on closed-circuit TV so they wouldn't have to tell their story in front of their abuser. Whenever a young client testified, White threw a party, with cake and balloons and streamers. He told the children that regardless of how the case was decided, they had spoken their truth, and that was the victory.
When bearing witness to the most disturbing experiences of Vermont's children became too much, White would find the steepest ski slope and fly down, screaming his head off all the way, until he felt calm enough to return to his work.
For all the cases he had worked on, however, he had never heard a story quite like Barquin's.
He knew from experience what it was like to challenge the diocese. Barquin's assault had taken place decades ago, which would make it hard for White to find corroboration — and easy for the church to question Barquin's memory. And as hard as it would still have been, in that era, to convince jurors that a priest could be a sexual predator, making that argument about a nun was going to be much harder.
Still, White decided to take Barquin's case. He lodged a complaint in the US District Court at Brattleboro, Vermont, on June 7, 1993, seeking damages for Barquin's injuries from physical, psychological, and sexual abuse at St. Joseph's Orphanage 40 years before. The defendants he named were the Burlington Diocese, Vermont Catholic Charities, the orphanage, and, because Barquin didn't know the name of the nun who abused him, Mother Jane Doe.
The diocese was represented by Bill O'Brien, a lawyer who worked for the church, as had his father before him. O'Brien noted that according to Vermont's statute of limitations, adults who were abused as children have six years from the moment they realize they were damaged by the abuse to bring suit. Barquin had had 40 years to work out what had caused his injuries, O'Brien said, during which time relevant evidence or witnesses may have been lost. In a long memo to the judge, the church's lawyers lectured White on points of law, quoting an opinion from a medical malpractice suit that said "the law is not designed to aid the slothful in evading the results of their own negligence."
White arranged a press conference for Barquin to tell his story, in hopes it might bring other St. Joseph's survivors out into the open.
In his years since leaving the orphanage, Barquin had led an adventurous life. He had worked as a diver, unearthing old shipwrecks and ancient fossils. He had spent time at the famous Naropa Institute in Colorado, hanging out with Ram Dass and Allen Ginsberg. He'd even led dolphin encounters. But the day of his press conference, Barquin felt like he was lighting a match inside a dark and ominous cave. He was scared, but hopeful that he might inspire others to do the same.
White hoped he might hear from a few more former St. Joseph's residents. He heard from 40. Soon a support group called the Survivors of St. Joseph's Orphanage and Friends formed. Participants said it grew to 80 members.
The meetings were unpredictable. Some former residents said that the orphanage was the best thing that ever happened to them. Others recounted constant cruelty and physical abuse. Some threatened violence against clergy members. One woman said she was writing a book. Another, who had been at the orphanage in the 1920s, called to tell her story, weeping in fear that God would punish her for saying it aloud. One man turned up outrageously drunk. Another spoke about how, at home, he would regularly lock himself in a box. Someone wrote to White to warn him that the diocese had sent a spy.
Around that time, one former resident killed himself. Survivors fought among themselves about what strategy to pursue. At one meeting, a woman was shouted down when she suggested that they all contact the bishop together. Some wanted therapists present at the meetings, but others were appalled by the suggestion.
Eventually White decided to convene a big gathering at the Hampton Inn in Colchester, Vermont, on the weekend of Sept. 18, 1994.
Sally Dale received an invitation. It said the event was a reunion for "survivors" of St. Joseph's, which struck Sally as an odd word to use. She hadn't been in touch with people from the orphanage for a long time, and she thought about it as little as possible. But she was curious to see some of the old faces and find out who was still around.
She was only a few steps inside the conference room when a man exclaimed, "You little devil!"
It was Roger Barber, one of the boys from St. Joseph's, who was there with his two sisters. Little devil: That's what they used to call her. She hadn't thought of it in so long.
"Sal, you look good for everything you went through," one of Barber's sisters said.
"You were our Shirley Temple of the orphanage!" said the other. She reminisced about the way Sally sang "God Bless America" and "On the Good Ship Lollipop" when she was little.
Sally remembered some of those things. She sometimes remembered bad things too, such as times when the nuns hit her. But it was a long time ago. She recognized few of the 50 or 60 people in attendance. Little Debbie Hazen was there, and so was Katelin Hoffman, along with Coralyn Guidry and Sally Miller. Some of the women recognized each other not by name but by number: Thirty-two! Fourteen!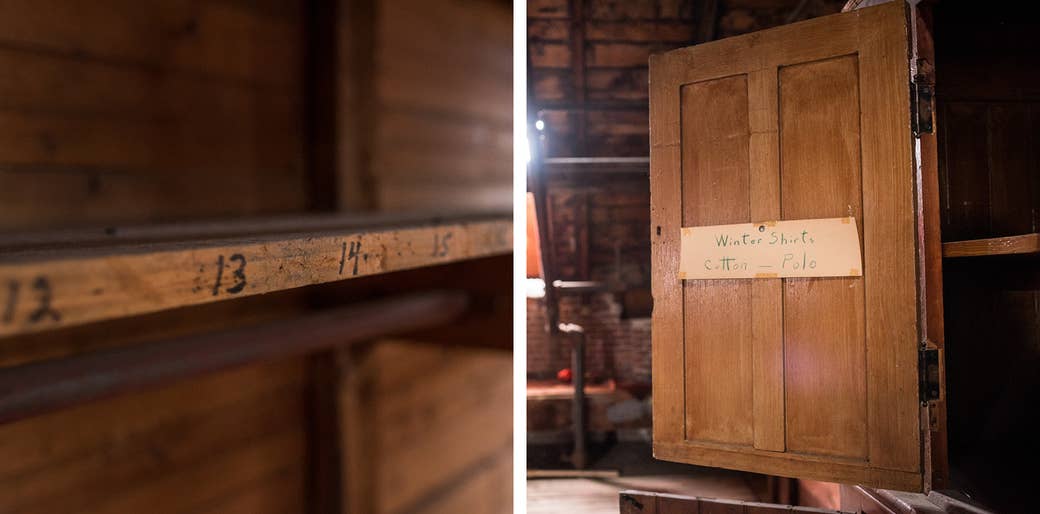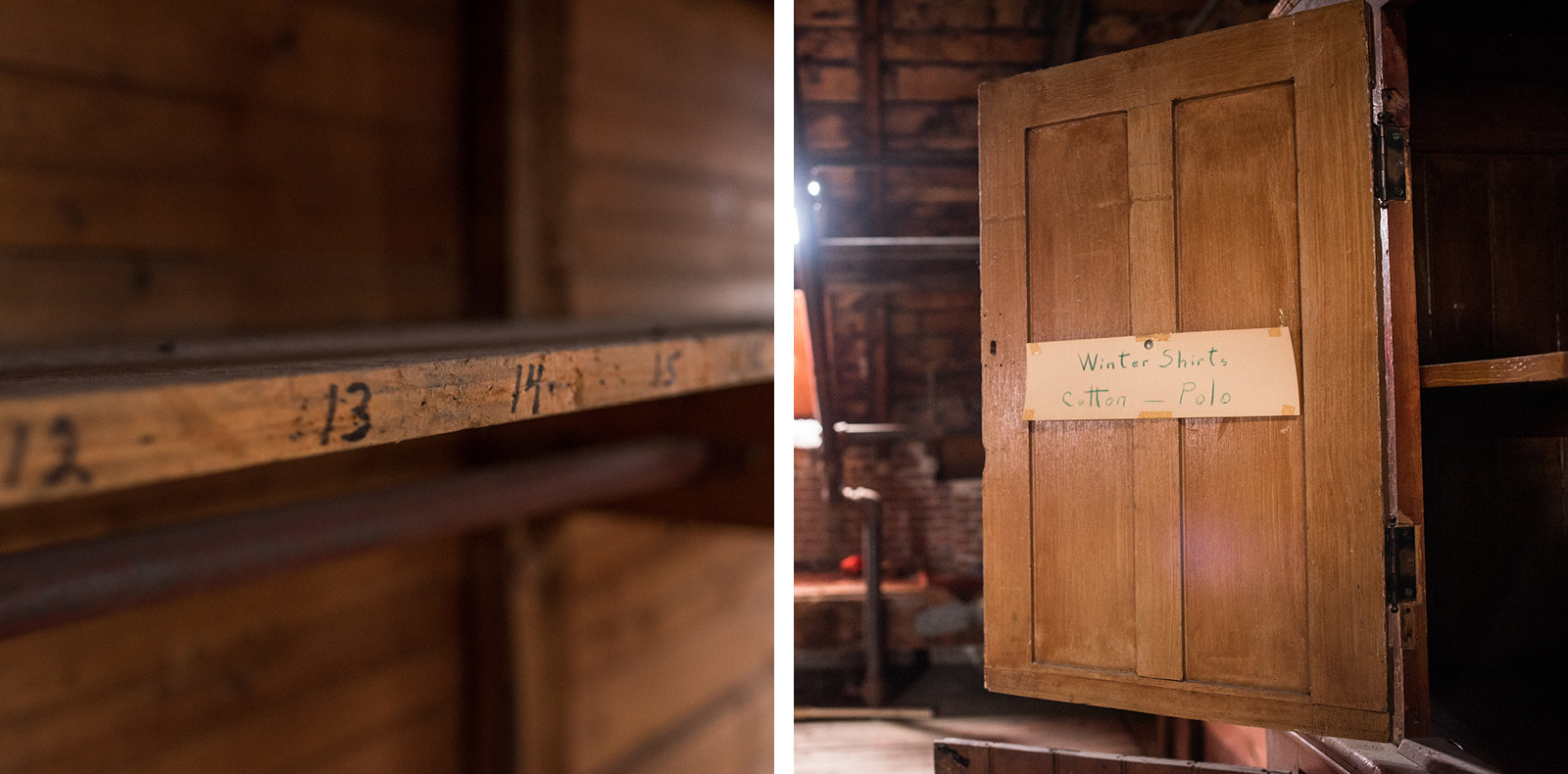 Ian MacLellan for BuzzFeed News
Details in the attic of St. Joseph's Orphanage.
White began the day by introducing Barquin and some other people who were there to help. A man spoke about the Bible and turning to God in times like these, and two therapists said they were available for anyone who wanted to talk. Local journalists were on hand too.
Then Barquin told everyone about the nun taking him into the closet. Roger Barber spoke next. Sally remembered him saying that a nun told a group of older boys to rape him. As the stories tumbled out, former residents melted down in the meeting room and in the hotel's hallways. A lanky, weathered man stood up and addressed another man before the whole crowd. I'm here because back in the orphanage I bullied you, he said. I felt bad about that all of my life. I just want to say I'm sorry. Then one woman spoke about how nuns wiped her face in her own vomit, and Sally started to remember that the same thing had happened to her. She could hear the voice of one sister telling her, after she threw up her food, You will not be this stubborn! You will sit and you will eat it.
A woman said she'd watched a nun hold a baby by its ankles and swing its head against a table until it stopped crying. As Sally listened to the awful stories, something ruptured inside her. She shook her head and began to say, "No, no, no, no, no, it's not true." But the memories were already flooding back.
Though the reunion was a two-day event, Sally left that first afternoon with a crushing headache. The next morning she had diarrhea and was unable to speak without heaving. She spent that night sitting bolt upright, remembering things she hadn't thought about for decades, and saying, "No, no, no, no, no." When her husband asked her why she was saying "no," she just replied, "No."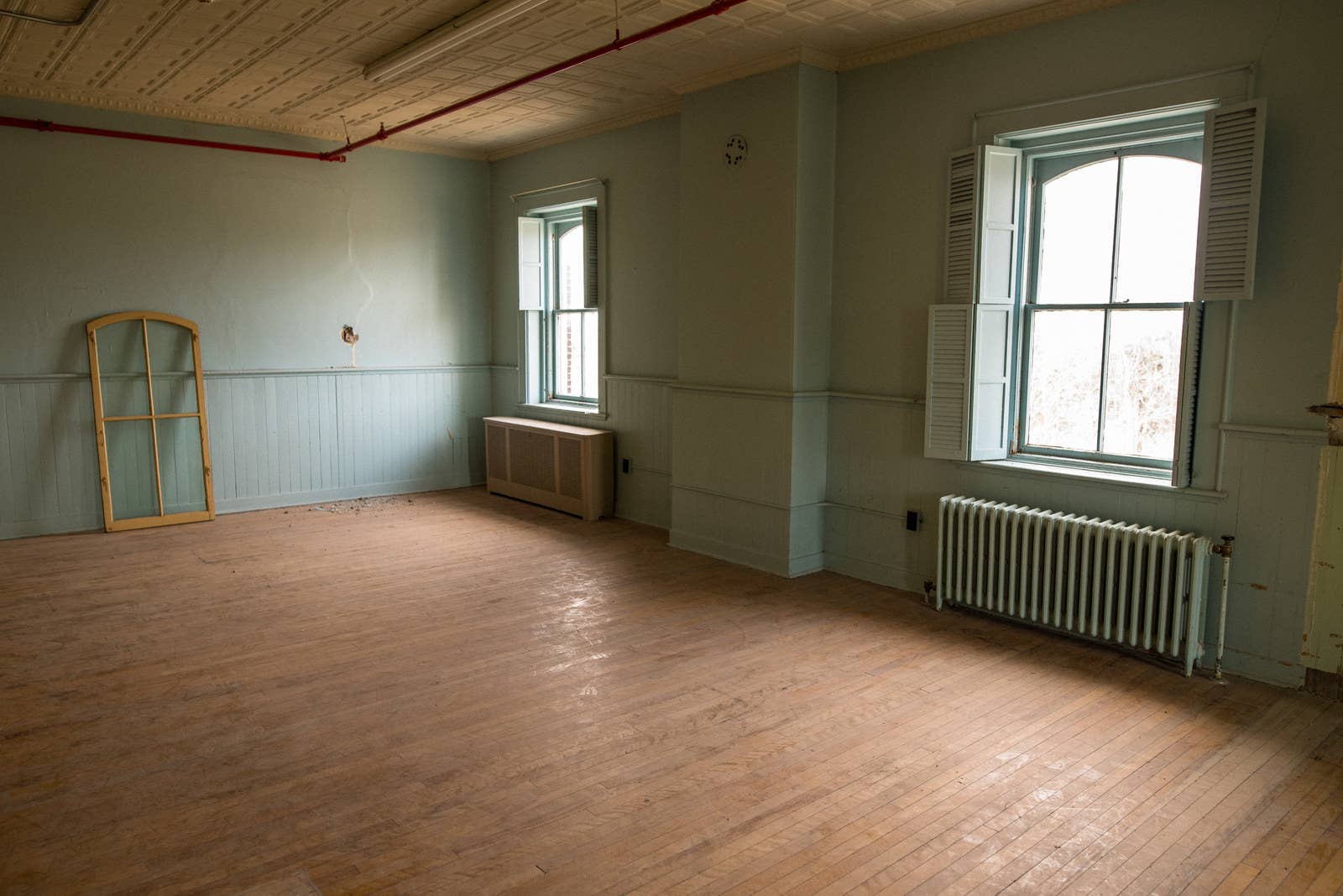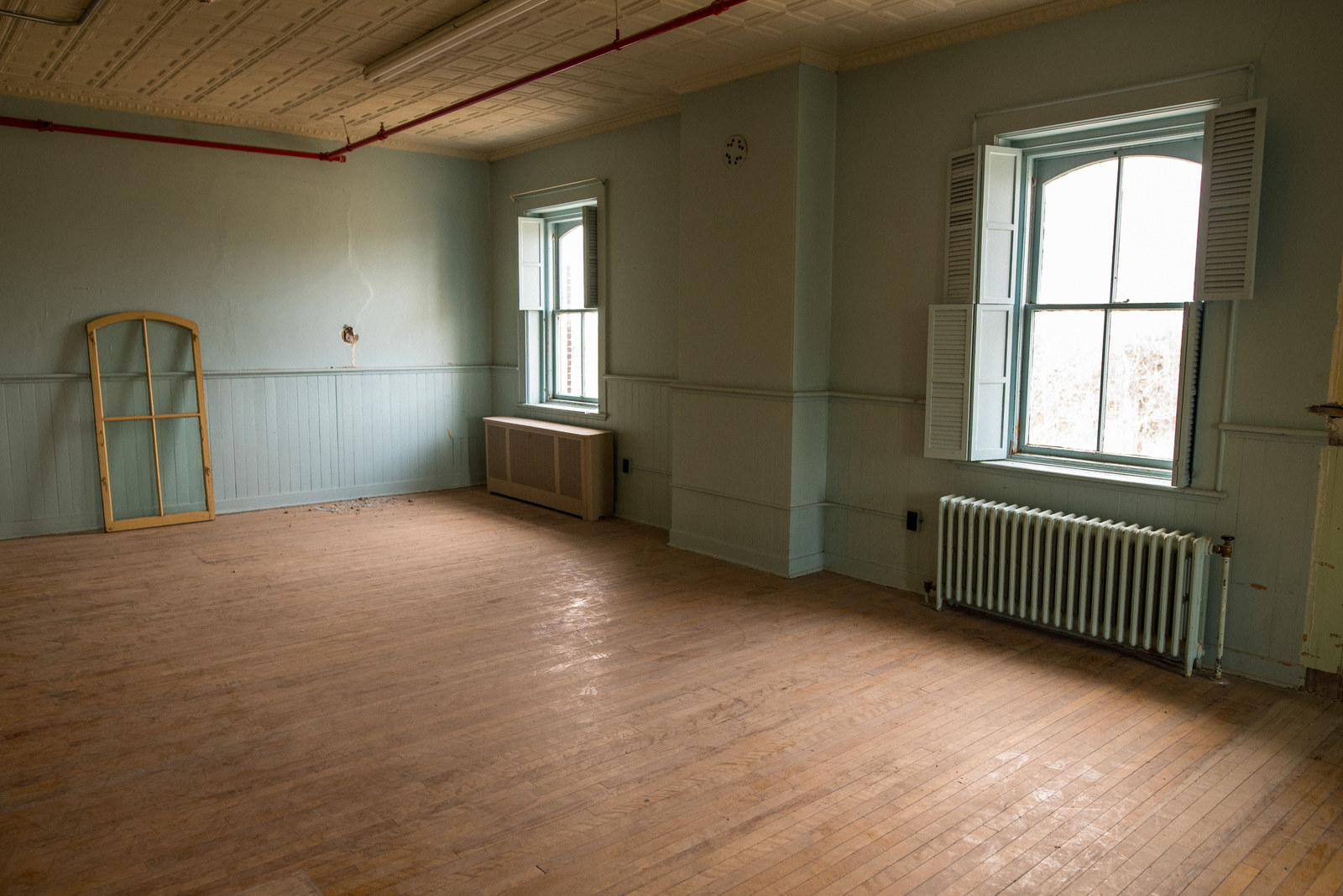 Ian MacLellan for BuzzFeed News
The old girls dormitory of the now-closed St. Joseph's Orphanage in Burlington, Vermont.
South of Lone Rock Point, where North Avenue runs high above the eastern shore of Lake Champlain, beyond the winding paths that meander through the cemetery, behind the heavy doors of the large redbrick building, Sally was back in the orphanage. Probably not yet 6 years old, she was being marched toward the sewing room, compelled by a furious nun.
Sally had been caught running and giggling in the dormitory. The nun, Sister Jane of the Rosary, was known for her constant companion: a thick razor strap that the girls called "the green pill," bitter medicine for any child who came near it.
Sister Jane of the Rosary took Sally to the little bedroom off the sewing room and made her lie facedown, dress yanked up, panties pulled down. Then the nun sent in Eva, a seamstress, who along with another lay employee, Irene, was one of the only two people that Sally felt safe with.
Eva came into the little room, looked at Sally — face down, dress up, defenseless — and stood frozen for a few long moments. The strap lay beside her on the bed. Then she left. Irene came in next, but she couldn't do anything, either. Even Sister Jane of the Rosary, usually so quick to punish, came in but did nothing.
At last Sally heard Sister James Mary announce that she had "no problem" performing the task. Entering the room, she brought the strap down hard on Sally, from the back of her neck all the way down to her ankles. Once, twice. Ten times. Too many times to count.
Sally recoiled with each downstroke, but she tried her best to hold back the tears. The silence only enraged Sister James Mary, who kept hitting her. On and on, the blows kept coming. "You will cry!" the nun insisted.
Eventually Sally did. She began to weep.
Sally couldn't twist around far enough to see the damage. But when Irene looked, she gasped.
"How many times do we have to tell you?" Sister Jane of the Rosary demanded from above. "If you cry, you cry alone. If you smile, the whole world smiles with you."
Irene brought Sally across the long hallway, down the marble stairs, past the foyer, and into the office of the mother superior herself. Irene showed her Sally's wounds. It wasn't right to do that to a little girl.
Mother Superior replied that Sally was going to end up in reform school anyway.
The next time Sally was sent to Irene and Eva for a beating, Irene said she would deal with the child herself.
Irene hit her, but only on her bottom. Sally was so overwhelmed with gratitude that the next day, she told Irene that she loved her.
As the Burlington survivors group gained momentum, Joseph Barquin emerged as an extraordinary force for change. A judge had allowed his sexual assault case to go forward, and he was proving himself to be a tenacious litigant, rallying others to the cause and even doing his own investigative work. He visited a number of Sisters of Providence nuns at the local motherhouse, interviewing them on tape: "Who was the sister that was a real disciplinarian?" But his outsize role and expectations complicated matters. Having been the first to come forward, he believed that his ideas should carry extra weight. His relationship with White deteriorated over what Barquin perceived to be a lack of respect. Relations with the group frayed as well. Eventually a delegate said several members felt threatened by Barquin.
White came to the painful conclusion that he could not continue to represent Barquin and encouraged him to find new counsel. White planned to focus on the claims of the other former residents. But as all that was going on, White's doctor told him that he had adult-onset diabetes. He had two children, one of them newborn, and it became clear that his firm was too small to provide all the resources needed to handle all the cases coming his way. White realized that if he was going to represent the orphans with integrity and competence, he would have to sacrifice everything else. "I'd basically have to leave my family, find a miracle drug for my diabetes, and find a new law firm," he said later.
Around the same time, the bishop made a formal offer: $5,000 per person, in exchange for which the recipients would waive their right to further legal action.
White hated to see the cases end like that, but he knew that the statute of limitations would have prevented some of the plaintiffs from ever getting their day in court. And for many of them, $5,000 was serious money. He told his clients that he could not advise them what path to choose, but if anyone wanted to settle, he would help.
The Burlington Free Press reported that according to church officials, 100 people accepted the payment, for abuse they said they suffered. Plaintiffs said as many as 160 individuals, who had been at the orphanage from the 1930s to the 1970s, pursued the bishop's offer.
For every one of those he represented, White sent a letter to Bill O'Brien, the church's attorney.
"Dear Bill," one of the letters said, "K remembers that Sister Madeline and Sister Claire … slapped her head and face, pulled her hair, struck her face with the backs of their hands, so that their rings split her lips, and tripped her and knocked her down."
"Dear Bill … To this day, C will not enter a closet if it has a hanging light."
"Dear Bill … If L was caught not paying attention, the nuns would take a needle and regularly prick his fingertips."
"Dear Bill … The nuns would also force G and other children to hold their arms up at their sides, with their palms up in the air, balancing a book on the palms. If G dropped his arms before the requisite time was up, he would be beaten and forced to repeat the punishment all over again."
The bishop published a letter around the same time. In a larger sense they were all victims, he said: children who had been abused, as well as the good priests and brothers and nuns. "If anyone has been hurt by any church official in anyway," he wrote, "I am heartily sorry."
Sally Miller, the woman who had suggested contacting the bishop at one of White's survivors meetings, went ahead and visited him herself. She said he told her that if modern-day laws had been in place when he was a child, his own father would have been charged with child abuse, and yet he had got over what had happened to him. He didn't understand why other people couldn't get over what had happened to them.
They were just kids, Miller later testified that she told him.
Well, these nuns were just frustrated ladies, she said he replied. They didn't have children of their own, and they didn't know how to handle them.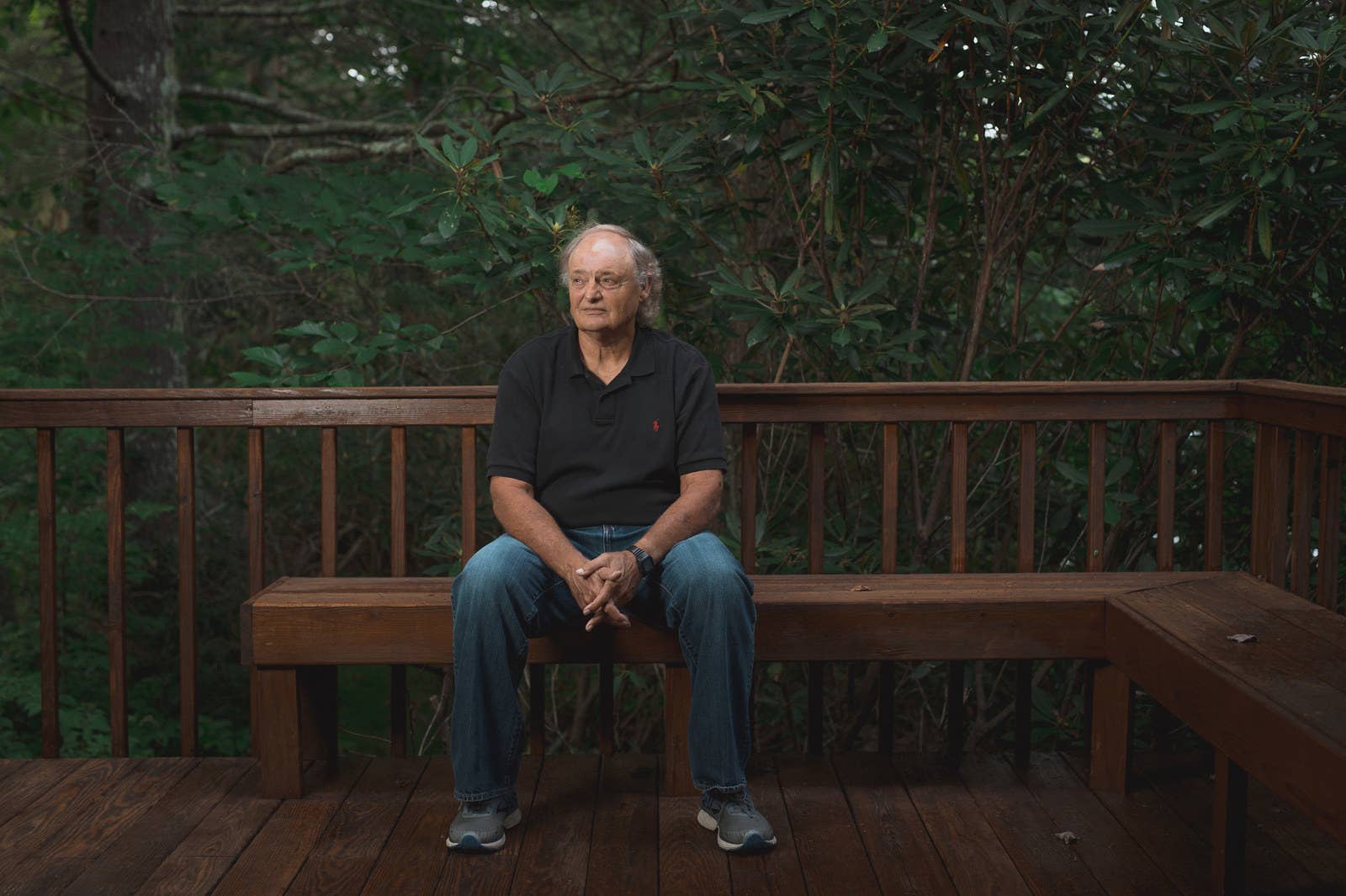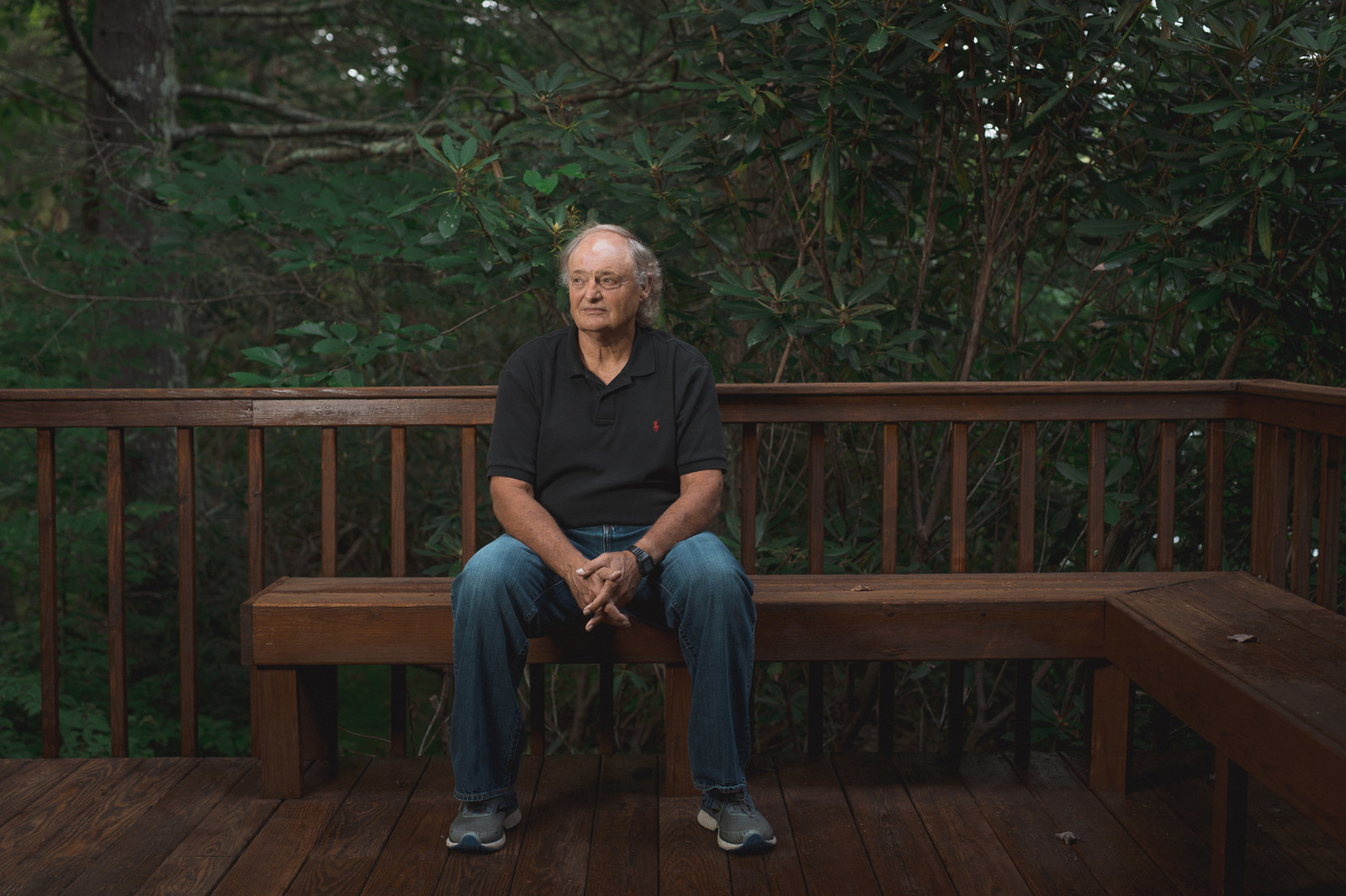 Mike Belleme for BuzzFeed News
Retired lawyer Robert Widman at his house in Burnsville, North Carolina.
Joseph Barquin contacted Robert Widman, a well-regarded lawyer near where he lived in Sarasota, Florida, whom he'd heard of from a friend of a friend. Much like Philip White, Widman didn't immediately form an opinion as to whether Barquin was telling the truth, but he thought it was worth exploring further.
Widman decided that he would go to Burlington, Vermont, and with Barquin's help, he would talk to as many of the former residents of St. Joseph's as he could. He gave himself a few weeks to try to get to the bottom of what had happened.
The two men toured Vermont in early 1996 and Widman met with the survivors of St. Joseph's in houses and homeless shelters and rustic B&Bs, and he had searing encounters in the most bucolic settings.
The more people he spoke to, the starker the patterns that emerged. People who had been at St. Joseph's in different years, even different decades, described how they had been confined in the same water tank or how they had watched other children be put into the same nursery closet. They remembered a ruler, a paddle, a strap, a small ax, a light bulb, clappers, and a set of large rosary beads. They spoke about lit matches being held against skin. They described a cavernous attic. When they were good, they had gone up there two-by-two to retrieve Sunday clothes, play clothes, and winter gear. When they were bad, they were pushed, dragged, and blasted up the stairs to sit alone and scream into the void.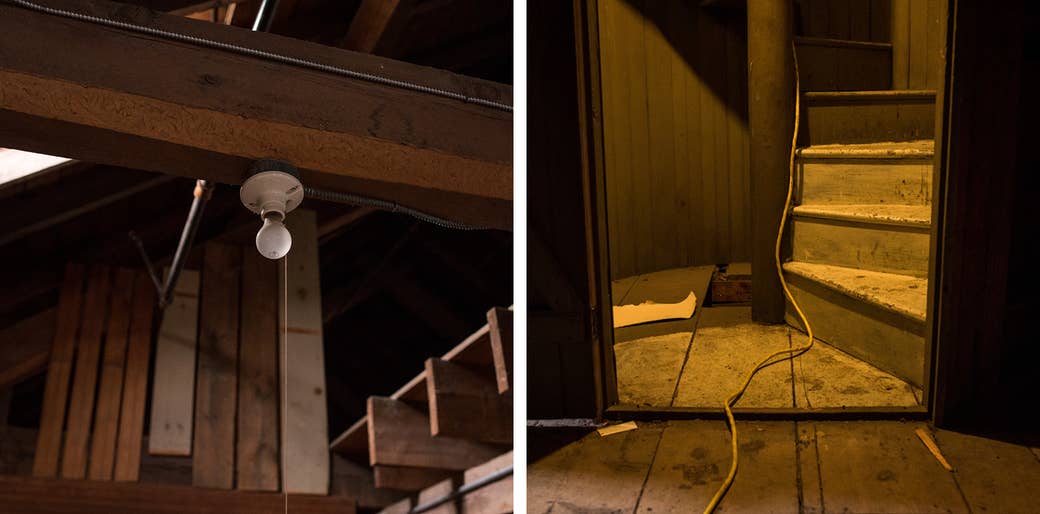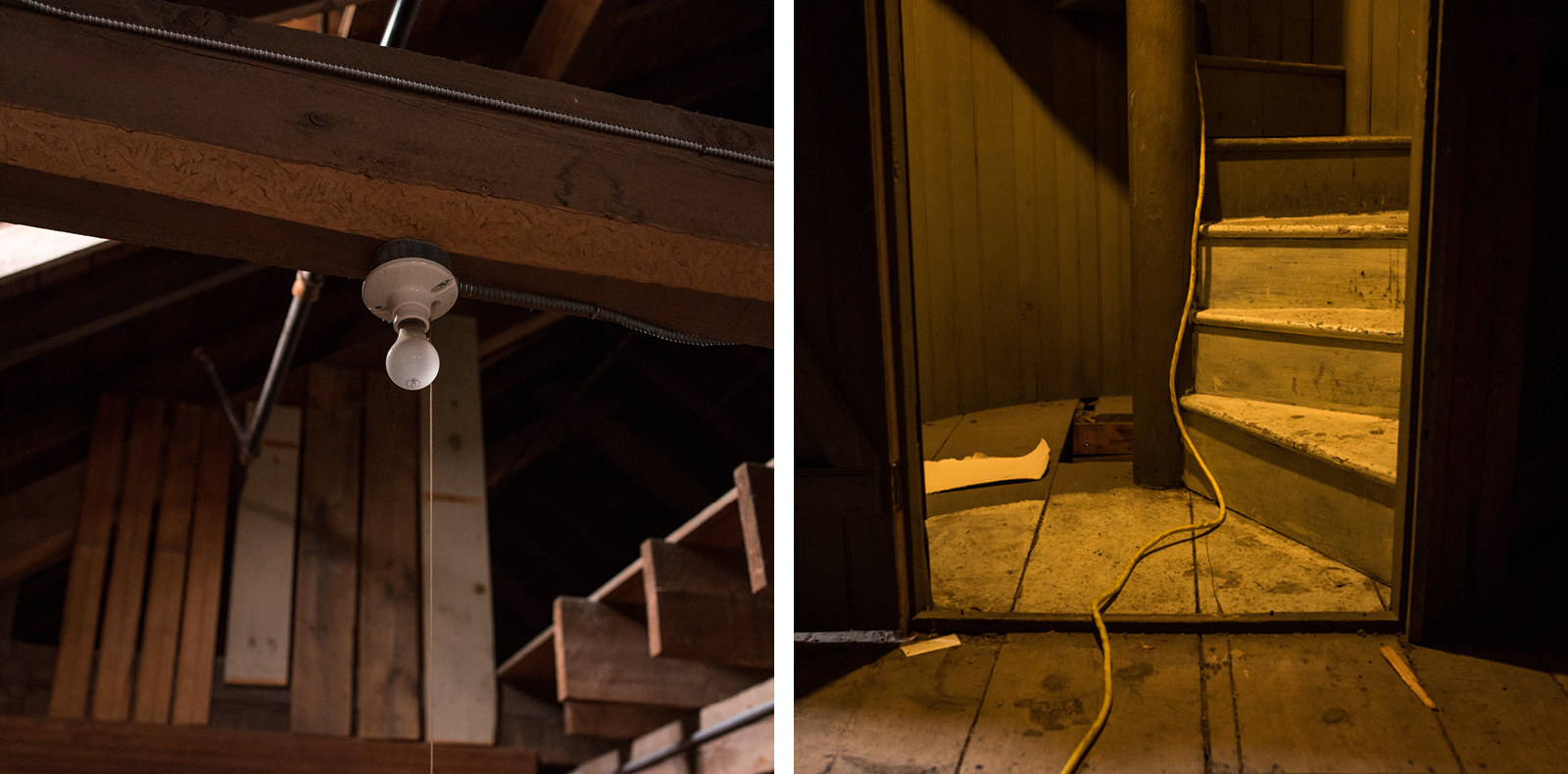 Ian MacLellan for BuzzFeed News
Details within St. Joseph's Orphanage.
The aftershocks of the orphanage reverberated through their entire lives. Many of the people Widman met had spent time in jail or struggled with addiction, facts that a defense lawyer could use to discredit them in front of a jury. He wanted to help them, but he wasn't sure if he should take on the enormous job. Not until the day he made the four-hour drive to Middletown, Connecticut, to meet Sally Dale.
Sally took him in through a mudroom with lots of tiny boots flung about, to a kitchen filled with the inviting smell of cooking. They sat down at the table and ended up speaking for hours.
Then, and in subsequent conversations, she told him about the little boy who was thrown out of a fourth-story window by a nun. She told him about a day when the nuns sent her into the fire pit to retrieve a ball and her snow pants caught on fire, and about how weeks later, as the nuns pulled blackened skin off her arms and her legs with tweezers and she cried out in pain, they told her it was happening because she was a real bad girl. She told Widman about a boy who went under the surface of Lake Champlain and did not come up again, and a very sad and very frightening story of a little boy who was electrocuted, whom the nuns made her kiss in his coffin.
When Widman walked out of her house that day, he stood in her driveway with tears in his eyes. He couldn't quite say what it was about Sally — her strange fearless innocence, her stubbornness — but he trusted every word she said. She "was the most believable person I've met in my life," he later told me.
Widman asked Sally to write down what she remembered. He told her that he didn't care about spelling or anything like that, he just hoped it might help her sort things out. She liked the idea, and over many months, she sent him a series of powerful and detailed letters.
July 12, 1996
I had a dream last night about the orphanage. But the funny part is my eyes were wide open. I saw a sister come into the girls small dorm and she came over to my bed and told me to come with her. She took me by the hand and brought me to her room. She put me on her bed and started to touch me all over, I was so afraid but would not make a sound so she would get mad and [unclear] me. Then she took my hands and told me to rub her all over while she put her fingers were it really hurt and I did not like it. Then she told me to put her fingers were she had touch me on her and I said no.
She got so mad that she gave me a strapping real hard and sent me back to my bed in the dorm and told me to never say anything about it, so I did what she sayed because I really was afraid she would hurt me again.
1996
I remember when I was real little and would get mad I would throw a temper tantrum. They would get so mad at me they would grab me wherever they could and bring me into the bathroom and put me on my back over the tub and pour cold water into my face until I would stop scream and kicking. The water would come down so hard on me.
1996
As I really got older they used to make me babysit the real little ones in the nursery. There were times when I would see things the nuns were doing to them but did not know where to go to tell someone. Sometimes I would ask them why they did those things and they would say because they were very bad boys or girls.
In the winter we would have these funny looking things that heat and steam would come out off. They would put the little kids on them sometimes just to sit but others they would stand them on it and then push them and of course sometimes there little legs would get caught between the wall and radiator and the little kids would really scream and cry. They would pull them out and some kids would have real nasty burns and blisters from it. If they did not stop crying they would then lock them in the same closet they used to put me in. You could here them but you could do nothing for them because they would keep the keys on them till they were ready to let them out. But what could I do I was still just a kid myself. Boy sometimes I would pray that either we would get killed or they would but it never happened. I really believed that nobody even God did not love any of us and that we would have to stay there forever.
One by one, in their homes, or at the offices of the Burlington law firm Langrock Sperry & Wool, Widman sat down with the survivors who had not yet settled and told them that he would represent them — but that it would be a risky, difficult business. Church lawyers would ask the most painful questions possible. If plaintiffs had ever visited a psychologist or psychiatrist, the lawyers could demand to see their files. If they were divorced, the church would want to talk to their exes and their children. And after all that, there was no guarantee that they would win.

He threw himself into the discovery process. He learned fast, but the more he heard, the more questions he had. How had St. Joseph's been run? Who had lived there? Where had they come from? How did money flow through the place? And one of the hardest things to understand: How could atrocities and happiness exist in the same place? Even residents who spoke about extreme abuse also laughed about sliding down bannisters, appreciated learning how to sew, or expressed pride about starring in an orphanage play.
A woman called Marilyn Noble gave Widman the manuscript for a memoir called Orphan Girl No. 58. Noble lived at St. Joseph's at the same time as Sally Dale. As a girl, she had been forced to slap herself 50 times in the face, and when she didn't do it hard enough, a nun did it for her. When a cut under her fingernail developed into a throbbing, toxic infection, she had been too afraid to tell the nuns until it was almost too late. But she still cherished the memory of when the von Trapps, the Austrian family whose flight from the Nazis inspired The Sound of Music, came to visit St. Joseph's. For the singing of the benediction, Noble was placed next to Maria herself. The kindest and most beloved stepmother in the world leaned down and told Noble that she sang beautifully.
Even basic information about how orphanages operated was hard to find. Widman located no books or studies on the subject. What little press coverage the institutions had received over the course of the century was usually about jolly excursions or the happy recovery of a runaway scamp.
The more Widman spoke to people who had lived at St. Joseph's, which had been founded in the mid-1800s, the clearer it became that the hole in the public record was not an accident. Thousands of people all over the United States had at some time worked in an orphanage, yet none had come forward to reminisce about their time, at least not anywhere that Widman could find. The diocesan hierarchy had oversight of the orphanage, and the nuns had lived and worked there, but none of them were forthcoming with their recollections.
It was the same with the children. Siblings who had once been in the same orphanage together had often not discussed it with each other, much less with friends or even spouses.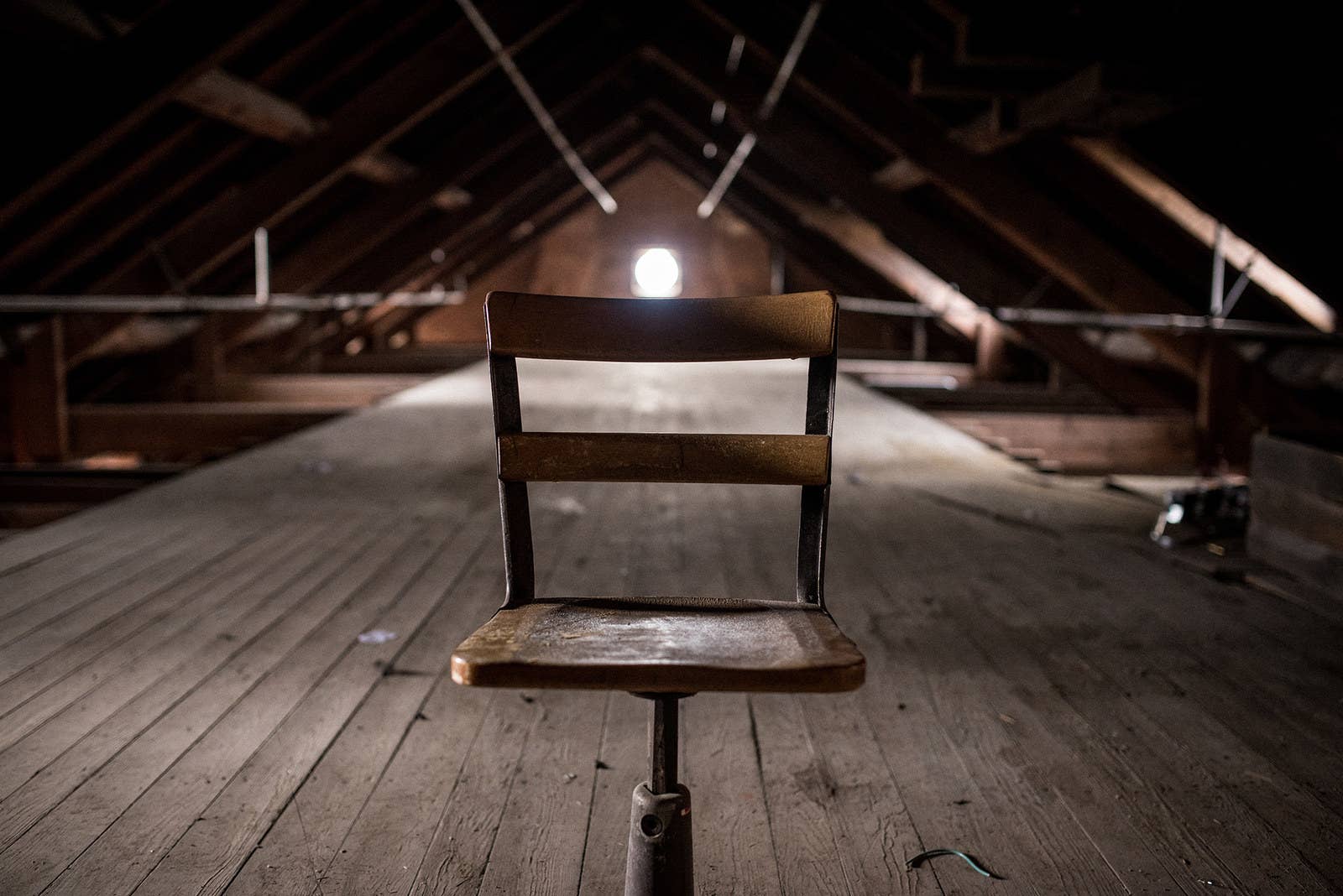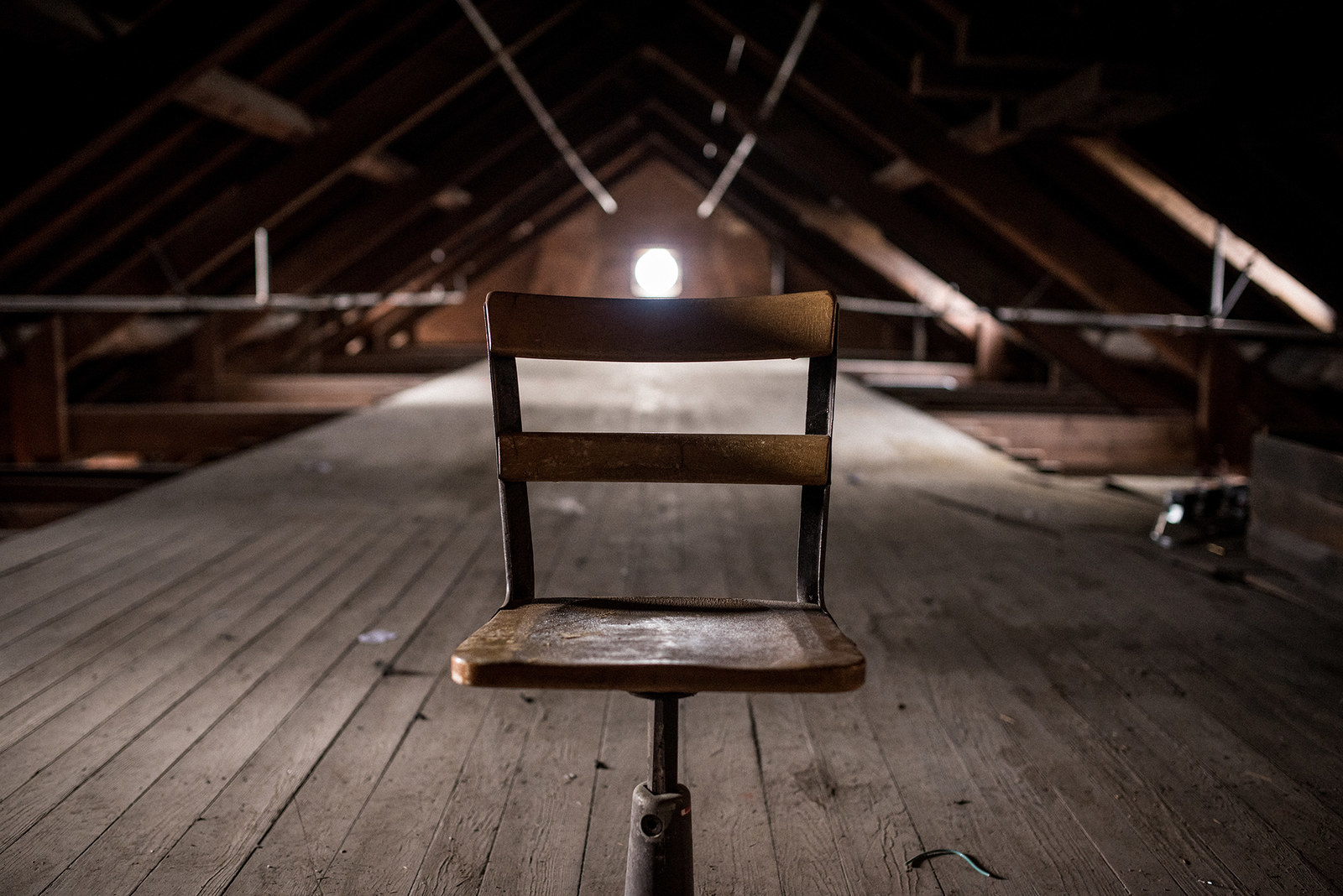 Ian MacLellan for BuzzFeed News
The loft above the attic of the now-closed St. Joseph's Orphanage.
In the earliest days of the orphanage, it had housed the aged as well as the young. One woman recalled lying in bed at night, as a child, listening to old souls trudge up and down the long hallways making "screaming and moaning and scraping sounds." She realized only later that the terrifying sounds came from old folks pushing a chair in front of them, like a walker. Eventually, the elderly residents left.
The children remained. Hundreds of them. As Widman came to see, however, many of them were not actually orphans.
They had been born into local families, Catholic French Canadians but also English or Irish Americans and in a few cases African Americans or Abenaki, Native Americans of the region.
Most were extremely poor. One girl had milk for the first time at St. Joseph's and thought it was the most delicious thing she had ever tasted. One girl had seen an egg at the dining table only a few times a year. But lack of money was usually just one of their problems.
The children's parents were often ill or addicted, jailed or divorced, or bullying, monstrous, or violent. Some parents delivered their own children to the nuns, believing they were leaving them in a safe place. Many were brought by the state, after their homes were deemed unacceptable. Sometimes they ended up in an orphanage simply because their mother was unmarried. They arrived in every imaginable condition, dirty and lice-ridden, covered in bruises, recently raped, or perfectly healthy. No matter where they had come from, many of the children didn't know where they were going until the moment they turned around and discovered that whoever had brought them there was gone.
Once the doors of St. Joseph's had shut behind them, the children played a part in a strange, private theater, with many actors but no audience. They even took on different identities, as the nuns addressed them by number, not by name. The women of the Sisters of Providence had been renamed, too, when they joined the order and took their vows. Leonille Racicot became Sister James Mary. Jeanne Campbell became Sister Jane of the Rosary. Marie-Rose Dalpe became Sister Mary Vianney. And various men moved in and out of the drama: priests, seminarians, counselors, and others, recurring characters who kept their given names and who would appear for a time, then step back offstage and into the rest of the world.
In 1994, members of the survivors group asked for permission to return to the old brick building, which had stopped admitting children back in the 1970s and now housed only a few church offices. Initially they were turned away at the door. Months later some were allowed to walk through, but usually just one at a time. The diocese reached out to one former resident, whom they believed would testify for them, and flew her in from Utah for a tour. She told me they said they didn't want plaintiffs in the building because "it would cause false beliefs" and "they could make up things by going through it." Walking down the long hallways and standing in the empty dorms, the woman found, brought back many vivid memories.

Widman wanted to get in too, but he knew the diocese would be even less likely to arrange a tour for him than for the building's former residents. So one day he just walked in the front door, said he was visiting from out of town, and politely asked if he could look around. The person at reception told him to go ahead.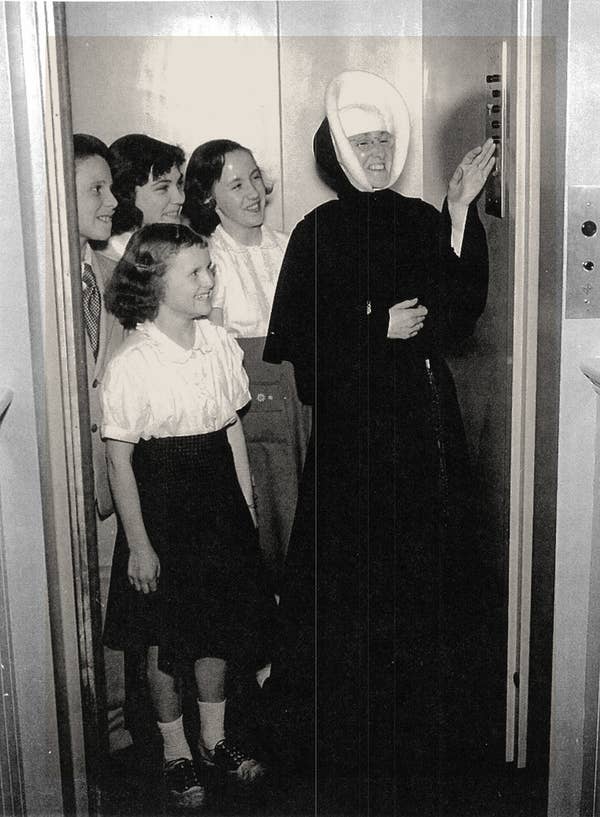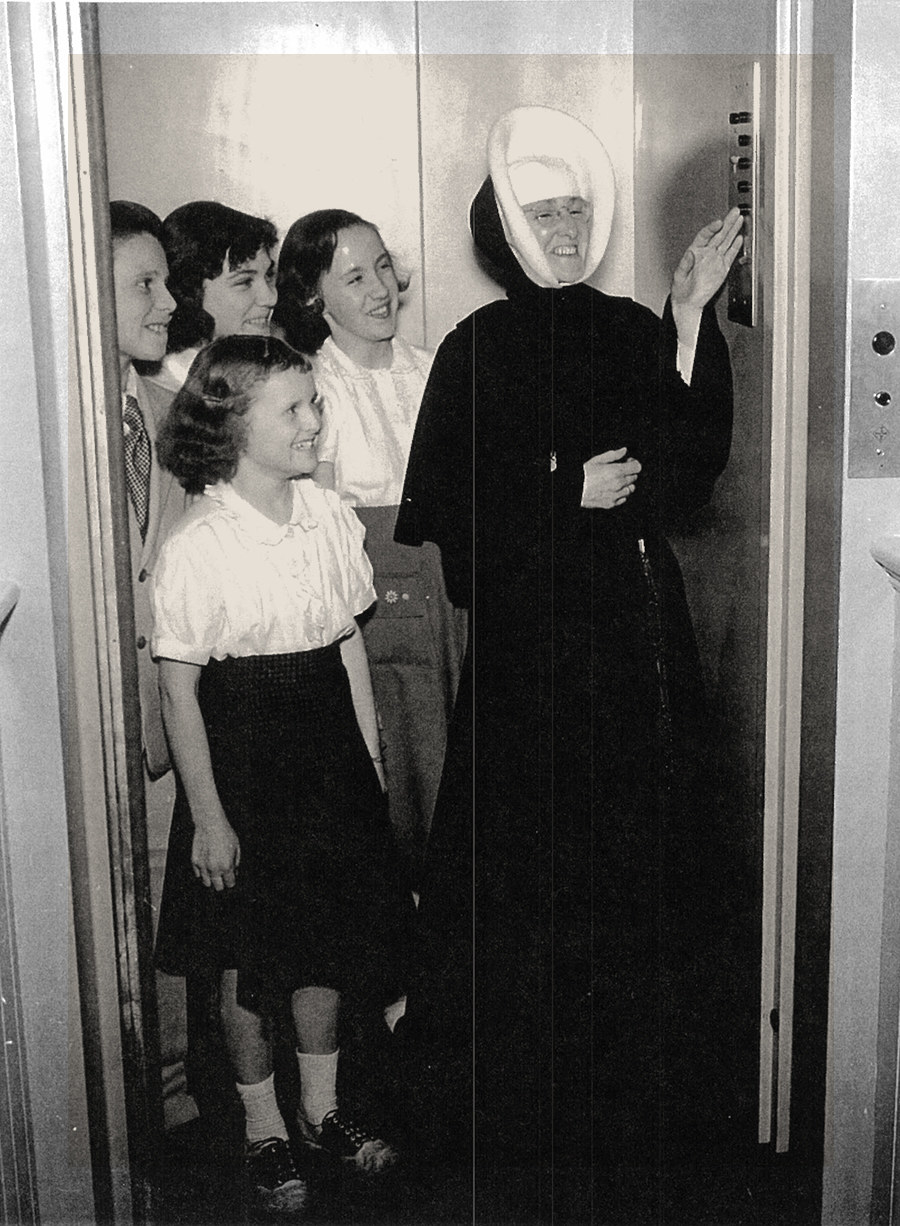 Obtained by BuzzFeed News
The new elevator in the orphanage.
The grand, marble, circular staircase, up which children had trudged, and down which some had fallen or been thrown, was removed in the 1960s to accommodate an elevator, an innovation that was exciting enough to warrant a newspaper article, bearing a photograph with a spectacled, smiling nun and grinning, well-dressed children.
The replacement staircase, now old and chipped, was narrow and utilitarian. Widman followed it straight up to the top floor.
Stepping through the oddly small door to the attic was like stepping into a different universe.
Several orphans had told him it was a terrifying place inhabited by scurrying mice and the occasional bat, along with sheet-draped statues that seemed to come to life when the wind blew through. Sally had told him about an electric chair — or something that looked just like one — that a nun used to strap her into for hours, taunting her that the chair would fry her.
Even for an adult, the shadowy chamber was immense and disorienting. Widman gazed at the rafters and the loft and the door that concealed the spiral staircase to the cupola. Names had been scratched in the wood of the doorframe.
Widman found a huge metal water tank with pipes coming out of it. It had a big lid, and as he stood there and looked at it, he remembered that Sally Dale had told him that nuns made her climb up the little ladder and drop herself in. Then they pulled the lid back over and left.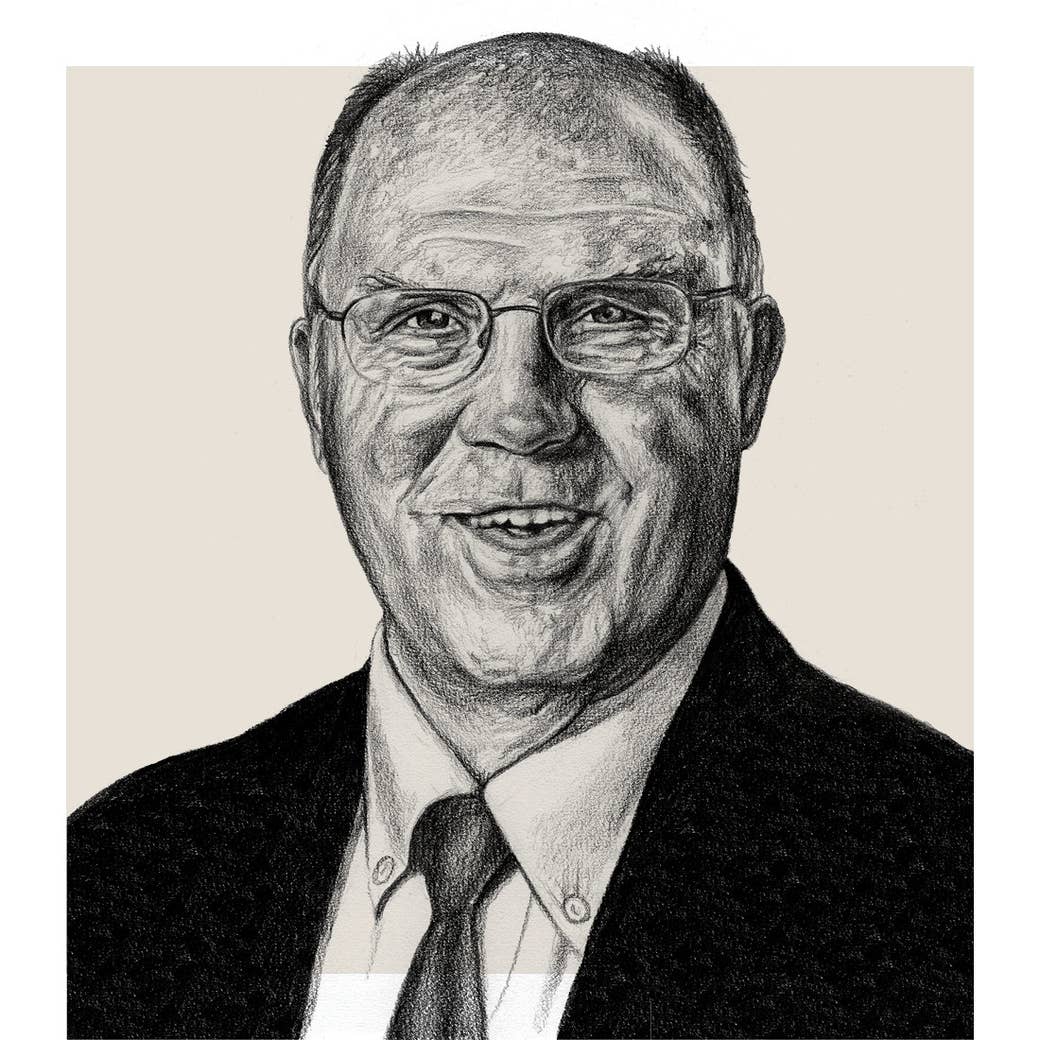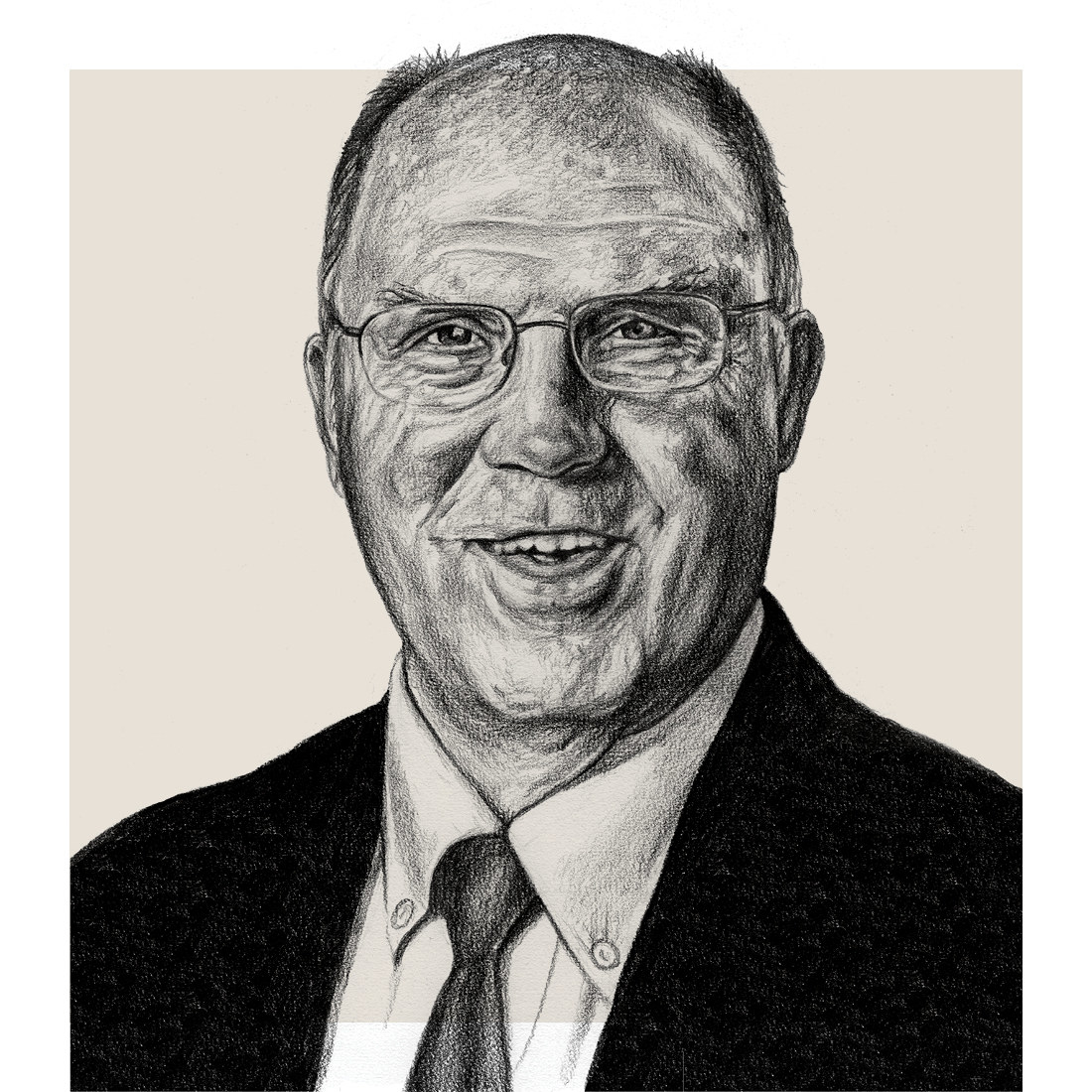 Catherine A. Moore for BuzzFeed News
Sally Dale's case was filed in the US District Court of Vermont on June 13, 1996. Widman always went with the best case first. Along with his partner, Geoff Morris, and the local firm Langrock Sperry & Wool, he took 25 cases before two different courts. The first 12 new cases, including all the out-of-state plaintiffs, went to federal court. The other 13 went to state court. "We didn't want to have our eggs in one basket," Widman told me. Other St. Joseph's cases cropped up, too, as a few more orphans launched suits with different attorneys.

Widman's lawsuits named three defendants: the Roman Catholic Diocese of Burlington, Vermont, represented by Bill O'Brien; Vermont Catholic Charities, represented by John Gravel; and the Sisters of Providence, who hired Jack Sartore, a litigator with a reputation for being uncompromising. One attorney told me that local lawyers referred to him as Darth Vader.
Traveling back and forth from Florida for a week or two at a time, Widman drove through Vermont in search of St. Joseph's alumni who might join the plaintiffs or serve as witnesses. One person would lead him to five more, and those five would lead to another 25. And the more stories that Widman gathered, the more they began to knit themselves together, as happened in the case of the girl who stole a piece of candy.
A number of women separately told Widman they remembered a day when they were gathered together to witness a punishment. One thought it happened near the girls dining room. Another thought it was in the room where the children took off their coats and hats. Everyone agreed it happened downstairs.
Three women recalled that a girl was placed facedown over a desk and beaten. Two remembered that the nun used a paddle. One recalled that the nun had started out hitting the girl with a piece of wood 2 or 3 feet long, but it broke, and that's when she reached for the paddle. Eventually the handle of the paddle snapped, so she got another paddle and used that one until she was finished. "You could always tell when they were done," one woman explained, "because the last one was the hardest."
All the women remembered that the nun pulled out some matches. One woman thought the nun had a whole box of them. Another remembered only a single stick. One thought the nun said, "I am going to show that I don't tolerate stealing in here." Another remembered it as, "This is what happens to people who steal." A third thought the nun said, "This is what happens when you do things like this." But they all remembered that the match was lit and the girl was held.
One recalled that the girl had struggled and cried; another remembered that all the girls cried; one believed that she herself had spoken out, but that no one else said a word. Still, they all remembered what happened next.
"She lit the match and she held her hand right over the match, and her hand was touching the flames, and I sat there and I cried and I told them to stop," one said. The nun "took matches out of her dress and she burned the tips of each one of her fingers," recalled another. The woman said the girl, weeping, confessed to taking the candy and said she wouldn't do it again.
If the children mentioned the incident, one witness remembered a nun saying, they would never see their parents again.
Piecing together some background details, Widman figured that the girl's name was Elaine Benoit. He was desperate to find her, but none of his searches yielded anything. Until one day he got a call.
I'm Bob Widman, what can I do for you?
His caller asked him if he was looking for Elaine Benoit.
Yeah, I'm looking real hard.
Well, I'm Elaine, the woman said.
Widman was stunned. I've heard this story… he began.
About the burning? she said. That was me. Then she told Widman her story. It was just as everyone had said.
The women's stories about the candy thief provided Widman a lesson in how traumatic memory can work. The witnesses remembered that the girl had stolen some candy, and they all remembered that a nun caught her. Three of them remembered the name of the girl correctly, and although there was no consensus on the nun's identity, most of them remembered that one nun administered the punishment. Specific details diverged, but the story's center held.
Often, traumatic memory worked just like normal memory, meaning that an episode might blur over time. For some people, the more intense an experience had been, the likelier they were to retain it as a vivid narrative. But there was a threshold, at least for some. If an experience was too disturbing, it sometimes vanished. Whether the experience was actively repressed or just forgotten, it seemed to disappear from consciousness for decades, returning only in response to a specific trigger, such as driving by an orphanage or seeing a nun at the supermarket.
After each interview, Widman took notes on who he met, what had happened to them, and who they named. Inside his bursting binder was not just a list of events or a big picture; it was a whole world that had spun quietly for decades on the edge of a small and oblivious community. Every story that Widman gathered was a kind of proof of concept for every other. It might be hard for someone to believe that a child at St. Joseph's was punched in the face — until you heard that another child was held upside down out a window and yet another was tied to a bed with no mattress and beaten. It strained credulity to think that a nun would hold a child's head underwater, until you also heard about the nuns who covered babies' mouths until they turned blue.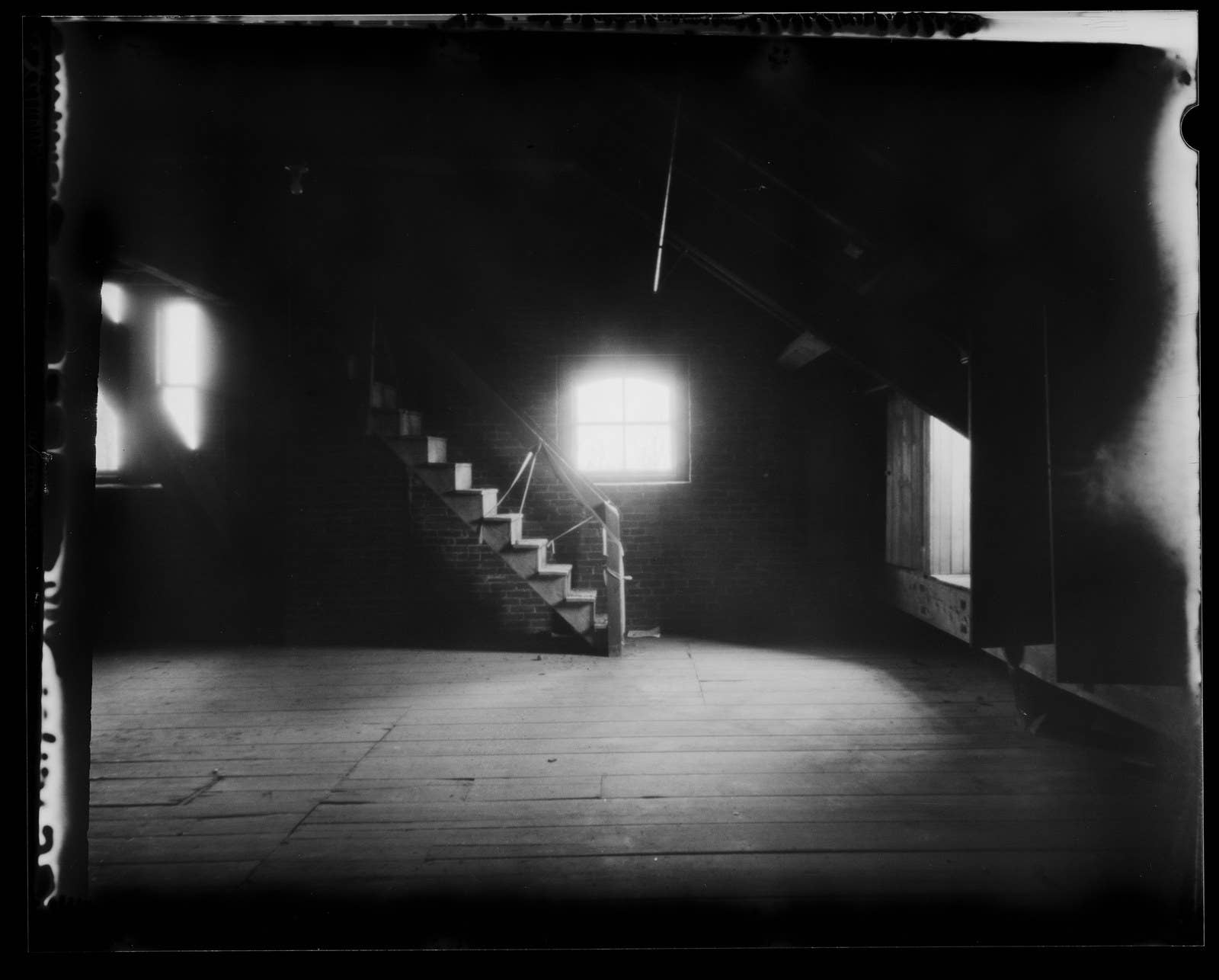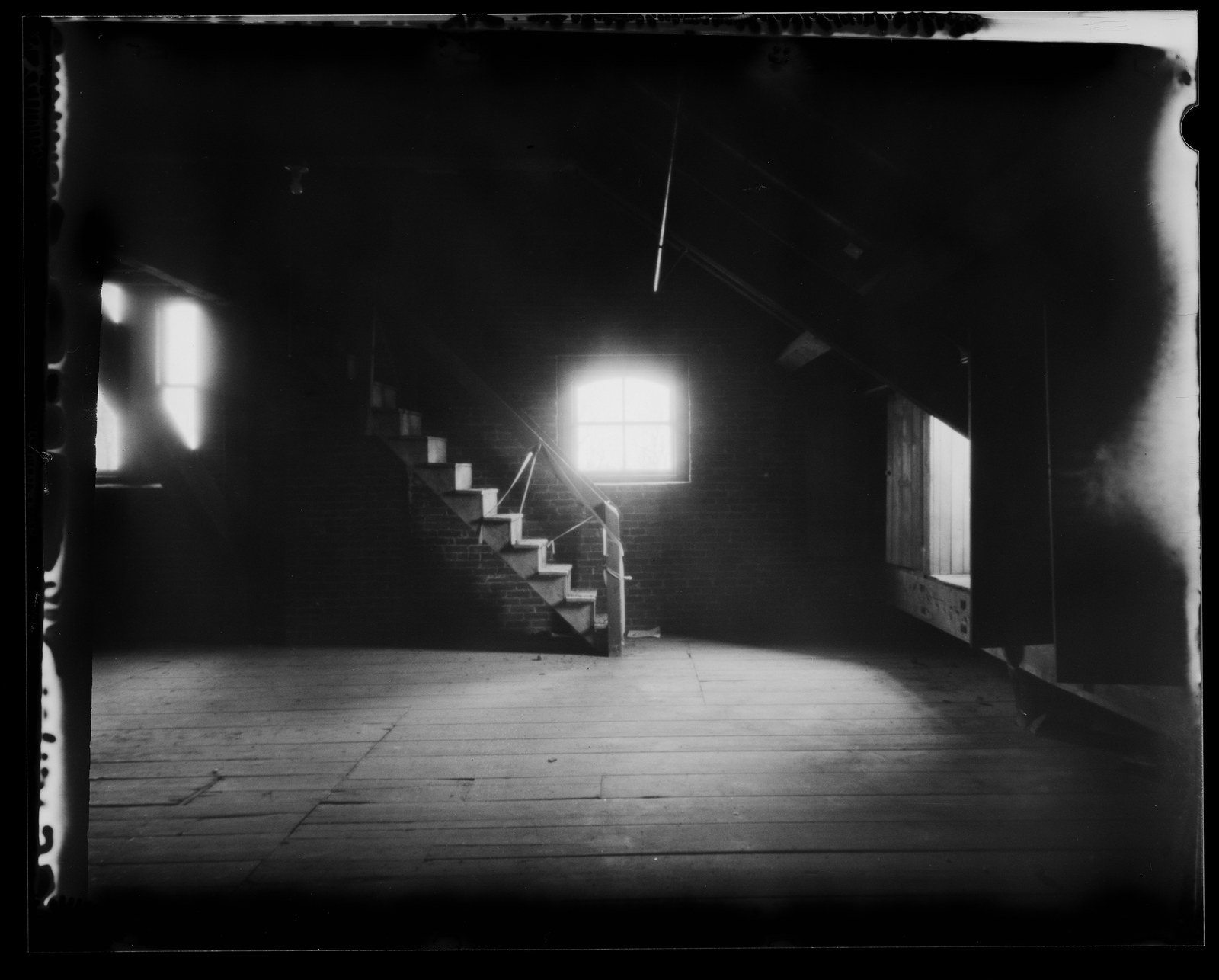 Ian MacLellan for BuzzFeed News
A pinhole photograph of the attic at St. Joseph's Orphanage.
Around three years after Joseph Barquin's suit was first filed, the diocese agreed to resolve it through mediation rather than a trial in open court. Widman wasn't surprised. In the relatively short amount of time that he had known Barquin, he had watched with fascination as his client became an intense irritant clamped tight to the church's side. Emerging from a lifetime of silence and fear, Barquin was compelling in front of a microphone. And he had been a powerful leader, at least until relations deteriorated. He had inspired many reluctant former residents to join him in speaking out.
The mediation was not an easy process, and there were a few false starts. In the end, Barquin said, the church settled for a significant amount of money — and a provision that the agreement and the amount be kept secret. (I was unable to obtain any of the documentation for the settlement.)
In his final meeting with the chancellor of the diocese, Barquin recalled, he and the chancellor asked their attorneys to leave the room, and with only a mediator present, they hashed out the details of the settlement. Both men wept.
Barquin's sense of reconciliation with the giant institution proved to be a powerful one. He reversed course and started contacting Widman's other plaintiffs, trying to persuade them to abandon their legal counsel.
In an interview with the Burlington Free Press, Barquin said that he wanted to find a non-adversarial way for his fellow orphans to resolve their claims. "Rage and anger is never going to work for the future of these people," he told the reporter. Barquin began to phone Sally Dale to suggest that he could have the bishop and some nuns drop by her house to talk about things. Dale, who was horrified by the suggestion, said no.
Sally was back in the orphanage. It was a summer day, and the girls had gone down a huge green hill and through a field of lilac bushes, scattered wildflowers, and floating cottonwood that went right up to the edge of a thick oak forest. They plunged in, following a steep, winding path, crossing over a railway track, and continuing down through the trees until the forest stopped so abruptly that when they came out the other side of it, it was like they had walked through a solid green wall.
There in front of them was North Beach, where the water was clear and lovely and shallow, with tiny little fish darting around as the girls chased each other.
As she waded in the shallows, Sally saw two nuns and a boy in a rowboat head out to where the water was deep.
Sally had been taken out in that boat too, as had many other children, and she knew what came next: The nuns threw you in the water. They said it taught you how to swim. When it was her turn, Sally had discovered she was in fact a strong swimmer, making her way back to the beach on her own with some pride.
But the boy in the boat was screaming. Sally watched as the nuns threw him in, then she waited and wondered what had happened to him. When the children trudged back up the hill, Sally asked a nun if the boy had drowned.
Oh, don't worry, the nun said. He's gone home for good.
There were other mysterious disappearances, such as the little girl whom a nun had pushed down the stairs. Irene, one of the lay employees, told Sally to keep the girl awake and get her to talk, but the little girl just moaned. She had a huge bump coming up on her forehead and big, dark bruises around her eyes.
Sally helped Irene take her to the hospital. Someone took the girl from them. Oh, another mishap? Another accident-prone...? someone there said.
Later, Sally asked the nuns if the girl was okay, and they told her the same thing she had heard about the others: The girl's family had taken her home for good. Sally didn't dare ask any more questions.
She also didn't ask questions about Mary Clark, her favorite little girl from the orphanage's nursery.
The nuns who worked there hated the sound of crying. Mary didn't cry, however. She just made tearless little sobbing sounds, and the nuns hated that most of all.
They did everything they could to make her weep properly. They slapped and punched her and kicked her feet out from under her. Twice, Sally watched them rub onions in Mary's eyes.
Finally Sister Jane of the Rosary — she of the "green pill" razor strap — grabbed Mary by the scruff of her neck and announced that she was taking her to Mother Superior. Anybody who couldn't cry, she said, was "completely nuts."
That was the last time Sally saw Mary, although a short while later, one of the older girls announced that Mary had it made. She was with her parents, the other girl said. Mary, too, had gone home for good.
There was another child, a boy, who she heard had run away from the orphanage with his cousin. He was wearing a metal helmet, and somewhere along the way he crawled under a fence and was electrocuted. To teach Sally a lesson, the nun brought her, along with other naughty children, to his funeral.
The little boy lay in a small open coffin. He didn't even look like a boy, Sally thought, just a blackened thing with holes all over him from being burned. A nun made Sally go up to the coffin. Then she told her to kiss the boy.
Sally was trapped. She leaned over the coffin, because she had to, but all she could see were the holes in the boy's face.
As she bent down toward the boy, the nun whispered that if Sally ran away, the same thing would happen to her.
Sally didn't let herself think about the strange disappearances or the gruesome death. During the day, she went about her business, and at night, lying there in the darkened dormitory, she tried to go right to sleep.
The nuns made the girls lie on their side and face the same direction. They had to put their hands together, as in prayer, and rest their head on them, then stay like that all through the night. If a girl's hands slipped under the covers as she slept, a nun would wake her with a slap or send her to the attic. When Sally moved, a nun yanked her up by her hair and whipped her, before sending her back to bed — once more, hands in prayer on the pillow.