'You never forget': Priest sex abuse accuser speaks out
The personnel file of a priest who a Houston man says raped him was among the items seized at the Archdiocese of Galveston-Houston last week.

By Jeremy Rogalski, Tina Macias
KHOU
December 4, 2018, updated January 3, 2019
https://www.khou.com/article/news/you-never-forget-priest-sex-abuse-accuser-speaks-out/285-620913053
A Houston man who claims a priest raped him as a boy hopes the boxes seized from the Archdiocese of Galveston-Houston last week will lead to an investigation against Rev. Terence Brinkman. "As a 12-year-old child, nobody should ever, ever go through that," the man said, who spoke exclusively with KHOU 11 Investigates. He wished to remain anonymous, so we're referring to him as John Doe. He said his children still don't know what happened to him, and his account contains graphic and disturbing details.
John Doe_1543939782787.jpg.jpg A Houston man said he was sodomized when he was 12 years old by Rev. Terrance Brinkman in the mid-1970s when he was an altar boy at St. Charles Borromeo Church. An Archdiocese reivew board recommended that Brinkman continue serving in ministry.
Back in the mid-1970s, Brinkman served as an assistant pastor at St. Charles Borromeo Church in Houston, where John Doe was an altar boy. That's when he said Brinkman sodomized him in a room behind the sacred altar. He called it a "premediated attack." "He used chloroform to come from behind me and put me out … I was out. I can't really remember besides me just waking up for a second or two," John Doe said. "But that second or two … I looked back and could see that it was him. I could see that he had his shirt unbuttoned, his trousers were off and he had me straddled from behind." John Doe said he woke up half-naked outside in a church courtyard. He said the abuse almost happened a second time, but another priest intervened. Shortly after, Brinkman disappeared from his church.
Read more: Rev. Brinkman's assignment history
"He was gone. Not a week or two, not a day or two, but he was gone that day," John Doe said. He believes that's proof the Archdiocese knew what happened back then. "Of course they knew."
After burying the abuse for years, John Doe sued Brinkman and the Archdiocese in 2010. In court pleadings, Brinkman acknowledged being reassigned to St. Francis of Assis in June 1976, but he called the move a "normal transfer" to a "temporary assignment." Brinkman was moved to three different churches that year.
Under oath, Brinkman denied ever molesting children, writing in court documents, "I have not engaged in inappropriate behavior with a child."
A judge eventually threw out the case because the statute of limitations had expired, and the Archdiocese allowed Brinkman to continue in active ministry.
A Lay Review Board recommended that decision, and Cardinal Daniel DiNardo agreed to allow Rev. Brinkman to continue serving. In a statement, the Archdiocese said John Doe "provided a physical description of the priest that allegedly abused him that does not match Father Brinkman."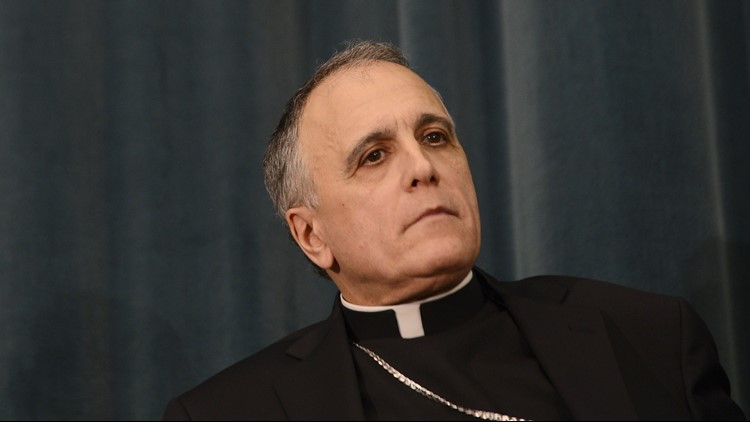 US cardinal Daniel DiNardo listens during a press conference at the North American College on March 5, 2013 in Rome.
ANDREAS SOLARO
John Doe called that nonsense.
"As a child you never forget that face, that look of an animal, that was an animal looking at you—those eyes, you never forget," he said.
He said he hopes law enforcement will examine his case.
The Montgomery County District Attorney's Office conducted the search Wednesday as part of the criminal investigation into Rev. Manuel LaRosa-Lopez, charged with molesting two teenagers at a Conroe church about twenty years ago. The search warrant allowed them to take anything relating to sex abuse into evidence.
They seized boxes of sex abuse allegations and multiple personnel files, including Brinkman's, according to an evidence log. Any evidence of a crime seized will be sent to the Texas Rangers or the FBI for a full investigation, according to the DA's office.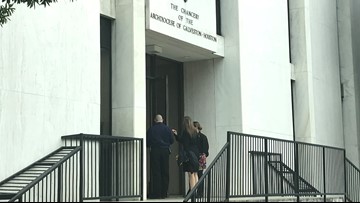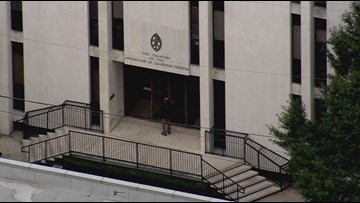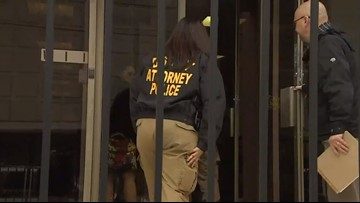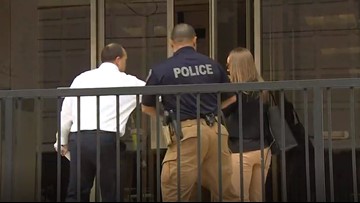 Photos: Authorities raid Archdiocese of Galveston-Houston
"As a priest, you know, you're the shepherd—you're supposed to be the shepherd… protecting the flock, protecting the sheep, you know, how do you let a wolf into the flock," John Doe said.
The Archdiocese has said it plans to release a list of all "credibly accused priests" by the end of January. John Doe said he hopes Brinkman's name is on the list, but said he's doubtful.
Additionally, the Archdiocese said in a statement it is not aware of any other allegation against Brinkman in his 45-year career as a priest. Below is the full statement it released about Brinkman: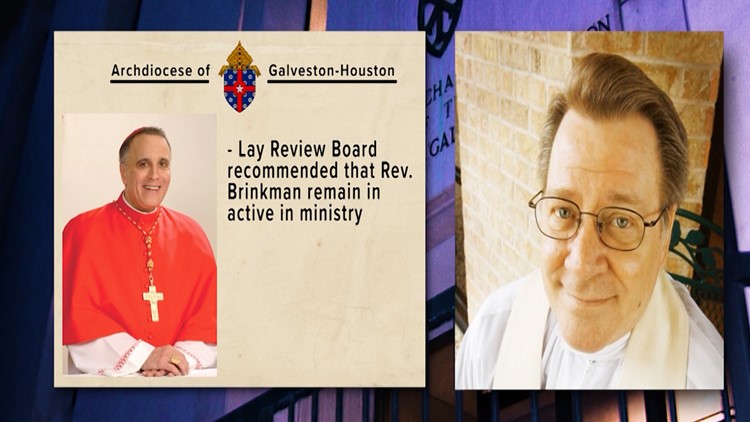 A Lay Review Board of the Archdiocese of Galveston-Houston reviewed John Doe's allegations against Rev. Terrence Brinkman and recommended Brinkman remain in active ministry.
"In July of 2010, a lawsuit was filed alleging that Father Terence Brinkman had sexually abused a minor during the 1970s. Prior to that lawsuit being filed, an attorney for the plaintiff, identified as "John Doe," had previously notified the Archdiocese of the alleged abuse in 2006– at which point the Archdiocese reached out to Mr. Doe to gain more information. Through a succession of three attorneys representing Mr. Doe, he refused to address his allegations before the Archdiocesan Review Board.
Mr. Doe also provided a physical description of the priest that allegedly abused him that does not match Father Brinkman.
We are not aware what, if any, reporting Mr. Doe or his 3 separate attorneys made to law enforcement, but the parishioners of Father Brinkman's parish at the time were notified of the allegation. The matter was also reported in the media. We are attaching a letter read to the Parishioners.
To our knowledge, Mr. Doe's allegation is the only such complaint lodged against Father Brinkman in his 45 years as a priest."