Rockville Centre Resources – February 11–28, 2003

Note: The documents in this file are offered solely for educational purposes. Should any reader wish to quote or reproduce these documents for sale, the original publisher should be contacted and permission requested. BishopAccountability.org makes no claim regarding the accuracy of any document we post.

A Protector or a Predator?
By Carol Eisenberg
Long Island (NY) Newsday
February 11, 2003
http://www.newsday.com/news/local/longisland/ny-liplac0211,0,5984608.story?coll=ny%2Dtop%2Dheadlines
He is a priest and a civil attorney who boasted of his national renown as an expert on priest sexual abuse.
But Msgr. Alan Placa, former vice chancellor of the Diocese of Rockville Centre, emerges from the pages of the Suffolk grand jury report as a master of deception: He held himself out as a protector of children even though he too had been repeatedly accused of making sexual advances to adolescent boys. The report cites sworn testimony of three men who accused Placa of numerous sexual advances while they were adolescents 25 years ago.
Later, as the diocese's chief contact with victims, Placa pursued "aggressive legal strategies" to defeat and discourage litigation or publicity about priest sex abuse. Those strategies included gathering information that might be used if necessary to impeach a victim's credibility -- even in cases involving allegations of priest rape and sodomy that he and others knew were credible, the report said.
While the report does not identify Placa by name, it provides sufficient details about his career to make him identifiable as "Priest F" -- a parish priest who became a teacher at a boy's high school and later a civil attorney who went on to write the diocese's policy on sexual abuse.
"This is a person who was directly involved in the so-called policy of the church to protect children when in fact he was one of the abusers," Suffolk District Attorney Thomas Spota said Monday, declining to identify the official except as "Priest F." "That speaks volumes for what this diocese's real intention was. Although their stated purpose was to protect children, that certainly was not their practice."
Placa, who did not testify before the grand jury, did not respond to calls at his residence at St. Aloysius in Great Neck or at the office of Giuliani Partners, where he has worked for former New York City Mayor Rudolph Giuliani, a childhood friend. A spokeswoman for Giuliani said the former mayor stood by the priest, whom he described as "one of the kindest, most caring and smartest people I know."
Placa resigned as vice chancellor last April, a week after being confronted with allegations of abuse by Newsday. In June, following the publication of a story detailing those allegations, the diocese suspended his faculties as a priest pending its own investigation. Diocesan officials said last week that that probe is ongoing.
The grand jury report cites the claims of four alleged victims -- three of whom testified -- dating to Placa's first parish assignment in St. Patrick's in Glen Cove and continuing after he became a teacher and a dean at the now-defunct St. Pius X Preparatory Seminary in Uniondale.
"Priest F was cautious, but relentless in his pursuit of victims" at the school, the report says. "He fondled boys over their clothes, usually in his office. Always, his actions were hidden by a poster, newspaper or a book ... "
One alleged victim testified how he was fondled behind a banner made for a march protesting the Supreme Court's Roe v. Wade decision, the report said.
"Once, Priest F approached one of the boys behind the school stage. He grabbed his crotch. The boy reacted violently, pushing Priest F away and warning him never to touch him again."
Another alleged victim, a former altar boy from Glen Cove, described what the report called "feeble attempts" at abuse, in which the priest put his hand on the boy's thigh "and crept up towards the boy's genital area" on two occasions.
The report's most stinging criticism is directed at Placa's work on the diocese's so-called "intervention team" that handled allegations of sexual abuse until the system was overhauled last spring by Bishop William Murphy.
Placa was often the first contact with victims and they rarely knew he was a civil attorney who represented the bishop and, as such, was gathering material that might be used to defend the diocese.
"Please do not identify me as an attorney [to complainants]," he wrote to top officials of the diocese in a confidential memo quoted in the report. "In fact, in these cases, I am functioning in an administrative capacity. ... My legal training is very useful in helping to gather and analyze facts, and in helping us to avoid some obvious pitfalls, but we must avoid 'frightening' people: I have had several people refuse to see me without having an attorney of their own present, because they are afraid that 'the church lawyer' will somehow do them harm."
The grand jury wrote that "the fears of these victims were justified."
Routinely, the report said, Placa dragged out cases to make legal redress difficult. Victims were often "ignored, belittled and revictimized. In some cases, the grand jury finds that the diocese procrastinated for the sole purpose of making sure that the civil and criminal statutes of limitation were no longer applicable."
In one case involving the Rev. Brian McKeon, Placa reportedly told a nun who had brought together victims and their families that the meeting was a waste of time because the statute of limitations had expired.
"Her response was heartfelt," the report said. "She said, 'You bastard. These people are hurting. Why do you care about the statute of limitations? That's not why we are here.'"
In that same case, a newspaper clipping recounting a drunken driving accident in which an intoxicated driver caused the death of the driver's sister was placed in McKeon's file. The driver was a witness to one of the acts of sexual abuse, according to the report.
"The grand jury finds," the report said, "that a fair interpretation of the reason for the dissemination of this article was so that the victim's arrest for driving while intoxicated, the accident and related death of his sister could be used against him should his allegations of priest misconduct ever become public."

Report Proposes Tough Reforms to Curb Abuses
By Dionne Searcey
Long Island (NY) Newsday
February 11, 2003
http://www.newsday.com/news/local/longisland/ny-lireco0211,0,1130352.story?coll=ny%2Dtop%2Dheadlines
The new laws a Suffolk County grand jury proposed to crack down on clergy sex abuse include everything from eliminating the statute of limitations in some cases to imposing a three-strikes-you're-out law for clergy who fail to report misdeeds.
The 21 proposals jurors are requesting from the State Legislature range from the sweeping in nature to tough, narrowly focused approaches to dealing with the volume of abuse cases that have come to light in recent months.
They include a call to criminalize church officials who try to cover up past crimes of their clergy. One seeks to outlaw sex between church members and clergy. Another would put in place a court-appointed monitor if anyone fails to report abuse more than three times.
Some of the suggestions mirror bills already in play in Albany this year. Some duplicate laws already on the books. Some, such as a call for screening anyone who works with children, would be too costly to put into place for lawmakers to ever take seriously, experts say.
Some of the measures might be headed for the same fate that has plagued other clergy sex abuse bills that have become mired in lawmakers' arguments over ideologies and semantics.
"They shouldn't be mired in anything because we're trying to send a deterrent message that they should not be committing these crimes," said Sen. Dean Skelos (R-Rockville Centre), whose bills to extend the statute of limitations for certain sex crimes stalled during the spring session.
Last year, support for a bill requiring priests to report suspected sex abuse fizzled after civil libertarians complained it would compel social workers and others to report consensual sex between 16-year-old minors and adults. Lawmakers have amended the bill this year to make sure that doesn't happen, but a similar proposal from the grand jury contains no such fix.
But Robert Perry, a spokesman for the New York Civil Liberties Union, argued that the grand jury "correctly concludes that the problems of clergy abuse arise from lack of mandatory reporting."
Nonetheless, Perry said that the report's "other provisions, although well-intentioned, raise fundamental questions of due process."
For instance, he said, the jurors propose extending the statute of limitations in some child sex abuse cases to 15 years after the victim turns 18.
Extending the limits "creates all kinds of problems of witnesses not being available and memories being vague," Perry said. "That's why statute of limitations exist -- to protect against problems of human nature."
Some lawmakers seemed unimpressed by the grand jury's report. Assemb. John J. McEneny (D-Albany), sponsor of some clergy abuse bills, worried jurors might be trying to retroactively punish priests who had escaped punishment under current crimes. One legislative aide said grand jury reports aren't enough to ensure passage of such sensitive bills.
"Public pressure is when you have victims and victims' parents up here knocking on doors," the aide said. "And that has not happened yet."

View from the Parishes
By Martin C. Evans and Karla Schuster
Long Island (NY) Newsday
February 11, 2003
http://www.newsday.com/news/local/longisland/ny-lireax113126228feb11,0,5095726.story?coll=ny%2Dlinews%2Dheadlines
For some parents, the scathing grand jury report detailing alleged abuses by parish priests on Long Island came as vindication, giving credence to allegations they had made years ago.
For some priests, the report by a Suffolk grand jury was a veil of shame. But many Long Island worshipers, while voicing concern for the greater Catholic Church, said they remain confident in their own parish priests.
"The grand jury report is a blistering indictment of a system that was in place but was not enforced," said the Rev. Gerald Twomey, co-pastor of St. Anne's Roman Catholic Church in Brentwood.
Twomey said he knows firsthand what families of abuse victims endure because he has a cousin who was molested years ago at age 11 while serving as an altar boy in Brooklyn. "People are devastated, not only by the sins of the priests but the denial and the lack of attention to the true victims, these minors who were sexually abused," he said.
Anne Marie D'Angelo, a psychiatric nurse whose husband, Frank, is a deacon at St. Peter of Alcantara Catholic Church in Port Washington, said the report may help speed the healing process by validating the feelings of victims, but for most the scars are painful and enduring.
"I think it is helpful to victims to begin to see these things identified by a body not related to the church," said D'Angelo, who has three children in Catholic schools. "But I think survivors have been so victimized they will take a more wait-and-see attitude. The predator abusers were treated so much better. They were given homes, their bills were paid, and the hierarchy was giving as little as possible to victims and trying to shut them up at the same time."
Despite the report's unsettling details, which tell of abuser priests being transferred from parish to parish and of victims hushed by cash settlements, many among Long Island's 1.3 million Catholics express confidence that their own churches have not been touched by abuse.
"Of course I find it upsetting, but it really hasn't been a situation in our parish," said Noreen Thompson of Kings Park, who attends St. Joseph's Church there. Her son, Patrick, 12, will make his confirmation this spring.
"I feel it's important for my children to have a religious base," she said as she picked up her youngest, Liam, 3, from the YMCA in Bay Shore yesterday afternoon.
For many Long Island Catholics, parish churches have been centers of trust throughout their lives.
Melissa Esposito has been attending St. Mary's Church in East Islip since she was born. She was married at the church and sent her two children, now grown, to the parish school. She still attends Mass on Sundays, still plops her envelope into the basket, still attends the Rosary Society meetings.
"The way the church is responding to this is wrong, but I still give. You just do," Esposito said.
But recently, her mind has wandered to places she never expected, even as she listens to the pastoral homily on Sunday mornings.
"Nothing can shake my faith, but now I sit in Mass and sometimes I look up and I think 'Geez, you never know,'" she said. "You don't walk away from the church, but it really makes you wonder."
The Rev. Larry Duncklee, of St. Luke's Church in Brentwood, said he believes the church is capable of regaining the confidence of congregants.
"If people can see holiness and touch holiness, in two years this will have no effect," he said. "But if people look at a priest and can't see a striving for holiness, then we are in trouble. And the people will be in trouble. Because they won't have shepherds to lead them."

For Jurors, Process Wrought Frustration, Anger, Exhaustion
By Stephanie McCrummen
Long Island (NY) Newsday
February 11, 2003
http://www.newsday.com/news/local/longisland/ny-lijuro0211,0,3681678.story?coll=ny%2Dtop%2Dheadlines
Through spring, summer, fall and most of winter, the grand jurors sat in a plain basement room of the Suffolk County district attorney's office in Hauppauge and listened to grown men and a few women recount in detail, sometimes through tears, precisely how they were raped, fondled and sexually molested years ago by the Catholic priests they were taught to trust.
This was their routine. Two, three and even four days a week, eight and nine hours a day for nearly nine months, the 23 jurors absorbed those stories, went home, shored themselves up emotionally, and returned for more.
"We were numb at first," said one of two jurors reached yesterday who agreed to be interviewed on condition of anonymity. "We couldn't believe what we were hearing. We were sickened at times. We would cry at times."
It was "draining," said the second juror. "There was one point where I said, 'Ok, who's going to give us counseling to listen to this for nine months.'"
But in the end, when they were done listening to the 97 witnesses, combing the secret personnel files of 43 priests and reviewing the 257 exhibits, the first juror said she and her colleagues were left largely with anger toward church officials, outrage that was funneled into the scathing public report released yesterday.
"We felt nothing but anger at them while they were sitting there because they did not answer the questions like we wanted them to answer," she said. "They were like, they knew nothing. 'I don't know, I don't know, I don't remember' -- that was really what we were angry at. We wanted to see some justice ... We wanted them to admit it, to admit that they had made a mistake and that they were sorry, but no ... It seemed like they were being instructed not to talk."
At a news conference yesterday, Suffolk County District Attorney Thomas Spota praised the panel members' "personal sacrifice."
But the two jurors interviewed said that they and others on the panel were deeply frustrated that their work did not result in indictments. At the end of their service, the district attorney told them that the statute of limitations prevented that.
"I feel that justice was not done ... " said the first juror. "We were very disappointed ... We felt after nine months we were there, we wanted to see some justice ... They [certain priests and church officials] should have gone to trial. They thought they were above the law."
Now, three weeks after their release from duty, the jurors have gone back to their regular lives with the uneasy feeling that the devastating stories they heard -- stories the second juror said would stay with her "forever" -- might never be honored with justice.
"I think it's good it all came out ... but it's a shame that it went on for so many years," she said. "That people put a priest above a human being -- that they were treated like God ...
"I think ... [the victims] themselves did what we were trying to do" in the grand jury report, she has concluded, "which is bring it out in the open."
The first juror, who is Catholic, now has the burden of dealing with doubts she did not have when she began. During the nine months of hearing testimony, she said, she went to church some Sundays for relief. But for a few weeks, disgust overwhelmed her faith, and she stopped.
"I was very upset," she said, her voice shaking over the phone. "And then I decided that they weren't going to let me lose my faith ... It was very difficult for me, just hearing what went on and not wanting to believe that they let this go on so many years, that they felt they were above the law. I lost the trust that I had in the priests. And in the church. But as I said, I am still praying very hard to regain that and praying that they see that they can no longer run the church the way they had in the past."

L.I. Diocese Tricked Victims of Sexual Abuse, Panel Says
By Robert D. McFadden
February 11, 2003
New York Times
http://www.j-bradford-delong.net/movable_type/2003_archives/000020.html

Suffolk County grand jury accused Roman Catholic Church officials on Long Island yesterday of protecting scores of pedophile priests for decades by using sham policies and a bogus "intervention team" to trick and silence victims, cover up crimes, avoid scandals and hold down financial consequences.
The panel said the Diocese of Rockville Centre the nation's sixth largest, with 1.3 million Catholics in 134 parishes in Nassau and Suffolk Counties had protected at least 58 abusive priests with aggressive tactics that purported to help victims and their families but that actually used intimidation, claims of confidentiality, hush payments and other means to avoid lawsuits and publicity.
Since 1990, the diocese has maintained a special "uninsured perils fund" to cover sexual abuse claims, asbestos exposure and trampoline accidents, the grand jury found. It said the fund, raised from parish collections, had paid $1.7 million in claims none for asbestos exposure or trampoline accidents but still had $11 million in its account last October.
As for dangerous priests, it said they were shuffled from parish to parish and often allowed to minister to children, while recommendations for psychiatric treatments were ignored and a "legal affairs" team, ostensibly set up to help sexual abuse victims, worked to suppress legal claims and husband the money.
"The grand jury concludes that the history of the Diocese of Rockville Centre demonstrates that as an institution they are incapable of properly handling issues relating to the sexual abuse of children by priests," the special grand jury said in a 180-page report based on a nine-month inquiry.
It said the failures, documented in testimony by priests and victims and in church records including secret archives on 43 priests, could not be attributed to incompetence. "The evidence before the grand jury clearly demonstrates that diocesan officials agreed to engage in conduct that resulted in the prevention, hindrance and delay in the discovery of criminal conduct by priests," it said.
The report did not name any diocesan leaders or abusive priests, and the grand jury said it was unable to file indictments against the diocese because of a five-year statute of limitations. But the panel called for new laws to eliminate time limitations on prosecuting child sex-abuse cases and to require that members of the clergy report child abuse directly to the authorities.
The report was one of the most comprehensive accountings of abuse by priests in a diocese since the pedophile scandal engulfed the Roman Catholic Church 13 months ago with disclosures that a Boston priest had attacked 130 boys over 30 years. Since then, hundreds of civil suits have been filed with claims totaling more than $100 million, and prosecutors across the nation have taken their investigations of clerical sexual abuse before dozens of grand juries.
A survey by The New York Times last month found that the crisis had spread to nearly every American diocese and had involved more than 1,200 priests and more than 4,200 victims in the last six decades. Those accused represent less than 2 percent of the priests in America, but research suggests that the extent of the problem remains hidden because many cases have gone unreported.
Yesterday's report was unveiled by the Suffolk County district attorney, Thomas J. Spota, at a news conference in Hauppauge. "This document tells all of us what was really happening in the Diocese of Rockville Centre for years and years and years," he said. "High-ranking prelates protected 58 colleagues from disgrace rather than protecting children from these predator priests."
Mr. Spota added: "Time after time, and despite overwhelming evidence that priests were committing crimes against children, they were willingly sacrificing the truth for fear of scandal and for monetary considerations."
Joanne C. Novarro, a spokeswoman for the Rockville Centre Diocese, called the grand jury report unfair and insisted that the diocese had taken all cases of sexual abuse by priests seriously and had improved its methods of handling such cases under Bishop William Murphy, who took over the diocese last year.
"While sexual abuse of minors is always a grave sin and a crime, the ways of dealing with it have developed over time," she said. "This is every bit as true of law enforcement officials as of church personnel."
Ms. Novarro added: "It is unfair to use today's standards to judge sincere attempts in the past to assist victims and to help perpetrators not to offend again. The diocese took extremely seriously any allegation of sexual abuse of a minor, sent the accused priest away for evaluation and treatment, and worked with the victims for a just settlement."
The spokeswoman also sharply criticized Mr. Spota for releasing the report to the news media before issuing copies to the diocese. She said that the diocesan lawyers were reviewing it and that neither she nor Bishop Murphy had read it.
Bishop Murphy was not at the briefing. Ms. Novarro said he had gone to Boston, where he is to testify on Wednesday before a grand jury investigating whether he and other church officials could be prosecuted for protecting abusive priests there. Bishop Murphy was formerly the top deputy to Cardinal Bernard Law and has been cited in nearly one-third of the pending cases in Boston.
The Suffolk grand jury, impaneled last May, heard 97 witnesses and examined 257 exhibits, including personnel records of the diocese going back to its founding in 1957, and what it called "secret archives" on 43 priests who have been accused of sexual abuse. "The vast majority of priests assigned to the diocese are dedicated to their pastoral ministry," the report said.
But the report in what has become a familiar litany presented evidence, often in graphic terms, of assaults by priests from the late 1970's: the rape and sodomy of altar boys, cheerleaders and others who were given alcohol, shown pornographic materials and seduced in rectories, churches or their own homes, or were taken to motels, peep shows or sex clubs or on camping trips and other outings.
Identifying the priests only by letters of the alphabet A through W the report detailed abuse that often continued for years. While many cases were brought to the attention of diocesan officials, it said, only one priest was unfrocked for having an affair with an adult woman.
"The response of priests in the diocesan hierarchy to allegations of criminal sexual abuse was not pastoral," the report said. "In fact, although there was a written policy that set a pastoral tone, it was a sham. The diocese failed to follow the policy from its inception, even at the most rudimentary level."
Instead, it said, diocesan officials transferred the abusive priests from parish to parish or out of the diocese, but their records did not go with them. "Abusive priests were protected under the guise of confidentiality," it said. "Their histories were mired in secrecy."
Moreover, to carry out what the panel called its cover-up policy, the diocese in the mid-1980's set up what it called the Office of Legal Affairs, known unofficially as the "intervention team." It was, in fact, two high-ranking priests who were also lawyers.
Ostensibly they recommended treatments for abusive priests recommendations that were filed away and forgotten, the grand jury said and met with victims and their families, supposedly to discuss possible avenues of action.
"In reality," the grand jury said, "the office and the intervention team had one purpose, protecting the diocese."
To do this, the report said, the team used "aggressive legal strategies" to "defeat and discourage lawsuits, even though diocesan officials knew they were meritorious." Meeting with victims, the team treated crimes of priests as sins, not to be reported to law enforcement officials, and said that offenders were being treated.
"Victims were deceived," the report said. "Priests who were civil attorneys portrayed themselves as interested in the concerns of victims and pretended to be acting for their benefit while they acted only to protect the diocese."
One confidential, self-congratulatory memo written by a team member was quoted in the report as saying: "We have suffered no major loss or scandal due to allegations of sexual misconduct by religious personnel. Since I have been involved in this work, the Diocese of Rockville Centre has paid out a total of $4,000 because of claims of sexual misconduct."
In cases where money was paid from the uninsured perils fund, victims were asked to sign confidentiality agreements so there would be no publicity, the report said.
"The grand jury finds the actions of diocesan officials who were responsible for making and implementing policy reprehensible," it said.

Victims Say Report on L.I. Priest Abuse Breaks New Ground
By Daniel J. Wakin
New York Times
February 12, 2003
A grand jury's assertion that the Diocese of Rockville Centre secretly battled to protect priests while pretending to extend a pastoral hand to sexual abuse victims goes beyond anything seen since the scandal in the Roman Catholic Church erupted a year ago, victims of abuse and their advocates said yesterday.
A 181-page grand jury report accused the diocese of systematically protecting scores of abusive priests and failing to safeguard children. At its heart was an analysis of the work of a three-member intervention team of diocesan officials.
While masquerading as sympathetic listeners, the officials were actually doing everything they could to fend off dozens of victims, keep their charges quiet and keep abusive priests in the ministry, the grand jury said in the report, which was released on Monday.
"I have not frankly seen a team that is so sinister and dedicated to the purpose like this," said one lawyer, Jeffrey Anderson, who added that he had pressed cases in more than half of the nation's dioceses.
Similar accusations have been made elsewhere, but on an isolated scale. In Albany, plaintiffs accused the diocese of trying to manipulate them through a church-affiliated therapist who connived with the bishop. The Diocese of Sacramento in California was accused of setting up a victims' hot line answered by a lawyer. In a case in Grand Rapids, Mich., a church lawyer seemed informed about the workings of a church-run therapy group, victims' advocates said.
But such efforts pale in comparison with those in Rockville Centre, the nation's sixth largest diocese with 1.3 million Catholics in Nassau and Suffolk Counties, said Stephen C. Rubino, a lawyer involved in abuse suits against priests. "We had never seen anything as sophisticated as that one," Mr. Rubino said.
Marci Hamilton, a professor at Benjamin N. Cardozo School of Law, said the church had often sought to induce victims not to report cases to the authorities or to keep them away from lawyers.
"I think the extent to which Rockville Centre followed the instinct is quite remarkable," said Professor Hamilton, who has been an adviser to the Survivors Network of Those Abused by Priests.
Joanne C. Novarro, a spokeswoman for the diocese, did not return a phone call yesterday, but on Monday she said the diocese took all allegations of abuse seriously. Ms. Novarro criticized the report as unfair and said it did not take into account improvements in the diocese's performance.
The grand jury presented memorandums and testimony that appeared to show a system to dispose of sexual abuse cases with a minimum of fuss and money.
An internal memorandum in March 1995 described the team's tasks as administrative oversight over accusations, monitoring legal responses, creating a system of supervising accused priests and keeping contact with accusers.
Two of the three members were lawyers, the grand jury said. The team started as the Office of Legal Affairs, to handle legal matters. But the members soon became the main point of contact with victims.
In case after case detailed by the grand jury, victims, family members or acquaintances were immediately put in touch with a lawyer-priest from the team. Several witnesses told the grand jury that the official never said he was a lawyer.
In one instance, the official told a parish employee who reported suspicious behavior that the priest would be sent for treatment, the report said. What about the boy, the employee asked. The grand jury report said the official replied: "It's not my responsibility to worry about the boy. My job is to protect the bishop and the church."
In another case, the lawyer-priest told a nun who had intervened that a meeting with the victim was a waste of time because the statute of limitations on the abuse had expired, the grand jury said.
According to the report, the nun responded with an epithet, and said: "These people are hurting. Why do you care about the statute of limitations?"
Several people interviewed yesterday told similar stories.
John Salveson, 47, of Bryn Mawr, Pa., who said he was abused as a boy in the 1970's, said his parents met in 1989 with Msgr. John A. Alesandro, a member of the team.
"Literally, the first words out of Alesandro's mouth were, 'You know, the statute of limitations has run out,' " Mr. Salveson said. "It tells me they couldn't have less interest in helping the people they abused. It's all about defending against lawsuits and protecting their bank accounts."
Robert G. Fulton, a former priest who served as director of health services for priests in the diocese from 1990 to 1997, said the team filtered information to him. "If they didn't want me knowing anything, they wouldn't tell me anything," Mr. Fulton said.
When guidelines for handling accusations were laid out in 1992, the team continued to handle the cases.
"The policy appeared to protect perpetrator priests," the report said. "In practice, this was a hollow promise; the only entity that the intervention team protected was the diocese."
The grand jury said that the team also ignored the advice of the church's own psychiatric experts about problem priests. Nor did it tell pastors or parishioners about them, the report said.
The grand jury report said the team acknowledged a conflict of interest. In a 1993 internal memorandum, a team member advised other diocesan officials referring victims, "Please do not identify me as an attorney."
But the team found good things to say about itself. In the 1980's, one member wrote a memorandum that appears to have been addressed to the bishop at the time, John R. McGann; he was succeeded in 1999 by Bishop James T. McHugh. The current bishop, William Murphy, took over in September 2001, after Bishop McHugh's death, and dismantled the team in April.
The writer said the diocese had paid only $4,000 in claims. "We have suffered no major loss or scandal" making the diocese unique in the country, the writer said. The writer also told of helping "other bishops" and religious congregations with sexual abuse problems and of being involved in more than 200 such cases around the country.
While his name never appears, Msgr. Alan J. Placa's shadow hovers throughout the grand jury report.
Monsignor Placa was the architect of the diocese's legal strategy, a national expert in the field and the crucial member of the intervention team. Several months after the panel was ended in April, he was suspended from the ministry after being accused of abusing children. Monsignor Placa is a close friend of Rudolph W. Giuliani, the former mayor, and works for Mr. Giuliani's consulting business.
The grand jury report does not mention names. But it often refers to a priest who is a lawyer as dealing with victims. The description fits Monsignor Placa, and lawyers for victims have said he is the author of confidential legal memorandums quoted by the grand jury.
Monsignor Placa, who has defended his work on the panel and denied misconduct, did not respond to a request for an interview yesterday.

Little Hope for Change:
Victims Laud Grand Jury Findings, But Criticize Church Response
By Carol Eisenberg and Steve Wick
Long Island (NY) Newsday
February 12, 2003
http://www.newsday.com/news/local/longisland/ny-livict0212,0,7683966.story?coll=ny%2Dli%2Dspan%2Dheadlines
Brian Dionne said he didn't need a grand jury to tell him the Catholic hierarchy engaged in systematic deception to protect sexual predators. He's known it for 40 years, he said, almost since he was first molested by a priest while serving as a choirboy.
And like many alleged victims, he is appalled at church officials' continued denials of a cover-up.
"If they don't get it now, even after everything that has gone on this past year, they're never going to get it," Dionne said Tuesday. "The truth is, I don't have too much hope that the church is going to change. The people in power seem to be thoroughly committed to covering this up even now, and it really hurts."
A day after a Suffolk County grand jury issued a blistering report accusing the Diocese of Rockville Centre of protecting priests and church assets at the expense of children, Dionne and others who say they were molested expressed exultation at the findings but also bitterness that the diocese could still deny their truth.
"The doors have been blown off the chancery," said a 41-year-old Freeport resident who told a relative of his childhood abuse for the first time three years ago. "There's a part of me that's very glad. But will I ever get any satisfaction in the long run? No. The guy who did this to me will never see a day in jail. And I'll live with what he did to me for the rest of my life."
Dionne, 51, said he implored a top official of the diocese last spring to bring his childhood molester to justice. Dionne confided one other thing to the priest: He had AIDS, and feared he didn't have much time left.
The official promised to look into his complaint that the Rev. John Butler had molested Dionne and more than a dozen other boys in the choir at St. Joseph's in Kings Park where Butler had been a choirmaster 40 years ago.
"I said, 'I've heard that from officials before,'" Dionne recalled replying. "And I'm quite sick. Do you promise to get back to me?' And he said, 'Of course, of course, I will.'"
But the Brooklyn man said he never heard anything back, even after leaving subsequent messages. "Here it is 10 months later, and still not a peep," he said Tuesday.
Despite complaints about Butler that spanned 35 years, during which Butler was transferred several times, Butler continued to work as a priest until last April, when Dionne made repeated calls to his superiors in Metuchen, N.J., who finally put him on leave. Newsday has been unable to reach Butler for comment, and Rockville Centre officials did not respond to calls Tuesday.
Another alleged victim, Donna Nichols, expressed contempt at the diocese's complaint that it did not get to read the report before its public release.
Nichols, 48, of East Northport, who testified before the grand jury, said she had been abused by a former priest, Nicholas Unterstein, in Huntington Station more than 30 years ago, along with her younger sister. Unterstein could not be reached.
"They never seemed the least bit interested in what I had to say for the past 35 years or so," Nichols said in a written statement with her husband. "Speaking of unfair, how about the way I and all those other little boys and girls were treated by them!!?"
Carlo Cilberti, 40, who said he was abused on Long Island before moving to Arizona, said he felt a sense of catharsis from the report, but believes that things will change only when statutes of limitations are lifted for child sex abuse cases.
His need to tell his story was so great that he flew in last year to testify to the grand jury. "I wanted them to know," he said.
He remains bitter about the diocese's failure to respond to two decades of his pleas for help.
His first call for help was a note left in a collection basket. "I wrote it out and put it in an envelope with 25 one-dollar bills. I wrote, 'I want to let you know what happened to me in this church. I would like someone to get in touch with me.' I put in my name, telephone number and address and the name of the priest, Jerry Chasse."
A few years later, he did the same thing. Again, he got no response. His suit against the diocese was dismissed in the mid-1990s because the statute of limitations had expired.
Cilberti said Priest I in the grand jury report is Chasse, and he feels vindicated to see his story included in the report. Chasse could not be reached.
One of at least a dozen alleged victims of the Rev. Eugene Vollmer said he also felt relief. "As much as it hurt to retell it, I was grateful for the Suffolk grand jury," said the man, who identified Vollmer as "priest D" in the report.
Last March, Newsday detailed allegations against Vollmer, then an associate pastor at St. James Church in Seaford. Two former altar boys, Mark and Rainer Welzel, were quoted as saying Vollmer abused them over several years in the 1970s when they were teenagers.
Both brothers said they reported the abuse to diocesan officials and nothing came of it. Vollmer continued to work as a parish priest -- until the day last March when Newsday called diocesan officials asking for comment.
Vollmer admitted to diocesan officials that he had molested at least 12 victims, according to the grand jury report, which characterizes the priest as a "serial child molester." Vollmer did not respond to requests for comment.

Ex-Aide To Law Testifies In Probe
By Stephen Kurkjian
Boston (MA) Globe
February 13, 2003
After a full day of testimony before a state grand jury, Cardinal Bernard F. Law's former chief deputy said yesterday that he had answered all questions "honestly and completely" in the panel's investigation of the clergy abuse scandal in the Boston Archdiocese.
Bishop William F. Murphy, who was promoted in June 2001 from Law's vicar general to head the Rockville Centre diocese on Long Island, N.Y., is among more than a dozen bishops and other clerics from the Boston Archdiocese who have been called to testify in recent weeks before the grand jury. Law is scheduled to testify last, on Feb. 25, in the grand jury investigation spearheaded by the office of Attorney General Thomas F. Reilly.
Emerging from the grand jury, Murphy declined to answer questions about an official report issued by a grand jury on Long Island that was highly critical of the handling of clergy sexual abuse cases by the Rockville Diocese. Specifically, the report found that the diocese had for decades protected priests who had been the subjects of sexual abuse complaints by parishioners and others, choosing not to report them to authorities or remove them from the priesthood.
Murphy said that because he had been in Boston preparing for the Massachusetts grand jury, he had yet to read the full report of the Long Island grand jury. "It's not fair to ask me to comment on something that I have not read," he said. However, he acknowledged he had read newspaper accounts of the grand jury report and spoken to "associates" about its findings.
"The grand jury concludes that the history of the Diocese of Rockville Centre demonstrates that as an institution they are incapable of properly handling issues relating to the sexual abuse of children by priests," the panel said in a 180-page report that followed a nine-month inquiry.
While Murphy has said nothing about the report so far, a spokeswoman for the diocese has criticized it for failing to acknowledge the steps that Murphy has taken to improve the diocese's handling of clergy abuse complaints. However, Murphy declined to say whether he found the report fair in its criticisms of the diocese's actions before he was elevated to bishop.
Asked if he would speak to Rockville Centre parishioners or the press about the report once he does read it, Murphy said, "I'll have to talk to my associates before I say anything."

Rockville Centre Bishop Rebuts Grand Jury Report
By Daniel J. Wakin
New York Times
February 13, 2003
Bishop William F. Murphy of Rockville Centre responded yesterday to a scathing grand jury report about his diocese's handling of clerical sex abuse on Long Island with an impassioned and sometimes personal defense.
Many of the points he raised seemed to be direct rebuttals to denunciations in the report, which was released by a Suffolk County panel on Monday. The grand jury found that the diocese had duped victims with a sham "intervention team" to avoid scandal, suppress abuse charges, keep scores of abusive priests in the ministry and limit damage payments.
The bishop pointed out that he replaced the intervention team last April and added a broader review board to oversee it, required all abuse allegations to be reported to the authorities and banned confidential money settlements of claim. He said he had adopted a professional code of conduct for employees, promised to tell parishioners if one of their priests abused children and announced that any priest found unfit to be near children would be barred from all "pastoral ministry."
"The work is not over," he said in a column posted on the diocese's Web site and published in The Long Island Catholic newspaper yesterday. "We are, however, doing all that we know how to do in order to act rightly."
But the bishop did not address several major areas where the grand jury found fault.
Several pastors testified that they did not have access to personnel records that would have alerted them to problems with priests appointed to their parishes. "Whether it's going to change or not, I don't know, because it hasn't been discussed," said Joanne C. Novarro, spokeswoman for the diocese.
Further, members of the priests' board that helps make assignments did not receive damaging information from confidential files of applicants, the grand jury said. That remains the case, Ms. Novarro said. The director of priest personnel does have such access, she said.
In one example cited by the grand jury, the board heard no details about a priest with a long history of abuse -- including reports that he rubbed the backs of altar servers with his crotch and put a dog collar around a boy's neck. One pastor for whom the priest worked was not told of letters of complaint, psychological evaluations and a recommendation that he be closely watched.
What the board did hear, the grand jury said, was only that the priest "didn't use good judgment."
The grand jury cited a number of cases in which priests turned a blind eye to suspicious behavior by fellow priests, like adolescent overnight guests and drinking in the rectory. While there are no written procedures for what pastors should do in those cases, "Now they're going to be told you need to report this," Ms. Novarro said.
The report also cited a case in which an abusive priest was transferred to another diocese without his records, which would have revealed his actions. There are no plans to pass on records in such cases, Ms. Novarro said. The bishop will continue to rely on a form that attests to a priest's clean record, she said.
Bishop Murphy defended his overall performance. "While I believe my colleagues and I have acted properly in every case we have handled in this diocese since September 2001, the church's failure to deal with this properly in the past will remain with us a long time," he said.
The comment appeared to distance Bishop Murphy from his predecessors, particularly Bishop John R. McGann, who served from 1976 until his retirement at the beginning of 2000. Bishop Murphy took over in September 2001.
Before Bishop Murphy came to Long Island, he was a top aide to Cardinal Bernard F. Law in Boston and was closely involved in handling the cases of abused priests there. He has been named in lawsuits brought by victims of Boston priests and was summoned to appear before a grand jury there this week.
In his column, the bishop said he may seem like a Boston import, "which makes me suspect automatically." Indeed, he said, he has been accused of mishandling abuse cases there. "Difficult as it is for me to have to defend myself, I must tell you that there is no evidence of that and, in fact, the opposite is the truth," he said.
The bishop expressed some frustration. Despite working hard for the diocese, he said, "My efforts to date have not removed opinions about my character."
A spokesman for the Survivor's Network of Those Abused by Priests, David Cerulli, said that the bishop's position in Boston made it hard to trust in his "change of heart."
"He's lost his credibility," Mr. Cerulli said. "What does that say about the moral character of a leader of the church when the only way he makes changes is when public opinion or the legal community forces him to change?"
Ms. Novarro defended her boss, saying that most of the damage had not occurred on his watch and that he had not been given enough credit for his actions in Rockville Centre.
"This isn't the evil empire," she said.

Bishop Murphy Asks For Forgiveness
Wcbs880.com
February 13, 2003
http://wcbs880.com/topstories/topstoriesny_story_044074155.html
In response to a scathing grand jury report that accused the Diocese of Rockville Centre of protecting sexually abusive priests, Bishop William F. Murphy pledged to "deal openly, honestly and responsibly" with the crisis.
"As Church leaders, we carry a tremendous burden of shared guilt and remorse over what has happened," Murphy said in a statement posted Wednesday on the diocese's Web site and published in The Long Island Catholic newspaper.
"I am deeply sorry for this failure, I ask forgiveness from every person affected by this horrific scandal and I pledge to do all I can to deal openly, honestly and responsibly in all these matters...," Murphy wrote.
On Monday, the Suffolk County district attorney's office released a 180-page report from a special grand jury that accused the diocese of ignoring dangerous priests, transferring abusive priests from parish to parish, hiding the truth about the extent of the sex abuse crisis and limiting damage payments.
Murphy was not subpoenaed but declined to voluntarily testify before the grand jury.
In his letter, Murphy said that he had responded to the crisis by instituting a policy that required all accusations of sexual abuse to be reported to the authorities, adopting a professional code of conduct for all church employees and pledging not to readmit to the ministry any priest unfit to be near children.
While Murphy said in his letter that "the work is not over," he noted that church officials were doing everything they could to repair the damage caused by the scandal.
"While I believe my colleagues and I have acted properly in every case we have handled in this diocese since September 2001, the church's failure to deal with this properly in the past will remain with us a long time," Murphy said.
The comment was an apparent attempt to distance himself from his predecessors, namely Bishop John R. McGann, who served from 1976 until 2000. Murphy took over at the Diocese of Rockville Centre in September 2001.
Previously, Murphy was the former second-highest ranking official in the Archdiocese of Boston, where he was involved in nearly one-third of that city's priest sex abuse cases while serving as top deputy to Cardinal Bernard Law.
Although Murphy has been named in lawsuits brought by victims of Boston priests, the bishop said in his letter that there was no evidence he had mishandled the cases.
Murphy testified Wednesday before a Massachusetts grand jury investigating whether he and other church officials can be prosecuted for allegedly protecting abusive priests.

L.I. Monsignor Scorns Jury, Insisting He Is No 'Monster'
Reported by Dan Barry, Daniel J. Wakin and Elissa Gootman and written by Mr. Barry
New York Times
February 20, 2003
Although his name never appears in the recent Suffolk County grand jury report on sexual abuse by Roman Catholic priests on Long Island, Msgr. Alan J. Placa acknowledges that he emerges as a central villain. Not only does the report suggest that he is the imperious architect of policies that protected pedophiles, but it says that three decades ago he groped teenage boys through their clothes and made "feeble attempts" to grope an altar server.
Before the sexual abuse scandal spread to the Long Island diocese last year, Monsignor Placa was best known as the high-ranking adviser in the Diocese of Rockville Centre; the close friend of former Mayor Rudolph W. Giuliani; the gifted homilist who struck some as brilliant and others as clinically detached, even arrogant. Now he is portrayed as the dark figure, "Priest F," in the angels-and-devils story laid out in 180 pages by last week's grand jury report.
"I'm not even a human being," he said during an interview last week at the Midtown office of Giuliani Partners, where he works as a consultant. "I'm a monster."
Monsignor Placa was not among the 97 witnesses to testify before the grand jury during its eight-month inquiry. Robert Clifford, a spokesman for the Suffolk County district attorney's office, declined yesterday to discuss who had been subpoenaed and who had not.
But if the monsignor had testified -- and he would have, he says -- the grand jury would have seen a 58-year-old man with a meticulously groomed beard and mustache, whose pale face flushes at the thought of his precipitous fall. A year ago he was the bishop's representative on extremely delicate matters, conducting the diocesan equivalent of internal affairs investigations. Now he is on administrative leave, pending the outcome of the diocese's inquiry into the abuse allegations. For now, he is prohibited from celebrating Mass in public and wearing clerical garb without permission from the bishop.
With alternate flashes of erudition and impatience, Monsignor Placa emphatically denied virtually everything said about him in the report -- especially the declaration that he abused minors -- and frequently played down his influence within the diocese.
For years his reputation within the diocese was that of "a heartless persecutor of priests," he said. "And now, in fact, to be told that I was not a protector, but a predator. That I was a predator because of the preposterous allegations of abuse lodged against me personally, and that I was the architect of a policy whose purpose was to deprive people of their rights and to protect sexual ---- that's heartbreaking."
The subject of Monsignor Placa generates strong emotions, pro and con. "I would trust him to handle anything with judgment and good taste and to always do the right thing," said Peter Powers, a former deputy mayor to Mr. Giuliani who has known Monsignor Placa since high school. But Robert Fulton, who was the diocese's director of priest health services before leaving the priesthood, said: "Placa tried to handle this all to the law of Placa. People didn't trust him; he's a snake."
To make sense of the wrenching crisis at the Diocese of Rockville Centre, one first has to make sense of Monsignor Placa.
Alan Placa attended Bishop Loughlin Memorial High School in Brooklyn, where he began lifelong friendships with Mr. Giuliani and Mr. Powers. The three men have often reminisced about attending opera performances, and staying up late to talk about politics, theology and poetry.
The three friends also attended Manhattan College together. Mr. Giuliani said later that he and Alan Placa had considered earning doctoral degrees and becoming "practicing philosophers," earning a living by "just sitting somewhere, developing ideas and thoughts." Instead, Rudy Giuliani and Peter Powers went on to law school, and Alan Placa went on to the seminary.
Alan Placa was ordained a priest in May 1970, and assigned as an associate pastor at St. Patrick's parish in Glen Cove. Then, from 1974 to 1978, he was the dean of students at St. Pius X Preparatory Seminary, a high school in Uniondale. He worked for Catholic Charities, graduated from Hofstra University School of Law and, before long, became the diocese's point man under Bishop John R. McGann on the occasional allegation of abuse involving a minor.
"We'd often observe that they'd come in clumps," he said. "We'd get two or three in the space of a month, and then we wouldn't hear anything for months."
He cast himself as an expert on clerical sexual abuse, helping the diocese devise legal policies and consulting on cases around the country. In 1990, he contributed an essay to a book called "Slayer of the Soul: Child Sexual Abuse and the Catholic Church," in which he emphasized that a diocese must first treat victims compassionately -- although, he added, "as a lawyer I am not ashamed to admit that I have a concern for protecting the assets of the church."
In his essay, he warned that a mere accusation can cause lasting damage to a priest. He also suggested that an abusive priest can return to ministry after extensive, effective treatment, but only under supervision and with no contact with minors. He reiterated that position during last week's interview; he said that the "zero tolerance" policy adopted last year by American bishops -- in which priests found guilty of a single sexual offense are automatically removed from ministry -- was immoral and "un-Christian."
The Rev. Stephen J. Rossetti, a psychologist who edited the book, said that Monsignor Placa was among the first priests to focus on clerical sexual abuse. "Before everyone casts him in the role of being a bad guy, Al is one of the pioneers who tried to help the church," said Father Rossetti, the president of the St. Luke Institute in Silver Spring, Md., where priests accused of sexual abuse were sometimes sent for evaluation.
But the grand jury report portrays Monsignor Placa as a central figure in a conspiracy of decades within the Diocese of Rockville Centre to save face and money -- by shuffling abusive priests from parish to parish and by using an "intervention team" to trick victims into silence and to quash legal claims. He was arrogant and cold, it said, so much so that a nun once called him a bastard. And, when interviewing alleged victims, he purposely disguised the fact that he was a diocesan lawyer as well as a priest.
To support these impressions, the report quotes from several of the monsignor's memorandums. In June 1993, for example, he instructed colleagues not to identify him as a lawyer when referring abuse cases to him, in part because he served as an administrator in such cases. "My legal training is very useful in helping to gather and analyze facts," he wrote, "and in helping us to avoid some obvious pitfalls, but we must avoid 'frightening' people."
Over the last year, several victims and their relatives have complained about Monsignor Placa's manner. Kathy Lotten, whose son was abused as a teenager by a priest in Kings Park in the late 1970's, called the diocese in 1993 after learning that the priest had been appointed pastor at another parish. She said that Monsignor Placa was "kind of oily."
"He was very articulate and used a lot of big words, which I felt was to intimidate me," Mrs. Lotten said. "One in particular I remember was, if this priest is guilty he's guilty of ephebophilia" -- the abuse of an adolescent, not a child. "He said, 'Are you aware that the statute is way out,' or something along those lines, and I can't sue."
"I wouldn't swear to it, but I do not remember him saying that he was an attorney," she said. "If he was there as an attorney, then I should have had an attorney."
Monsignor Placa dismissed the controversy over his priest-lawyer role as a "red herring." He said that if he had identified himself as a lawyer, people might have mistakenly thought that he handled litigation on abuse cases, which he did not. Besides, he said, "the vast majority of cases, 95 percent of the cases, were outside the statute of limitations."
"Everyone came to me because I was the bishop's representative," he said, his voice rising in disbelief. "They knew that. Not only did they know it -- it wasn't something that was slipped over on them -- it's what they asked for."
He also said: "If I had identified myself as a lawyer, what would they have done differently? Not told me their troubles?"
The monsignor said the report left the impression that he was omnipotent within the church. This impression was bolstered by the central role he played in the annulment of Mr. Giuliani's first marriage to his second cousin in the early 1980's.
The monsignor said that perception of power was overblown. He said he played no role in reassigning priests and rarely kept track of an accused priest once he had completed the evaluation. In fact, he said, the diocese sometimes ignored his advice to have all accused priests evaluated at facilities with no connection to the church.
He oversaw health care for the diocese, he said, and, as a member of its intervention team, conducted the initial investigation of most of the allegations of abuse by priests. He said that in every case, he offered to arrange counseling for the alleged victims -- whether he believed they were telling the truth or not -- and that in every case, "the priest was immediately removed from his assignment" for evaluation.
He said that many priests despised him as a result, but that he had no choice. If an alleged victim came forward to say that the claim had been made up, then Monsignor Placa said that he would apologize to the priest, and ask for the priest's forgiveness.
"However, suppose you try the other direction," he said. "I come to you, I say this kid says you did this. You say, 'I did not,' and I say, 'I believe you.' And two weeks later you molest another child. Who the hell is going to go to that kid and say, 'I'm sorry'?"
Monsignor Placa said that the diocese did make mistakes, but he categorized them as being in the "If I knew then what I know now" vein. He maintained, for example, that the model he developed for responding to allegations of abuse -- the three-priest "intervention team" -- was sound, and saw no difference in the model now used by the bishop of Rockville Center, William Murphy: a three-member team that includes a priest, a nun and a former police chief.
"The model is skills sets: legal, clinical and church administrative," he said. "I don't think there's any difference at all, unless you assume that priests are untrustworthy." Then he added that having a woman on the panel "enriches the way that model works."
When asked to cite one mistake that he personally made, he began by again saying, "If I knew then what I know now." He remembered a complaint about a priest who frequently invited children to listen to music in his room in the rectory. Monsignor Placa interviewed the children and the priest, and determined that nothing untoward was happening, although, he said, he told the priest and his pastor that these get-togethers were not "wise."
"As a matter of fact, I now find out that he was in fact apparently sexually abusing kids," he said.
Monsignor Placa is not named in the grand jury report. Mr. Clifford said the district attorney's office believed no one was identifiable, a responsibility that he said had been "handled with care."
But general biographical details, combined with the report's statement that Priest F was instrumental in developing the diocese's policy on abuse allegations, clearly point to Monsignor Placa.
According to the grand jury, Monsignor Placa -- or "Priest F" -- was guilty of the very behavior that he was trying to weed out. It said that in the early 1970's, he demonstrated conduct that "was, at first, so equivocal, his victims weren't really sure it was happening to them -- that is, until it happened again and again and again."
On two occasions, the report says, Priest F "appears to have made feeble attempts at abusing a boy who was an altar server." It adds, "This victim came forward decades later, only after Priest F denied sexually abusing anyone in a local newspaper story about sexually abusive priests."
Monsignor Placa said that the first he heard of this allegation, which dates to his years as a young priest at St. Patrick's in Glen Cove, was "when I read the grand jury report." He denied ever trying to grope a minor.
The grand jury report says that Priest F was then given an assignment "that provided a large and continuous source of boys -- a school," a reference to St. Pius. It says that Priest F was "cautious but relentless in pursuing his victims"; that he groped boys behind a newspaper, book or poster; and that everyone in the school knew to stay away from him.
Although the report is vague on how many people have accused Monsignor Placa of groping them at St. Pius, one is clearly Richard Tollner, a 1977 graduate who is now a mortgage broker living near Albany. Mr. Tollner has told reporters, the grand jury and diocesan officials that Monsignor Placa repeatedly groped him. He has said that he mentioned the incidents to a classmate, Kevin Waldron, and that he complained to a math teacher, Angelo Scordato.
Mr. Waldron said yesterday that he specifically recalled that Mr. Tollner had told him about the groping. But Mr. Scordato, now retired, said on Sunday that he had no recollection of such events, and that he told Mr. Tollner this when Mr. Tollner called him while cooperating with Newsday last year on an article about Monsignor Placa.
"I find it incredible that I'd forget something like that -- and I'm not senile," Mr. Scordato said. "I would have gone directly to the rector's office. I wouldn't have tolerated that kind of nonsense."
Last spring, after Newsday reported Mr. Tollner's allegation, the Nassau County district attorney's office notified the diocese that it was investigating the alleged abuse, a quarter-century later. As a result, Bishop Murphy placed Monsignor Placa on administrative leave.
Mr. Tollner said this week, "I have nothing to add to my previous testimony, and I stand by it." Monsignor Placa said that he never touched Mr. Tollner, whom he remembered as a "troubled boy" who was always "singling himself out."
Monsignor Placa said that he was especially outraged to see himself included in the "Priests as Perpetrators" section of the grand jury's report. There are detailed allegations of abuse: of children being raped by priests, of a minor being taken to a sex club by a priest -- and, as the monsignor noted in a sarcastic tone, "a clumsy attempt to abuse by touching someone's thigh."
"Give me a break!" he said. "Let me tell you something. My hand up to God, I didn't do any of those things! But if that were true, does that belong in there?"
Monsignor Placa has no choice but to wait for the diocese to complete its inquiry. He said that he expects to be exonerated, which would allow him to return to ministry. Until then, he wears a suit to the offices of Giuliani Partners.
[Photo caption: Msgr. Alan J. Placa, in a photo he supplied through Giuliani Partners. He is now on administrative leave from the Diocese of Rockville Centre. (Nick Iverson)



Experience to Remember
Grand jury forewoman recalls work on diocese case

By Rita Ciolli
Newsday
February 22, 2003

http://www.newsday.com/news/local/longisland/ny-sexgrandjury0223,0,517754.story?coll=ny%2Dli%2Dspan%2Dheadlines

For eight months, Rosanne Bonventre swore in all the witnesses, logged all the documents and heard all the testimony submitted as evidence in the investigation of the Catholic Church on Long Island. Now her secret role as forewoman of the grand jury is over, but she feels her work has just begun.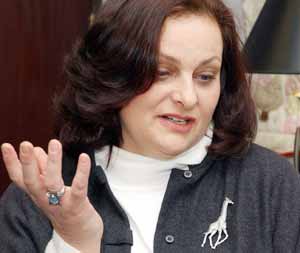 Roseanne Bonventre was the forewoman of the grand jury that investigated the Catholic Church on Long Island. (Newsday/ Jim Peppler)
"There is no satisfaction that we busted these priests," Bonventre said recently. "Those victims can't have their life back again. What we can do is make sure that it won't happen again. That is the only justice we can give to these victims."
Her name is the only one mentioned on the stark cover of the scathing 180-page report on priests who sexually abused children and how it was covered up by the Diocese of Rockville Centre. The report was the first major examination of how one diocese dealt with abuse, and its findings reverberated around the nation when it was released two weeks ago. Suffolk District Attorney Thomas Spota said that had there been no time limit on prosecutions, he could have brought charges against 23 priests in the diocese.
Bonventre, 49, says that having her name pulled by chance -- she was 17th of the 23 jurors chosen -- and her impulse to volunteer as forewoman because she likes to take charge of things may have been "divine inspiration." It came at a time in her life when she was ready to take on a new challenge.
"Someone said to me that in six months, no one will care; I don't want that to happen," she said. "I want George Pataki to read this report. I want the State Assembly to read this report. I want anyone who has any power to protect children to read this report.
"We did not waste our time and taxpayer money for anyone to forget this," she said. The report, in lurid details, told of the misbehavior of some priests who were only identified by a letter of the alphabet. "Don't be so concerned with what priest A to Z did," she said. "Be more concerned about never letting this happen again."
Bonventre was careful not to talk about the priests or their victims or to violate state law by disclosing grand jury testimony. But she did describe what it was like for the 23 grand jurors who met three days a week in the dingy basement of a Hauppauge government building.
There was a quorum every time they met. She said the grand jurors read every one of the 180 pages of the report before it was released, even correcting punctuation and suggesting changes in wording. They argued back and forth about how much time victims should be given to report abuse and agreed to tone down some of the more explicit language at the suggestion of Spota, who called for the grand jury investigation in the spring.
Bonventre of Medford says the experience is not something that can be forgotten very easily. "We would laugh and joke around so we wouldn't have to think about the sorrow and frustration," she said. "We had a lot of sleepless nights trying to absorb what we heard."
Her only sense of guilt, or regret, she said, was that she and many jurors were initially so tough in questioning those who said they were abused. "We kept saying, Why did you wait so long to say something?" Then, she said, experts explained to them about how sexual predators cultivate, threaten and scare their victims silent and about the difficulties victims have in confronting their abusers.
"Being Catholic didn't matter," she said about herself, noting that while members of many faiths served, she sensed that a good number were Catholics, reflecting the demographics of Long Island. The Diocese of Rockville Centre says there are 1.3 million Catholics in Nassau and Suffolk, making it the nation's sixth largest diocese.
"We just separated the fact that these were Catholic priests and it was the Catholic Church," she said. "They were just people, in a big corporation, and we were examining what they did wrong. And we found they got away with the perfect crime."
The outrage over what happened, however, doesn't appear to be easily translating into new laws. Only the grand jury's proposal requiring clergy to immediately and directly report the sexual abuse of a child to law enforcement is likely to be enacted by the State Legislature this session, according to legislative aides. A version failed in the Senate last year because of concerns by the New York Civil Liberties Union, Family Planning Advocates (the lobbying arm of Planned Parenthood), educators and counseling organizations that the proposed law was too broadly written.
"Both houses are trying to work something out, to reach some kind of agreement this year. It is something actively under discussion," said Mark Hansen, spokesman for Sen. Joseph Bruno (R-Brunswick), majority leader of the State Senate.
The grand jury's recommendation about extending the statute of limitations in civil and criminal cases will be a much more difficult fight. Robert Perry, legislative counsel to the New York Civil Liberties Union, said his group would oppose removing or extending the deadlines. Faulty memories and lack of evidence are reasons those statutes of limitations exist in the first place, he said.
There has yet to be any bills introduced that would allow sexual abuse victims more time to file criminal complaints or bring civil lawsuits.
In a lengthy interview last week, Bonventre described herself as a housewife who keeps the books for her husband's business. For 30 years, Tony Bonventre has been selling coffee and doughnuts to morning commuters from a truck on the service road of the Long Island Expressway.
"He was the one who convinced me to talk, to put a face on the grand jury so people will better understand what we did," she said.
Bonventre was one of eight children who grew up on a farm 20 miles west of Utica in upstate New York. Her mother, a Russian-Polish Jew, converted to Catholicism when she got married. The family walked a mile on Sunday to Mass at St. Therese's, a one-room church. Her mother, who became very devout in her new faith, sewed all the clothes for the church's Infant of Prague, a popular devotion to the infancy of Christ with believers petitioning for favors and miracles.
In Bonventre's dining room today, there hangs a mosaic of St. Peter's Basilica in Rome. Every August, the family vacations in the Sicilian town her husband emigrated from in 1954. There, the family joins the annual procession in honor of the patron saint of Castellammare del Golfo, which winds through the narrow streets to the shore. "We hold candles that drip on the cobblestone streets and follow behind the statue of the Madonna," she said.
Bonventre moved to Long Island in 1979 with her first husband and stayed after they divorced. Bonventre, who had her first child at age 19, never got around to taking college courses until she was in her 40s. She considers herself very spiritual but admits that she doesn't get to Mass every Sunday. "Being divorced does limit my ability to practice the faith; I can't take the Eucharist," she said.
Bonventre tells everyone she sees to call their legislators. She is optimistic. But even though there are no major changes, she still feels the report will have benefited the victims, her major concern. "I think we gave all victims credibility. They didn't come forward before because they feared no one would believe them. Now they will."