Cardinal Bevilacqua's Management of Abuse Allegations
Assessments of the Philadelphia Grand Juries in 2003, 2005, and 2011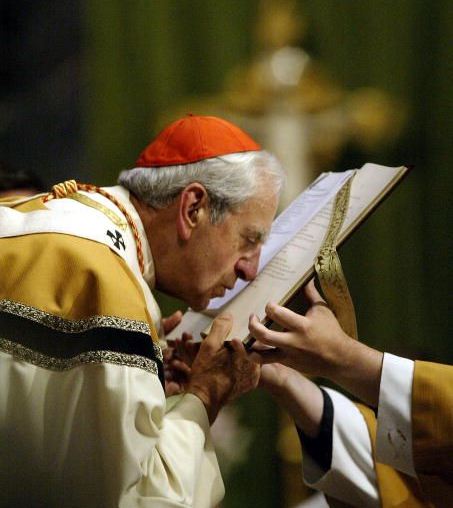 Cardinal Anthony Bevilacqua
Cardinal Anthony Bevilacqua died on January 31, 2012, shortly before the scheduled trial of his senior manager, Msgr. William Lynn. Below we provide excerpts from the assessments of Cardinal Bevilacqua from the Philadelphia Grand Jury Reports in 2003, 2005, and 2011.
See also church documents from the Philadelphia archdiocese and the Brooklyn diocese, showing Bevilacqua's methods in those dioceses and Pittsburgh.
Over the past two decades, Msgr. Lynn has put literally thousands of children at risk of sexual abuse by placing them in the care of known child molesters. We believe that legal accountability for Msgr. Lynn's unconscionable behavior is long overdue, and that he should be prosecuted for endangering the welfare of the victims in these cases.
We would like to hold Cardinal Bevilacqua accountable as well. The Grand Jurors have no doubt that his knowing and deliberate actions during his tenure as Archbishop also endangered thousands of children in the Philadelphia Archdiocese. Msgr. Lynn was carrying out the Cardinal's policies exactly as the Cardinal directed. In most of the cases we reviewed from the previous grand jury report, Cardinal Bevilacqua knew substantially everything that Msgr. Lynn knew about the danger posed by the accused priests.
Philadelphia Grand Jury Report 2011, p. 115
We find that Cardinal Bevilacqua, Monsignor Lynn and other Archdiocesan managers most directly put children at risk when they knowingly permitted priests whom they knew, or were substantially certain, had sexually abused children to have continuing access to children. In summary, we find that the Archdiocesan protocols for investigating abuse, for diagnosing and treating sexually abusive priests and for returning sexually abusive priests to ministry, policies Cardinal Bevilacqua either established or continued, jeopardized the safety of children.
Philadelphia Grand Jury Report 2003, p. 6
The Grand Jurors find that, in his handling of priests' sexual abuse, Cardinal Bevilacqua was motivated by an intent to keep the record clear of evidence that would implicate him or the Archdiocese. To this end, he continued many of the practices of his predecessor, Cardinal Krol, aimed at avoiding scandal, while also introducing policies that reflected a growing awareness that dioceses and bishops might be held legally responsible for their negligent and knowing actions that abetted known abusers. To protect themselves from negative publicity or expensive lawsuits – while keeping abusive priests active – the Cardinals and their aides hid the priests' crimes from parishioners, police, and the general public. They employed a variety of tactics to accomplish this end.
Philadelphia Grand Jury Report 2005, p. 31
The reason for Msgr. Lynn's apparent lack of judgment, curiosity, or common sense in refusing to acknowledge the truth of abuse allegations became evident when Cardinal Bevilacqua testified. The Cardinal said that, when assigning and promoting priests, he disregarded anonymous or third-party reports of sexual crimes against children that were contained in many priests' files. The Cardinal, like his Secretary for Clergy, claimed to be unable to determine whether the reports were true. He told the Grand Jury that he could not know without an investigation. And yet the staff, with his approval, never truly investigated these reports – no matter how serious, how believable, or how easily verified. This was the case even when victims were named and other priests had witnessed and reported incidents. The Cardinal conceded under questioning that allegations against a priest were generally not labeled "credible" unless the priest happened to confess. The Grand Jury is convinced that the Archdiocese could have identified scores of child molesters in the priesthood simply by encouraging other clergy to report what they witnessed – for example, incidents in which they saw fellow priests routinely take young boys, alone, into their bedrooms. We heard from many victims that their abuse had been witnessed by other priests.
Philadelphia Grand Jury Report 2005, pp. 32-33
Cardinal Bevilacqua had a strict policy, according to his aides, that forbid informing parishioners – either those whose children had recently been exposed to a sexual offender in his old parish or the parents of potential victims in a newly assigned parish – about any problems in a priest's background. The Cardinal, in fact, encouraged that parishioners be misinformed.
Philadelphia Grand Jury Report 2005, p. 36
Cardinal Bevilacqua also reciprocated with other dioceses, as part of what an aide referred to as the "tradition of bishops helping bishops." For five years, beginning in 1988, Cardinal Bevilacqua secretly harbored a New Jersey priest, Fr. John Connor, at Saint Matthew parish in Conshohocken so that the bishop in Camden could avoid scandal there. Cardinal Bevilacqua, despite an earlier acknowledgement that Fr. Connor could present a "serious risk," did not inform Saint Matthew's pastor of the danger. In fact, he told the pastor that Fr. Connor had come to the parish from another diocese because his mother was sick and he wanted to be near her. The pastor never knew, until he read it years later in a newspaper, that Fr. Connor had been arrested in his home diocese of Camden for sexually abusing a 14-year-old. As a result of his ignorance, the pastor did not worry, as he should have, when Fr. Connor showered attention and gifts on a boy in the parish grade school.
Philadelphia Grand Jury Report 2005, p. 38
By the time Cardinal Bevilacqua became Archbishop in Philadelphia, it was no longer possible to tell victims' parents that an abusive priest had been treated and was now fit for a parish assignment. The Cardinal was aware of the nature of pedophilia – that it cannot be cured, that sexual abusers of children often have hundreds of victims, that the abusers need lifelong treatment and supervision, and that they need to be kept away from children. In 1985, he had been given a copy of a report, the Doyle-Mouton-Peterson "Manual," and had discussed it with one of the authors, Fr. Thomas Doyle, who testified before the Grand Jury. The report contained several medical articles on sexual disorders, as well as legal and pastoral analyses. The authors were hoping to alert the U.S. bishops to the problems presented by pedophilia among priests and to help bishops know how to handle cases as they arose.
Cardinal Bevilacqua, however, used this knowledge about pedophilia not to protect children, but to shield the Archdiocese from liability. Central to his scheme was a policy designed to sound tough: Based on what was known about sexual abusers, he would not give an assignment to any priest who was diagnosed as a pedophile (someone with an enduring sexual attraction to prepubescent children) or an ephebophile (someone with an enduring sexual attraction to adolescents). But then he and his aides made a mockery of evaluation and therapy to avoid reaching these diagnoses. In the absence of a formal designation of pedophilia or ephobophilia, Archdiocese officials perverted logic to reach the converse of the Cardinal's "rule" – if a priest was not diagnosed a pedophile, he would be given an assignment. Never mind the Church leaders' full knowledge that the priest had abused children.
In fact, a failure to diagnose a priest as a pedophile is not the same thing as determining that he is not a pedophile. We repeatedly saw situations where treatment facilities found evidence to suggest pedophilia, but did not have sufficient information to make a conclusive diagnosis. This was especially problematic when the "treatment facility" did not use up-to-date tests and technology in making its diagnoses, and instead relied primarily on self-reports of the priests. The Archdiocese-owned Saint John Vianney Hospital was such a facility. In other words, to determine if a priest was a pedophile, the "treatment" facility often simply asked the priest. Not surprisingly, the priest often said no. In addition, Church-affiliated centers would often fail to diagnose priests as pedophiles if they claimed to be acting under the influence of drugs or alcohol, or had sex with adults.
Philadelphia Grand Jury Report 2005, pp. 44-45
Cardinal Bevilacqua's policy afforded easy opportunities for Archdiocese managers to manipulate treatment and diagnoses to keep abusive priests in the ministry. Secretary for Clergy Lynn often failed to provide incriminating information to therapists about priests he sent for evaluation. No Church-affiliated therapists spoke to victims or witnesses. The Cardinal allowed priests to shop for diagnoses, granting requests for second opinions when the priest was dissatisfied with the first.
The Grand Jurors find it significant that, according to the records we reviewed, the Archdiocese stopped using Saint Luke Institute in Suitland, Maryland, a facility it had used often in the past that does use up-to-date evaluation tools. The relationship with Saint Luke ended in 1993 after it diagnosed Fr. McCarthy as an ephebophile. (The priest had admitted to therapists that he was sexually attracted to adolescent males.) Thereafter, Church officials began referring sexual offenders almost exclusively to the Archdiocese's own Saint John Vianney Hospital for evaluation – a facility under Cardinal Bevilacqua's purview and supervision and more attuned to his priorities.
d. The Cardinal attempted to evade personal liability for retaining abusers by claiming to rely on therapists' recommendations.
When asked by the Grand Jury why he placed obviously dangerous men in positions where they could abuse children, Cardinal Bevilacqua repeatedly testified that he relied on the advice of therapists. Those therapists, however, more often than not worked for him. That they understood their role as protecting the Archdiocese from legal liability was evident in many of the files we reviewed.
Philadelphia Grand Jury Report 2005, pp. 46-47
Another feature of the Bevilacqua administration's handling of priest sexual abuse was a practice known as "limited ministry." Like the "no pedophile" policy, limited ministry was designed to make it look as though the Archdiocese was trying to protect children. Once again, we find that the true purpose was to protect the Archdiocese – from criticism that it was simply transferring abusive priests from parish to parish as Cardinal Krol had done and, more importantly, from legal liability. We also find that the practical effect of knowingly creating a false safeguard was to endanger more Philadelphia-area children.
Limited ministry was designed to allow priests who had sexually abused children, but were "not diagnosed as pedophiles," to continue in ministry. Most often such priests were officially assigned to nursing homes, hospitals, or convents. In practice, however, their official assignments were rarely full-time, and the priests had freedom to help out in parishes all over the Archdiocese. The supposed limitations on their ministry – in many cases not enforced – were never publicized, so unwitting pastors eager for help welcomed the priests and let them have unrestricted access to parish children.
Philadelphia Grand Jury Report 2005, pp. 48-49
We are aware of no case in which Cardinal Krol met with an abuse victim or his or her family. Cardinal Bevilacqua also shielded himself from contact with victims. He was the head of the Philadelphia Archdiocese 14 years before he would meet with a victim, and even then it was a non-Archdiocesan victim (who could not, therefore, sue him), whom he met during a meeting of the United States Conference of Catholic Bishops in 2002.
Philadelphia Grand Jury Report 2005, pp. 52-53
Cardinal Bevilacqua continued to try to hide all he knew about sexual abuse committed by his priests even in 2002, after the scandal in Boston drew attention to the problem nationally. He had his spokeswoman tell the Philadelphia media in February 2002 that there have been only 35 priests in the Archdiocese credibly accused of abuse over the last 50 years – when in fact the Archdiocese knew there were many more.
Philadelphia Grand Jury Report 2005, p. 53
In concealing the crimes of sexually abusive priests while keeping them in ministry, the Cardinal and his aides did not merely fail to protect children from terrible danger. They greatly increased the danger and the harm to Archdiocese children. When Cardinals Krol and Bevilacqua promoted and celebrated known abusers – rapists and molesters of children – and left them in positions as pastors, parish priests, and teachers, they in effect vouched for their holiness and trustworthiness and encouraged parents to entrust their children to them. When Church leaders hid allegations against priest child molesters and deliberately placed them in parishes where unsuspecting families were kept in the dark, they minimized parents' ability to protect their children. When they transferred the priests to new parishes to avoid scandal, they greatly increased the numbers of potential victims.
When they withheld from parents knowledge of their child's abuse, they sentenced that child to years of lonely suffering. By not reporting the crimes to law enforcement, they frustrated safeguards designed to protect children in society at large.
What makes these actions all the worse, the Grand Jurors believe, is that the abuses that Cardinal Bevilacqua and his aides allowed children to suffer – the molestations, the rapes, the lifelong shame and despair – did not result from failures or lapses, except of the moral variety. They were made possible by purposeful decisions, carefully implemented policies, and calculated indifference.
Philadelphia Grand Jury Report 2005, p. 55