Ex-seminarian's charges lead to removal of priest
By Dawn Fallik
St. Louis Post-Dispatch
March 8, 2002

http://www.stltoday.com/stltoday/news/special/probpriests.nsf/0/140216BA423D2AEF86256B7600261EB7?OpenDocument

A former seminary student's allegations of sexual abuse resulted in the removal of a north central Missouri priest this week.
Christopher Dixon - the former student, who later became a priest - also made similar allegations against two other priests, including the current bishop of the Diocese of Palm Beach, Fla.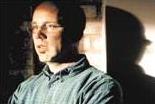 Christopher Dixon was abused by priests while in the 5th grade at St. John's Seminary School in Jefferson City, after complaining to supervising priests he was abused by two of them, one of whom is Bishop Anthony O'Connell now of West Palm Beach, Fla. The other is Father Manus Daly, now located in Marceline, Mo. (Kevin Manning/P-D).

The bishop, Anthony J. O'Connell, was rector of St. Thomas Aquinas Seminary in Hannibal, Mo., when Dixon was a student there more than 25 years ago.
In an interview Thursday night, O'Connell, 63, acknowledged Dixon's allegation that they touched inappropriately in bed after Dixon sought him out for counseling as a teen-age seminary student.
"Yes," O'Connell said. "I would say that I was extremely ill-advised and naive in that approach. I have thoroughly regretted it, and I apologized to him when he made his complaint."
O'Connell in 1999 replaced a Palm Beach bishop who stepped down in the wake of a sex scandal. He said he could not comment on how Dixon's revelations would affect his own future.
In addition to O'Connell, Dixon in 1996 accused the Rev. Manus Daly and former priest John Fischer of molesting him as a student at St. Thomas and Hannibal Catholic School.
In a secret agreement, the Jefferson City Diocese gave Dixon $125,000 with the promise that he not pursue any further claims against the diocese and the priests. Although O'Connell, Daly and Fischer were named in the agreement, the diocese did not admit to Dixon's allegations in the settlement.
Fischer, 64, who headed Hannibal Catholic School, was removed from the priesthood in 1993 after other allegations of child abuse, Louis DeFeo Jr., attorney for the diocese, said Thursday.
Reached at his home in St. Louis, Fischer said he remembered Dixon as a student but denied any abuse had taken place. "That's not what happened," he said.
Daly, the seminary's dean of students when Dixon was a student, was pastor at St. Bonaventure Church in Marceline, Mo., until the Jefferson City Diocese removed him this week. He could not be reached for comment.
Daly, 64, was one of two priests the Jefferson City Diocese removed this week because of past sexual abuse allegations, said Bishop John R. Gaydos. Diocese officials declined to name the other priest but said his removal was unrelated to Dixon.
"I was looking through our files and I noticed two cases where I thought we'd have to take a look and see how things are," Gaydos said.
The removals come as Roman Catholic dioceses nationwide revisit their sexual conduct policies in the aftermath of the sexual abuse scandal in Boston. The Boston Diocese has removed 10 priests from their posts and given prosecutors the names of 80 priests accused of misconduct. The Archdiocese of St. Louis removed two priests from parishes last week.
In the past, priests accused of molesting children could be reassigned to parishes after treatment. But Gaydos said that "anyone who has ever had substantiated allegations of abuse of minors cannot be reassigned to a parish now." He said "substantiated" meant that the priest either had to admit to it, there was an arrest or conviction or a red flag was raised in an evaluation.
Officials at the Jefferson City Diocese said they notified O'Connell of Dixon's allegations in 1996. At that time, O'Connell was bishop in Knoxville, Tenn.
The Jefferson City Diocese includes 95 parishes and 15 missions in 38 counties in central and northern Missouri. Its policy, instituted in 1991, required that all priests accused of sexual misconduct be removed from their parishes and undergo treatment.
But DeFeo, the Jefferson City Diocese attorney, said officials were "not in a position at that time" to contact anyone in Tennessee. "It simply was not under our scope," he said.
DeFeo said the diocese had no reason to doubt Dixon's accusations against the three priests. "I don't recall anything that would contradict Chris' allegations," DeFeo said.
Dixon's story
Dixon, 40, who now lives in St. Louis, said the abuse started occurring when he was 11 and a student at Hannibal Catholic School. He said he was with Fischer in the sacristy, where face-to-face confessions took place.
An initial encounter there "was the beginning of several years of abuse," Dixon said.
When Dixon went to St. Thomas, he met O'Connell, then serving as the school director. He said he felt O'Connell was someone he could trust, and told him about the abuse with Fischer.
"But under the guise of trying to help me come to terms with my own body, he ultimately took me to bed with him," said Dixon. "No clothes, bodies up against each other. (It's like) see there's nothing wrong with this, there's nothing wrong with your body."
Dixon said the abuse with O'Connell continued from 9th through 12th grade.
"I'm deeply regretful that he feels that way," O'Connell said. "I thought closure was reached when the (settlement) agreement was reached."
Dixon said Daly tried to seduce him once, on a trip to Belleville.
"I didn't know how to feel," Dixon said. "I didn't think it was right. I didn't think it was wrong. These are men of God."
After becoming a priest, Dixon was assigned in 1995 as a teacher at St. Thomas under Daly's supervision. He said living where he was abused and working for someone he claimed abused him was too much to bear. He became very depressed and went into an outpatient treatment program, where he decided to leave the priesthood.
Dixon said he came forward about his past because he wants other victims to know they are not alone.
"It's a way for me to achieve a certain degree of healing, inasmuch as that's possible," he said. "I want to be a source of motivation, a catalyst for other victims to come forward."
In November 1995, Dixon said he wrote to O'Connell, then in Knoxville, about their relationship at St. Thomas. He said he asked O'Connell to get help and make restitution.
In the interview Thursday, O'Connell declined to say whether he had sought treatment.
After Hannibal, Fischer went on to become pastor at St. Peter's Church in Jefferson City and St. Peter and Paul in Boonville. He was removed in 1993. "He went through the (treatment) process and determined at the end that he would not be reassigned and would not continue in the ministry," DeFeo said.
Fischer said he was retired and no longer had any connections with the priesthood. When asked to confirm his stay at a Jefferson City treatment program in 1993, he declined to comment.
Daly was removed this week because he had never received sexual-offender treatment after Dixon's allegations, Gaydos said. Dixon's are the only allegations against Daly, the diocese said.
Daly is currently at a treatment center, the diocese said.
Sister Ethel-Marie Biri, chancellor of the Jefferson City diocese, would not identify the second priest who was removed from his parish this week.
The removal resulted from allegations made against the priest in 1997, Biri said. When the accusations originally were made, the priest was removed from his parish and placed in a treatment program, she said. After he completed the program, he was reassigned in the Jefferson City diocese, but not directly to a parish.
Biri said the priest had been at his present parish for about a year and a half. During that time, he had continued to see a therapist and "by all indications by the professional he sees, he's been doing well," Biri said.
There have not been any new allegations against Daly or the other priest, she said.
Biri said Daly had gone through a spiritual renewal program but he did not get the same level of therapy as the other priest.