Public Statement of Bishop Thomas Kelly
June 10, 2003

Reprinted in the (Louisville) Courier-Journal
June 11, 2003

http://www.courier-journal.com/localnews/2003/06/11ky/wir-11-kell0611-2917.html

Tonight, we are announcing that we have been able to reach a mediated settlement with the attorneys for 243 civil suits against the Archdiocese. With the help of a professional mediator and after five challenging and difficult days, we settled late this afternoon in the amount of $25.7 million.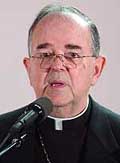 "Now let's begin the process of healing."
-Thomas Kelly



I attended the first day of mediation and then entrusted the rest of the negotiations to Dr. Brian Reynolds, our chancellor, and our attorneys.

Before Brian describes the process, let me say a few things to the victims and to the Catholic people.

First, the victims. No child should ever have had to experience what happened to you. I promise that we are doing everything we can to prevent child abuse in the church. I apologize for what we did or what we failed to do that led to your abuse. I hope that today's settlement is seen as a sign of our willingness to support you in your healing.

And to the Catholic people. These past 14 months have been terribly difficult and painful for all of us — victims, priests and parishioners. However, I believe that with this settlement we have begun to respond to the painful experiences that these men and women had as children and to seek forgiveness for the mistakes we have made.

Our goals in the mediation process were threefold: 1) justice and fairness for victims; 2) preservation of the mission of the church; and 3) protection of parish savings and property. The implications of this settlement will be tough for the Church, but I believe that we have accomplished these goals. This Archdiocese has served the Commonwealth of Kentucky for nearly 200 years, and we will continue to serve. Now let's begin the process of healing.