Archdiocese guilty of coverup

By Kimball Perry
Cincinnati Post
November 21, 2003

http://www.cincypost.com/2003/11/20/archweb112003.html

The Archdiocese of Cincinnati was convicted today of failing to report to authorities information it had about its employees sexually abusing children.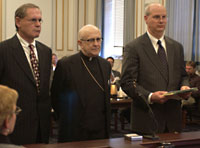 Cincinnati Archbishop Daniel Pilarczyk stands before Judge Richard Niehaus with attorneys Tom Miller, left, and Mark VanderLaan, right, in Hamilton County Common Pleas Court.
(AP photo/Al Behrman)


Archbishop Daniel Pilarczyk, representing the 19-county Archdiocese at a hearing this afternoon, pleaded no contest -- he admitted the truth of the allegations presented by Hamilton County Prosecutor Mike Allen.

Common Pleas Court Judge Richard Niehaus immediately found the archdiocese -- but no individual connected to it -- guilty of five counts of failure to report a crime and imposed the mandatory sentence, a $10,000 fine.

Allen said the archdiocese failed to report felonies in 1978, 1979, 1980, 1981 and 1982.

Despite persistent assertions by archdiocese attorneys and officials during the 18-month investigation that the organization had reported all crimes, Allen said today the archdiocese "knowingly failed to report" sex crimes involving minors and members of the archdiocese.

Calling the crimes "institutional knowledge," Allen told the judge "information was not reported (by archdiocese officials) to law enforcement authorities."

Pilarczyk refused comment after the sentencing, but the judge didn't.

Niehaus, a Catholic, blasted the archdiocese after imposing the sentence.

"I believe that this case today is an extremely tragic event," Niehaus told Pilarczyk. "I believe that a religious organization that not only should follow the civil law but also the moral law lost its way."

He also criticized the church for covering up the crimes and allegations of sexual molestation by priests "at the expense of the victims.

" I am disappointed as a citizen that any religious organization would be involved in criminal activity... such that I believe self-preservation exceeded their moral duty to minister to those people and to prevent future abuse."

Konrad Kircher, a Mason attorney representing a group accusing priests of sexually abusing them and the church of conspiring to cover it up, said Catholics around the country should take note of today's proceedings.

"This is historic. This is the first diocese in the nation to be convicted in connection with priest abuse," Kircher said.

The archdiocese and prosecutors signed a seven-page agreement by which prosecutors will gain access to church documents they had sought in the case.

The archdiocese also agreed to set up a $3 million fund for victims of sex abuse by church employees.

Kircher said the dates indicate the priests involved in the crimes mentioned today are the Revs. Lawrence Strittmatter, a former Elder High principal, and David Kelly.

"Those two were out of control in those years so it sure sounds like those two," Kircher said after the sentence.

Now, Kircher said, the wounds need to be attended to.

"I hope we can move from hurting and hiding to helping and healing," Kircher said.