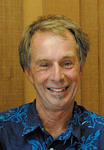 Edward F. Beutner is a retired priest who has served in pastoral and academic assignments in Wisconsin and in California. A poet and member of the Scholars Version translation committee, he specializes in the rhetorical analysis and translation of the parables, aphorisms, and other metaphorical language found in New Testament texts. He has taught comparative religion at Nicolet College in Wisconsin; and biblical studies, philosophy and literature at Ohlone College, Las Positas College, and at Santa Rosa Junior College in northern California. He is a regular contributer of articles for The Fourth R.
Publications
Perpetual Angelus: a knell of proverbs, poems and parables for morning noon and night.
Bay View, WI, Slenderbooks Series, 2004.
Season's Readings: a festival of holiday originals: pageants, poems and parables.
Bay View, WI, Slenderbooks Series, 2003.
"A Christmas Star," editor's choice award, and "Come to Bethlehem," Poetry's Elite: The Best Poets of 2000, International Library of Poetry, Owings, MD, 2001.
Jesus as Precursor
, Robert W. Funk, edited and wrote Foreword, Polebridge Press, Sonoma, CA, 1994.
"Frontispiece," FORUM (8, 3-4), Polebridge Press, Santa Rosa, CA, 1992.
"Gospel Readings," weekly column, Catholic Herald, Superior, WI, 1988-1991.
"Christ Plays": the continuance of parabolic narrative as a model of revelation in the Christian tradition
, doctoral dissertation, UMI, Ann Arbor, MI, 1990.
Academic Credentials
Ph.D. from Graduate Theological Union, Berkeley, California
M.A. from St. Louis University, St. Louis, Missouri
B.A. from St. Francis Seminary, Milwaukee, Wisconsin