Volume 3, Number 7
Tuesday, April 6, 2004
"EXCELLENT SPIRIT" AT VOCATION WORKSHOP
They traveled from all parts of the continental U.S. and Hawaii, Puerto Rico and Ireland, and ranged in age from 21 to 86. Almost 60 Marianist brothers, novices, aspirants and contacts gathered at the Marianist Retreat and Conference Center in Eureka, Mo., for a Vocation Workshop. There was an "excellent spirit" about the weekend of March 26-28, according to Province Vocation Director Bro. Charles Johnson. The keynote speaker was Bro. Paul Bednarczyk, CSC, executive director of the National Religious Vocation Conference. Provincial Stephen Glodek opened the weekend and Fr. Richard O'Shaughnessy, a member of the Society of Mary for 67 years,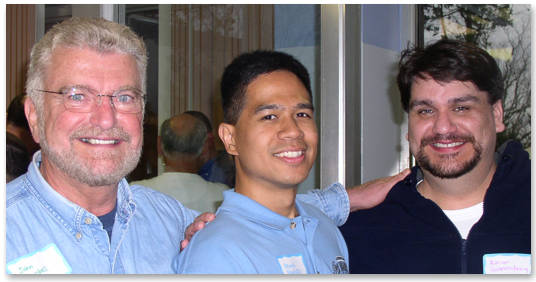 At the social for the Vocation Workshop in St. Louis, from left: Bro. John Campbell, Aspirant Dennis Bautista and Bro. Aaron Sonnenburg
shared his personal vocation story. Five panelists shared their hopes, dreams, concerns and challenges: Ben Dougherty (contact); Luke Hoenigman (aspirant); Brian Halderman (novice); Aaron Sonnenburg (temporary professed); and George Kemmett (young perpetual professed). Bro. Charles thanks all who assisted at the weekend.
| | |
| --- | --- |
| | Vocation Workshop speaker Bro. Paul Bednarczyk, CSC (left) with Province Vocation Director Bro. Charles Johnson |
NEW REGIONAL COUNCIL INSTALLED
The new Regional Council for the Region of Eastern Africa was installed at the Bro. Vincent House in Nairobi on March 19, 2004. Marianists in Nairobi and representatives from Mombasa and Kitale gathered to celebrate the installation. Fr. Michael Nartker presided at the Eucharist, and Bro. Frank Annunziata represented the Provincial. A dinner in honor of Bro. Frank and his outgoing council followed the Eucharist.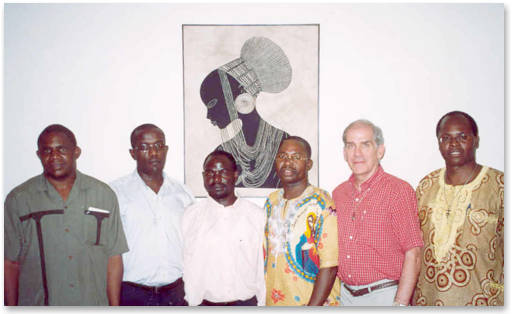 The new Regional Council, pictured from left: Bro. Timothy Mazundah (councilor-at-large), Bro. Paul Kageche (councilor for Marianist lay community development), Bro. Patrick Muthamia (councilor for the south), Bro. Chola Mulenga (Deputy Regional and Office Of Temporalities), Fr. Martin Solma (Regional Superior and Office Of Education), and Bro. Jomo Maria Mwuara (Office Of Religious Life).
PLEASE PRAY FOR THE REPOSE OF THE SOUL OF . . .


Sr. Grace Luther, FMI, 77, who died April 4, 2004, in San Antonio of congestive heart failure. May she rest in peace. The prayer service will be held April 6 at 7 p.m. at Zizik Kerns Funeral Home in San Antonio. The funeral Mass will be held April 7 at 10:30 a.m. at Guadalupe Chapel at St. Mary's University. Sr. Grace hailed from Dayton, the oldest and only girl of four children. She graduated from the University of Dayton and joined the first community of Marianist Sisters in the U.S. in Somerset, Texas. To read Sr. Grace's obit, please click here:

Bro. Josef Gossenreiter (Region of Austria/Germany), 70, who died March 13, 2004, in Fulda, Germany. May he rest in peace. To read Bro. Josef's obituary, please click here:

C. Tom Giardino, 89, who died on April 1, 2004, from complications of a heart attack and pneumonia. May he rest in peace. He was the father of Bro. Tom Giardino (Trinity Avenue, Dayton). The funeral Mass was held April 5 at Church of St. Clare, Lyndhurst, Ohio.

Richard Spang, who died on March 21, 2004. May he rest in peace. Richard was the brother of deceased Marianist religious Bro. Edward Spang.

Hilda Greguras, 73, who died on Feb. 16, 2004, in Omaha, Neb., from a lingering illness. May she rest in peace. Hilda was a Lay Marianist Affiliate.
WHITE CAMELLIA, MARCH 2004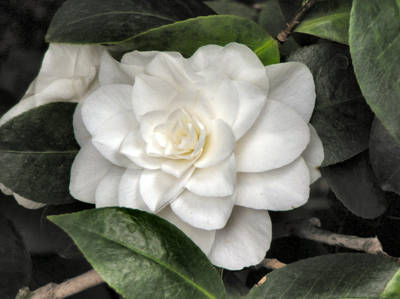 Photo courtesy of Bro. Bob Resing, S.M. Bro. Bob's images are available for sale as note cards or prints. To order, contact Bro. Bob at mailto:rresing@sm-usa.org
PLEASE PRAY FOR THE HEALING OF . . .

Bro. Ed Fick (Villa St. Joseph, Cupertino, Calif.), who has a fractured vertebrae and pneumonia.

Bro. Robert Wade (Villa St. Joseph, Cupertino, Calif.), who continues chemotherapy treatment.

Larry Lisbeth, who has been diagnosed with prostate cancer. Larry is the father of Fr. Mike Lisbeth (Findlay St., Dayton).

Angeline Stratman, who is critically ill with pneumonia. Angeline is the mother of Bro. Bernard Stratman (Washington, D.C.).

Frank Ventura, who is hospitalized in intensive care in New York and had a heart catheterization and an induced heart arrhythmia. Frank is the father of Bro. Jack Ventura (Lindell Blvd., St. Louis).

John Wisecaver, who is recovering from a heart attack and surgery. John is the brother of Bro. James Wisecaver (West Hills, Calif.).

Casey Krings, who will undergo surgery this week for cancer. Casey is the mother of Ann Mueller, who works in Communications at the Provincial office.

Steve Hyland, who is in rehabilitation in Portland, Ore., after surgery for a brain tumor. He is partially paralyzed. Steve is the nephew of Bro. Gerald Hyland (Curé of Ars, St. Louis).
MYSTERY MARIANIST
| | |
| --- | --- |
| | This issue's "Mystery Marianist" is shown at the postulate at Mount St. John in Dayton in the early 1950s. Who is he? For the answer, scroll to the bottom of the issue! |
WHO'S DOING WHAT
| | |
| --- | --- |
| | Bro. Ed Brink (Kiefaber St., Dayton) was featured in the March 24, 2004, issue of the National Catholic Reporter in an article about the University of Dayton's Lalanne program, which places recent college graduates in inner-city teaching positions. Bro. Ed is director of the program. To read the article, please click here. |
| | |
| --- | --- |
| Sr. Evangeline Escobar (San Antonio) has been reappointed to a third term (July 2004 - 2007) as Provincial of the Marianist Sisters, Province of the United States. Our best wishes to Sr. Evangeline. | |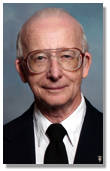 Bro. Bob Wood (Marianist Residence, San Antonio) has authored Life in Laredo: A Documentary History from the Laredo Archives. Bro. Bob manages the archives at St. Mary's University. One review said: "Life in Laredo is imaginatively organized, exceptionally well researched, and well written." Kudos to Bro. Bob. To order: http://www.unt.edu/untpress/titles/woodrd.htm

| | |
| --- | --- |
| Congratulations to the girls basketball team at Chaminade-Julienne High School in Dayton, ranked the No. 1 team in the nation in the Associated Press poll and USA Today's Super 25 rating. The C-J Lady Eagles played for the Ohio Division I girls state basketball title on March 20, but lost 59-44, snapping a 39-game winning streak. Marianist brothers working at Chaminade-Julienne High School are Bros. Pat McDaid (social studies teacher) and Michael Biscan (teacher, Cuvilly Program). | |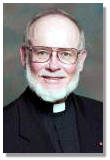 Fr. Charles Miller (Chaminade Community, San Antonio) was named one of this year's distinguished alumni by the St. Mary's University Alumni Association. Fr. Charles has been a full-time professor at St. Mary's since 1979, and has spent the last three years in Jerusalem in the service of the Holy See. He has raised more than $200,000 in scholarships and has led more than 50 graduate study tours and pilgrimages. Congratulations, Fr. Charles!

Fr. Bernard Lee (Woodlawn Community, San Antonio) is coauthor of "Theological Reflection for Transformation," published by the Center for the Study of Religious Life. The publication offers religious communities resources for studying and responding to the unique issues they face.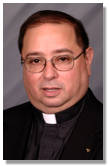 Fr. Joe Tedesco has been busy since moving to Dayton's Alumni Hall. In addition to pursuing his Ph.D. in sport psychology at the San Diego University of Integrative Studies, Fr. Teddy has designed and led workshops for grade-school teachers, high-school coaches and parish parents; participated in parish missions; and presented at a February 2004 retreat for young adults at the Marianist Family Retreat Center in Cape May Point, N.J.

Bros. Mel Meyer (Curé of Ars) and Brian Zampier (Lindell Blvd., St. Louis) will each display three pieces of their artwork at a show hosted by Concordia Lutheran Church in Kirkwood, Mo. The pieces will be on display through April 18, 2004. Contact Bro. Brian for more information.
| | | |
| --- | --- | --- |
| The Madeleine House community in New Orleans participated in "Walk for the Hungry" on March 6, 2004. Local church and school members took part in the walk, which was sponsored by Bread for the World. Participating were community members Bros. Paul Galantowicz and Tom Heinle; Beverly Barre; Brenda and Kevin Fitzpatrick and their children, Mairin, Joseph and Caitlin. | Bro. Galantowicz | Bro. Heinle |
HOLY WEEK ON CAMPUS
| | |
| --- | --- |
| | In recognition of the Lenten season, Honolulu's Saint Louis School places 14 crosses throughout campus to stage a walkable Stations of the Cross. The school's maintenance crew creatively constructs each cross, which stand over four feet high and three feet wide. |
FR. RUDY'S THOUGHTS ON THE BOMBING IN MADRID
Fr. Rudy Vela (Woodlawn, San Antonio) shares his thoughts about the train bombing in Madrid on March 11. Fr. Rudy is teaching at the Universidad de Alcalá outside Madrid through May 5 as part of the Study Abroad Program of St. Mary's University. To read his reflections, please click here: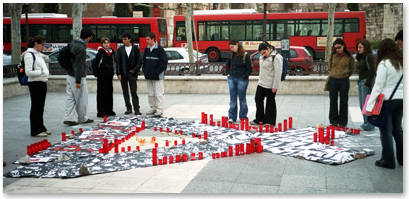 One of the many tributes to those who died in the Madrid bombing. Photo by Fr. Rudy Vela.
JOY, HAWAIIAN STYLE
| | |
| --- | --- |
| | Island life suits Fr. Ken Templin (Center Community, Honolulu), pictured here after presiding over a March 14, 2004, evening Mass organized by Chaminade University's Marianas Club. The club is comprised of students from Guam and Saipan who participated in the Mass by singing and reading in their native languages. |
SCHOOL NEWS

Daniel J. Gross Catholic High School in Omaha, Neb., revived its affiliation with its Marianist heritage on March 18, 2004. School officials and Marianist representatives formalized the school's relationship with the Province by publicly signing a sponsorship agreement in a ceremony before the student body and Gross community members. To read an excellent article about the ceremony from The Catholic Voice (archdiocese of Omaha), please click here:
| | |
| --- | --- |
| | Fr. Tim Kenney signs the agreement that officially makes Gross Catholic High School a Marianst-sponsored school. Also signing were (from left) Rebecca Cleveland, Gross Catholic president; Dan Young, advisory board president; and Fr. Gregory Baxter, chancellor of the Archdiocese of Omaha. Photo by Lisa Schulte, The Catholic Voice, Omaha |

The University of Dayton has received a $1.5 million gift from the estate of Charles R. Wilke, a 1940 alumnus and innovator in chemical engineering. The gift will endow a chair in the chemical engineering department and provide long-term resources for upgrading lab facilities.

A liturgy at Central Catholic High School in San Antonio on March 25 included a recommitment of the school to its Marianist heritage that dates back 152 years.
| | |
| --- | --- |
| | Fr. Joe Tarrillion (right), president of Central Catholic, and Doug Cross, chairman of the Board of Directors, signed the Marianist Sponsorship Agreement during a liturgy for the students, faculty, staff and Board of Directors. |
REDS WORKSHOP ON EDUCATION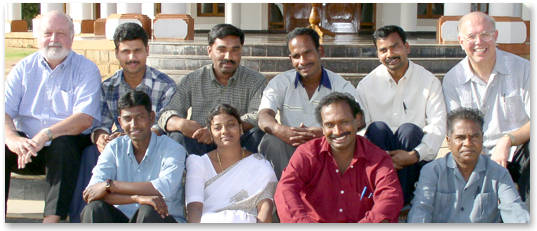 Fr. Jack McGrath (far left) and Bro. Tom Oldenski (far right) led a one-day workshop for the staff of REDS (Ragpickers Educational Development Scheme) in Deepahalli, India, on March 10, 2004. Bro. Tom and Fr. Jack taught the staffers the guiding principles of the Marianist educational tradition.
L.A. RELIGIOUS EDUCATION CONGRESS
Bro. Dennis Schmitz (Center Community, Honolulu) reports that the Marianist Vocation Ministry booth at the Los Angeles Religious Education Congress was well received by congress participants. More than 38,000 people attended the congress, held Feb. 20-22, 2004. Twenty young men visited the booth and filled out cards expressing interest in the Marianists. In addition to Bro. Dennis and Fr. John McEnhill, Fr. Ken Templin, Bro. Jim Wisecaver, contacts Brian Sheehan and Roberto Rivera, and Lay Marianist Affiliate Kay Stone worked at the booth and Bro. Agustin Guzman helped set up the display. Bro. Bill Bolts, Frs. Roland Bunda and Ed Johnson, and Bro. Bob Juenemann visited the booth.
| | |
| --- | --- |
| | Pictured from left are congress participant Juan Carlos, contact Fausto Sanchez and Fr. John McEnhill (San Juan Residence, Cupertino, Calif.) |
SAN ANTONIO LAY NETWORK MEETS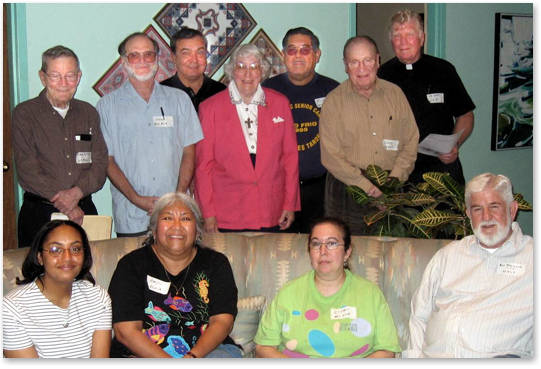 Angie Cortez of the Marianist Lay Network of San Antonio (MLNSA) thanks Fr. Bernard Lee and the Woodlawn Community in San Antonio for helping the group during the illness of founder Sr. Grace Luther, who died April 4. Shown during a meeting on Feb. 29, 2004, at Woodlawn, standing, from left: Bro. John Totten, Gene Peters, Roy Mendez, Evelyn Carey, Richard Salazar, Bro. Greg DeMoor, and Fr. Gerry Haby. Seated, from left: Nicole Trahan, Angie Cortez, Esther Rodriguez, and Fr. Bernard.
NOTES FROM THE PROVINCE OFFICE
| | |
| --- | --- |
| The Communications Office sends out printed "memorial cards" to every community when a Marianist brother dies. Because we also send these cards via e-mail, we have decided to send printed cards only to communities that request them. Directors: If you would like to continue receiving the printed cards, e-mail Ann Mueller atmailto:amueller@sm-usa.org. | |

The Province office in St. Louis will be closed Good Friday, April 9, 2004.

Inserts for the Necrology for 2001, 2002 and 2003 have been mailed to all communities. For additional copies, contact Bro. Bob Resing at rresing@sm-usa.org
VOCATION WORKSHOP: YOUTH & WISDOM
| | |
| --- | --- |
| | Participants at the Vocation Workshop in St. Louis March 26-28 ranged in age from the youngest (contact Ben Dougherty) to two esteemed senior members, Bro. John Lucier (left) and Fr. Richard O'Shaughnessy. |
HELP NEEDED
PRIEST. The Region of India is seeking a priest to serve at the Aspirancy Program in Bangalore for some months from July 15, 2004, to May 15, 2005. It could serve as a sabbatical. Contact Fr. Joe Lackner atmailto:jlackner@sm-usa.org.
SEDER MEAL. The St. Aloysius community in Cleveland needs help in the organization and preparation for the Seder meal on Holy Thursday. Contact Bro. Mike O'Grady at mogradysm@yahoo.com or 216.451.2215.
| | |
| --- | --- |
| THE CLASSIFIEDS | |
RETREAT CENTER DIRECTOR. The Marianist Family Retreat Center in Topsail Island, N.C., seeks a center director. The position is open to religious and lay applicants. To read the job description, please click here: For more information, contact Joyce O'Toole at lotoole@erols.com.
PROGRAM SPECIALIST. Circle Lake Retreat Center in the Houston area seeks a program specialist. Director Bob Schmidt says that the administration team is composed of lay Marianists and he invites members of the Marianist Family to apply. To read the job description, please click here: For more information, contact Bob at 281.356.6764, x. 11.
SPRING SNOW IN KOREA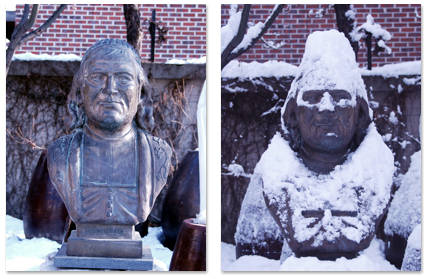 In Seoul, Fr. Chaminade endured a snowy cover despite the impending season of spring.

NEWSLETTER
CENTRAL
MAUI REPORT. To read Fr. Steve Tutas' April 2004 letter from Maui, please click here:
Note: To view PDF files, you need Adobe Acrobat Reader, which is available free of charge at http://www.adobe.com/products/acrobat/readstep2.html. If you're opening a "PDF" file and the publication is too small, pull down the "percentage" menu and increase the percentage to 100 percent or higher for easy viewing.
A THOUGHT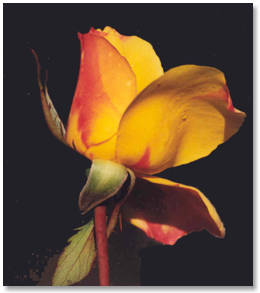 Photo courtesy of Fr. José Ramirez
"It blooms because it blooms, the pretty rose: Why, or who looks, it neither asks nor knows."
Angelius Silesius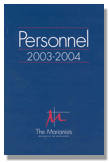 PERSONNEL UPDATE
To read Update #16 of the 2003-2004 Personnel, please click here: If you need additional copies of the Personnel or to make changes, please contact Ann Mueller at amueller@sm-usa.org. (Remember that updated personnel information is always available at www.marianist.com/portal.)
HAPPY EASTER FROM PETER "POLYESTER-TAIL"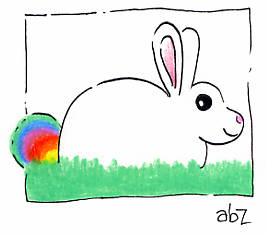 Art courtesy of Bro. Brian Zampier
OUT AND ABOUT
To read the upcoming travel schedule of members of the Provincial staff in St. Louis, please click here:
THE MYSTERY MARIANIST IS . . .
Bro. Walt Oberster
(Rockaway Park, N.Y.)
PROVINCE
BIRTHDAYS
(Note: To send an e-mail birthday greeting, just click on the individual's e-mail address below.)

April

ABOUT FamilyOnline

Editor: Diane Guerra; assistant: Ann Mueller. This biweekly e-mail newsletter is produced for members of the Society of Mary and the FMI. NEWS: We'll include news of travels, health updates, prayer requests, community celebrations, professional accomplishments, birthdays, and whatever personal or community news you'd like to share.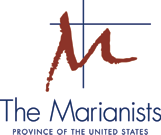 Please send news, digital photos and comments and suggestions to Diane Guerra at dguerra@sm-usa.org and use "FamilyOnline" as your subject line. TECHNICAL PROBLEMS: If you're not receiving this newsletter in the proper format, with proper spacing and photographs and art appearing, please let us know and we'll try to find a solution. If we can't find a solution, we'll put you on our "NOTIFY ONLY" list. CHANGE IN E-MAIL ADDRESS: Send to Ann Mueller at amueller@sm-usa.org. NOTE TO DIRECTORS: Please print this newsletter and post or distribute to Brothers who do not have e-mail. BACK ISSUES/SEARCH: Visit www.marianist.com/fol. SUBSCRIBE: If you know somebody who would like to receive FamilyOnline, ask them to visit http://www.marianist.com/subscribe.htm and follow the instructions.