Volume 3, Number 20
Tuesday, Oct. 12, 2004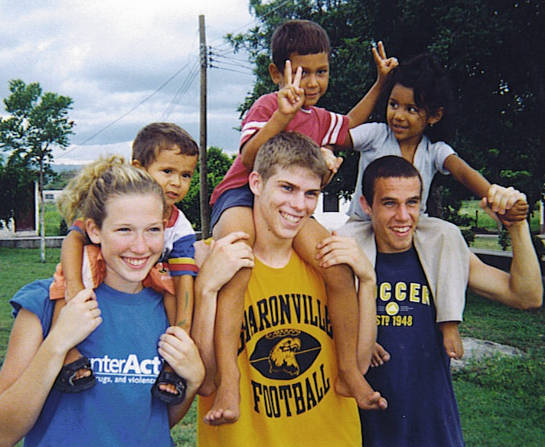 MOELLER STUDENTS VOLUNTEER IN HONDURAS. Students from Archbishop Moeller High School in Cincinnati spent part of their summer on a mission trip to Honduras. Shown with Honduran children, from left: Ali Davies from Kasson, Minn., and Archbishop Moeller seniors Joe Dunigan and Jim Delaney.
PROVINCIAL COUNCIL FINALIZES GOALS, OBJECTIVES
Provincial Stephen Glodek reports that the Provincial Council has set its goals and objectives through 2007 after receiving feedback from the Provincial Chapter and community directors. These goals focus on: (1) the Province Mission Statement; (2) leadership among younger Province members; (3) ongoing development of Province members; (4) priorities of ministries; (5) new ministry initiatives; and, (6) bridge building among Province members and others in the Marianist Family. To read the final draft of the Provincial Council Orientations and Priorities 2004-2007, please click here:
COMMUNITY DIRECTORS MEET IN ST. LOUIS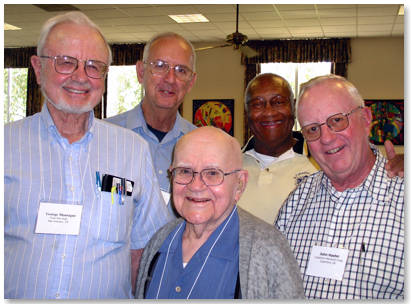 Gathered at the Oct. 1-3 Directors Meeting at the Marianist Retreat & Conference Center in Eureka, Mo., front row, from left: Fr. George Montague (Casa San Juan, San Antonio), Fr. Vince Plassenthal (Misión Noell, Villalba, Puerto Rico) and Bro. John Haster (Cupertino, Calif.). Back row, from left: Bro. Harry Cornell (Central Catholic, San Antonio) and Fr. Ed Johnson (West Hills, Calif.)
More than 50 community directors from all parts of the Province gathered Oct. 1-3, 2004, at the Marianist Retreat & Conference Center in Eureka, Mo., for the third annual Directors Meeting. The group met for prayer, socials and discussions on a myriad of topics, including Provincial Council goals, the new Chaminade Project, community-building practices, child protection, communications, peace and justice, jubilee celebrations and spiritual formation.
CHAMINADE UNIVERSITY RECOGNIZES BRO. DEGORIO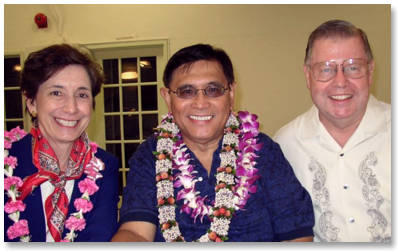 Sue Wesselkamper (left), president of Chaminade University of Honolulu, and Bro. James Dods (right), celebrate with Bro. Jose Degorio on his five-year anniversary at CUH. The three are pictured on Sept. 19 at CUH's annual Ohana Recognition Dinner for University faculty and staff.
PROVINCE SEEKS ACCREDITATION TO PROTECT CHILDREN
In its ongoing efforts to protect children, the Marianist Province of the United States, as well as other religious orders of men, will seek accreditation from Praesidium Religious Services, which has done similar accreditation work with Big Brothers, Big Sisters and many other child service organizations. Fr. Jim Fitz, assistant provincial, discussed the accreditation process in detail at the October Directors Meeting in St. Louis. Beginning in January, all Province members will attend training, with accreditation completed by the end of 2005. The Province also is finalizing its official policy on child protection with input from Praesidium, the Province Review Board, the Provincial Chapter and Province members.
HELP US FIND MARIANIST "HISTORICAL HEROES"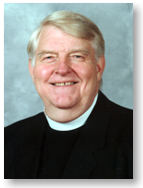 Fr. Joe Lackner, assistant for developing regions, invites all members of the Province to suggest names of past Marianists for a project on Marianist "historical heroes." For each of the next three years, Fr. Joe will write six or so short biographies of Marianists who had a major impact on the order. He asks that names be sent to him by Dec. 15, 2004. His e-mail address is jlackner@sm-usa.org.
WASHINGTON MONUMENT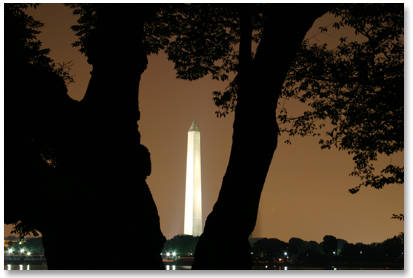 Photo courtesy of Bro. Pat McDaid
PLEASE PRAY FOR THE REPOSE OF THE SOUL OF . . .
| | |
| --- | --- |
| Bro. John, undated | Bro. John, 2000 |

Bro. John Jansen, 88, who died Oct. 9, 2004, in Dayton. May he rest in peace. On Oct. 16, a viewing will be held at 10 a.m. at Queen of Apostles chapel at Mount St. John in Dayton, followed at 11 a.m. by a Mass of Christian Burial and burial at Queen of Heaven Cemetery. Bro. John was an educator at Chaminade High School in Dayton and the University of Dayton, an inspirational teacher who was considered a visionary. He served in provincial administration for the Cincinnati Province for many years and was president of the Bergamo Center for Lifelong Learning in Dayton. Bro. John served in vocation ministry and worked with law enforcement and the military. His obituary will appear in the next issue of FamilyOnline.
| | | |
| --- | --- | --- |
| Bro. Joe Becker, 93, who died Sept. 24, 2004, in Honolulu from cancer. May he rest in peace. A Mass of Christian Burial was celebrated on Oct. 7, 2004; burial was Oct. 8. To read Bro. Joe's obituary, please click here: | | Fr. Jim Fitz in Honolulu in May 2004 with Bro. Joe Becker, who was celebrating 75 years as a Marianist |
| | |
| --- | --- |
| | Bro. Ray Dotzler, 91, died Aug. 23, 2004, at Villa St. Joseph in Cupertino, Calif. Bro. Ray's grandnephew, Terrence Dotzler, wrote a touching tribute to his Uncle Ray. To read it, please click here: |

Tom Cahill, who died Oct. 5, 2004. May he rest in peace. Tom was the brother of Fr. Don Cahill (Our Lady of the Pillar, St. Louis).

Hastings Banner, Lloyd Bezold, Stephen Breen and Anthony Truong, who died recently. For more information, please click here:
GETHSEMANI LAKE, KENTUCKY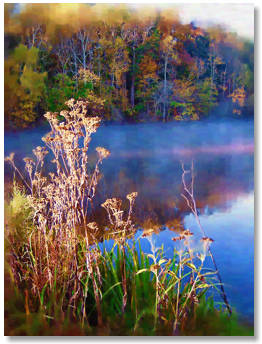 Photo courtesy of Bro. Bob Resing, S.M. Bro. Bob's images are available for sale as note cards or prints. To order, contact Bro. Bob at mailto:rresing@sm-usa.org
PLEASE PRAY FOR THE HEALING OF . . .

Bro. Paul Nomi (Marianist Hall, Honolulu), who has been diagnosed with inoperable pancreatic cancer.

Bro. Leonard Rudy (Curé of Ars, St. Louis), who is recuperating from a recent hospitalization.

Charles Johnson, who is recovering from complications of knee surgery. Charles is the father of Bro. Charlie Johnson (Lindell Ave., St. Louis).

Basilio Choi, who has an inoperable malignant tumor near his heart. Basilio is a lay Marianist in Korea.
FUN AT THE DIRECTORS MEETING
| | |
| --- | --- |
| | From left, Fr. Roland Bunda (Santa Cruz, Calif.), Bro. Ray Martin (Indiana Ave., Dayton), and Bro. Alex Tuss (Sawmill Rd., Dayton) socialize during the Oct. 1-3 Directors Meeting at the Marianist Retreat & Conference Center in Eureka, Mo. |
PEACE & JUSTICE UPDATE: SHARING FUND; BANGLADESH TOUR

Marianist Sharing Fund: The Provincial Chapter allocated $200,000 to this fund. Marianist communities are encouraged to identify at least one Sharing Fund application. To read more, please click here:

Featured Website: www.votingcatholic.org, informative election website in terms of Catholic social teaching. Province members have asked for good reading on various social justice issues. In each issue of FamilyOnline, I'll include an article or website. Send ideas to me at mmccabe@sm-usa.org

Bangladesh Tour: Two workers from sweatshops in Bangladesh are touring the country. (See photos in this issue of FamilyOnline). To read more about how to get involved, please click here:
LAY AFFILIATES RECEIVED IN FORT WORTH, ST. LOUIS
The Province welcomed several new Lay Marianist Affiliates at reception ceremonies in Ft. Worth and St. Louis. Fr. Al McMenamy, spiritual advisor for affiliates in the Midwest and Southwest Areas, reports that on Sept. 11, 2004, two new affiliates and one candidate were received during a Eucharist in Ft. Worth. Fr. Tim Kenney, Province director of education, reports that on Oct. 10, 2004, three new affiliates were received at a ceremony at the Marianist Retreat & Conference Center in Eureka, Mo., as part of an affiliate retreat preached by Fr. Tim. A warm welcome to these five new affiliates and one candidate.
| | |
| --- | --- |
| | A special ceremony for new Marianist Lay Affiliates in Ft. Worth, from left, new Affiliates Vincent Castillo and Joseph Rangel; candidate Renee Castillo, and Spiritual Advisor Fr. Al McMenamy. Several other Lay Marianist Affiliates attended the ceremony. |
| | |
| --- | --- |
| | Three new Marianist Lay Affiliates were welcomed in St. Louis, from left, Louis and Sally Wheat, Bro. Ken Jung, moderator, James Werdes and Fr. Tim Kenney. |
CATHOLIC DIRECTORY
If your community receives a listing for the Official Catholic Directory from your diocesan office, directors should make corrections and return the form to the diocesan offices. This is important for tax-exempt status. Please also mail a copy to Pat Stephens, assistant to the Provincial. Questions, contact Pat at 314.533.1207 or pstephens@sm-usa.org.
WISH YOU WERE HERE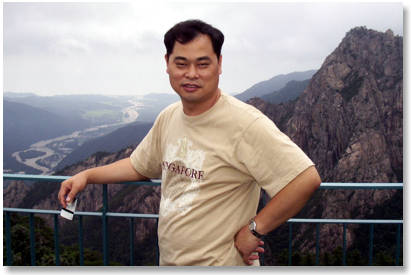 Fr. Tim Kim, regional superior of Korea, poses during an outing with Fr. Tim Kenney, who took this shot. Fr. Kenney was in Korea to present the annual retreat to the region.
SCHOOL NEWS
Congratulations to St. Mary's University, which U.S. News and World Report ranked in the first tier of colleges and universities in the West for the eleventh consecutive year. The magazine also ranked St. Mary's as a "best value."
HAPPY BIRTHDAY, BROTHER JOE!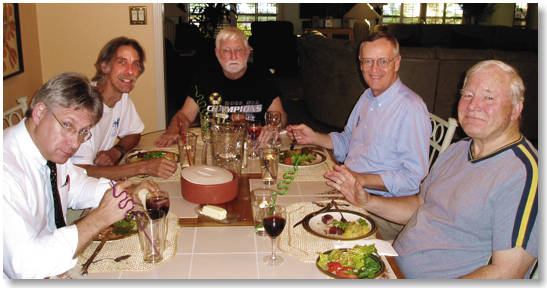 Happy Birthday to Bro. Joe Barrett, who turned 80 on Oct. 3. Pictured at a celebration dinner are clockwise from lower left: Bro. Tim Pieprzyca; Aspirant Steve Paone; Fr. John Manahan; Bro. Mike Sullivan; and Bro. Joe. Birthday festivities started in late September, when St. Mary's University students hosted multiple daily celebrations in the campus residence halls, which Bro. Joe continues to visit faithfully. The Casa Maria community wishes Bro. Joe well as he moves to the Marianist Residence on the university's campus.
COME ON DOWN TO FINDLAY STREET!
| | |
| --- | --- |
| Bro. Jim Abel (Findlay St., Cincinnati) and fellow community members Bros. Paul Hoffman and Mitch Schweickart invite all members of the Marianist Family to visit the Findlay Street residence for both individual and group retreats. Located in urban Cincinnati, the community is dedicated to living among and serving the poor and working for social justice. The residence can accommodate as many as 10 visitors, who are welcome to use its meeting room, chapel, and kitchen facilities. Contact Bro. Paul, community director, or Bro. Mitch at 513.369.0388. | Bro. Paul Hoffman, Fr. Mike Lisbeth and Bro. Mitch Schweickart in front of their urban Cincinnati residence on Findlay Street. Fr. Mike has moved to Cleveland as aspirancy director. Bro Jim Abel rounds out the trio. |
SWEATSHOP WORKERS VISIT MARIANIST HIGH SCHOOLS
St. John Vianney High School in St. Louis and Archbishop Moeller and Purcell Marian High Schools in Cincinnati hosted garment factory workers from Bangladesh, who are touring the United States through Oct. 25 to encourage U.S.-owned garment factories to pay more per garment and encourage the passing of enforceable laws to protect these workers' rights. The Sweatshop Labor Issue Team of the Marianist Social Justice Collaborative (MSJC) and the National Labor Committee are sponsoring the tour. The visit at Purcell Marian was made possible by donations from the DeSales Crossings Marianist community, St. Francis DeSales parish and funds raised by the Purcell students.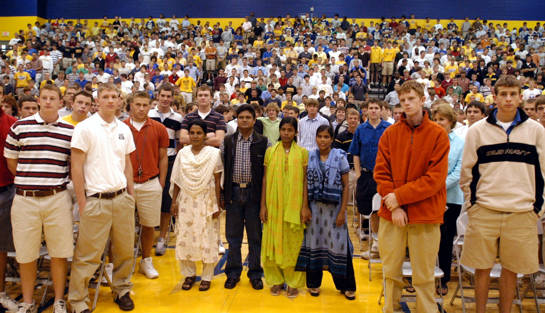 The students of Achbishop Moeller High School stand in solidarity with the garment factory workers, who visited the school Oct. 6. Photo courtesy of Greg Stanforth.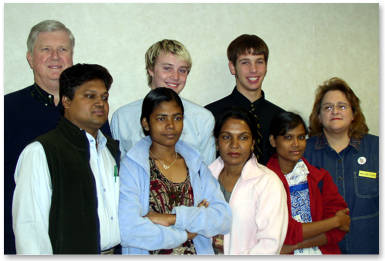 More than 500 students from St. John Vianney High School, Chaminade College Preparatory School, and four other St. Louis area high schools came together on Oct. 5 at Vianney to listen to the garment factory workers. Pictured back row, from left: Al Prendergast, Marc Bannes, Joel Rodgers and Dee Elder. Front row, from left: Rafiq Alam, translator; Miss R., garment worker; Sk Nazma, president of the Bangladesh Center for Worker Solidarity; and Ms. M., garment worker. Photo courtesy Laura Vetter.
AUTUMN AT MOUNT ST. JOHN
| | |
| --- | --- |
| | Bro. Don Smith (Meyer Hall, Dayton) shared this snapshot of a fall scene on the Mount St. John property. Mount St. John Facilities created the display. |
MYSTERY MARIANIST
| | |
| --- | --- |
| | This high school senior is shown in the 1953 yearbook of Chaminade High School in Mineola, N.Y. He looks like he will become a great success in life, and indeed he has. Who is he? Scroll down for the answer! |
ST. MARY'S HIGH SIGNS SPONSORSHIP AGREEMENT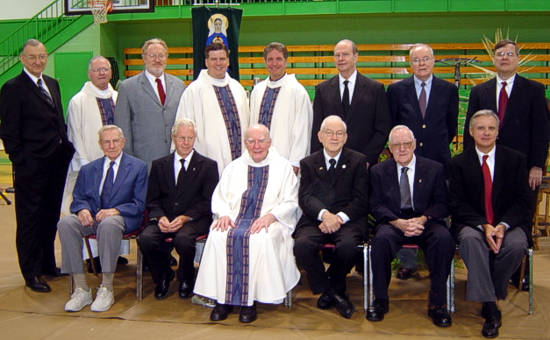 At a Eucharist on Sept. 8, 2004, St. Mary's High School in St. Louis signed the Sponsorship Agreement as a Marianist school. Signing for the Province were Bros. Mike O'Grady and John Habjan; Principal Kevin Hacker signed for the school. Marianist brothers who have taught at St. Mary's in the past also attended. Standing, from left: Bro. Art Dofing, Fr. Al McMenamy, Bro. Mike O'Grady (Province assistant for religious life), Frs. Brad Modde and Mitch Doyen (archdiocesan priests), Bro. Bill O'Leary, Bro. Gene Meyerpeter and Bro. John Habjan. Sitting, from left: Bro. Bob Minges, Bro. Ken Jung, Fr. Richard O'Shaughnessy, Bro. Francis Haug, Bro. Richard Middleton and Kevin Hacker, principal.
| | |
| --- | --- |
| | Bro. Mike O'Grady (right) signs the St. Mary's document as Principal Kevin Hacker looks on. |
WHO'S DOING WHAT
| | |
| --- | --- |
| Bro. Bob Moriarty (Connecticut) addressed 350 dinner guests on Sept. 23 at the 20th anniversary celebration of the beginnings of small Christian communities in the Hartford, Conn., archdiocese. Bro. Bob is director of the archdiocese's Pastoral Department for Small Christian Communities. | |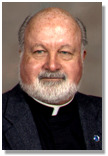 Fr. Jack McGrath (Washington St., Dayton) has written a new book, "Reading the Signs of the Times, Speaking to a Changing World: An Overview of Catholic Theology from 1800-2000." In the book, Fr. Jack describes connections between developments in Western Europe and Marianist life. To order, contact NACMS at nacms.orders@notes.udayton.edu



Bro. Ed Loch (Central Catholic, San Antonio) was a guest on the Sept. 22 program "Catholicism Today," which airs on CTSA, San Antonio's Catholic television channel. Bro. Ed was interviewed about the Juvenile Detention Ministry that he has served for 18 years as a volunteer chaplain. In addition, Bro. Ed contributed to "Catholic Texans, Our Family Album," a new book by Steve Landregan, and wrote seven articles for the new issue of the "Catholic Yellow Pages."


| | |
| --- | --- |
| | Bro. David Betz (DeSales Crossings, Cincinnati) lectured on the Marianist Spanish martyrs to religion classes at Cincinnati's Purcell Marian High School in September. |

The Novitiate Community in Dayton celebrated the Feast of the Marianist Martyrs on Sept. 18 with a bilingual Mass in English and Spanish. Novice Armando Aneses put together a Mass booket in Spanish; Novice Alfredo Chavez and Bro. Tom Redmond prepared the liturgy. Following Mass the group gathered in the Martyrs Chapel for a closing prayer; Fr. Dave McGuigan read excerpts from the biography written by Bro. Emilio Ortega.
| | |
| --- | --- |
| Bro. Darwin Joseph (Bangalore, India) is moving to the Maryland Ave. community in St. Louis, where he will live while pursuing a master's degree in philosophy at Saint Louis University. Bro. Darwin begins his studies in January 2005. Best wishes to Bro. Darwin. | |
| | |
| --- | --- |
| | Bro. Ron Luksic (Montgomery Rd., Cincinnati) reports that 75 seniors from Archbishop Moeller High School in Cincinnati spent part of their summer in service to the poor. The school sponsored mission trips to Honduras, Mexico, West Virginia, Kentucky and Georgia. |
FROM THE GENERAL ADMINISTRATION

To read the Oct. 1, 2004, issue of Via Latina from the General Administration in Rome, please click here:

To read the General Administration's report on the International Meeting of Marianist Formators held June 13-July 11 in Nairobi, Kenya, please click here:
FAMILY RETREAT AT GOVERNOR'S ISLAND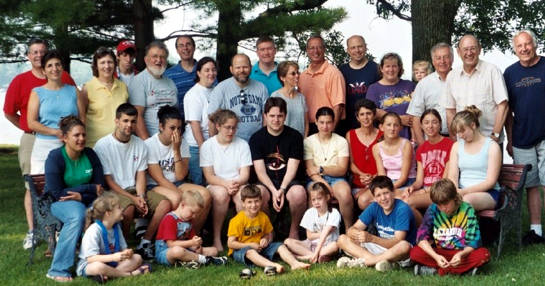 Bro. Paul Bredestege reports that the two Family Vacation Retreats held at Governor's Island this past summer were a big success. He suggests that members of the Marianist Family book now for a Family Vacation Retreat at Governor's Island, which has a beautiful lake and water sports. Contact him at retreatsm@yahoo.com. Brothers in the photo are standing in the back row: Bro. Bill Deanhofer (fourth from left), Bro. Paul (third from right), Fr. Jim Russell (second from right) and Bro. Don Smith (far right)
ST. MARY'S
TRAVEL PROGRAM
Fr. Charles Miller, professor of theology at St. Mary's University, has been appointed director of the St. Mary's University Travel Service for Alumni and Friends, the "Roamin' Rattlers." A full program of religious and educational tours, open to all Marianists and friends of the Marianists, has been planned. The tours include India, Greece, Spain and Italy. Tour leaders include Fr. Charles, Fr. Rudy Vela, Dr. Mary Lynne Hill, Bro. Cletus Behlmann, and Bro. Ed Violett. For the complete travel schedule, please click here: Contact Fr. Charles at 210.436.3918 or cmiller2@stmarytx.edu.
ASSOCIATES HOST FAMILY RETREAT AT CAPE MAY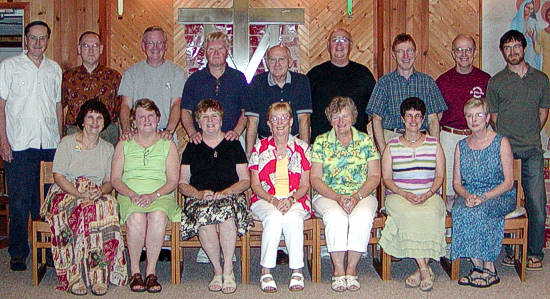 The Marianist Family Retreat Center in Cape May Point, N.J, hosted a seven-family retreat on Aug. 2-8. Marianist Associates staffed the retreat, which featured daily themes including affirmation, communication, reconciliation and commitment. Staff members who planned and conducted the event, front row, from left: Mary Linge, Diane Dillon, Kay O'Brien, Diane Capone, Ellen Moloney, Jane Rodier and Mary Koenke. Second row, from left: Fr. Ted Cassidy, John Linge, John Dillon, Harry O'Brien, Mike Capone, Bob Moloney, Wally Rodier, Bro. Tom Trager and Tim Rodier.
REPORTS FROM THE PHILIPPINES, HAITI
Two Marianist brothers offer reports from ministries in the Philippines and Haiti. To read Bro. Richard Joyal's letter from the Philippines, please click here: To read Fr. Florian Royer-Chabot's report from Haiti, please click here:
2004-2005 PERSONNEL
NEED MORE COPIES? The 2004-2005 Personnel has been delivered to Marianist communities and ministries, according to Ann Mueller, administrative assistant in the Province Office of Communications. If you need additional copies, just e-mail Ann atmailto:amueller@sm-usa.org

CHANGES . . . We already have changes to the new Personnel. To read them, please click here: Remember that up-to-date personnel information is always available on the PORTAL at www.marianist.com/portal
INTERCULTURAL MARIAN DEVOTION
| | |
| --- | --- |
| Fr. Tom Thompson (Alumni Hall, Dayton) presided at an Intercultural Marian Devotion on Oct. 2 at Emmanuel Church, a Marianist parish in Dayton. The service was coordinated by Bro. Tobias Ferrer (Washington St., Dayton) and Sr. Maria, SND, from the Spanish Ministry of Holy Trinity parish in Dayton. After a hymn to our Lady of Fatima, the rosary was prayed in Latin, English, Spanish, French and Italian. Sr. Maria is pictured with, from left: Novice Alfredo Chavez, Fr. Tom, and Bro. Tobias. | |
OUT AND ABOUT
To read the upcoming travel schedule of members of the Provincial staff in St. Louis, please click here:
NEWSLETTER
CENTRAL
MARIANIST L.I.F.E. To read the inaugural issue of Connected, a newsletter for Marianist LIFE moderators, please click here:
JUSTICE JOTTINGS. To read the September 2004 issue of Justice Jottings, an update from the Marianist Social Justice Collaborative, please click here:
MAUI REPORT. To read Fr. Steve Tutas' October 2004 report from Maui, please click here:
INDIA NEWSLETTER. To read the Oct. 4, 2004, newsletter from the Region of India, please click here:
Note: To view PDF files, you need Adobe Acrobat Reader, which is available free of charge at http://www.adobe.com/products/acrobat/readstep2.html. If you're opening a "PDF" file and the publication is too small, pull down the "percentage" menu and increase the percentage to 100 percent or higher for easy viewing.
MYSTERY MARIANIST UNVEILED . . .
| | | |
| --- | --- | --- |
| It's Fr. Jack McGrath, who lives at the Washington Street community in Dayton. | | |
CARDINAL DULLES RECEIVES UD'S MARIANIST AWARD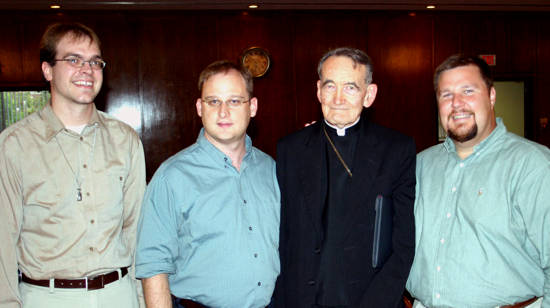 Cardinal Avery Dulles, S.J., an internationally renowned theologian, received the University of Dayton's 2004 Marianist Award on Sept. 8 at UD's Kennedy Union. The Marianist Award honors Catholic scholars who have made outstanding contributions to intellectual life. From left: Novice Andrew Kosmowski; Bro. Sean Downing; Marianist Award recipient Cardinal Avery Dulles, S.J.; and Bro. Pat McDaid.
Feast of Our Lady of the Pillar
October 12
Celebrated in memory of the graces received by Father Chaminade at the shrine of Our Lady of the Pillar in Zaragoza, Spain, during his exile there from 1797-1800, especially that of the inspiration to create the Marianist Family and to found the Society of Mary and the Daughters of Mary Immaculate.

Our Lady of the Pillar
Chaminade University of Honolulu
NEW SHUTTERBUG AT RIORDAN HIGH
| | |
| --- | --- |
| | The entire community at Archbishop Riordan High School in San Francisco is delighted that Bro. Jim Leahy (San Francisco) put retirement on hold to capture the "Crusader Spirit" as the school's photographer |
A THOUGHT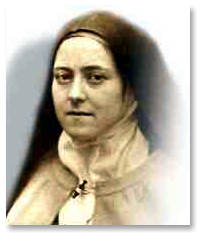 "Everything is grace."

St. Therese of Lisieux
CELEBRATING NEW LIFE AT VILLA ST. JOSEPH
| | |
| --- | --- |
| | Bros. Ed Fick (left) and John Samaha (right) welcome to the world Baby Edgar, pictured in the arms of his mother, Marina Cordia. Marina and Grace Pancipanci (second from left) are nurses at the Villa St. Joseph residence in Cupertino, Calif., where Bros. Ed and John live. |

ARE YOUR DATES POSTED ON THE CALENDAR?
A calendar that lists events involving Marianist brothers, Marianist sisters and lay Marianists is now available at www.marianist.com/calendar. The calendar also is available on the PORTAL at www.marianist.com/portal. If you'd like an event included, send the event, date, location and contact information to Pat Stephens at email:pstephens@sm-usa.org.
HONORING MARY'S BIRTHDAY IN HONOLULU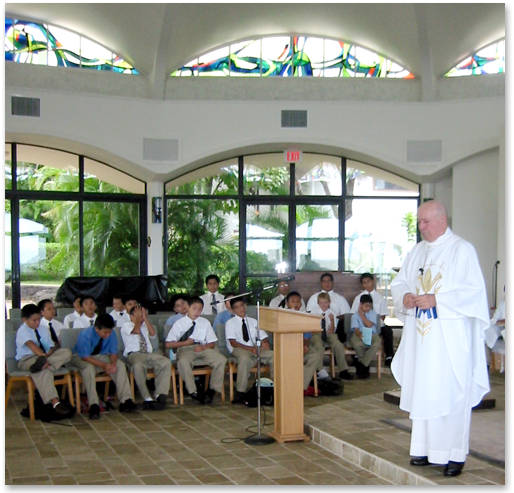 Fr. Bob Hackel presided at Mass for students of Saint Louis School in Honolulu at the beautiful Mystical Rose Chapel in September. The Mass honored the birthday of the Blessed Virgin Mary. The students prepared gifts of promises they prepared in her honor.
PROVINCE
BIRTHDAYS

October
ABOUT FamilyOnline
Editor: Diane Guerra; assistant: Ann Mueller. This biweekly e-mail newsletter features news about the Society of Mary (SM), Daughters of Mary Immaculate (FMI) and lay Marianists. Bro. Stephen Glodek, SM, provincial; Fr. Jim Fitz, SM, assistant provincial. NEWS: We'll include news of travels, health updates, prayer requests, community celebrations, professional accomplishments, birthdays, and whatever personal or community news you'd like to share.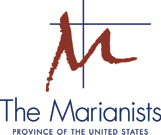 Please send news, digital photos and comments and suggestions to Diane Guerra at dguerra@sm-usa.org and use "FamilyOnline" as your subject line. TECHNICAL PROBLEMS: If you're not receiving this newsletter in the proper format, with proper spacing and photographs and art appearing, please let us know and we'll try to find a solution. If we can't find a solution, we'll put you on our "NOTIFY ONLY" list. CHANGE IN E-MAIL ADDRESS: Send to Ann Mueller at amueller@sm-usa.org. NOTE TO DIRECTORS: Please print this newsletter and post or distribute to Brothers who do not have e-mail. BACK ISSUES/SEARCH: Visit www.marianist.com/fol. SUBSCRIBE: To subscribe, visit http://www.marianist.com/subscribe.htm. UNSUBSCRIBE: To unsubscribe, visit http://www.marianist.com/subscribe.htm.