Volume 4, Number 1
Tuesday, Jan. 11, 2005
CHRISTMAS EVE SERVICE: A COMMUNITY EFFORT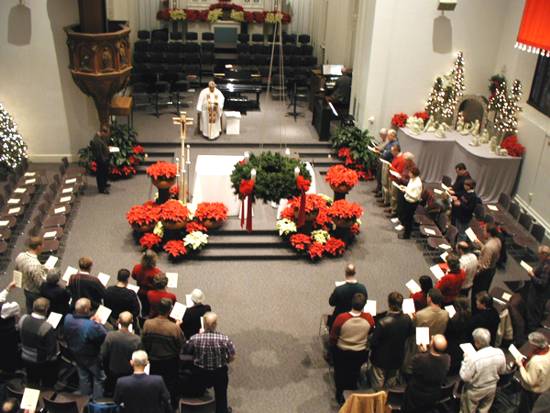 Fr. Paul Marshall presiding at First Vespers on Christmas Eve at the University of Dayton chapel.
Following a 10-year tradition, Dayton's Stonemill community hosted First Vespers of Christmas on Christmas Eve at the University of Dayton chapel. Marianists from the Trinity Avenue, Washington Street and novitiate communities, as well as lay associates from UD, attended. Fr. Paul Marshall presided and preached, and Fr. Jerry Chinchar wrote the music and played the organ. Bro. Dan Klco and Fr. Bert Buby were psalm cantors, and Bro. Ed Brink was a reader. Bro. Sean Downing served as acolyte, and Bro. Tom Pieper was in charge of chapel decorations. Bro. Ray Fitz handled hospitality.
FR. TIM KENNEY OFFERS EDUCATION STATE OF UNION
Fr. Tim Kenney, Province director of education, offers a comprehensive update on Marianist schools. His report includes the goals and priorities of the Office of Education, the sponsorship program, the Marianist Education Consortium (MEC), and an update on Marianist universities. To read Fr. Tim's report, please click here:
| | |
| --- | --- |
| | Fr. Tim Kenney (left) and Fr. Ralph Siefert, president of Chaminade College Preparatory School in St. Louis, at the signing of the school's sponsorship agreement in September 2004 |
PRAYERS TO CELEBRATE CHAMINADE DAY - JAN. 22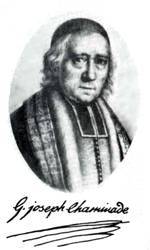 Fr. Jerry Chinchar and the Province Liturgy Commission offer prayers to help celebrate Chaminade Day, Jan. 22. To read Morning Prayers, please click here: —Vespers, please click here: — and Mass Texts, please click here: Note the new Blessed Chaminade Hymn, with text by Fr. Harry Hagan, OSB, of St. Meinrad Archabbey. All documents available on the Marianist PORTAL at (www.marianist.com/portal) Fr. Jerry suggests that you print the documents using 8-1/2 x 14 legal paper and then copy the documents back-to-back, fold and staple.
FOUR ASPIRANTS DISCERN VOCATIONS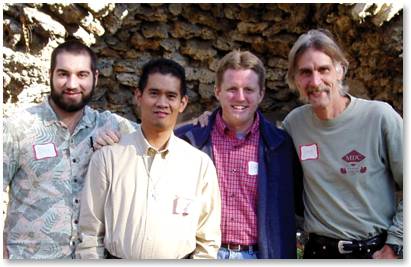 The Province has four aspirants: Ben Dougherty and Roberto Rivera both work at Villa Angela-St. Joseph and St. Aloysius grade school in Cleveland; Roberto also works at St. Joseph grade school. They live at the St. Clair community with Aspirancy Director Fr. Mike Lisbeth. Robert Jones works at Central Catholic High School and at University Ministries in San Antonio; Stephen Paone also works at University Ministries as well as the Marianist Residence. They live at the Casa Maria community with Aspirancy Director Bro. Ed Longbottom. Shown from left, Ben, Roberto, Robert and Stephen.
GENERAL ADMINISTRATION - "SECOND LEG" OF VISIT
| | |
| --- | --- |
| | The General Administration will begin the second leg of its Province visitation on Jan. 31 in North Carolina. GA members will travel throughout the United States and Puerto Rico before concluding their visitation on March 20 in St. Louis. To view the GA's tentative schedule, please click here: |
DRESSED IN THEIR CHRISTMAS PAGEANT BEST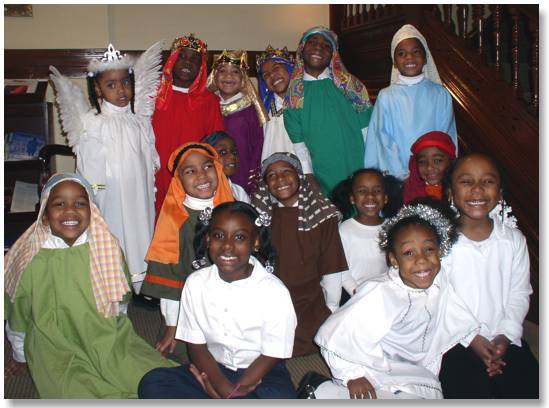 Children from the Catholic Day Care Center in East St. Louis, Ill., are all smiles after presenting a Christmas pageant to the staff of the Province office in St. Louis. The pageant was followed by a hot dog lunch, presents and a visit by Santa Claus. The event was the idea of Bro. Charlie Johnson, with help from the Province Prayer & Social Committee. Bros. John Laudenbach and Norbert Karpfinger minister at the center.
ORDINATIONS, PROFESSIONS FOR FOUR BROTHERS
Please pray for four brothers who will make commitments to the Marianists in the next month: Bro. Simon Kwang Gyu Choi, who will profess perpetual vows on Jan. 22, 2005, in Seoul, Korea; Bro. Gabriel Kirangah (Eastern Africa) and Bro. Oscar Vasquez, both of whom will be ordained to the Diaconate on Jan. 22, 2005, in Rome; and Bro. Dominic Savio Bong gyu Choi, who will make his first profession of vows on Feb. 2, 2005, in Seoul, Korea. Our best wishes to these four men.

| | |
| --- | --- |
| Bro. Simon | Bro. Gabriel |
| Bro. Oscar | Bro. Dominic |
EXPERIENCE "WORLD YOUTH DAY 2005" IN GERMANY!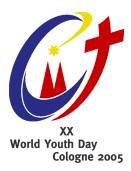 Bro. Jack Ventura invites you to help create a Marianist presence at the 20th World Youth Day in Cologne, Germany, Aug. 15-21, 2005. The Marianist Office of Religious Life is coordinating a tour from Aug. 15 to Aug. 22, and offers special invitations to campus ministries, LIFE programs, high schools, parishes, retreat centers, and those who are temporary professed. The Provincial Council has agreed to offer financial assistance. To read Bro. Jack's letter and a trip itinerary, please click here: To determine the cost of the tour based on your departure city, please click here: To read the Financial Assistance form, please click here: For an application form, e-mail Donna Tucker at dtucker@sm-usa.org. Check out the Youth Day website at http://www.wjt2005.de/.
BALCONY OF POHAKU COMMUNITY, HONOLULU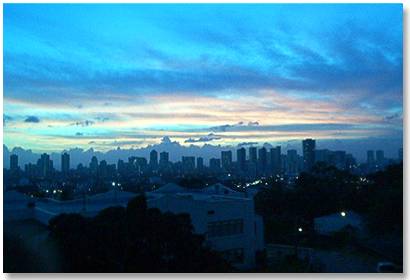 Photo courtesy of Bro. Tom Spring
PLEASE PRAY FOR THE REPOSE OF THE SOUL OF . . .
| | |
| --- | --- |
| Bro. Don, 1972 | Bro. Don, recent |

Bro. Donald Hebeler, 80, who died Dec. 27, 2004, in Dayton from cardiac arrest. May he rest in peace. Bro. Don served in Africa and the Middle East with the Army during World War II. His Marianist ministries included administrative duties for the former Cincinnati Province, the General Administration in Rome, and the University of Dayton. Bro. Don also served as secretary at several international Marianist meetings. Fr. Paul Vieson was the presider and homilist at the Mass of Christian Burial on Dec. 31 at UD's Immaculate Conception Chapel. To read Bro. Don's obituary, please click here:

Bro. Timoteo Soto Angulo (Provinceof Zaragoza), 78, who died Jan. 8, 2005, in Zaragoza, Spain. May he rest in peace. Bro. Timoteo's obituary will appear in the next issue of FamilyOnline.

Bro. Marcellus Joseph Ross (Region of Peru), 83, who died Jan. 2, 2005, in Lima, Peru. May he rest in peace. To read Bro. Marcellus' obituary, please click here:

Bro. Pierre Devanthey (Region of Switzerland), 86, who died Jan. 2, 2005, in Sierre, Switzerland. May he rest in peace. To read Bro. Pierre's obituary, please click here:

Fr. Angelo Carriero (Province of Italy), 80, who died Dec. 29, 2004, in Rome. May he rest in peace. Fr. Angelo's obituary will appear in the next issue of FamilyOnline.

Mary Elizabeth Collins, 92, who died on Dec. 25, 2004. May she rest in peace. Mary Elizabeth was the mother of Bro. John Collins (St. John's, Rockaway Beach).

Jennie Herr, 86, who died of liver cancer on Dec. 22, 2004. May she rest in peace. Jennie was the sister of Fr. Joseph Rasky (Central Catholic Marianist Community).

Please also pray for the repose of the soul of Bernetta Duffy, Dante Gregory Gatto, Cornelius Horan, Vincent Messina, Regina Montague, Angelina Olea, Katherine Quong and Anne Shimek. May they rest in peace. For more information about these intentions, please click here:
PARK BENCH, ST. LOUIS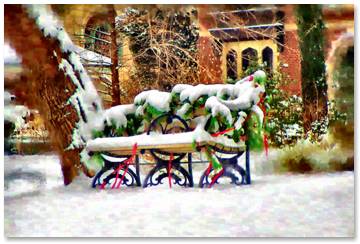 Photo courtesy of Bro. Bob Resing, S.M. Bro. Bob's images are available for sale as note cards or prints. To order, contact Bro. Bob at mailto:rresing@sm-usa.org
PLEASE PRAY FOR THE HEALING OF . . .

Bro. Tom Redmond (Marianist Novitiate, Dayton) and Fr. Tim Dwyer (sabbatical), both of whom are recovering from knee surgery.

Beverly Henry, who is suffering from emphysema. Beverly is the cousin of Fr. Jim Imhof (Villa St. Joseph, Cupertino).

Beulah Wilbur, who is suffering from lung cancer. Beulah is former cook at both the Beechfield Caton and Caton Avenue communities in Baltimore.

Mike White, who is suffering from lymphoma. Mike is the son of a cousin of Don Wigal, website editor for Common Bond, for former members of the Society of Mary.

Russell Reynolds, who has leukemia. Russell in the brother-in-law of Bro. Larry McBride (Puebla, Mexico).
CHRISTMAS ACROSS THE PROVINCE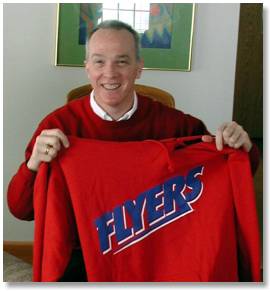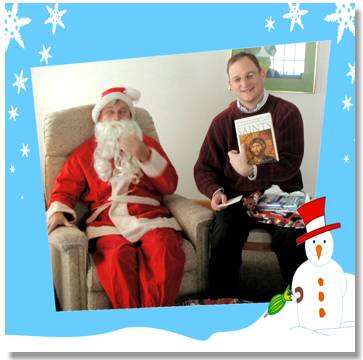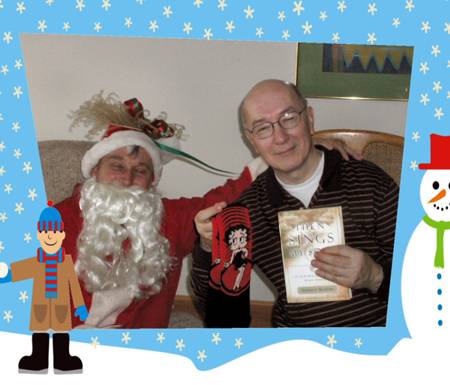 STONEMILL, DAYTON. Christmas Day was a busy one for the Stonemill Road Marianists, who began the day with a prayer service. A gift exchange - with a surprise visit by Santa Claus - was followed by dinner. Sr. Angela Ann Zukowski joined the community's festivities. (top left) Bro. Ed Brink shows off his new sweatshirt; (top right)"Mystery Santa" and Bro. Sean Downing; (bottom) Santa poses with Fr. Jerry Chinchar, who displays his Betty Boop-themed gift. Boop-oop-a-doop!
---
| | |
| --- | --- |
| | LIGUSTRUM, SAN ANTONIO. The Ligustrum community in San Antonio shares Christmas greetings with the Marianist family. Standing, from left: Frs. Bernie Lee and Rudy Vela, and Bro. Ed Violett. Seated: Bro. Tom Suda. |
---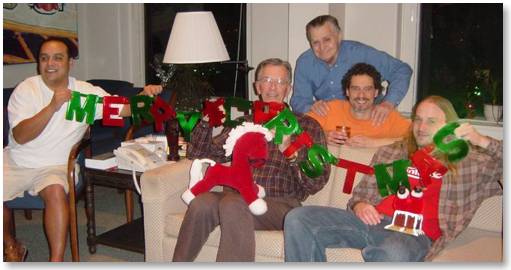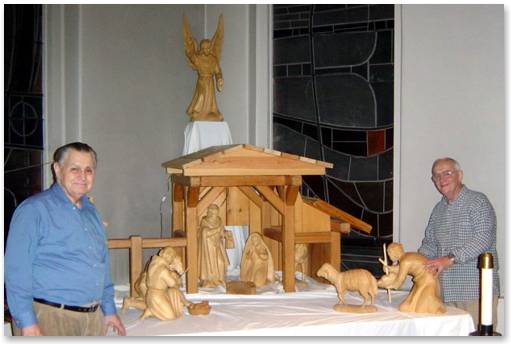 NOVITIATE, DAYTON. Christmas at the novitiate . . .(photo top) Trimming the tree on Dec. 20, from left, Novice Alfredo Chavez; Bros. John Lemker, Leo Willett (standing) and Tom Wendorf; and Novice Luke Hoenigman. (Photo bottom) Bro. Leo Willett (left) and Fr. Jim Bartlett put the finishing touches on the Novitiate's nativity scene.
---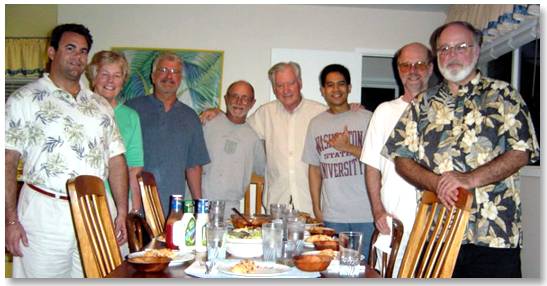 EWA BEACH, HAWAI'I. Bro. John Campbell and Fr. Allen DeLong teamed up to prepare a delicious dinner on Dec. 29 at Ewa Beach, Hawai'i. Gathered for the meal, from left: Norman (friend of Bro. John Campbell), Sr. Jolene Schmitz, CHS (Bro. Dennis Schmitz's sister), Bro. John, Fr. Ken Templin, Fr. Allen, Novice Dennis Bautista, Bro. Dennis Schmitz and Bro. Gary Morris.
---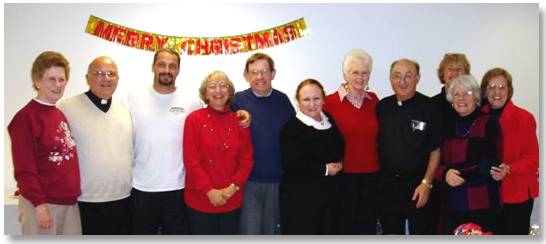 SAN JOSE, CALIF. Fr. George Cerniglia (General Administration), second from left, is pictured with the staff of Queen of Apostles Parish in San Jose, which he visited recently. Fr. George visited the grade school and religious education classes, attended the staff Christmas party, and presided at a Sunday Mass. Also pictured are Fr. Jim Mifsud (fourth from right), pastor, and Bro. Bill Bolts (fifth from left), pastoral associate.
---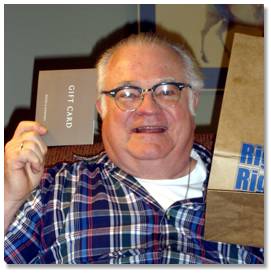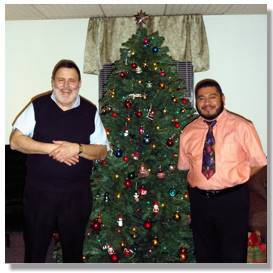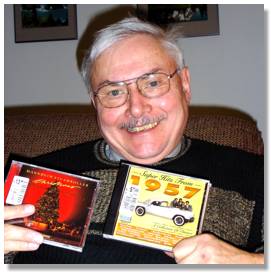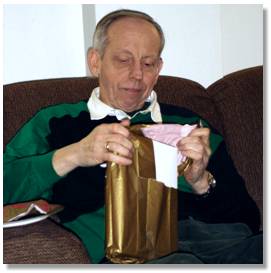 WASHINGTON STREET, DAYTON. The Washington Street community in Dayton shares these scenes from its Christmas celebrations. (Photos top) Fr. Charles Bergedick shows off his Christmas goodies; Bros. Victor Forlani (left) and Tobias Ferrer in front of the community Christmas tree; (Photos bottom) Bro. Bernie Hartman delights in his gifts of compact discs; Fr. Tom Schroer.
---
| | |
| --- | --- |
| | MARIANIST RESIDENCE, SAN ANTONIO. Bro. Joe "Santa" Barrett is a veteran Santa, having appeared at numerous San Antonio Christmas events over the years. This Christmas alone he played Santa for the St. Mary's faculty party, for the Law School professors and their children, for Tri Sigma sorority, and for the children of the staff at the Marianist residence. He's shown with Bro. Harold Lootens at a past Christmas gathering. |
---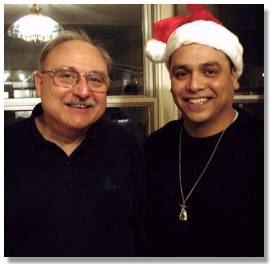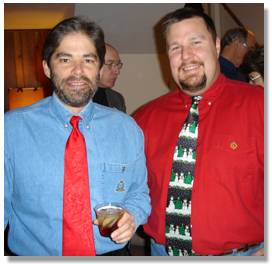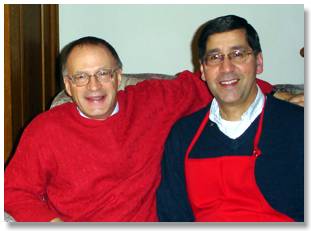 TRINITY AVENUE, DAYTON. The Trinity Avenue community in Dayton hosted a Christmas party on Dec. 17, 2004. Enjoying the party, (top left) - Bro. Bob Hughes (left) and Novice Alfredo Chavez . . . (top right) Novice Master Fr. Dave McGuigan (left) and Bro. Patrick McDaid . . . (bottom) Bros. Dan Klco (left) and Tom Giardino.
CHRISTMAS SLIDE SHOW!
| | |
| --- | --- |
| Art By Bro. Brian Zampier | We've assembled the many Christmas photos sent to us by Marianist communities. To view the show, please click here: |
UD GRADUATE AT MOKPO HIGH, KOREA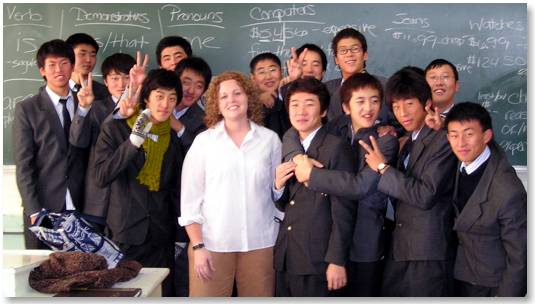 Brooks Van Kirk (center), a graduate of the University of Dayton, is surrounded by her students at Marianist Mokpo High School in Korea, where she volunteers.
FROM THE GENERAL ADMINISTRATION

To read the Jan. 1, 2005, issue of Via Latina from the General Administration in Rome, which includes a report from the "World Congress on the Consecrated Life" held last November, please click here: Bro. Stephen Glodek attended the Congress; Fr. José María Arnaiz was a principal organizer and Bro. Tim Phillips was on the organizing team. (To read more about the Congress, visit http://www.vidimusdominum.org/) Remember that back issues of Via Latina are available on the PORTAL at http://www.marianist.com/portal

To read the General Administration's 2004 Necrology report and the list of 2005 Jubilarians, please click here: This report also is available on the PORTAL at www.marianist.com/portal:
MARIANISTS AT YOUTH MINISTERS CONFERENCE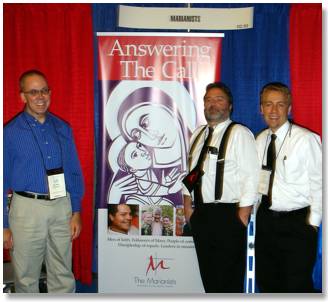 The vocation booth at the December 2004 National Youth Ministers Conference in Pittsburgh was well-staffed, from left, Bros. Brian Zampier, Charles Johnson and Brian Halderman. The trio, together with Jessica Sherwen (Cape May), handed out more than 600 bags of vocation information.
WHO'S DOING WHAT

Bro. Joe Barrish's (Meyer Hall, Dayton) illustrations for the book, Mary's Flowers: Gardens, Legends and Meditations, by Vincenzina Krymow, inspired the windows of the Day Chapel in the Church of the Resurrection in New Albany, Ohio. The windows were created by Sarah Hall in collaboration with a German studio.
| | |
| --- | --- |
| Congratulations to Bro. Peter Daino (Malawi, Africa) and the Marianist and Rosarian Missions in Malawi, Africa, who were profiled in The Catholic Sun, the newspaper of the Syracuse diocese. The article, "Man with a Mission," received the 2004 Archbishop Edward T. O'Meara Award for outstanding world mission news coverage in a diocesan/archdiocesan newspaper. | From left, Bro. Peter Daino, Sr. Beatrice Chipeta and Bro. Javier Anso. Fr. Javier visited the Nutrition Rehabilitation Centre in Karonga during his 2004 visit. The Centre feeds thousands of orphans. Fr. Richard Loehrlein's construction team built the rehab houses. |

Bro. Ed Loch (Central Catholic, San Antonio) and Don Ladis co-authored an article, "Three Flags Wave in Belgium . . . USA," for the December 2004 issue of The Belgiophile, the journal of the American-Belgian Philatelic Society. The article profiles the town of Belgium in Ozaukee County, Wis.
| | |
| --- | --- |
| Bro. Urban at the national studio of St. Joseph Radio in Orange County, Calif. Photo courtesy of Fr. Ted Ley. | Bro. Urban Naal (West Hills, Calif.) narrated the Jan. 1 "St. Joseph Radio Presents" program, an hour of Christmas, Epiphany and Marian feast-day music by the Schola Cantorum of the Pacific. |

Fr. Charles Miller (Chaminade Community, San Antonio) reports that the Theology Department of St. Mary's University will offer a graduate study tour of Greece and Turkey, "Journeys of St. Paul and Seven Cities of Revelation," from June 13 to July 3, 2005. Marianists may attend on an audit or for-credit basis. Contact Fr. Charles at 210.436.3918 or cmiller2@stmarytx.edu.
| | |
| --- | --- |
| | Bro. Don Smith (Meyer Hall, Dayton) created this drawing of the angel at the Annunciation during a recent pilgrimage to Bordeaux, France. The statue is located at the Chapel of the Madeleine. |

Fr. Philip Hoelle (Mercy Siena, Dayton) reports that the Mercy Siena Cottages were dedicated in November during a ceremony led by Archbishop Daniel Pilarczyk. The Catholic Telegraph covered the dedication.
NOTHIN' FISHY HERE
| | |
| --- | --- |
| | Fisherman extraordinaire Bro. Jerry Bommer (Marianist Hall, Honolulu) with a 40-inch Northern Pike he hooked on a lake behind his sister's farm in Beaver, Wis., during a sabbatical in 2004. |
BRO. ED UNFERDORFER TURNS 80
| | |
| --- | --- |
| | Happy Birthday to Bro. Ed Unferdorfer, who turned 80 on Dec. 24, 2004. Bro. Ed celebrated with the staff of the Marianist Family Retreat Center in Cape May, N.J., and local residents. |
| | |
| --- | --- |
| | The Cape May staff, pictured at Bro. Ed's birthday party. Sitting, from left: Diane Read, Bro. Ed, Anthony Fucci and Bro. Al Koch. Standing, from left: Jessica Sherwen, Andrea Hafele and Fr. Ted Cassidy. (Not pictured: Bro. Jim Fitzgibbons, who was ill.) Photos courtesy of Anthony Fucci. |
LET IT SNOW, AND SNOW, AND SNOW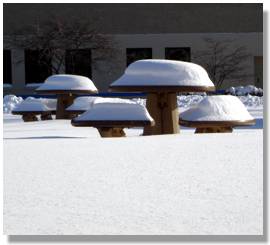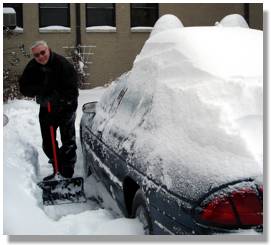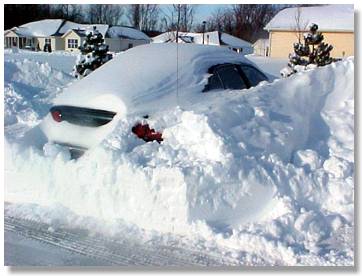 It was a white Christmas in Dayton, thanks to a record-smashing snowstorm on Dec. 22-23 that dumped up to two feet of flakes in some places. Some images from the storm: (top left) Snow piled atop tables (photo by Bro. Brian Halderman); (top right) Bro. Bernie Hartman attempts to dig out of the Washington Street community; (bottom) a buried car at Mercy Siena (photo by Bro. Don Winfree)
MYSTERY MARIANIST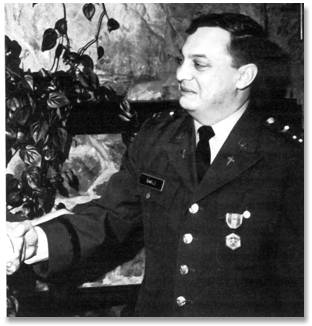 This photo was taken in 1974, when our "Mystery Marianist" was an Army captain and received the Army Commendation Medal for the second time, awarded for service in Korea in 1972-73. He was promoted to major in 1980. Who is he?
2004-2005 PERSONNEL
NEW CHAMINADE STATUE BLESSED
| | |
| --- | --- |
| | Fr. Dick Knuge (Meyer Hall, Dayton) reports that the Meyer Hall community in Dayton blessed a new statue of Blessed William Joseph Chaminade on Nov. 30. Shown is Fr. Joe Kozar (Alumni Hall, Dayton), who presided at the ceremony. The statue was carved by Leo Goubeaux, a former Marianist. |
OUT AND ABOUT
To read the upcoming travel schedule of members of the Provincial staff in St. Louis, please click here:
| | |
| --- | --- |
| THE CLASSIFIEDS | |
PRINCIPAL. Chaminade-Julienne Catholic High School in Dayton is seeking a principal. For a job description, please click here: For questions, e-mail Fr. Tim Kenney at tkenney@sm-usa.org or Bro. John Habjan at jhabjan@sm-usa.org.

MARTIN LUTHER KING DAY
The Province office will be closed on Monday, Jan. 17, in honor of Martin Luther King.

NEWSLETTER
CENTRAL
VOCATION NEWS. To read the latest issue of Vocation News from Bro. Charles Johnson, vocation director, please click here:
CFL CENTER. To read the January 2005 issue of High Tidings, the e-newsletter of the CFL Family Retreat Center in N. Topsail Beach, N.C., please click here:
MSJC. To read the January 2005 issue of Justice Jottings, the e-newsletter of the Marianist Social Justice Collaborative, please click here:
Note: To view PDF files, you need Adobe Acrobat Reader, which is available free of charge at http://www.adobe.com/products/acrobat/readstep2.html. If you're opening a "PDF" file and the publication is too small, pull down the "percentage" menu and increase the percentage to 100 percent or higher for easy viewing.
NOVICES PRESENT JUAN DIEGO REENACTMENT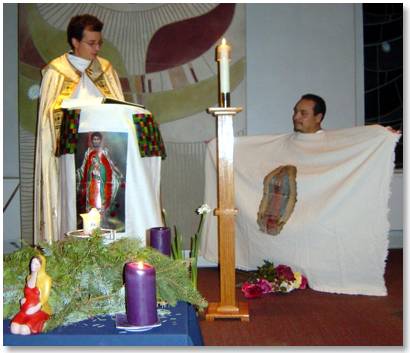 Novice Armando José Añeses (left) portrayed the Mexican bishop and Novice Alfredo Chavez was Juan Diego when the two novices presented a reenactment of Juan Diego's encounter in 1531 with the bishop about his vision of Mary. The saint's feast day was Dec. 9.
A THOUGHT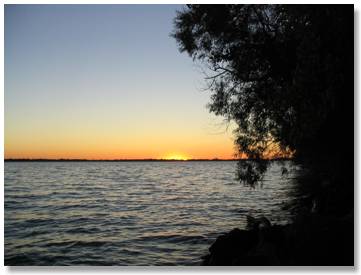 Governor's Island, photo courtesy of Novice Jeff Warren
"To be grateful is to recognize the love of God
in everything he has given us; and he has given us everything.
Every breath we take is a gift of God's love because it brings with it
the opportunity to encounter God's one image which is in us all,
and we discover God by discovering the likeness of God's image in one another."
Thomas Merton
CENTRAL CATHOLIC CELEBRATES IMMACULATE CONCEPTION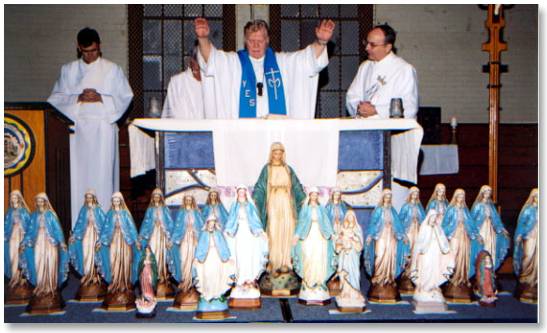 Members of the Central Catholic High School community in San Antonio celebrated the 150th anniversary of the dogma of the Immaculate Conception on Dec. 8, 2004. Fr. Gerry Haby (center) presided at the liturgy and the blessing of the statues of Our Lady of Grace. Also pictured, Deacon Michael D'Agostino (far left) and Deacon Patrick Cunningham (far right), school principal. Students later placed the statues on homeroom altars.

ARE YOUR DATES POSTED ON THE CALENDAR?
A calendar that lists events involving Marianist brothers, Marianist sisters and lay Marianists is now available at www.marianist.com/calendar. The calendar also is available on the PORTAL at www.marianist.com/portal. If you'd like an event included, send the event, date, location and contact information to Pat Stephens at email:pstephens@sm-usa.org.
MYSTERY MARIANIST UNVEILED . . .
It's Fr. John Bakle, who now ministers in Columbus, Ohio. On Christmas Day 1972, Fr. John was flown by helicopter to numerous isolated areas in Korea, saying Masses for Army and Air Force personnel – 22 Masses in 24 hours!
PROVINCE
BIRTHDAYS

January
ABOUT FamilyOnline
Editor: Diane Guerra; assistant: Ann Mueller. This biweekly e-mail newsletter features news about the Society of Mary (SM), Daughters of Mary Immaculate (FMI) and lay Marianists. Bro. Stephen Glodek, SM, provincial; Fr. Jim Fitz, SM, assistant provincial. NEWS: We'll include news of travels, health updates, prayer requests, community celebrations, professional accomplishments, birthdays, and whatever personal or community news you'd like to share.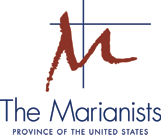 Please send news, digital photos and comments and suggestions to Diane Guerra at dguerra@sm-usa.org and use "FamilyOnline" as your subject line. TECHNICAL PROBLEMS: If you're not receiving this newsletter in the proper format, with proper spacing and photographs and art appearing, please let us know and we'll try to find a solution. If we can't find a solution, we'll put you on our "NOTIFY ONLY" list. CHANGE IN E-MAIL ADDRESS: Send to Ann Mueller at amueller@sm-usa.org. NOTE TO DIRECTORS: Please print this newsletter and post or distribute to Brothers who do not have e-mail. BACK ISSUES/SEARCH: Visit www.marianist.com/fol. SUBSCRIBE: To subscribe, visit http://www.marianist.com/subscribe.htm. UNSUBSCRIBE: To unsubscribe, visit http://www.marianist.com/subscribe.htm.