Volume 4, Number 15
Tuesday, Aug. 9, 2005
http://www.marianist.com/
AYE, AYE, CAP'N CHARLES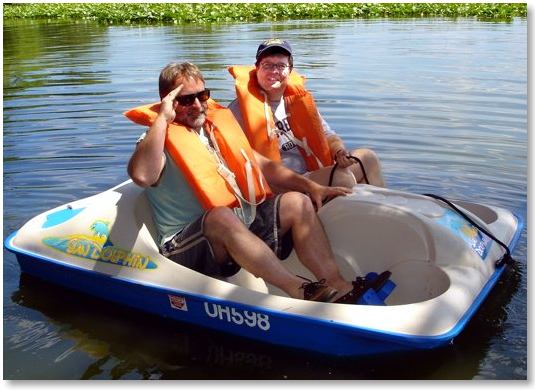 Vocation Director Bro. Charles Johnson (left) is ready to set sail with Aspirant Tom Farnsworth at the Governor's Island discernment weekend in July. See story below. Photo by Bro. Brian Halderman.
CONVOCATION OF THE PROVINCIAL CHAPTER
Provincial Stephen Glodek has convoked the eighth session of the Provincial Chapter, which will be held Sept. 23-25, 2005, at the Oblate Center in San Antonio. This fall Chapter session is designed for discussion only. Agenda items will include implementation of the mission statement and an update on the Provincial Council's "Orientations and Priorities for 2004-2007." Province members are invited to a gathering in San Antonio Saturday evening, Sept. 24 (more information coming). The next legislative session of the Chapter will be held March 3-7, 2006.
EASTERN AFRICA CELEBRATES AS FIVE PROFESS VOWS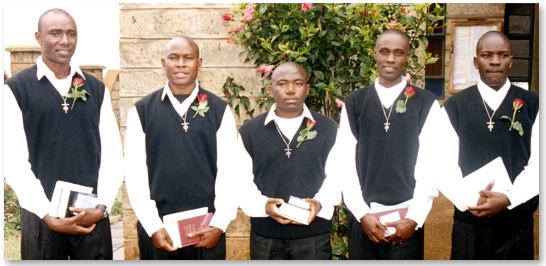 Congratulations to our newest brothers from the Region of Eastern Africa, from left: Bros. Moses Okoth, Dingiswayo Soko, Floyd Chanda, Henry Kamundi and John-Paul Kirimi
On July 30, 2005, the Region of Eastern Africa celebrated as five young men made their first vows at St. John the Evangelist parish in Limuru, Kenya: Bros. Floyd Chanda, Henry Kamundi, John-Paul Kirimi, Moses Okoth and Dingiswayo Soko. Regional Superior Fr. Marty Solma accepted the vows; Bro. Michael Otieno gave the homily. The newly professed brothers were joined in the celebration by other Marianist brothers, family members and lay Marianists. The five will move to the scholasticate community to pursue their studies in preparation for future ministries. Congratulations to all!
TWO BROTHERS TAKE VOWS IN QUERÉTARO, MEXICO
| | |
| --- | --- |
| Bro. Régulo | Bro. Gobi |
Congratulations and best wishes to two brothers from the District of Mexico who professed vows on Aug. 6, 2005, at Our Lady of Guadalupe church in Querétaro, Mexico: Bro. Régulo García Hernández, who professed perpetual vows, and Bro. Gobi Torres Nazarío, who professed first vows. Provincial Stephen Glodek and Bro. Charles Johnson represented the Province at the profession.
GOVERNOR'S ISLAND, HUNTSVILLE, OHIO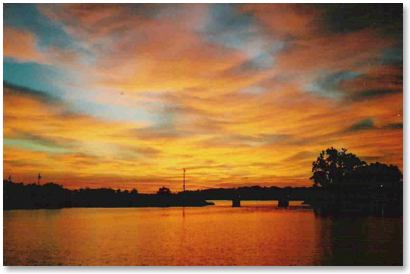 Photo courtesy of Bro. Paul Bredestege
PROVINCIAL LETTER DISCUSSES FAITH, CULTURE
Provincial Stephen Glodek has written Provincial Letter 14, dated Aug. 4, 2005, entitled, "The Implementation of the Province Commitment to the Dialogue between Faith and Culture 2002-2007." Brother Stephen details the history of the Province's efforts in this dialogue, as well as ongoing efforts and plans for the future. Read Provincial Letter 14.
FR. ANTONIO SOLDÀ VISITS ST. LOUIS
| | |
| --- | --- |
| Fr. Antonio Soldà, procurator and postulator general in Rome, visited the St Louis area from July 27-Aug. 1. At the Cathedral Basilica of St. Louis, from left: Bro. Mike O'Grady, Fr. Antonio and Fr. Tim Kenney. Fr. Antonio was in the U.S. to consult on Marianist causes. His trip also included visits to Dayton, Cupertino and San Antonio. | |
NOVICES TO SERVE IN FOUR MINISTRIES
This fall, the Province's second-year novices will venture to four locations – St. Louis, Fort Worth, San Antonio and Veracruz, Mexico – to serve in a variety of ministries. Our prayers and best wishes in their endeavors.
| | |
| --- | --- |
| | Armando Añeses will live with the Casa Maria community in San Antonio and will teach and work in campus ministry at Central Catholic High School. |
| | Dennis Bautista will live at the new Westminster community in St. Louis and will work in the Province Communications Office and assist in the Office of Vocations. |
| | Alfredo Chavez will live in the Comunidad San José in Coatzacoalcos, Veracruz, Mexico. He will work at the Instituto Villa del Espíritu Santo, a diocesan preparatory school administered by the Marianists, assisting in the library and computer center and doing tutoring and retreat work. |
| | Andrew Kosmowski will join the Nolan Catholic High School community in Fort Worth and will teach and work in campus ministry at the school. |
MARIANIST VOLUNTEER PROGRAM COMMISSIONS SIX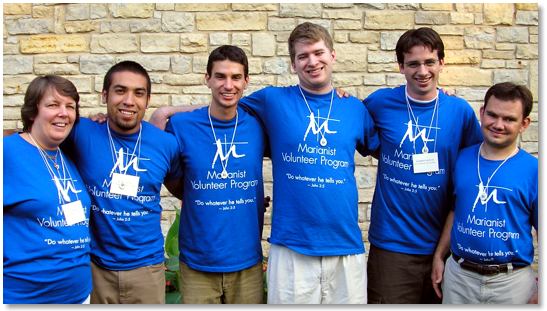 The new MVP volunteers and their volunteer assignments, from left: Liz Cooke (New Orleans - crisis pregnancy center), Greg Pardo (Uxpanapa, Mexico - DECAMP), Nick Raddell (San Antonio - youth center), Dacian Vogt (Cincinnati - teaching at St. Francis de Sales; helping with Urban Plunges), Robert Bowie (San Antonio - urban ministries, aftercare program) and Thomas Mole (San Antonio - housing program for the poor)
Six volunteers with the Marianist Volunteer Program (MVP) were commissioned Aug. 7, 2005, at Bergamo Center in Dayton. The volunteers spent the previous week in an orientation led by MVP Coordinator Dan Richter. Speakers were Bro. Mike O'Grady, Bro. Phil Aaron, Dick Ferguson, Sr. Laura Leming, Myles McCabe, Patricia Mejia, Carol Ramey and Bro. Dennis Schmitz. Topics included the Marianist charism, leadership, service, and simplicity and justice. Congratulations and best wishes to the new volunteers!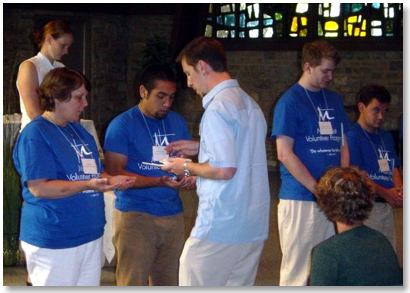 Coordinator Dan Richter anoints the hands of the new MVP volunteers
RENEWING VOWS, HONOLULU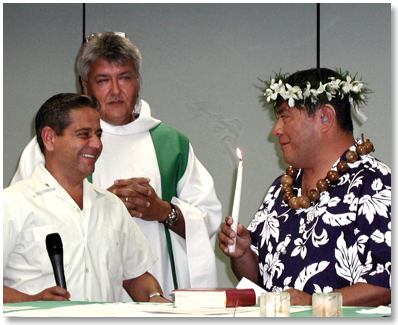 Bro. Tobias Ferrer renewed his temporary vows during the Province retreat in Honolulu in late July. Representing the Province is Bro. Jack Ventura (left foreground); Fr. Rudy Vela is in back. Photo by Fr. Jerry Chinchar
PERSONNEL ANNOUNCEMENTS
Congratulations and prayers to the following brothers who have accepted director assignments, effective Aug. 15, 2005. We pray also for brothers who will be serving in new ministries.
FIRST TERM (three years)
Bro. Tony Pistone, West Hills, Calif.
Fr. Rich Wosman, Woodlawn Ave., San Antonio
The Provincial Council thanks Frs. Edwin Johnson and Terry Weik for their years of service as director.
| | |
| --- | --- |
| Bro. Aaron Sonnenburg has been assigned to the Washington/Franklin Street community in Dayton, with ministry at Chaminade-Julienne High School. | |
| | |
| --- | --- |
| | Bro. Paul Hoffman has been assigned to the St. Clair Avenue community in Cleveland, with ministry at St. Aloysius and St. Philip Neri parishes. |
| | |
| --- | --- |
| Fr. Terry Weik has resigned as director of campus ministry at St. Mary's University. During the fall semester he will live at the community at Cape May, N.J., where he will work on a research paper for his Doctor of Ministry degree from the Oblate School of Theology in San Antonio. | |

Juan García Jiménez (District of Mexico) has withdrawn from the Society of Mary. Our best wishes to Juan in his future endeavors.
DISCERNMENT WEEKEND AT GOVERNOR'S ISLAND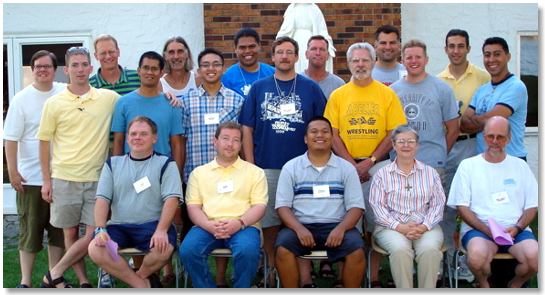 At the retreat, seated, from left: Tom Fox, Alan Smith, Norman Capinpin, Sr. Patricia Knopp, SND, and Bro. Dennis Schmitz; middle row, from left: Kip Young, Novice Roberto Rivera, Reynard Nivera, Bro. David Betz, Bro. Charlie Wanda, Novice Bob Jones and Aspirant Luis Gamboa; back row, from left: Aspirant Tom Farnsworth, Fr. Chris Wittmann, Novice Steve Paone, Brandon Alana Maugaotega, George Lang, Dean Haley and Paul Mosso; missing from photo: Bros. Charles Johnson, Brian Halderman, Jack Somerville, Aaron Sonnenburg and Novice Andy Kosmowski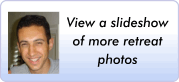 The first "Look, Listen and Lounge at the Lake" discernment retreat was held July 28 – Aug. 1 at Governor's Island in Huntsville, Ohio. Attendees included 25 contacts, aspirants, novices and professed who gathered for discernment, discussions on religious life and Marianist life, Eucharist, personal reflection and relaxation. The vocation ministry thanks the Governor's Island community for its hospitality. Slideshow courtesy of Bro. Brian Halderman.
| | |
| --- | --- |
| At the discernment gathering, from left, Novice Roberto Rivera, Paul Mosso and Aspirant Luis Gamboa | |
PLEASE PRAY FOR THE REPOSE OF THE SOUL OF . . .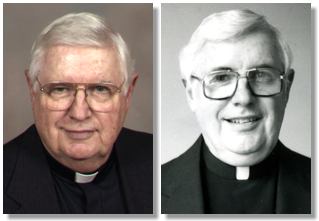 | | |
| --- | --- |
| Fr. Richard, recent | Fr. Richard, 1980 |

Fr. Richard Knuge, 79, who died Aug. 6, 2005, in Dayton of complications of cancer. May he rest in peace. Visitation for Fr. Richard will be Aug. 11, 2005, at 6 p.m. at Queen of Apostles Chapel at Mount St. John in Dayton, with a funeral liturgy at 7 p.m. Burial will follow at Queen of Heaven cemetery. Fr. Richard's obituary will appear in the next issue of FamilyOnline.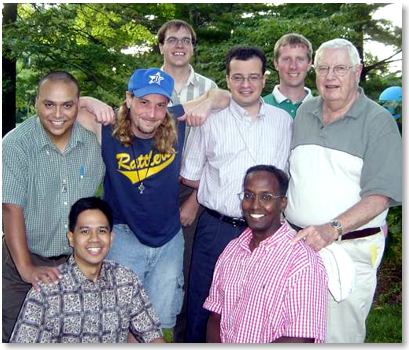 Novices in Dayton helped Fr. Dick celebrate his 60th jubilee on Aug. 21, 2004, at the Meyer Hall community.

Vera Siefert, who died Aug. 6, 2005. May she rest in peace. Vera was the mother of Fr. Ralph Siefert (Waldron Community, St. Louis).

Nancy Cady, who died Aug. 9, 2005, in Florida. May she rest in peace. Nancy was the sister of Bro. Ken Straubinger (Maryland Avenue, St. Louis).

Marian Hoffman, who died on Aug. 4, 2005. May she rest in peace. Marian was the aunt of Bro. Paul Hoffman (Findlay Street, Cincinnati).

Cecilia Therese Koenig, daughter of Jessica and Andreas Koenig, who was stillborn on Aug. 7, 2005. May she rest in peace. Cecilia was the granddaughter of Donna Tucker, secretary for the Province Office of Religious Life. Jessica is Donna's daughter.
MISSOURI BOTANICAL GARDEN, ST. LOUIS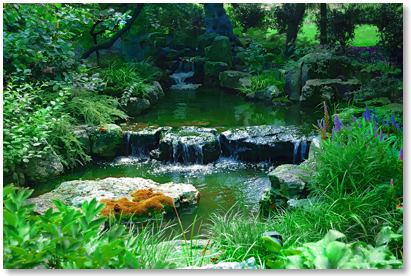 Photo courtesy of Bro. Bob Resing, S.M. Bro. Bob's images are available for sale as note cards or prints. To order, contact Bro. Bob atmailto:rresing@sm-usa.org
PLEASE PRAY FOR THE HEALING OF . . .

Fr. Joe Rasky (Marianist Residence, San Antonio), who is recovering from successful hip surgery.

Bro. Anthony Sobocinski (Marianist Residence, San Antonio), who is suffering from pneumonia.

Bro. Tom Spring (Chaminade Pohaku Community, Honolulu), who will have surgery to remove a melanoma on Aug. 16.

Please also pray for Archbishop Raymond Roussin, Melzetta Brown, Patrosenia Bunda, Marie Galevic and Mary Kay Plassenthal. Read about these intentions.
HONOLULU MARIANISTS WELCOME NEW BISHOP


Many Marianist brothers in Honolulu attended the ordination/installation of Bishop Clarence (Larry) Silva at a large, colorful ceremony on July 21, and some played a big part. Bro. Tom Spring (above, left) represented the religious men of the diocese and presented Bishop Silva with a Hawaiian bible. Bro. Franklin Pao chanted and led the Hawaiian Royal Societies in the procession into the Blaisdell Center. Fr. Ken Templin also attended (above, right).
MARIANIST LAY COMMUNITIES MEET IN BORDEAUX
Tony Garascia reports on the success of the 4th International Meeting of Marianist Lay Communities (MLC) in Bordeaux, France, from July 23-29, 2005. He says that 17 delegates and lay observers represented countries from Eastern and Western Africa, Haiti and India, as well as delegates and observers from Japan and Korea. "I returned from France with a sense that the effort to build the world Marianist Family is bearing fruit," Tony said. Read the meeting highlights. Read In Alliance with Mary, a document that discusses who Mary is for the MLCs in the 21st century.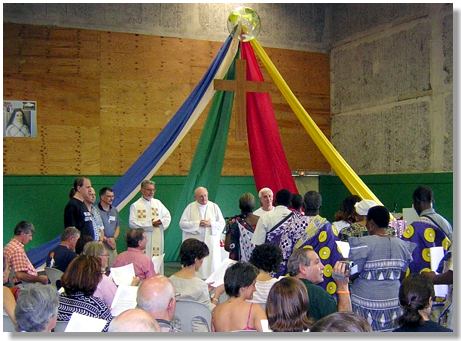 At the MLC international meeting in Bordeaux: The Eucharist celebrating Africa as a separate region of the MLC, which allows the African MLCs to have their own representative on the leadership team. Note Superior General Fr. David Fleming (center).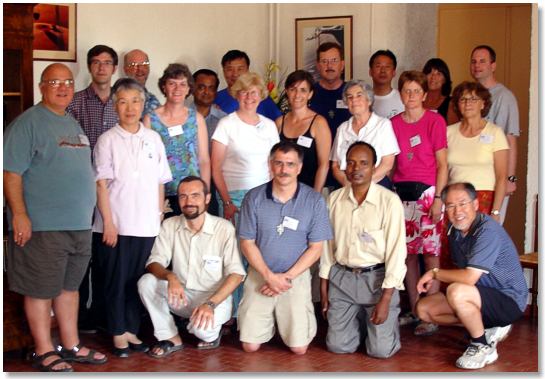 At the international MLC meeting, kneeling, from left, Bro. Herve Guillo du Bodan, Tony Garascia, Jinius Bara and Bro. John Ko; standing, from left: Fr. George Cerniglia, Hiroko Tokeida, Fr. Luis Melo, Bro. Dennis Schmitz, Joan McGuinness Wagner, Josep Duraiswamy, Matthew Park, Marge Cavanaugh, Isabella Moyer, Ray McCracken, Sr. Mary Louise Foley, Immanuel Cho, Jacqueline Carrier, Kay Stone, Marie Paul Genette and Dan Jordan
PEACE & JUSTICE UPDATE

Marianist Social Justice Educators. Representatives of Marianist secondary and middle schools from Hawaii to Puerto Rico met in Dayton in July to discuss service and social justice in Province schools. They shared best practices and resources and developed plans for the coming year. Visit the Marianist Web site for more information.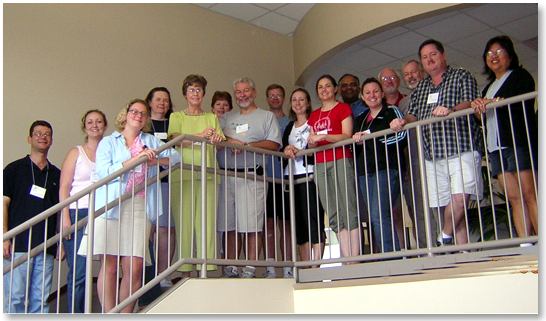 Myles McCabe (third from right) and representatives from Marianist schools met to discuss social justice.

Action Requests
Make your voice known on important issues:

Contact
Myles McCabe, Province Director of Peace & Justice, mmccabe@sm-usa.org. 314.533.1207, x. 235

Marianist Sharing Fund in Action
JOB TRAINING PROGRAM HELPS UNEMPLOYED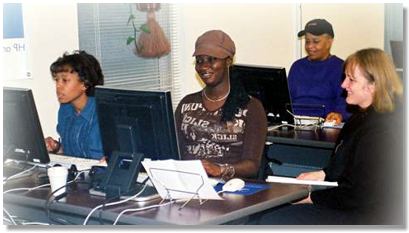 Instructor Donna Felskie with students from Project Surpass
Bro. Bob Wiethorn, assistant director of Mercy Connections in Cincinnati, together with his community, De Sales Crossings, applied for a Marianist Sharing Fund grant for Project Surpass, a computer-based job training program that helps the unemployed and under-employed qualify for entry-level office positions. The grant was accepted. The money paid for training for the project instructor to help students with computer programs. Myles McCabe reminds Marianists that Sharing Fund requests endorsed by Marianist communities receive priority!
To read more about Project Surpass and to apply for a Sharing Fund grant, visit the Marianist Web site.
WHO'S DOING WHAT
| | |
| --- | --- |
| Congratulations to Tony Garascia, who was elected president of the Marianist Lay Communities at the 4th International Meeting of Marianist Lay Communities in Bordeaux, France, held in July. Elected regional responsibles were Ana Blázquez (MLC of Europe), Isabella Moyer (MLC of North America, Asia, Australia and Ireland), Lorna Mueni (MLC of Africa) and Ezequiel Reggiani (MLC of Latin America). | |
| | |
| --- | --- |
| A young parishioner from Emmanuel parish in Dayton mans a bake sale in June to help finance the trip to World Youth Day in Germany. | Bro. Jack Ventura is tour leader for 37 pilgrims from the Province who will set out on Aug. 15, 2005, for the 20th World Youth Day in Cologne, Germany. Participants hail from Hawai'i, California, Texas, Missouri, Ohio, Pennsylvania, Toronto, Korea and Kenya. The delegation also will represent the Province at a special Marianist gathering and liturgy on Aug. 19 entitled Celebrate in the Spirit of Mary. Our prayers and best wishes go out to these travelers. |
| | |
| --- | --- |
| | Dan Jordan at the North American Center for Marianist Studies (NACMS) in Dayton reports on a new "virtual learning community" (VLC) course called "Community in the Marianist Tradition" that begins Aug. 28. It joins the popular "Founders of the Marianist Family" course that also begins Aug. 28. Read more or register now. |
| | |
| --- | --- |
| Bro. Tom | Bro. Paul Galantowicz reports on summer in New Orleans: Paul is beginning RN studies this month and Bro. Tom Heinle worked at TECABOCA wrangling horses. The "Ed Kiefer Memorial Garden" is being planted in the front of the community home. |
| | |
| --- | --- |
| Fr. Chris Janson served as chaplain during one of the summer family programs called "Family Life: What a Circus!" at the Marianist Family Retreat Center in Cape May, N.J. Family members and staff chose a symbol to be painted on their face that best describes their gifts and talents, and Fr. Chris chose the Marianist symbol. | |
| | |
| --- | --- |
| | Bro. Dave Murphy (Marcella Ave., Cleveland) has been appointed to the Province Peace and Justice Committee. |
| | |
| --- | --- |
| Best wishes to our new community in Nepal called the "Morning Star Marianist Community." Fr. Varghese Manooparampil is director; other members are Bros. Suresh Babu Gaddam, Anthony Pudota and Victor Sahayaraj. | Fr. Varghese |
MARIANIST FAMILY RETREAT ON SHELTER ISLAND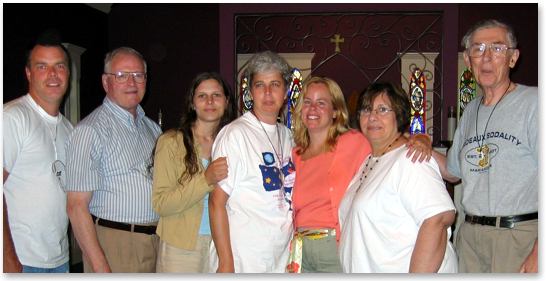 The Passionist Retreat Center on Shelter Island was the location for the sixth annual Marianist Family Retreat July 25-29. Pictured is the Marianist ministry team for Long Island: from left, Bill O'Keefe, Fr. Al McMenamy, Melanie Benson, Pati Krasensky, Jen Lyon, Carol Weiss and Bro. Walt Oberster. Not pictured: the Dockswell, Scarallo and McNicholas families.
MYSTERY MARIANIST
| | |
| --- | --- |
| | This "Mystery Marianist" is celebrating his Golden Jubilee this year. Who is he? |
2005-2006 PERSONNEL COMING IN SEPTEMBER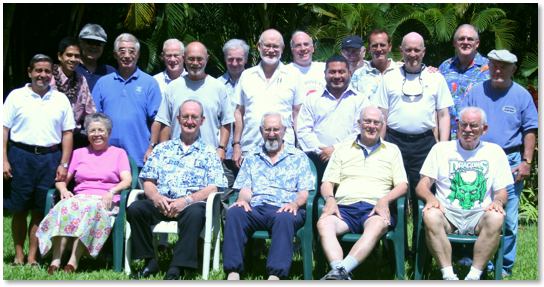 Brothers who attended the retreat at St. Anthony in Honolulu the week of July 25, seated, from left: Sr. Fran Cunningham (presenter) and Bros. Elmer Dunsky, Paul Novosal, Joe Scheible and Ed Zamierowski; standing, from left: Bro. Jack Ventura, Novice Dennis Bautista, Fr. Rudy Vela, Bro. Bob Maruyama, Bro. Rich Schrader, Fr. Ken Templin, Bro. Nick Rufo, Fr. Charlie Miller, Bro. Dave Murphy, Bro. Tobias Ferrer, Fr. Jerry Chinchar and Bros. Will Halloway, Fred Silbereis, Jim Burkholder and Bob Hoppe
At the Hawaii retreat, Bros. Will Halloway (left) and Jose DeGregorio

Bros. Joe Scheible (left) and Dave Murphy.
Photos by Fr. Jerry Chinchar
OUT AND ABOUT
Read the upcoming travel schedule of members of the Provincial staff in St. Louis
TEMPORALITIES MEETING, ROME
The General Administration hosted the International Meeting of the Marianist Assistants for the Office of Temporalities from July 10-16 at the GA offices in Rome. The brothers exchanged information about their work and discussed alternative investments, responsible investing, peace and justice and a possible proposition for the next General Chapter.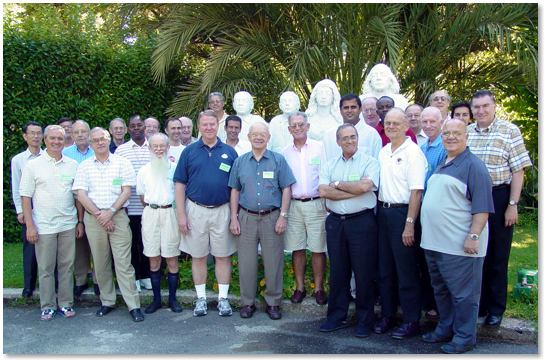 Several members from the Province of the U.S. attended an international meeting July 10-16 at the GA office in Rome for brothers who serve in temporalities: Bro. Bob Metzger (front, fourth from left); Bro. Richard Dix (front, second from right); Bro. Francisco González (far left, rear, partially hidden); Bro. Valentine Chola Mulenga (left of Bro. Bob, striped shirt); T. Pragasam (left and back of Bro. Dix).
NEWSLETTER
CENTRAL

NEWS FROM INDIA. Read the July 2005 issue of the newsletter from India.

REDS. Read the July 2005 issue of the REDS newsletter (Ragpickers Education Development Scheme).

MAUI. Read the August 2005 issue of Fr. Steve Tutas' report from Maui, Hawai'i.
Note: To view PDF files, you need Adobe Acrobat Reader, which is available free of charge at http://www.marianist.com/fol/fol72.htm#. If you're opening a "PDF" file and the publication is too small, pull down the "percentage" menu and increase the percentage to 100 percent or higher for easy viewing
A THOUGHT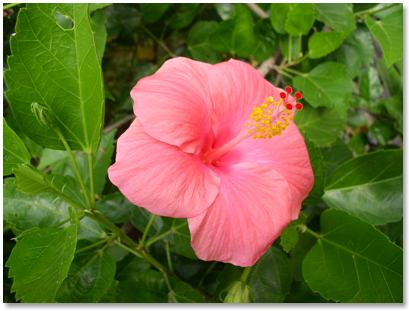 Photo courtesy of Bro. Darwin Joseph
"It takes courage for a man
to listen to his own goodness and act on it.
Do we dare be ourselves?
This is the question that counts."
Pablo Picasso
MYSTERY MARIANIST UNVEILED . . .
It's Bro. Franklin Pao, who lives at the Center Marianist Community in Honolulu and serves as the registrar at Saint Louis School. Bro. Franklin lived and ministered in California for 30 years. As a Hawai'ian, he is proud of his culture and has been a state-licensed Kahuna Nui of the Royal Order of Kamehameha since 1988. Bro. Franklin's life lesson: "I have learned how to accept myself as I am, and others as they are. We are all the same in the eyes of God."
OOPS . . .
In the last FamilyOnline, the incorrect e-mail was published for ordering the biblical study cards entitled "Judaïca," which explain Judaic symbols and their links with Christianity. To order, e-mail cbharel@cndf.qc.ca.
In our last issue, we didn't include the 50th anniversary Web site for Chaminade University of Honolulu, which will celebrate the anniversary with a full year of celebration beginning the weekend of Sept. 16, 2005. Visit the 50th anniversary Web page or call the anniversary hotline at 808.739.8365.
PROVINCE
BIRTHDAYS


August

VISIT OUR WEB SITE AT www.marianist.com
Editor: Diane Guerra; assistant: Ann Mueller. This biweekly e-mail newsletter produced by the Society of Mary features news about the Society of Mary (SM), Daughters of Mary Immaculate (FMI) and lay Marianists. Bro. Stephen Glodek, SM, provincial; Fr. Jim Fitz, SM, assistant provincial. Read the 2005 publication schedule and deadlines. Read hints about submitting photos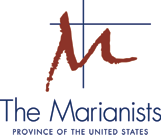 and copy. NEWS: We'll include news of travels, health updates, prayer requests, community celebrations, professional accomplishments, birthdays, and whatever personal or community news you'd like to share. Send news, digital photos and comments and suggestions to Diane Guerra at dguerra@sm-usa.org and use "FamilyOnline" as your subject line. TECHNICAL PROBLEMS: If you're not receiving this newsletter in the proper format, with proper spacing and photographs and art appearing, please let us know and we'll try to find a solution. If we can't, we'll put you on our "NOTIFY ONLY" list. CHANGE IN E-MAIL ADDRESS: Send to Ann Mueller at amueller@sm-usa.org. NOTE TO DIRECTORS: Please print this newsletter and post or distribute to brothers who do not have e-mail. BACK ISSUES/SEARCH: Visit www.marianist.com/fol. SUBSCRIBE/UNSUBSCRIBE: Visit http://www.marianist.com/subscribe.htm. Remember: you can search the archived issues of FamilyOnline at www.marianist.com/fol. Type in the word(s) you're looking for, open the issue, pull down the "Edit" bar and click on "Find on This Page," which will take you to the exact spot you need.