Volume 5, Number 12
Tuesday, June 20, 2006
www.marianist.com
FR. PAT TONRY NAMED MISSION SPIRITUAL DIRECTOR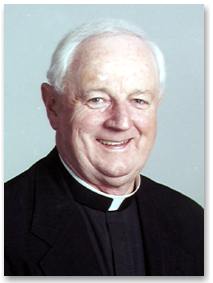 Provincial Stephen Glodek announces the appointment of Fr. Pat Tonry (Eldersburg, Md.) as spiritual director for the Marianist Mission in Dayton effective July 1, 2006. In this role, Fr. Pat will ensure Marianist values are reflected as the Mission explores new ways to expand its reach and relevancy to supporters.
Fr. Pat, who has served as pastor of St. Joseph's Church in Eldersburg for the past 10 years, will be part of the executive team of the Marianist Mission, which also includes Lisa Gooding, executive director of development, and Charles Smyser, operations chief. Fr. Pat also will serve as an advisor to the Province Development team, which includes staff in Dayton, Cupertino and St. Louis. Fr. Pat will commute to the Mission over the summer until his move to Dayton in October.
Fr. Pat's other duties will include donor visits, staff enrichment programs on Marianist beliefs and history, daily prayer for donors and developing new ways to approach the Mission's mail and phone activities. "I am honored to do this ministry after the fine examples of Frs. McCoy, Knuge and Mulligan and Bro. Ron Overman," said Fr. Pat. "The Marianist Mission is about spiritual support as well as financial support." Read more.
CALIFORNIA CELEBRATES SIX JUBILEES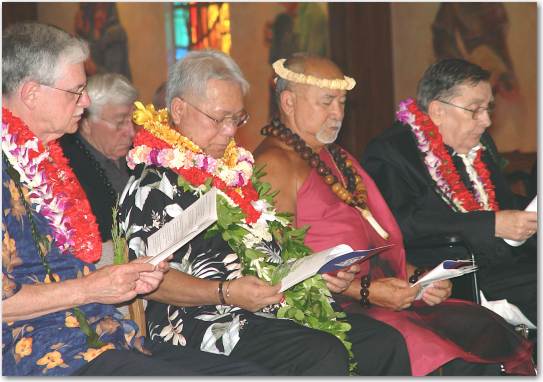 At the jubilee Mass, Bros. Vincent Wayer, Joseph Nu'uanu, Franklin Pao and Fr. William O'Connell
Over 200 attended the jubilee celebration for six brothers at Queen of Apostles Parish in San Jose, Calif., on June 11. A reception followed at the Quinlan Center in Cupertino. Fr. Joe Lackner presided at the Mass and Fr. Dave Schuyler gave the homily. The honorees were Fr. William O'Connell (60 years, 50th sacerdotal), Bros. William McCall (50 years), Joseph Nu'uanu and Vincent Wayer (50 years), Fr. Thomas Hogan (60th sacerdotal) and Fr. John McEnhill (50th sacerdotal). Congratulations and prayers to the jubilarians!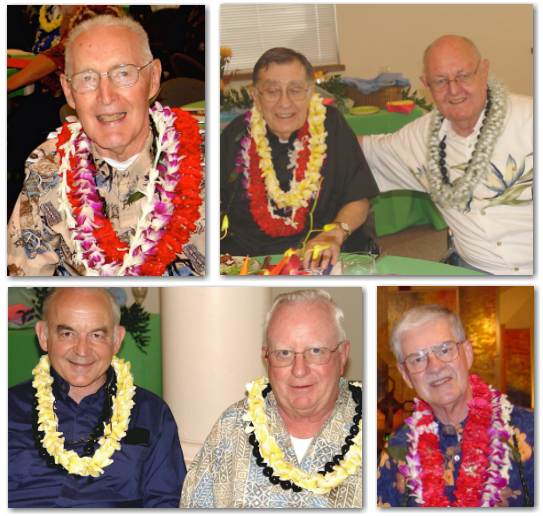 Clockwise from top left: At the reception, Fr. John McEnhill; Fr. Bill O'Connell and Bro. Jim Roberts; Bro. Vince Wayer; and Fr. Jim Mueller and Bro. John Haster. Photos courtesy of Bro. Jim Leahy and Fr. Roland Bunda
VIEW FIRST VOWS CEREMONY VIDEO HIGHLIGHTS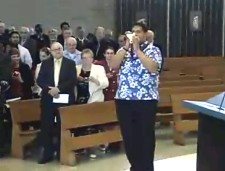 This 8-minute video clip includes highlights of the first vows ceremony celebrated June 20 in Dayton. A DVD of the entire vow ceremony can be made available to your community by contacting Ann Mueller.

CHAPTER COMMISSION: SM CHALLENGES, ACTIONS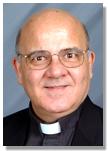 Fr. George Cerniglia, Preparatory Commission Chair
"Major Challenges and Actions for the Society of Mary" is the title of a recent communication from the preparatory commission for the 2006 General Chapter in Rome. After analyzing numerous responses from brothers regarding challenges faced by the Society of Mary and actions that need to be taken, the commission narrowed the challenges and actions to five each, prioritized by frequency of times mentioned (shown below). Read the summary of the challenges/actions.
CHALLENGES
The decrease of vocations and the aging of the religious
Prayer life, spirituality, community life
The Marianist Family
Our religious identity: the vows
The world, cultures, and the Church
ACTIONS
Improve initial and ongoing formation
The Marianist Family
To consolidate communal and fraternal life, the experiences of prayer
Organization of the pastoral work of vocations
Forming leaders and resource persons
GEN'L CHAPTER "BLOG" WILL KEEP BROTHERS INFORMED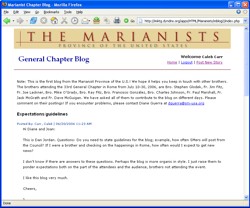 Brothers will receive regular updates on the 33rd General Chapter in Rome by visiting a new blog* on the PORTAL. The brothers attending the General Chapter July 10 to July 30 will contribute to the blog. They are: (by right): Bro. Stephen Glodek and Fr. Jim Fitz; (elected): Fr. Joe Lackner, Bro. Mike O'Grady, Bro. Ray Fitz, Bro. Francisco González, Bro. Charles Johnson, Fr. Paul Marshall, Fr. Jack McGrath and Fr. Dave McGuigan. Brothers reading the blog will be able to post a comment to the journal entries from the Chapter participants. More information on the blog is forthcoming.
*A "blog" is short for Web log, a Web page that serves as a journal and is usually updated daily. A blog contains journal entries that are shown in reverse chronological order, and often there is a place for readers to comment on postings. Note: Because the SM PORTAL is password-protected, the blog is not searchable on the Internet.
MUSP STUDENTS TOUR UD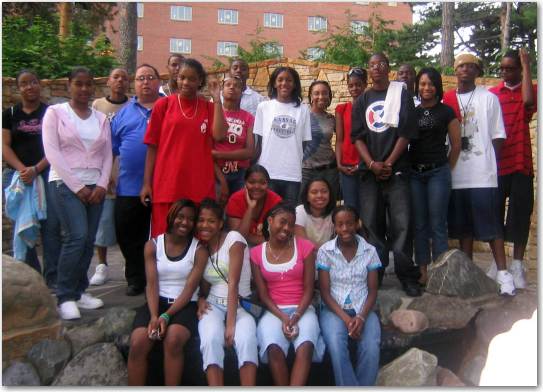 Fr. Joe Tedesco, standing fourth from left, treated Marianist Urban Students Program students from Cleveland and Cincinnati to a tour of the University of Dayton campus, complete with nuggets of campus history, information on the various statues and a visit to the Marianist cemetery.
FROM THE OFFICE OF RELIGIOUS LIFE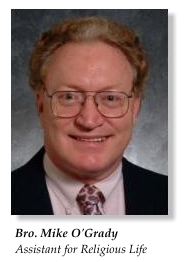 PROVINCE REFLECTION GROUPS. After successful Province reflection group meetings earlier this year in Phoenix and Atlanta, Bro. Mike O'Grady, assistant for religious life, invites all brothers to participate in one of three upcoming gatherings to discuss visioning for the Province of the United States. Bros. Frank O'Donnell and Bill Bolts from the Chapter Structures Committee are helping coordinate the discussions scheduled for:
| | | |
| --- | --- | --- |
| Sept. 15-17, 2006 | Kansas City, Mo. | Airport Hilton |
| Nov. 14-16, 2006 | Charlotte, N.C. | Sheraton Airport |
| Jan. 12-14, 2007 | Phoenix, Ariz. | Crowne Plaza Airport |
Please register as soon as possible by e-mailing Donna Tucker. If you're considering the September meeting, please register by Aug. 15, 2006. (Note: To provide the widest participation and benefit, we will give priority to those who did not attend an earlier group in Phoenix or Atlanta, but ALL are encouraged to register.)


SPIRITUAL READING. Bro. Mike O'Grady also offers a list of books for spiritual reading that have been suggested by Marianist brothers over the past few months. Bro. John Campbell suggested the list. If you have additions to the list, e-mail Bro. Mike and we'll include them in a future issue. Read the book list.
MARIANIST ONLINE "WISH LIST" LAUNCHED

Donors who wish to support Marianist ministries can now visit an online "Wish List" to direct their donations to everything from scholarships to computers to porridge for children in Africa. Visit the Province's online Wish List at www.marianistmission.org/wishlist or www.marianist.com/supportus. According to Helena Strauch, Province development officer, online giving is the fastest growing means of donating, and the Wish List is an excellent supplement to existing fundraising efforts. To add your ministry to the Wish List, contact Helena at 937.222.4841, ext. 244 or hstrauch@sm-usa.org
MARIANISTS ATTEND NATIONAL HISPANIC YOUTH MEETING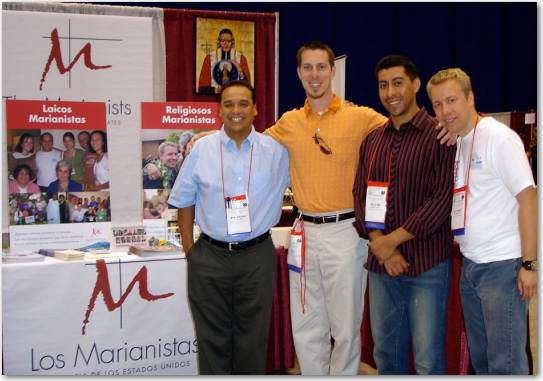 At the Marianist exhibit, Bro. Alfredo, Dan Richter, Aspirant Luis Gamboa and Bro. Brian
Bros. Alfredo Chavez, Brian Halderman and Tobias Ferrar, Fr. George Onida, Aspirant Luis Gamboa and Marianist Volunteer Program coordinator Dan Richter attended the "First National Encuentro for Hispanic Youth and Young Adult Ministry" at Notre Dame University in South Bend, Ind., June 8 to June 11.
Over 2,000 Catholic leaders and youth attended the event, aimed at reaching out to young Hispanic Catholics and encouraging participation in the Church. The National Catholic Network de Pastoral Juvenil Hispana (La Red) and U.S. Catholic Conference of Bishops Committee sponsored the event. According to Bro. Brian, the team spoke with many individuals interested in religious life and gave out over 1,100 frisbees with the Marianist logo and Web site address.
LAY MARIANISTS ATTEND CONGRESS IN ROME


PHOTO LEFT: Tony Garascia (right) and Lorna Mueni give Superior General David Fleming a sculpture to honor his 50th jubilee. PHOTO RIGHT: Pope Benedict at the vigil of Pentecost.
More than 300 people, representing more than 100 Catholic lay movements around the world, met in Rome May 31 to June 2 for the "Second World Congress of Ecclesial Movements and the New Communities," sponsored by the Pontifical Council for the Laity. Representing the International Team of the International Organization of Marianist Lay Communities were Tony Garascia, president, Lorna Mueni (Africa delegate) and Ezequiel Reggiani (Latin America delegate). The congress participants were part of the 300,000 members of ecclesial movements and lay communities who met Pope Benedict in a special audience in St. Peter's Square June 3, the eve of Pentecost.
CHAMINADE UNIVERSITY HOSTS MUM MEETING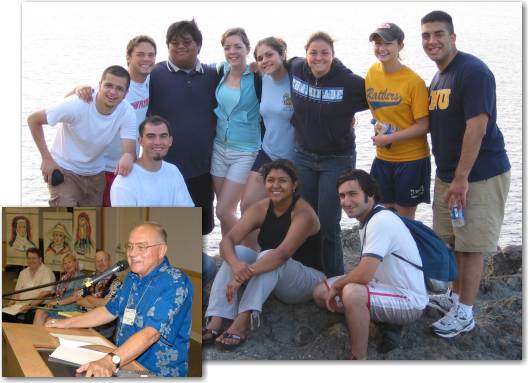 Taking a break from the meetings are MUM student delegates, front row, Seth Miller, Cynthia Sias and Nicolas Frech; back row, Alex Orlowski, Joe Melendrez, Dustyn Lai-Ragasa, Grace Finn, Alison Black, Alysin Frickey-Hauptner, Jennifer Buchmeyer and Floyd Contreras, Photo inset, Bro. Jerry addresses the crowd.
Fr. Jim Heft, professor of faith and culture and chancellor at the University of Dayton, was the keynote speaker at the 12th Annual Marianist Universities Meeting (MUM) held June 5 to June 8 at Chaminade University of Honolulu. Under the theme "Catholic Intellectual Tradition," the program brought together members of the three Marianist universities to discuss topics pertinent to Catholics and Marianist education in the 21st century. Chaminade Rector Bro. Jerry Bommer and several members of the CUH staff coordinated the event attended by almost 100 administrators, faculty, staff, students and Province officials.
ZAMBIA TO ESTABLISH FORMATION COMMUNITY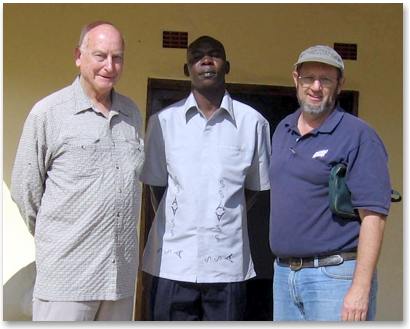 Fr. Steve Tutas (left) with Bros. Erick (center) and Jack in Lusaka, Zambia

Bro. Jack Somerville (Novitiate, Dayton), who is on assignment in Eastern Africa, reports that a four-acre property has been purchased in the Makeni District of Lusaka, Zambia, that will house a new formation community called the Faustino House. Bro. Jack will supervise the renovations to the existing building on the property, which will be used for programs for candidates and aspirants from Malawi and Zambia. Region of Eastern Africa Vocation Director Bro. Erick Otiende will be the director of aspirancy for the new community.

SUMMER RETREATS AT TECABOCA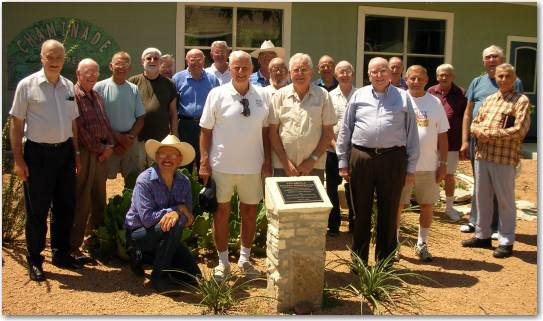 Marianists on retreat at TECABOCA June 4-10, standing, rear, Fr. Joe Tarrillion, Bro. Richard Martens, Bro. Al Kuntemeier, Fr. John Manahan, Fr. Bernard Meyer (who died June 17, may he rest in peace), Bro. Bill Chewning, Bro. Jim Jaeckle, Fr. Cris Janson, Bro. Terry O'Connor, Bro. Richard Dix, Bro. Bob Wood, Bro. Earl Leistikow, Bro. Ed Loch, Bro. Len Rudy, Bro. Ralph Neumann, Fr. Franz Schorp, standing, front, Bro. Bill McCarthy, Bro. Herbert Janson, Fr. John Leies; kneeling, Bro. Tom Heinle


PHOTO LEFT: View from the gazebo at TECABOCA; PHOTO RIGHT: Some of the team members from the TECABOCA Family Retreat June 1 to June 4, Jose Salinas, Monica Wyant, Tiffany Rodgers, Bro. Tom Heinle, Carol Weiss, Pati Krasensky, director, Meline Benson and Fr. Al McMenamy
DEVELOPING REGIONS RECEIVE GRANTS
| | |
| --- | --- |
| Fr. Dave Paul, director of development for developing countries, reports that his office has secured over $800,000 in grants for Our Lady of Nazareth School in Nairobi, Kenya; Project Hope (AIDS orphan care) and M.I.R.A.C.L.E. in Karonga, Malawi; and DECAMP's Women's Project in Mexico. Fr. Dave also reports receiving almost $200,000 in individual gifts from donors for projects in India, Africa and Mexico | Students of Our Lady of Nazareth School in Nairobi, Kenya |
PLEASE PRAY FOR THE REPOSE OF THE SOUL OF . .
| | |
| --- | --- |
| Fr. Bernard, 1942 | Fr. Bernard, recent |

Fr. Bernard Meyer (Marianist Residence, San Antonio), 85, who died June 17, 2006. May he rest in peace. A Mass of Christian Burial will be celebrated June 21 at 4 p.m. at Holy Rosary Parish in San Antonio. Burial will follow at the Marianist Cemetery on the campus of St. Mary's University. The presider and homilist will be Fr. John Manahan. Fr. Bernard ministered for over 35 years at Holy Rosary Parish and for over 10 years as full-time chaplain at Christus Santa Rosa Hospital, both in San Antonio. Fr. Bernard's obituary will appear in the next issue of FamilyOnline.

Bro. Fernand Bibeau (Region of Canada), 73, who died June 15, 2006, in Québec, Canada. May he rest in peace. Bro. Fernand's obituary will appear in the next issue of FamilyOnline.

Bro. Alban Vollmar (Region on Switzerland), 68, who died June 14, 2006, in Zollikerberg, Switzerland. May he rest in peace. Bro. Alban's obituary will appear in the next issue of FamilyOnline.

Bro. Raymond Bohyn (Province of France), 81, who died May 21, 2006, in Sucy-en-Brie, France. May he rest in peace. Read Bro. Raymond's obituary.

Please pray also for Rita Cote, Stephen Glodek, Sr., Jane Kennealy, Josephine Knueven, Sr. Elizabeth Ann Metzger, CPPS, Myrtle Mueller, Eileen O'Boyle, Ella O'Shaughnessy, Mrs. Shula, and Peggy Marie Wiswall. Read more.
CHIHULY GLASS, MISSOURI BOTANICAL GARDEN, ST. LOUIS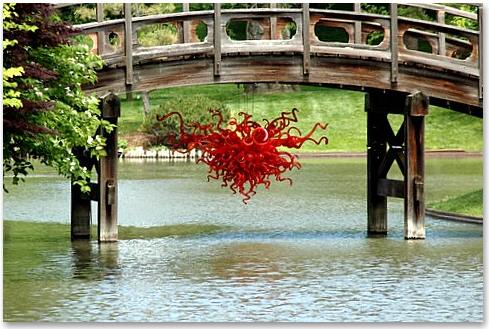 Photo courtesy of Bro. Bob Resing, S.M. Bro. Bob's images are available for sale as note cards or prints. To order, visit http://www.resingart.com/
PLEASE PRAY FOR THE HEALING OF . . .

Bro. Joseph Gaudet (Mercy Siena, Dayton), who is in serious condition at Miami Valley Hospital with pneumonia, an infection and a fever.

Bro. Joseph Mariscalco (Meyer Hall, Dayton), who had hip replacement surgery on June 19.

Fr. Joseph Priestley (Marianist Hall, Honolulu), who is undergoing care for heart problems.

Please pray also for Robert Davis, Paul Ernst, Dennis Haby, Elizabeth Judy, Sharon Kotnik, Casey Krings, and Ann Polka. Read more.
WHO'S DOING WHAT
| | |
| --- | --- |
| Congratulations to Fr. Joe Tedesco (Alumni Hall, Dayton), who was inducted into the Ohio Lacrosse Foundation Hall of Fame on June 9. Known as the "Father of Southern Ohio Lacrosse," Fr. Joe, who also was the 1991 Ohio Lacrosse Man of the Year, is credited with introducing lacrosse to several high schools in Ohio, including Archbishop Moeller in Cincinnati and Villa Angela- St. Joseph in Cleveland. | Fr. Joe with fellow inductee John Gibbons |
| | |
| --- | --- |
| Congratulations to Fr. Dave Paul, director of development for developing regions, who was elected chairman of the board of directors at the annual meeting of the board of the Marianist Retreat & Conference Center in Eureka, Mo. For the past two years, Fr. Dave has been chairman of the strategic planning and the finance committees at MRCC. | |
| | |
| --- | --- |
| Bro. Joe Kamis (DeSales Crossings, Cincinnati), superintendent of schools for the Cincinnati Archdiocese, recently took part in a celebration at Xavier University where 20 Cincinnati Catholic schools honored donor Ann Buenger for her $2 million gift to fund the "Initiative for Catholic Schools" program. | Bro. Joe (right) with Cincinnati Archbishop Daniel Pilarczyk and Ann Buenger. Photo and story courtesy of the Catholic Telegraph |
| | |
| --- | --- |
| | Fr. Ken Templin (Center Marianist, Honolulu) appeared in the May 5 Hawaiian Catholic Herald giving a blessing to those attending a special Samoan Mass at Chaminade University's Mystical Rose Oratory. |
| | |
| --- | --- |
| Congratulations to Bro. David Betz (Santa Cruz, Calif.) who has been named director of the Newman Center at the University of California at Santa Cruz. | |
| | |
| --- | --- |
| Congratulations to Sr. Gretchen Trautman, who has been named coordinator for the Marianist Leadership Program at St. Mary's University in San Antonio, effective Aug. 1. | |


Fr. Charles Miller (left) recently scaled the highest peak in North Africa, Jebel Toubkal, which is 13,667 ft., in a two-day backpack climb. After attending the MUM meetings in Honolulu, Fr. Paul Marshall (right) took to the mountains of Maui and is shown here at 10,000 ft. on Mt. Haleakala.
VOLUNTEER VIEWPOINT:
AN INTERVIEW WITH ROB BOWIE
| | |
| --- | --- |
| MVP volunteer Rob Bowie was at a turning point in his life when he discovered the MVP. He had decided to leave St. Charles Seminary in Philadelphia and figured it was either work or go to school—until his dad proposed the idea of becoming a volunteer. Read more. | |
PEACE & JUSTICE UPDATE:

SHARING FUND SUPPORTS PREVENTION & RESCUE GROUP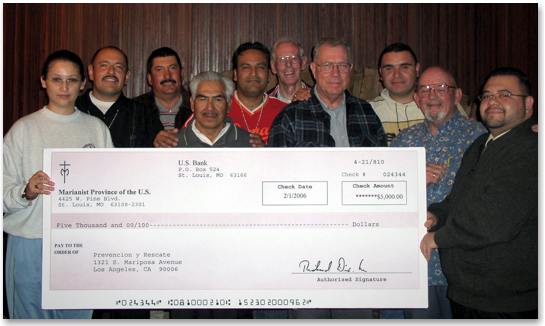 Receiving the check,Connie Portillo, Gerardo Gomez, Manuel Ochoa, Roberto Cortez, Fernando Flores, Bro. LeRoy Viera, Bro. Tony Pistone, William Portillo, Bro. Skip Matthews and Rayler Dominguez, national director of formation for Prevencion Y Rescate
The Marianist community in West Hills, Calif., received a grant from the Marianist Sharing Fund for $5,000 for the Prevencion Y Rescate (Prevention and Rescue) organization which assists families with gang, drug and alcohol-related issues. The organization provides group meetings, "street ministry," retreats, employment placements, rehabilitation programs, religious formation, among other services. They operate several branches in California, and serve in six other states. The check was presented at a dinner the West Hills brothers hosted for the group.
| | |
| --- | --- |
| MARIANIST SOCIAL JUSTICE COLLABORATIVE The planning team for the MSJC's "Adele Social Justice Project" met in Washington, D.C., June 2 to June 4 to plan a justice-focused immersion weekend for young adults Oct. 6 to Oct. 8 in Washington, D.C. To participate or to find out more information, contact Laura Libertore. | At the recent MSJC gathering, bottom row, Laura Libertore, Clare Savage, and Alison Radelet; middle row, Jim Vogt, MSJC director, Sr. Leanne Jablonski and Greg Bauman; top, Katie Fitzgerald |

Contact Myles McCabe, Province Director of Peace & Justice, mmccabe@sm-usa.org. 314.533.1207, x. 235
OCEAN SPIRITUALITY FOR RETREATANTS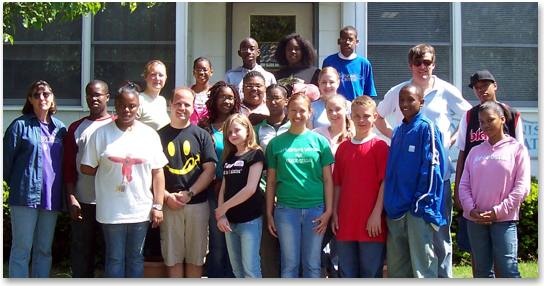 Bro. Jesse O'Neill (right, with sunglasses) reports on a retreat at the Marianist Family Retreat Center in Cape May for eighth graders at Mother Seton Academy in Baltimore. The retreat builds team spirit and offers an experience of spirituality at the ocean. Some of the children had never seen the ocean. The children described the retreat as "how the world should be -- a place where everyone feels safe, loved and accepted." Bro. Jesse thanks the Marianist Sharing Fund and the Murphy Initiative for supporting the retreat.
WHO WE ARE, WHERE WE LIVE
MEET THE BROTHERS OF VILLA ST. JOSEPH, CUPERTINO
The Cupertino Marianist Community includes Villa St. Joseph, San Juan and the Alcalde residence. Five brothers live in San Juan (former provincial office of the Pacific Province); three brothers live in the Alcalde residence; and 16 brothers live at Villa St. Joseph, the healthcare center. The brothers of the Cupertino community will move to the newly renovated Marianist Center in March 2007.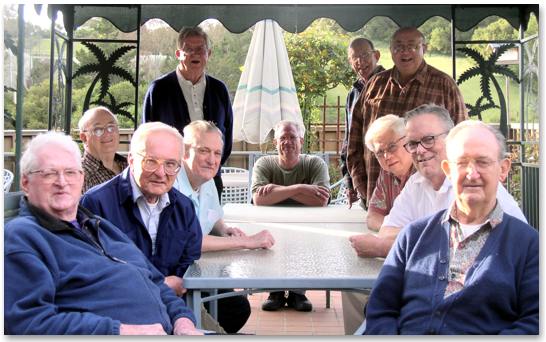 Some of the brothers of the Cupertino community, standing, Fr. Jim Imhof, Fr. Joe Stefanelli, Bro. John Samaha; seated, Bros. Tom Deasy, Gene Frank, Bob Wade, Fr. Dave Schuyler, Bros. John Schlund, Stanley Murakami, Paul Fennelly and Elmer Dunsky. Not shown: Bros. John Haster (director), Joe Nu'uanu, Fr. John McEnhill, Fr. Jack Rielly, Bros. Vince Wayer, Charles Ehrenfeld, Bernard Foster, Fr. Tom Hogan, Bros. Bill McCall, Jim Roberts and Joe Wasy
PHOTO LEFT: Bro. Charles Boglitz (seated) and Fr. Lawrence Mann (right) of Villa St. Joseph, shown with Fr. Roland Bunda; PHOTO RIGHT: Villa St. Joseph community house
FROM THE SCHOOLS . . .
ARCHBISHOP MOELLER HIGH SCHOOL
| | |
| --- | --- |
| Over 100 Archbishop Moeller High School students will volunteer time in Honduras, Nicaragua, Mexico, Louisiana, Mississippi, Kentucky and Cincinnati as part of the school's nine mission programs this summer. Work will include rehabbing buildings, assisting in orphanages, hurricane clean-up and exploring social justice issues. | Fr. Joe Tedesco blesses the Moeller students serving on mission trips this summer. |
UNIVERSITY OF DAYTON The UD Quarterly was named one of the best alumni tabloids in the nation by CASE (Council for Advancement and Support of Education). Congratulations to the UDQ staff including Tom Columbus (editor).
| | |
| --- | --- |
| ST. JOHN VIANNEY HIGH SCHOOL Congratulations to the Vianney Griffins baseball team for winning its second state championship in three years in the Class 4 Missouri State Championships June 3. Coached by Steve Bieser, the team's record was 24 - 3 this season. | The Vianney Griffins receiving their championship medals. |
MARIANIST LIFE SUMMER GATHERINGS
Brian Reavey, national coordinator for Marianist LIFE, announces two LIFE reunion gatherings July 21 to July 22 in Dayton and July 29 to July 30 in San Antonio. Find out more. In addition, members of the Marianist Family also are invited to attend these LIFE gatherings:
LIFE Pacific Gathering— July 8, Vallombrosa Center, Menlo Park, Calif., Read more.

LIFE Central Gathering— July 15, Bergamo Center, Dayton, Ohio, Read more.

LIFE South Moderator Social— July 23, San Antonio (location to be announced). All professed brothers and sisters are invited to meet the moderators and staff of LIFE South. E-mail Rudy Reyes Jr., regional coordinator, or call 574.282.8040.

LIFE South Visitor's Night— July 29, TECABOCA, Ingram, Texas. Find out more (including map) or to receive a postcard reminder e-mail Rudy Reyes Jr.
YOSEMITE NATIONAL PARK, CALIFORNIA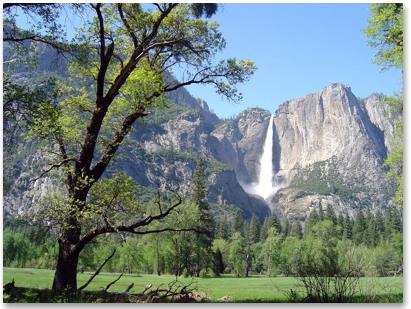 Photo courtesy of Fr. Roland Bunda
PROVINCE PUBLICATIONS WIN AWARDS
The Province Office of Communications announces that FamilyOnline and Alive Magazine have received the following awards:

2006 International Association of Business Communicators, Bronze Quill, Honorable Mention
2006 Public Relations Society of America, Bronze Anvil, Award of Commendation
2006 Communicator Award, Honorable Mention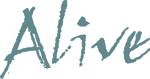 2006 International Association of Business Communicators, Bronze Quill, Award of Merit
2006 Communicator Award, Award of Excellence
OUR LADY OF VERDELAIS HOSTS WORLD DAY OF PRAYER
| | |
| --- | --- |
| The 2006 Marianist World Day of Prayer is October 15 at the Our Lady of Verdelais shrine near Bordeaux, France. Members of the Marianist Family and friends from around the world will gather at Verdelais to celebrate Mass and pray. Read more (English) and Read more (Spanish). | Notre Dame de Verdelais – Bordeaux, France |
OUT AND ABOUT
Read the upcoming travel schedule of members of the Provincial staff in St. Louis.
THE PERSONNEL IS IN THE PROCESS OF BEING UPDATED. THERE ARE NO NEW CHANGES LISTED AT THIS TIME.

Remember that personnel information on the PORTAL is updated on a regular basis at www.marianist.com/portal
NEWSLETTER
CENTRAL

CAPE MAY. Read the June 2006 issue of Beacon.com, the newsletter of the Marianist Family Retreat Center in Cape May Point, N.J.

MEXICO. Read the June 2006 issue of Marianistas México. This publication is in Spanish.
THE CLASSIFIEDS
ASSOCIATE DIRECTOR. The Newman Catholic Center of Santa Cruz, Calif., is seeking a member of the Society of Mary (ordained preferably, but would consider a non-ordained member) for its Associate Director position. The Newman Catholic Center ministers to Catholic students at three universities. Read job description. For more information contact Bro. David Betz.
ET CETERA

Please note that the Provincial Offices will be closed on Tuesday, July 4, in honor of the Independence Day holiday.

Limited supplies of the General Council Reports are available. Please contact Pat Stephens.

To receive additional copies of the Spring 2006 issue of ALIVE magazine contact Ann Mueller.
JUST ONE MORE...
POSING PELICAN, MONTEREY BAY, CALIF.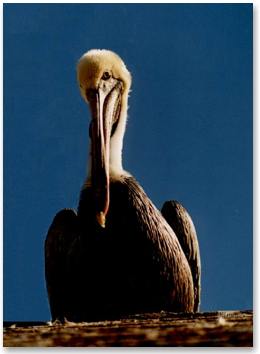 Photo courtesy of Bro. Jim Wisecaver
PROVINCE
BIRTHDAYS
Editors Note: If you would like your e-mail address eliminated from FamilyOnline for security reasons, please e-mail Ann Mueller.
June
July
VISIT OUR WEB SITE AT www.marianist.com
Editor: Joan Suda; assistant: Ann Mueller. This biweekly e-mail newsletter produced by the Society of Mary features news about the Society of Mary (SM), Daughters of Mary Immaculate (FMI) and lay Marianists. Bro. Stephen Glodek, SM, provincial; Fr. Jim Fitz, SM, assistant provincial. Read the 2006 publication schedule and deadlines. Read hints about submitting photos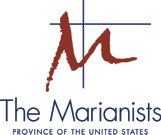 and copy. NEWS: We'll include news of travels, health updates, prayer requests, community celebrations, professional accomplishments, birthdays, and whatever personal or community news you'd like to share. Send news, digital photos and comments and suggestions to Diane Guerra at dguerra@sm-usa.org and use "FamilyOnline" as your subject line. TECHNICAL PROBLEMS: If you're not receiving this newsletter in the proper format, with proper spacing and photographs and art appearing, please let us know and we'll try to find a solution. If we can't, we'll put you on our "NOTIFY ONLY" list. CHANGE IN E-MAIL ADDRESS: Send to Ann Mueller at amueller@sm-usa.org. NOTE TO DIRECTORS: Please print this newsletter and post or distribute to brothers who do not have e-mail. BACK ISSUES/SEARCH: Visit www.marianist.com/fol. SUBSCRIBE/UNSUBSCRIBE: Visit http://www.marianist.com/subscribe.htm. Remember: you can search the archived issues of FamilyOnline at www.marianist.com/fol. Type in the word(s) you're looking for, open the issue, pull down the "Edit" bar and click on "Find on This Page," which will take you to the exact spot you need.